A 60-year milestone looking towards the challenges of the future. We talk to Pedrali
Add to bookmarks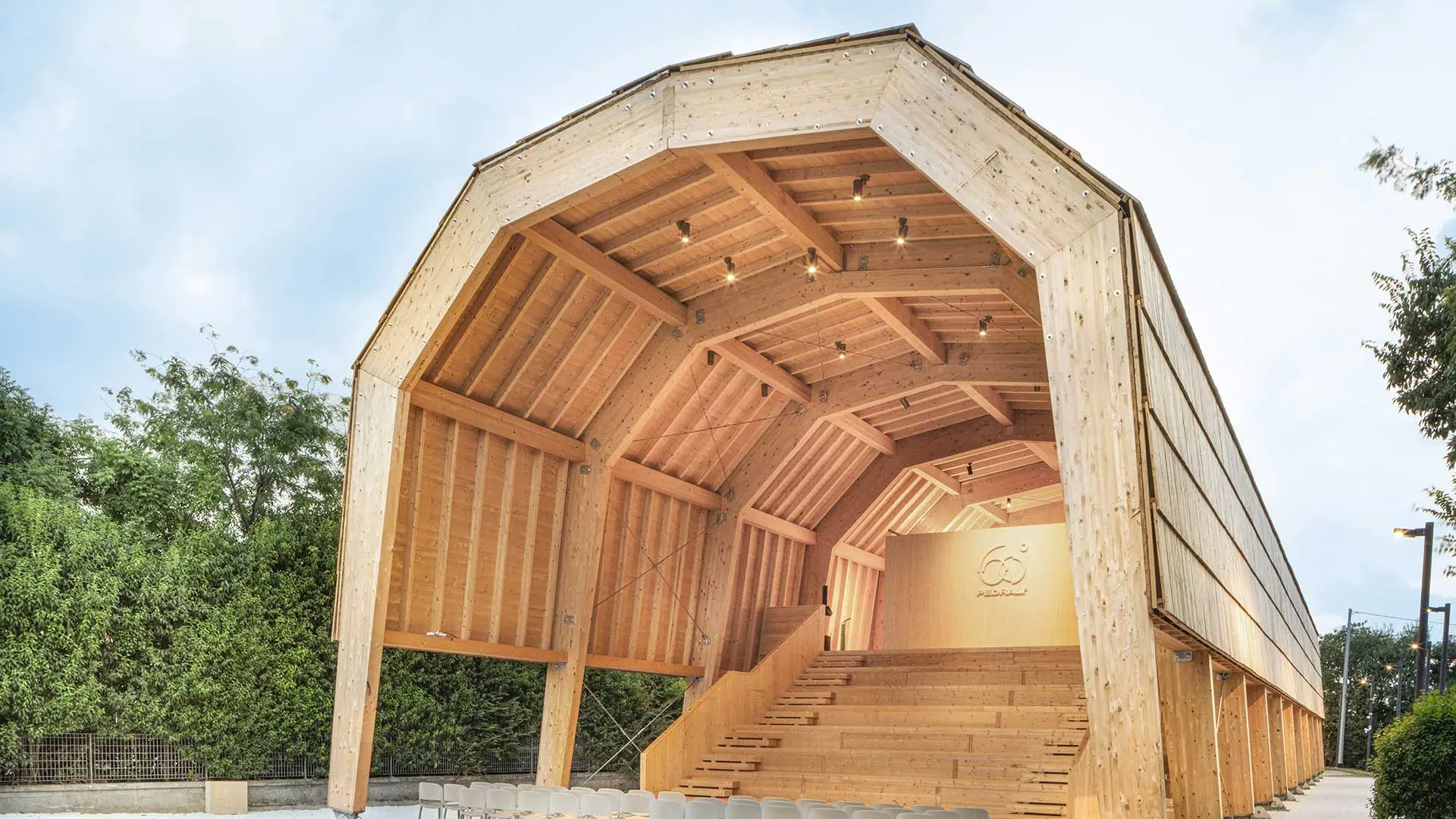 A special installation designed by AMDL CIRCLE and Michele De Lucchi and an exhibition curated by Luca Molinari Studio to celebrate the company's 60th anniversary. A tribute to family and entrepreneurial values, with an eye to the future
Set up in 1963 as an artisan workshop by Mario Pedrali at Palazzolo sull'Oglio, in the province of Brescia, Pedrali's roots lie in wrought iron furnishing. It has continued to produce outdoor furniture from then on, later adding indoor products for both the contract and the residential sector to its catalogue. The company celebrated its 60th anniversary in September at its headquarters in Mornico al Serio, with a special installation and exhibition that interpret the family trait – a mix of tradition and innovation, good looks and functionality, engineering performance and creativity, along with perseverance, passion and dedication.  
The Pedrali Pavilion, designed by AMDL CIRCLE and Michele De Lucchi, looks like a large, raised roof, a light, agile structure accessed via a staircase that performs a dual function: it's the point of entry to the exhibition as well as an events space where people can gather and take part in presentations and talks. A structure "with legs," is how the architect Michele De Lucchi, founder of AMDL CIRCLE likes to describe it. It sends a powerful signal of the need to move forward focusing on environmental commitment and that "it becomes increasingly necessary to use recyclable materials, such as wood." 
Inside the Pedrali Pavilion, the exhibition Pedrali60, We Design a Better Future, curated by Luca Molinari Studio, looks back at the company's history with an eye to the future through its family and corporate values. These include community and links with the territory, research, experimentation and sustainability. The latter characteristic is what most distinguishes the company today. Sustainable design is the ultimate purpose of any activity designed to improve environmental impact. It has to be in harmony with nature, minimising negative impact, generating high quality products capable of withstanding the test of time, in terms of both style and performance, with people's health and comfort first and foremost. Pedrali's philosophy is to furnish spaces geared to nurturing the wellbeing of those who use them.  
We asked Monica Pedrali, daughter of the founder, and CEO of the company – along with her brother Giuseppe Pedrali – to take us through these last 60 years and into the near future.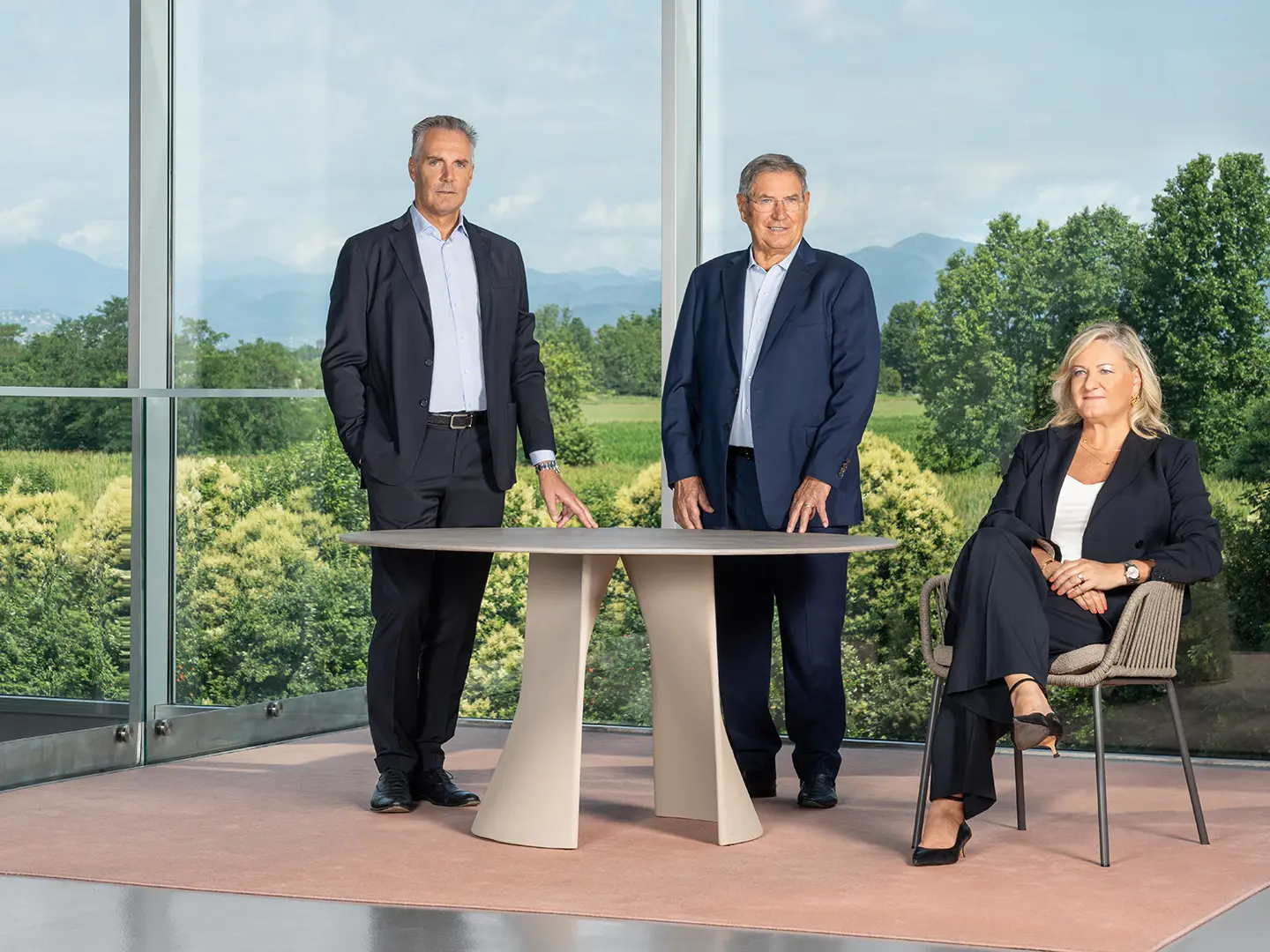 Your father still plays a very active part in the business. What's his reaction to these celebrations?
For my father and for the whole of Pedrali, the celebrations are an occasion for pride and satisfaction, first and foremost for him, whose passion for his own work and desire to realise his own dreams drove him to pour all his knowledge into the first artisan workshop specialising in wrought iron garden furniture, in 1963. That's where it all began. My father Mario found looking back over the 60-year history of the company an emotional experience. The exhibition Pedrali60, We Design a Better Future narrates the salient moments in our history: the first machines that he designed himself, the early trade fairs, the first products, the impressions of those who played their own part in this story … fragments that have enabled us to be here today and which have lain the bases for our future. This anniversary is marked by the narration of the story of two generations driven by a common vision – designing and producing long-lasting quality furnishing that channels beauty. The 60th anniversary is a narrative rooted in the family and business with an eye constantly to the future.  
Where do you start when you're thinking up a new product? What research do you do as regards innovative materials and colour, a distinctive characteristic of your furnishing?
The Pedrali collections are the upshot of rigorous research, which goes into creating functional and versatile industrially designed products, in metal, plastic, wood and upholstery, sometimes in combination. The pieces are entirely produced in Italy following a process that combines tradition and innovation, engineering excellence and creative genius. Pedrali products are subjected to constant review by our research and development and internal technical departments, as well as by internationally renowned designers who have worked with the company for years. It is thanks to our exchanges with our interlocutors that we have realised just how much the sustainability of a product is defined as early as the planning stage. For instance, when we started producing wooden furniture in Udine, the input we gave our designers was to preserve the use of the raw material and to use a mix of different materials, such as aluminium or polypropylene. This enabled us to experiment with new materials, which marked another great change. We went from metal to wood, to upholstereds to woven products. This meant that when researching and developing products, we trialled new materials with colour choices in line with current trends. Geared to sustainability, the first "recycled grey" products in recycled polypropylene came out in 2020: 50% post-consumption plastic waste material and 50% industrial plastic waste material. It's not just sustainability. 100% made in Italy production highlights process innovation as well as craftsmanship. Our aim is to bring beauty into everyday life.  
Behind the scenes of your products are the plants at Manzano and Mornico al Serio, the latter boasting an automatic warehouse designed by CZA Architetti in 2016. Engineering excellence with interconnected machinery. A great investment and great results. Can you tell us about them?
Innovation and technology have always shaped the character of Pedrali – innovation of process and innovation of technical solutions capable of transferring design into worthwhile industrial production. Advanced machine technology and process automation that ensure faster production and facilitate internal handling, achieving its maximum expression in Fili d'Erba, the automatic warehouse designed by CZA - Cino Zucchi Architetti - a state-of-the-art structure, fully automated and active 24/24. It allows for the storage of 16,880 pallets of finished and semi-finished products, and the building is connected to the existing industrial spaces by a sky-train and ten self-steering shuttles. It is an imposing construction that slots perfectly into its surroundings, thanks to the colour of the exterior, which draws on the colours of nature. We have always invested in technology, machinery and latest generation systems, but it's thanks to the input of those who put their expertise and manual skills at the disposal of the company that we really make a difference. It's this combination of technology and know-how that informs the beauty of our products – Beauty, Tradition and Innovation comprise the thread running through our identity.  
Sustainability = your corporate philosophy. You hold a great many certifications: from ISO 9001:2015 to UNI ISO 45001:2018, and FSC C114358 to the Corporate Carbon Footprint assessment. These do not constitute acronyms or labels, but facts. What does sustainability mean to you, and how do you envisage the world of design over the next few decades?
Our sustainable philosophy, hand in hand with technological innovation, continues to guide our company choices, not just in terms of products but also in terms of efficiency of processes and production sites. Our corporate commitment to sustainability also informed our decision to use FSC® C114358 certified wood, derived from responsibly managed forests, as well as water-based coatings largely composed of plant-based resins, and we also embarked on our Corporate Carbon Footprint assessment in 2018. The assessment measured the total greenhouse gas emissions produced, directly and indirectly, by activities carried out over a given time period. Pedrali has embarked on a series of investments designed to curb environmental impact in terms of CO2 equivalent emissions, setting clearly identifiable goals. For example, the company has installed more than 6,000 square metres of rooftop photovoltaic panels in its factories, producing 1.2 MW of energy during periods of maximum sunlight, enough to power the Mornico al Serio production site. Then, in order to cut energy consumption during the colder months, the hot water produced by the plastic moulding department is recovered and channelled into heating the other production departments. Equally, during warm weather, a cooling tower system serves to lower the temperature of the water used during the moulding process, cutting overall water consumption. The company has also converted all its lighting system fixtures to LEDs, both indoors and outdoors. Progressing our environmental commitment and maintaining production in Italy are just some of the characteristics that will continue to guide company choices. We hope that design will continue to invest in sustainability, in full respect of the balance between man and nature, underpinning the kind of beauty that fully embraces the combination of technological innovation and craftsmanship.  
You pay a great deal of attention to materials, from weatherproof ones such as polypropylene and cement to metal, wood and fabrics, in the name of quality and durability. How are they chosen and combined?
We chose materials that not only conform to aesthetic and quality benchmarks, but also have to be functional and sustainable. In the case of outdoor products, for example, materials need to be weather resistant, and resistant to salt and sunlight. With environmental sustainability in mind, the company produced its first fully recycled material, recycled grey, derived from 50% post-consumer waste and 50% industrial waste, in 2020. Remind and Babila XL "recycled grey" were the very first products achieved through this innovatory process. In a world in which artisan tradition dialogues with the new manufacturing technologies, we have always designed products made from high quality materials that withstand the test of time, both aesthetically and in terms of wear, a key factor in being able to guarantee sustainability that dovetails completely with the Pedrali philosophy.