50 years of Sancal: colour, craftsmanship and creative drive
Add to bookmarks
From Sebastian Herkner to Luca Nichetto, Karim Rashid and Toyo-Ito. Just some of the designers that have teamed up with the Spanish company Sancal that has preserved the feel of a family atelier over the years. Albeit XLarge
It all began in a garage in Murcia fifty years ago. With the determination of its founder Santiago Castaño as the main ingredient. He set up on his own in 1973, taking care of absolutely every single aspect of design – from creating the models, to cutting out, sewing and upholstering, managing his suppliers and visiting clients. The earliest Sancal products – classic Marie Antoinette style for a client in Northern Spain – garnered so much attention that Castaño had to enlist the help of his wife and brother. In no time at all the trio grew the family firm into the business venture it is today, with the second generation joining them at the start of the new millennium and now helming the company: Esther Castaño-López, CEO and Elena Castaño-López, Art Director. 
The company has never ceased to feel like a family atelier despite the fact that, between them, the two sites in Yelca now range over 19,000 m2, with 82 employees, 90 export destinations and countless international collaborations with designers such as Sebastian Herkner, Luca Nichetto, Karim Rashid, Toyo-Ito, Mut Design, Raw Color, Note Design Studio and Studiopepe.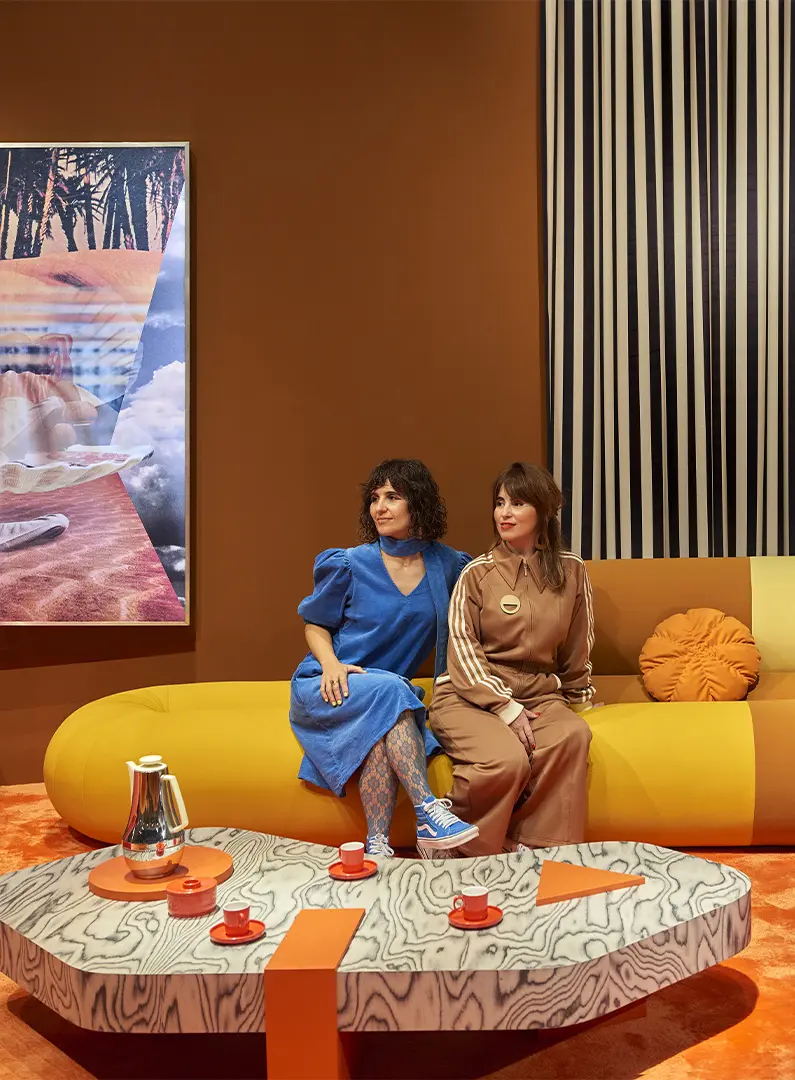 Sancal marked its 40th anniversary with a plethora of art, murals by three international artists underscoring the brand's absolute value. Brightly coloured street art narrated the life of the company, from its artisan know-how to its family feel and the positivity with which it approaches every day. In addition to the murals, many micro total white showrooms were set up in four strategic points of the plant to give employees a real insight of the final products they have been working on.  
Now, to mark its 50th anniversary, Sancal has adopted a new graphic "code" to join the logo, which has also been revisited: the traditional smiley face – the company motto is "Smile, break the mould and be happy" – has acquired rays and concentric circles, straight and curved lines, that express the rational and the creative side of the company respectively. The phrase "50 years around the sun" headlines on its home page. The face then expands to take in a graphic mark identifiable as a 5, the number of decades being celebrated. Dynamic, coloured and different. To further emphasize this special anniversary, Sancal designed its stand at Salone del Mobile.Milano 2023 getting a specific inspiration to the year it was born: 1973. The Seventies brought, in fact, a fresh new vision of architecture, interior design and the booth reflects that vintage atmosphere integrated by a sense of theatricality.
The logo and the booth are the sum of different identities, just like Sancal itself. Now, over to its CEO and Art Director, Esther and Elena Castaño-López, to tell us more.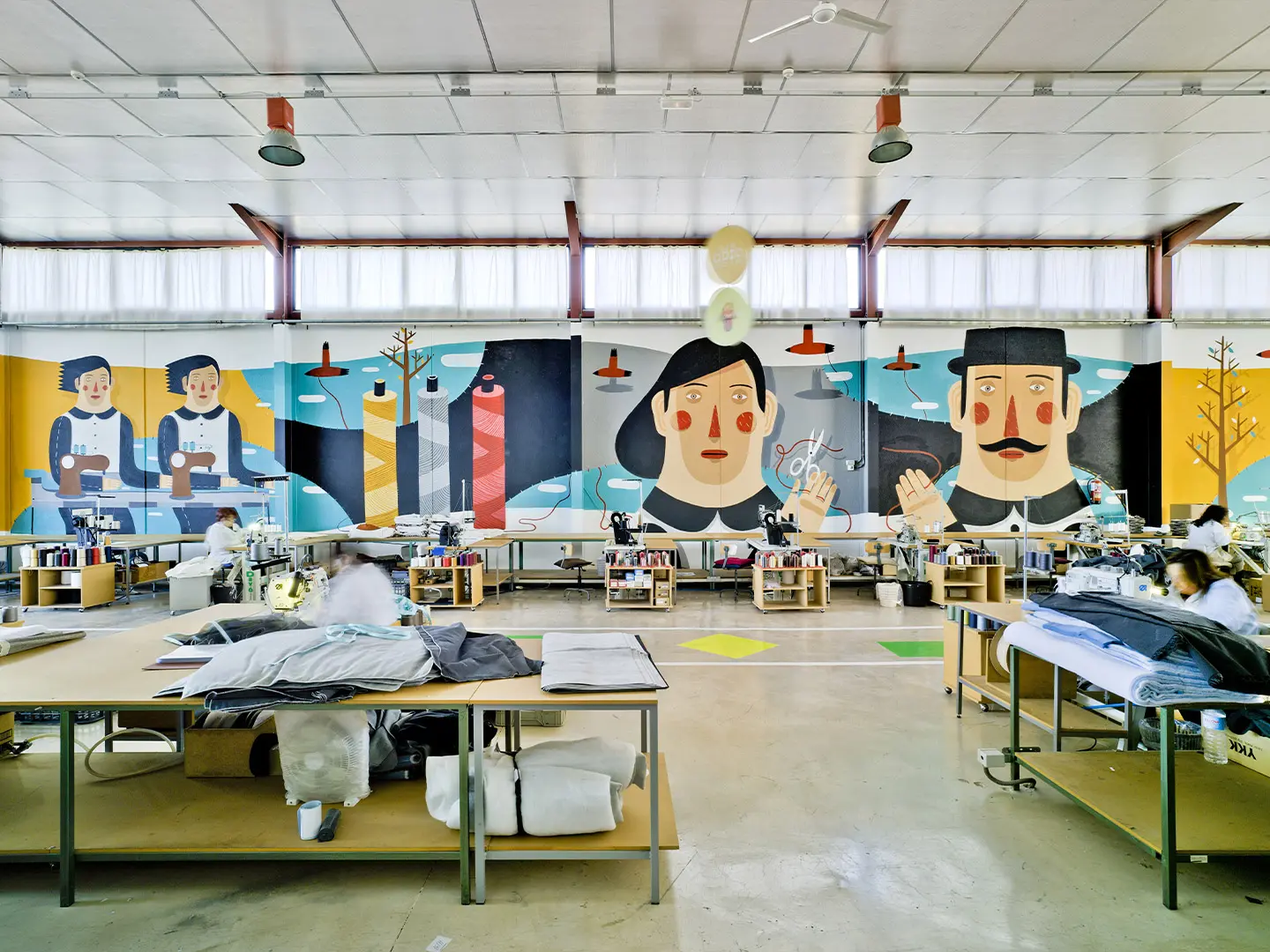 For Sancal, design can be summed up in 4 words: innovation, simplicity, closeness and creativity. Can you explain each of them to us?
Innovation in a broad sense, as the search for new solutions and also new questions. Simplicity is a form of humility as well as a way of refining to get to the essential. Closeness as being always there, supporting your people, your employees, your customers. Creativity for Sancal is a way of life, everything is rethought and created to our measure, whether it is a manufacturing process, a company dinner or of course the brief for a new product. 
The importance of colour is well known. However, colour means even more to you. You have deployed it as your banner. How much does it count in interiors, and in furnishings in particular?
Colour is a way of breaking the monotony. While it is true that it is more pleasant to enjoy coherent interiors that bring a sense of serenity, it is not necessary that everything has to be black and white. A piece of furniture in a vibrant colour is like a flower in the middle of a meadow, the sparkle in the landscape. 
Obviously, not everything matches. It is not easy to combine and contrast in a balanced way. It is essential to work well with colour in order to make risky mixtures that are at the same time harmonious. Otherwise, it is possible to fall into a hodgepodge of meaningless stridency.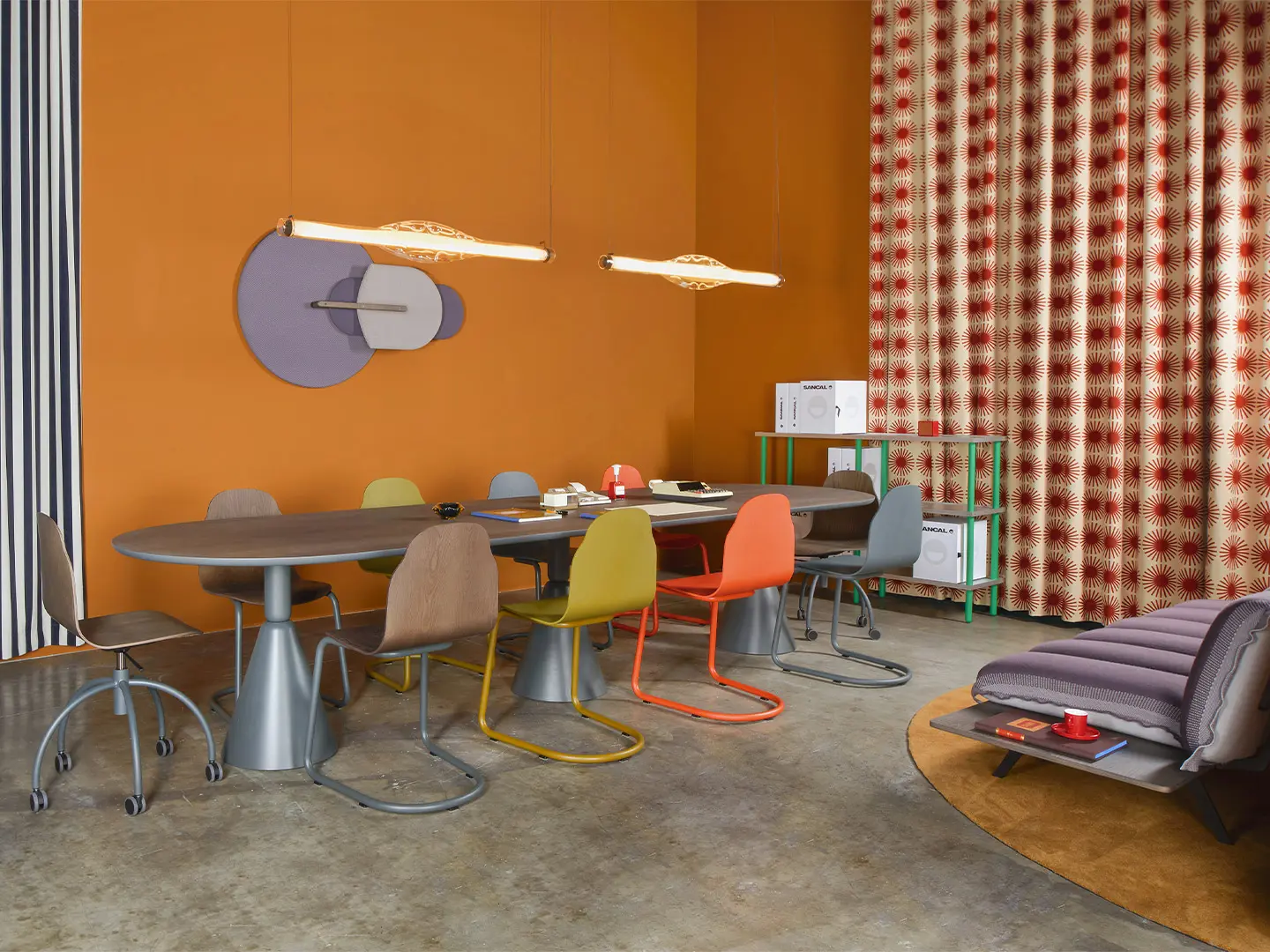 Half your employees are women, starting with you and your sister Elena. Is this gender parity accidental or deliberate?
We don't have these figures in a deliberate form if this is the question, but we have no fear of hiring women. We know that a person's gender has nothing to do with their talent. But we have learned from experience that women can be very versatile, organised and efficient, largely because of the other tasks they perform outside their working day. 
How do you see the future of the company?
As non-conformist as it is now, always looking for new challenges. 
As a family business, we are proud to be able to leave a legacy, so I like to think that we will continue to be a company run with the same passion and commitment with which it was founded. I was taught that the best reward for good work is the satisfaction of knowing that you have given your best and this is what I would like to pass on.