La Scatola Magica
June 12 th 2022 10:30 - 19:30 (CEST)
Add to calendar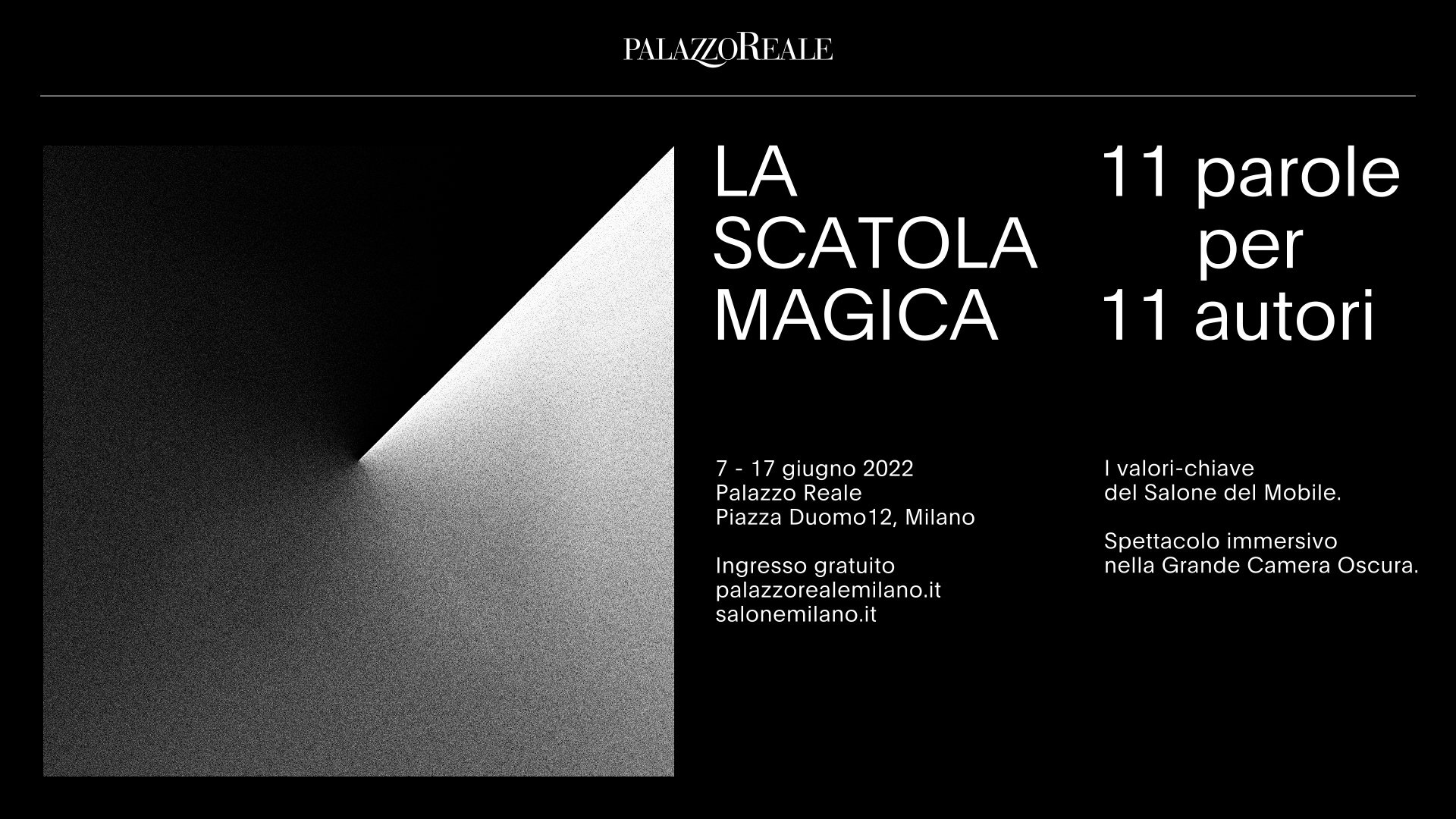 To mark its 60th edition, the Salone del Mobile is setting out its values, its close ties with Milan and with the companies and designers that have made it famous the world over. A monumental site-specific film installation, curated by Rampello & Partners Creative Studio, under the Creative and Artistic Direction of Davide Rampello, will feature in the stunning setting of the Palazzo Reale's Sala delle Cariatidi, based on the 11 values that have always been embedded in the Salone's DNA. 11 films d'auteur by 11 leading Italian filmmakers will be screened. Each of the filmmakers has taken a term from the Manifesto and interpreted it in their own imitable style, turning it into a short film Francesca Archibugi has taken on the word Emotion, Pappi Corsicato – Enterprise, Wilma Labate – Design, Bruno Bozzetto – Networking, Luca Lucini – Communication, Claudio Giovannesi – Culture, Gianni Canova and a team of film students from the IULM University – Young People, Donato Carrisi – Ingenuity, Daniele Ciprì – Milan, Stefano Mordini – Know How, and lastly, Davide Rampello – Quality. 
A memorable experience which celebrates the 60th anniversary and Milan in pursuit of beauty, through the language of film and theatre. 
The project partners also include two leading institutions on Milan's cultural scene: the Pinacoteca di Brera – the 21 works inside the installation are reproductions drawn from their collection – and the historic Carlo Colla Marionette Company. 
La Scatola Magica (The Magic Box)
7th-17th June
10.30 am – 7.30 pm (last entrance 7.00 pm)
Thursdays: 10.30 – 10.30 (last entrance 10.00 pm)
Sala delle Cariatidi, Palazzo Reale, 12 Piazza del Duomo, Milan
Free entrance
Projections start in half an hour and last 23 minutes.