T1.1 Black / Light Bronze
Category: Tables and coffee tables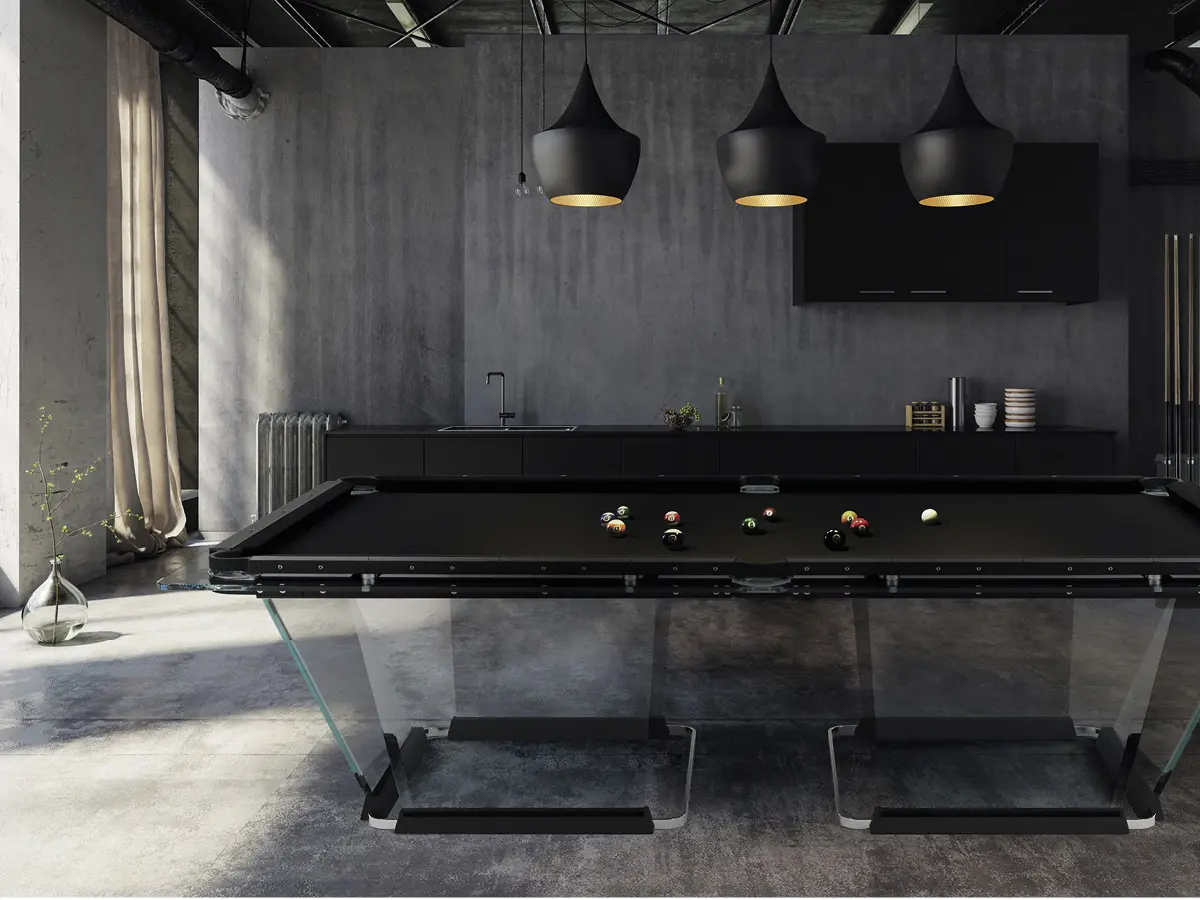 Teckell's pool tables are a synthesis of innovation and tradition, art and design, technology and craftsmanship.These one-of-a-kind objects are the result of thinking way outside the box.
"Pool is a game of thought and concentration, but also an important piece of furniture. Being a serious pool player, I have always been intrigued by the idea of creating a crystal pool table. I'd been bouncing this idea around in my head for a long time. One day I presented it to Gianfranco who was enthusiastic about it. He believed and trusted in me. Together we were able to make it a reality." - Marc Sadler, Teckell's pool tables designer.

Teckell pool tables reflect the brand's mission to create objects that are avant-garde, experimental and surprising. We consult with professional players to ensure that our tables are always state-of-the-art.

Floating play: crystal sheets sculpted into an elegant, streamlined shape.
The light dances across its handcrafted surfaces, courting you to take up a cue and experience a whole new game. Playing field is made of a single sheet of tempered crystal at least 9/16" thick. The glass plate legs with beveled edges ensure its stability.  These legs slide into the open pore lacquered black oak that have carved grooves for securing the glass and hiding the perfect regulation system.
Unrivaled precision through digital technologies.
Each table is created using computer numerical control (CNC) machines which ensure unrivaled precision. Every phase of the process, including final touches, is entrusted to our master craftsmen.
Chameleon at heart: contemporary modern, retro-glam, industrial, design-minimalist.
No matter the environment, Teckell pool tables go well with any style.
Much more than pool tables, these design objects reflect the passion and personality of
its owner:
• Two sizes available: 9-feet (regular table) and 8-feet, ideal for modern homes' living spaces. The incline of the crystal legs differs slightly between the 9 and 8 feet table sizes.
• 2 different solid aluminum rails: black anodized / light.
• 25 colors to choose for its playing cloth Simonis® 86 - the finest bar none, made of worsted wool.
Total black: Teckell T1.1 aluminum rails, with black anodized finish, emphasize the table's sleek lines and form.
Light bronze: Teckell T1.1, together with its luxurious light bronze aluminum rails and transparent crystal playing field, redefines contemporary furnishings.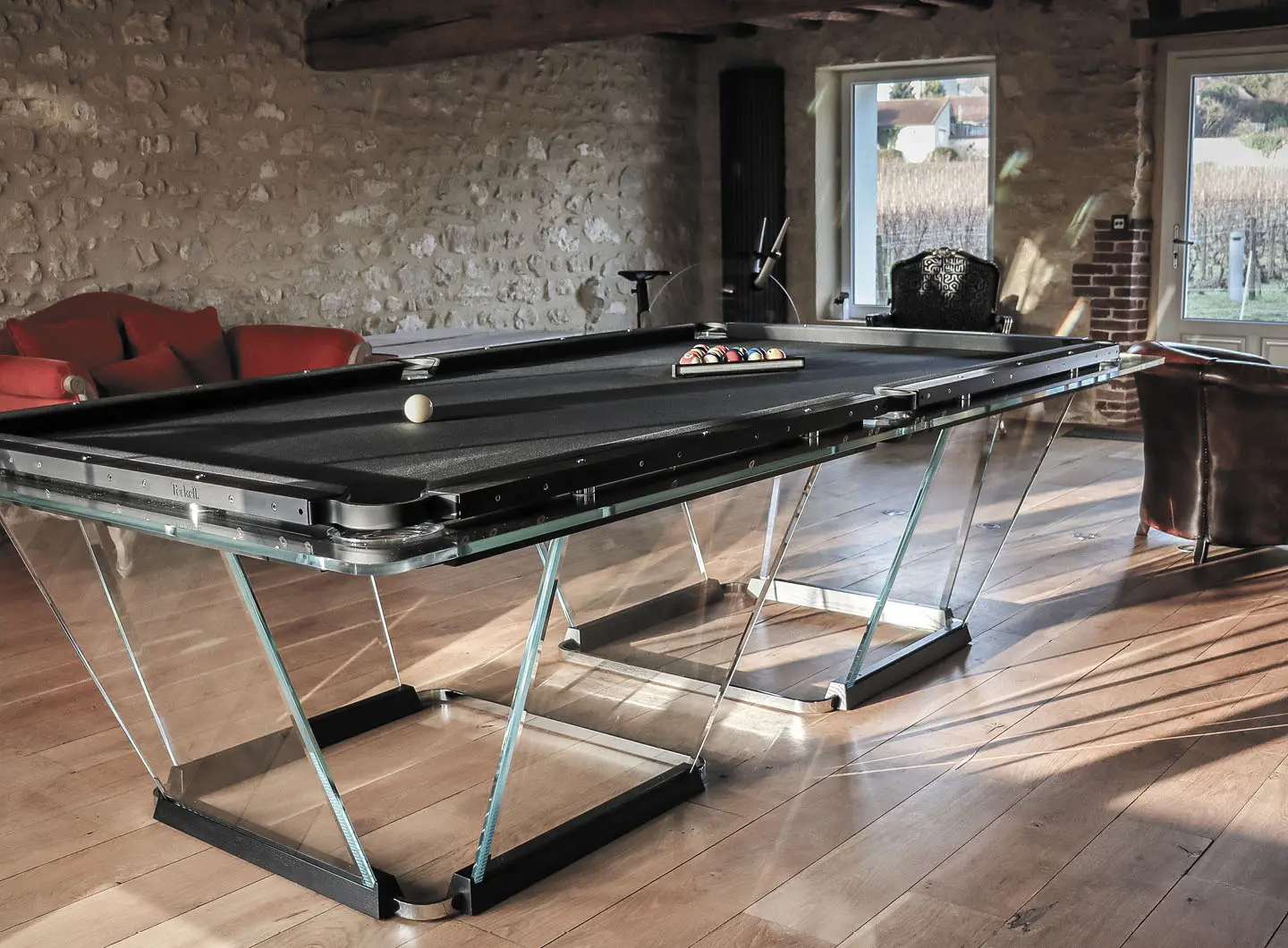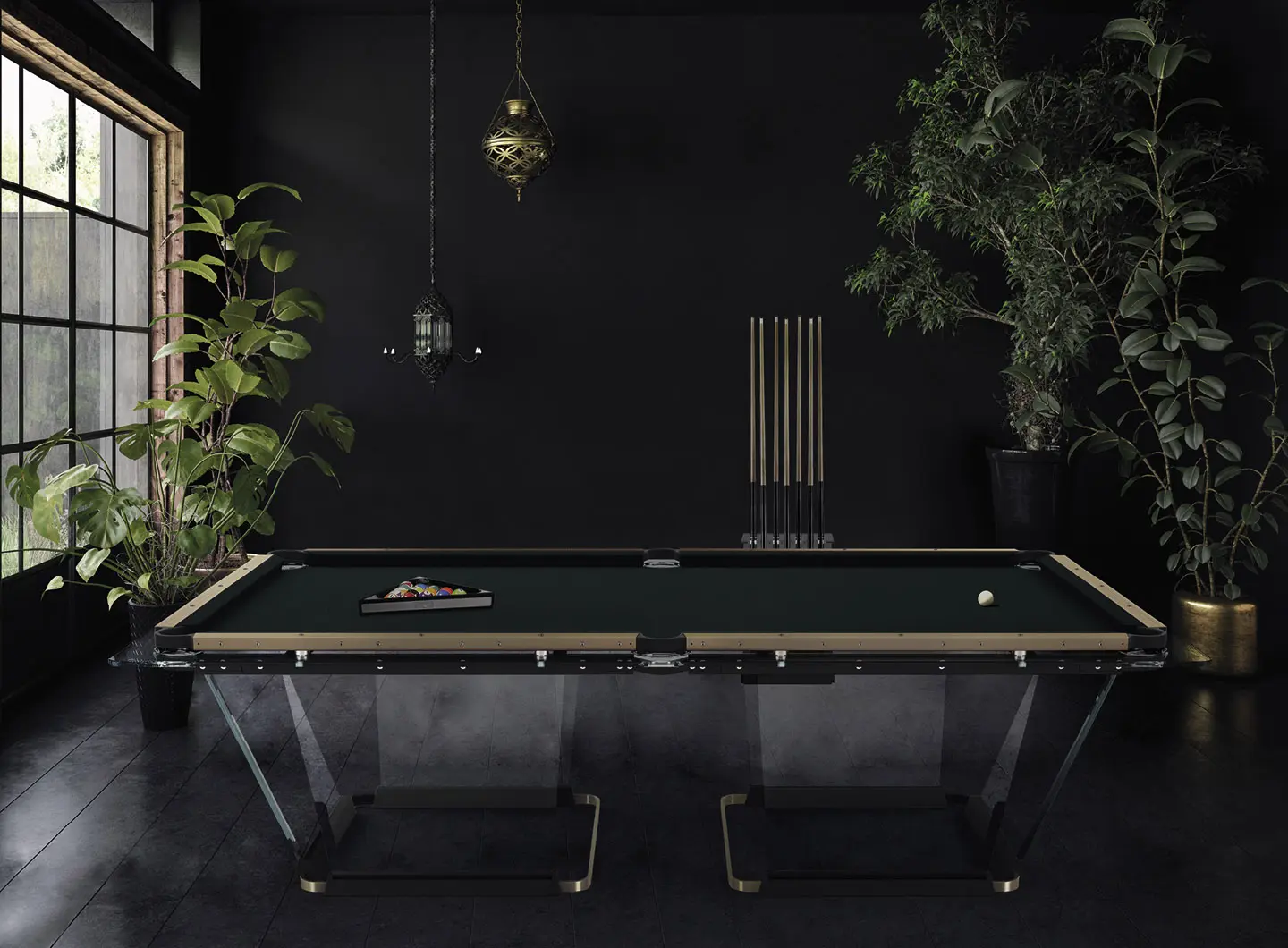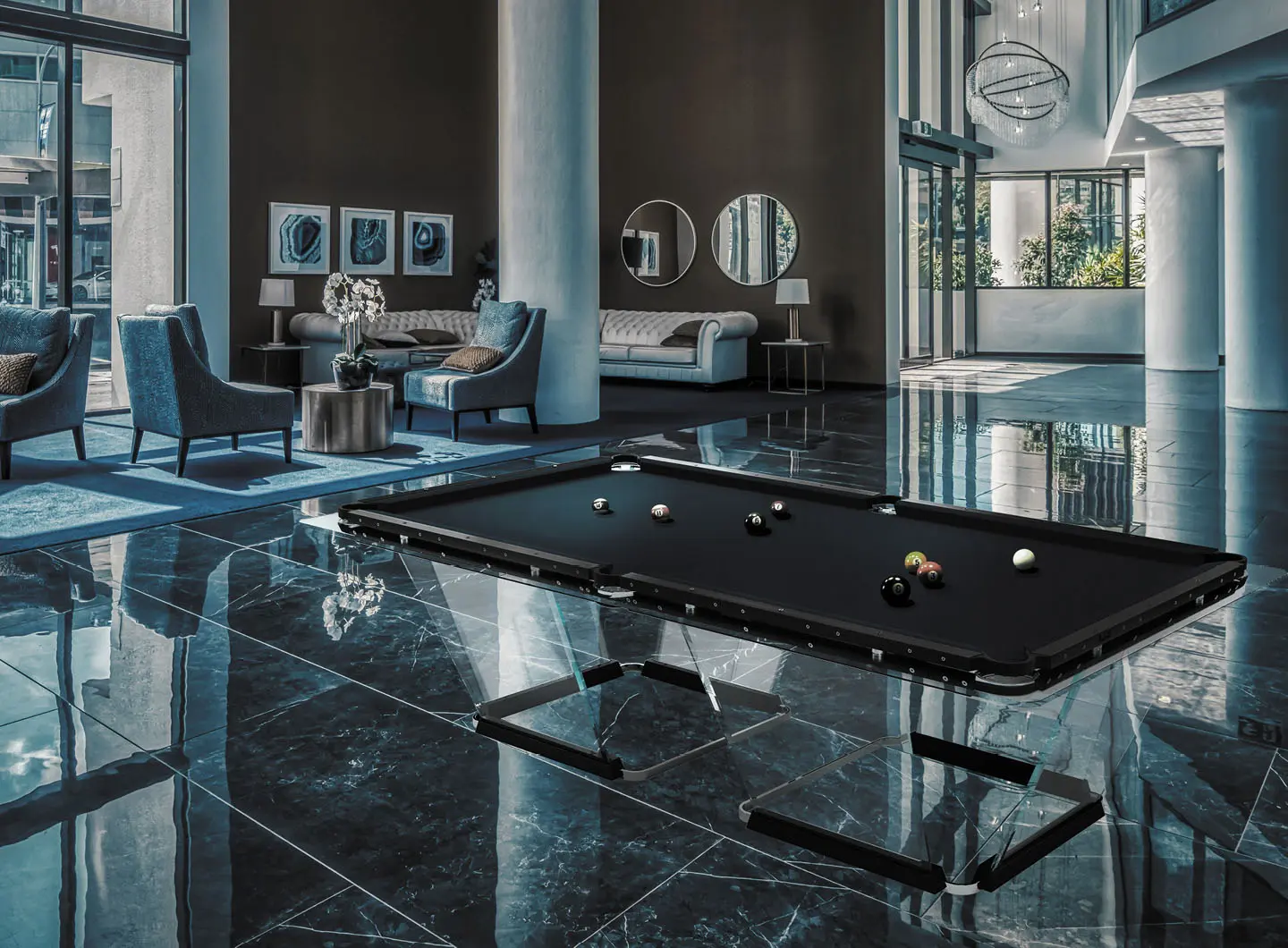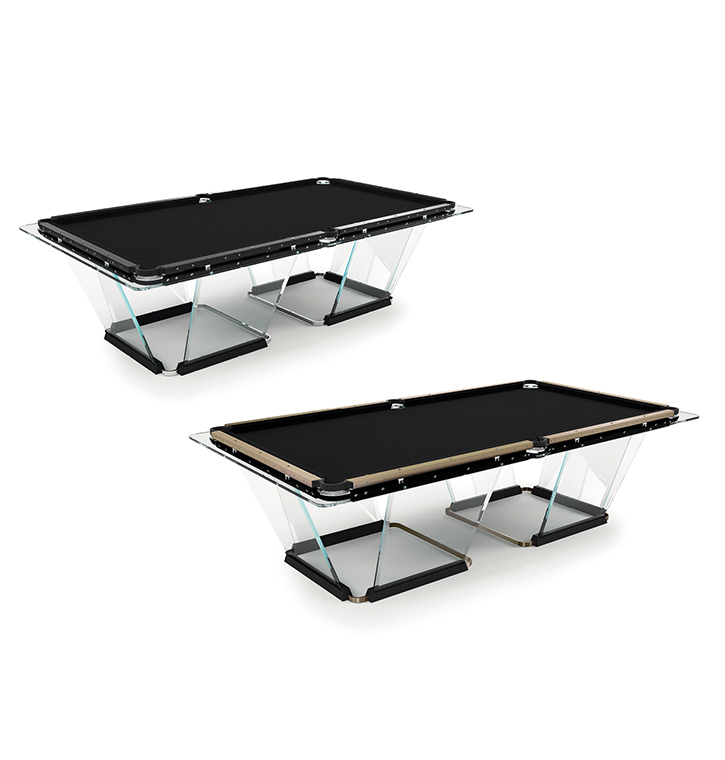 Product description
Teckell T1.1 Black/Light bronze: a minimalism that knows how to have fun.

Details:
• Legs made of clear tempered crystal at least 15 mm thick with double-bevel edges. The incline of the crystal legs differs slightly between the 9 and 8 feet table sizes.
• Bases in solid oak which has been ebonized (a reaction that turns black the open pore wood) with a shiny stainless steel structure. Precise leveling system utilizing 12 screws hidden inside the table's wooden base.
• Solid aluminum rails with black anodized or light bronze finish.
• Plug-and-play system: cloth stretching technique that is easy and flawless for a perfectly even playing surface.
• Playing field made of a single sheet of tempered crystal at least 15 mm thick.
• Playing surface cloth: Simonis® 860™ worsted wool, available in 25 colors. Installation of a soundproofing polyurethane layer below the cloth.
• Each table created using only computer numerical control (CNC) machines which ensure unrivaled precision.
• Polyurethane bumpers: classic pockets have been replaced by highly flexible polyurethane pockets that can hold three playing balls and return to their original shape when emptied.
• Designed for indoor use.

Included with each Teackell Pool table:
• Pool balls (1+15 balls)
• Game triangle (fits 15 American pool balls)
• Cue rack (fits 7 cue sticks)
• Cues set (4 Teckell® cues + Stella Bridge Kamui® + 30cm extension 3lobite System® + pool cue chalks set)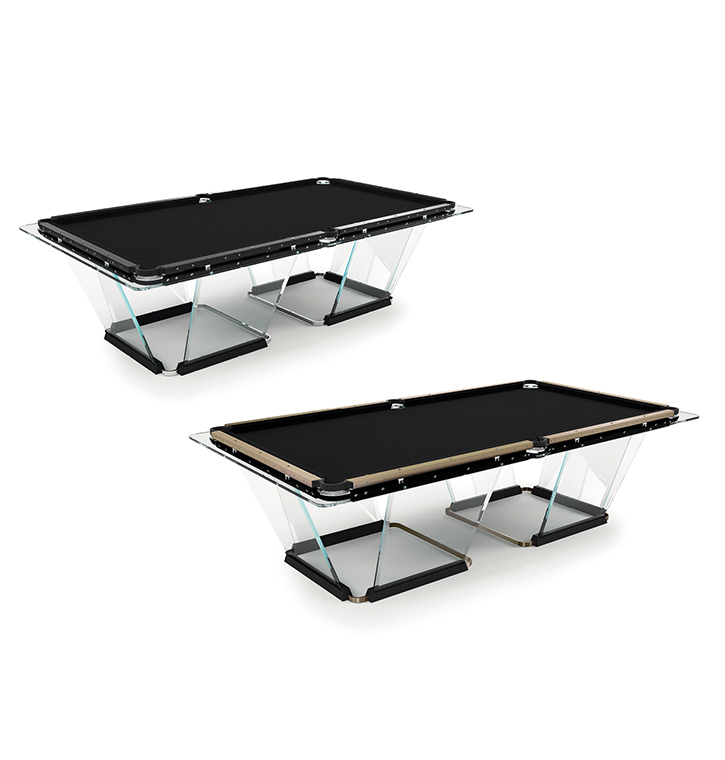 Product name
T1.1 Black / Light Bronze
Materials
Aluminium, Crystal, Wood
Dimensions
9-feet size:
L 290 W 163 H 82cm 400 kg
L 114 ¼ W 64 ¼ H 32 ¼ inches 882lbs

8-feet size:
L 260 W 148 H 82cm 330kg*
L 102 ¼ W 58 ¼ H 32 ¼ inches 727 ½ lbs*

* Half of the weight of a typical billiard table

Official website
https://www.teckell.com

BRAND SELECTION
OUR PRODUCTS