Sabine Marcelis and Less is More, the interview
Add to bookmarks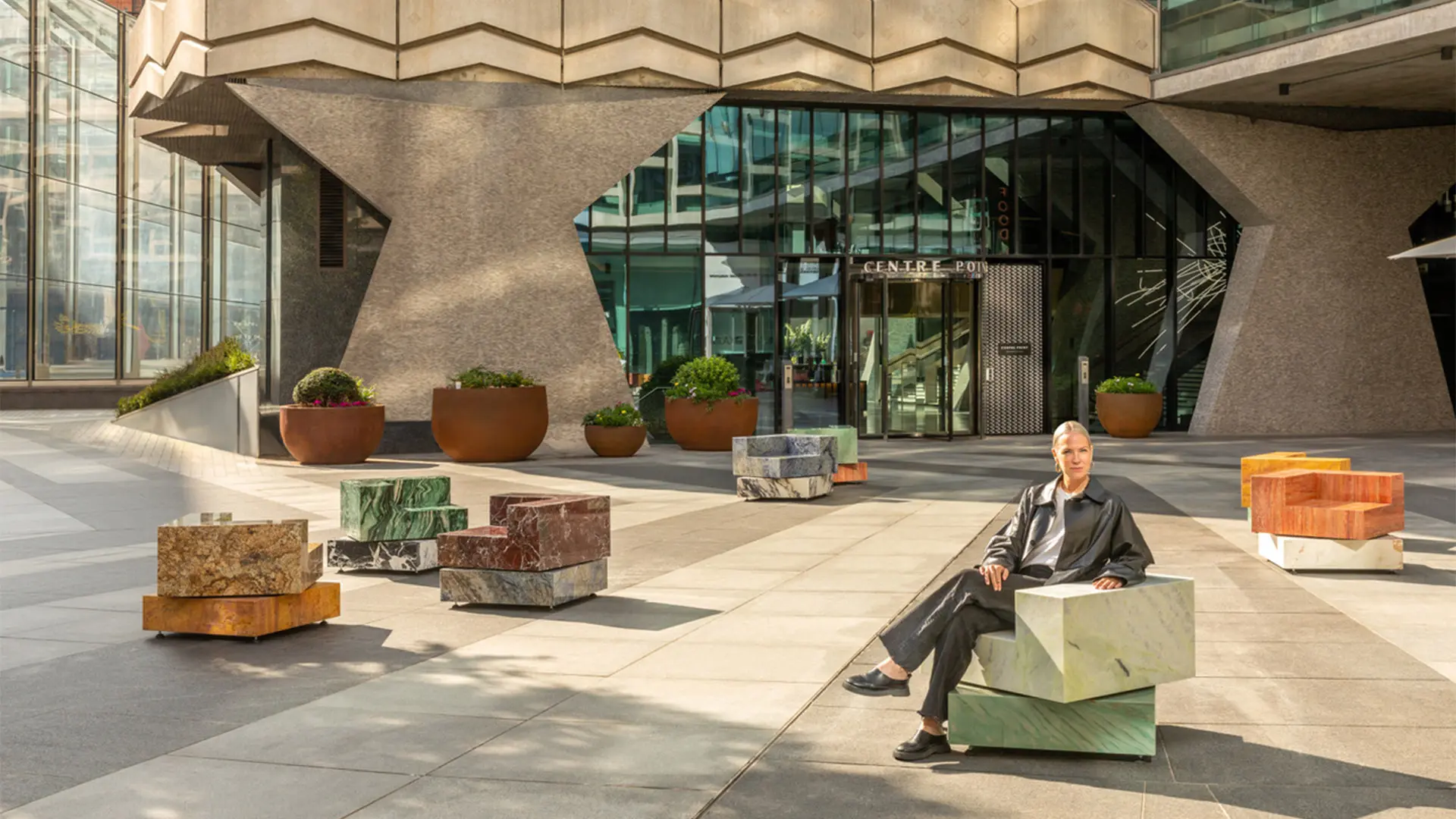 From Swivel to Light Horizon, her latest installation at the lighting festival in Riyadh, the young Dutch designer leverages materials, production processes, colours and light in a bid to create magical moments and sometimes unexpected experiences
Meeting Sabine Marcelis is a bit like encountering a cross between the minimalism of Issey Miyake and the glamour of Miuccia Prada. While the young designer's work articulates the essential and  explores form and material, like the Japanese designer, she shares an elegant, creative language with Miuccia Prada. With an open, happy approach, a fresh voice and direct manner, she talks to us – simply and clearly – about how she uses colours, reflections and translucencies to create fluid and dynamic projects. Her work contains no tricks or empty storytelling, rather it is a painstaking exploration of light and material that she channels into her vision without ever betraying that sense of environmental responsibility that, she stresses, should come naturally to all designers.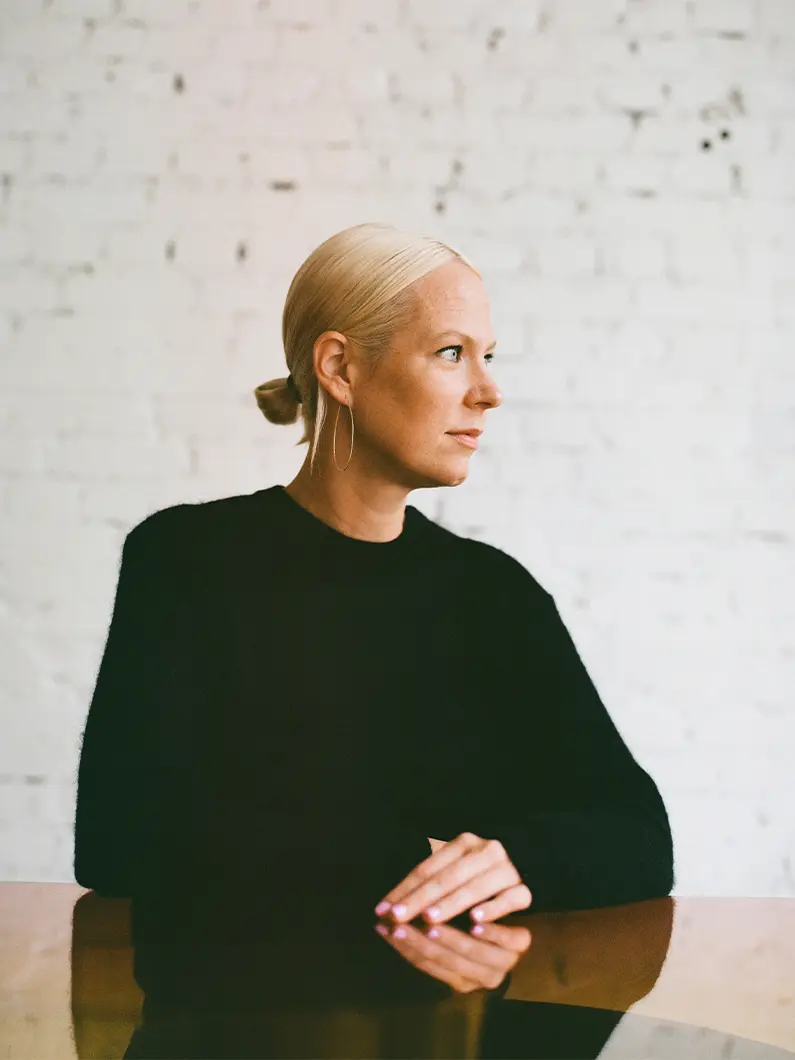 Your projects mix colour, form, perspective and materials. Almost a form of communication driven by an experimental and artistic approach. Is that the case with Swivel, your most recent London project?
It was a more rational than experimental project. When they asked me to create something for St Giles Square, I wanted to go and see it in person to get an idea of the space. There's a bit of everything there, both from an architectural and a human point of view, with hordes of people coming and going. I liked the idea of creating something iconic that could be experienced from any part of the square. I also wanted to inject a bit of colour into a prevalently grey space. I decided to use a natural material to counterbalance the concrete and the manmade parts of the area. Given that it's an outdoor installation, I needed an extremely strong and hard-wearing material, so I went for an agglomeration of granite, quartzite, marble and travertine. That then drove the choice of colours for each individual chair.
Your projects stand out for their geometry and rigorous research, combined with a subtle play on traditional forms. Where does your aesthetic come from?
I love material. My projects are generally inspired by the materials I use and by a first production stage in which I work on forms that emerge little by little and which I find appealing. My approach to geometry and form is geared to essentiality and rigour, leaving the material, with its colours, to do the talking. In a project like Swivel, for example, the lines of the chairs create both the movement and the clear, perfect forms that counterbalance those of the surrounding buildings.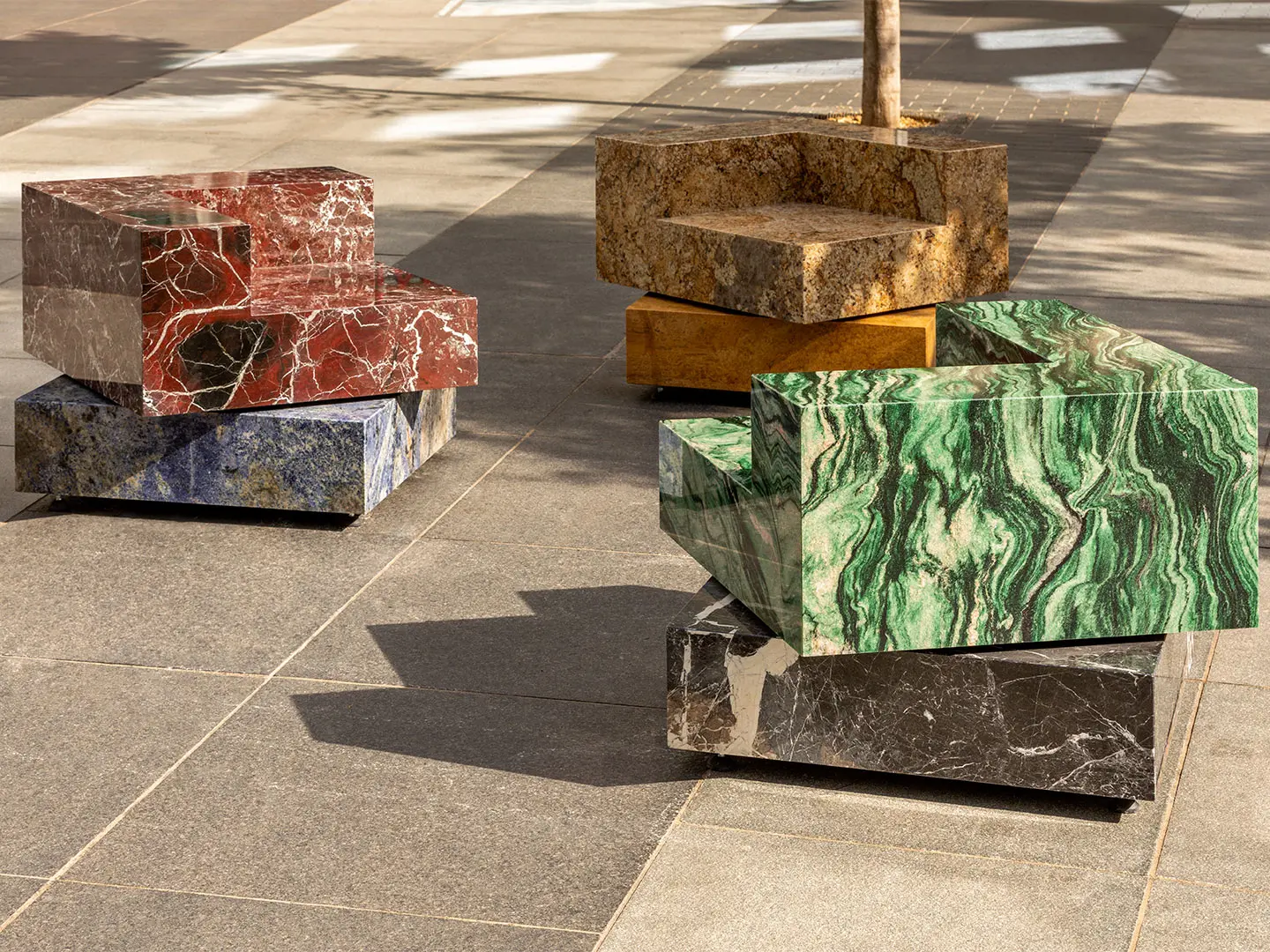 Can you tell us about your approach to material?
I always try to use it knowledgeably, respectfully and efficiently. I look for light in materials, whichever they are – glass, resin, marble, metal, textiles – and explore the ways in which I can bring it out, through lamps, flashes or reflections. I often embark on lengthy and engineered processes which fascinate me.
What's your personal and professional Theory of Colour?
When the Vitra Design Museum invited me to reorganise the 400 works on exhibit, subdividing them into colours, in an experimental grouping of different authors, textures, forms and eras, I spent a long time reflecting on it. There are lots of different ways of working with colours, and there's undoubtedly a science behind the harmonious pairing of shades – which I'm very familiar with and which I use – but, on that occasion and in my projects in general, I rely more on intuition and emotion. That's how I come up with unexpected or unusual colour combinations  that work really well. Not following theories to the letter allows me to conserve the surprise effect and to have fun.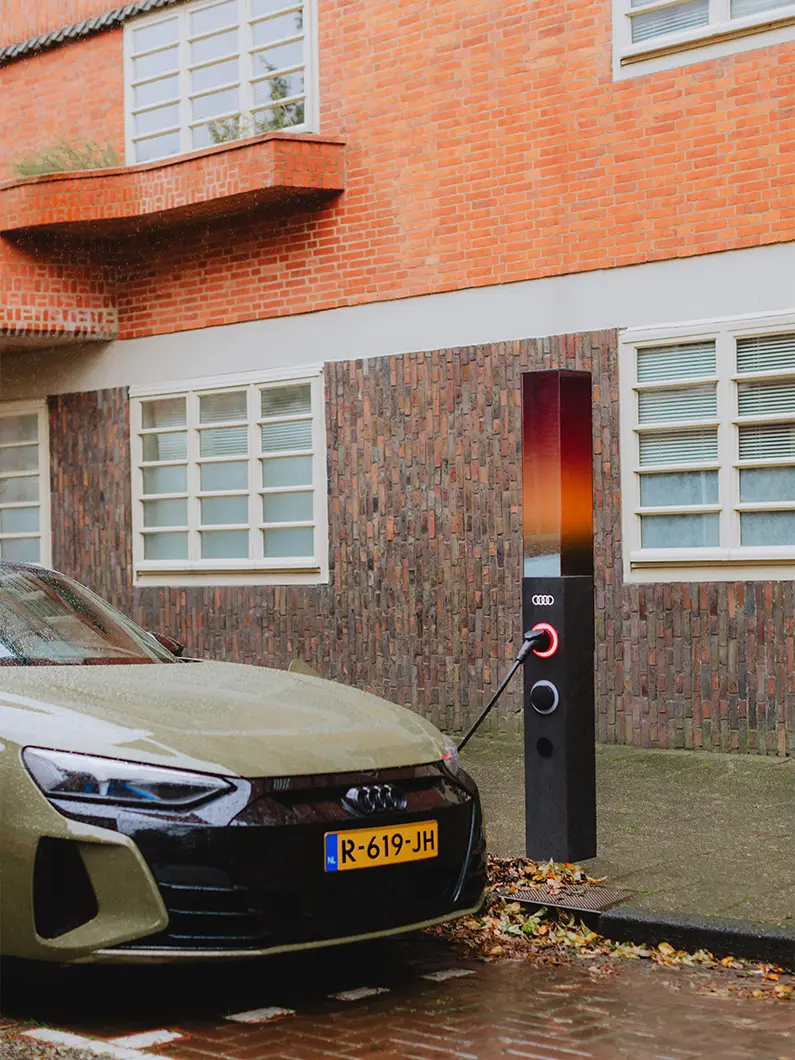 When we're talking about space, light is crucial, as is being able to perceive the energy or the movement that traverse it . What's your approach in these cases?
At the moment, I'm fascinated by outdoor spaces. Clearly, therefore, movement and light are important. Here's an example: with Swivel I wanted to create  a "berth," a fixed point in this open, bustling space, but I also wanted to encourage sharing and interaction. This is precisely why the chairs move: they allow the person sitting on them to be alone and rest or to interact and dialogue with others. Along with the colour, this movement serves to bring liveliness and fun to the square.
Sustainability plays a major role in your work, and is also the key issue in contemporary design. In what way do your projects speak to circularity and regeneration?
As designers, we have an enormous, shared responsibility given that our work draws on natural resources. I usually only work for exclusives, and design one-off or limited-edition pieces, which I think demonstrates an awareness in itself. I pay the greatest attention when it comes to large installations, such as Swivel for instance. I would never have used marble, granite or travertine if they hadn't told me it would be permanent. In my studio, we teach our designers to think and plan in as responsible a way as possible, and all the energy in our building derives from solar panels. We work with resin, which isn't the most ecological possible, and so we explore new materials every single day, trying to work out how to harness organic or new and innovative materials.