A face-to-face with Alessandro Minotti. "Our vision? Harmony between product and environment"
Add to bookmarks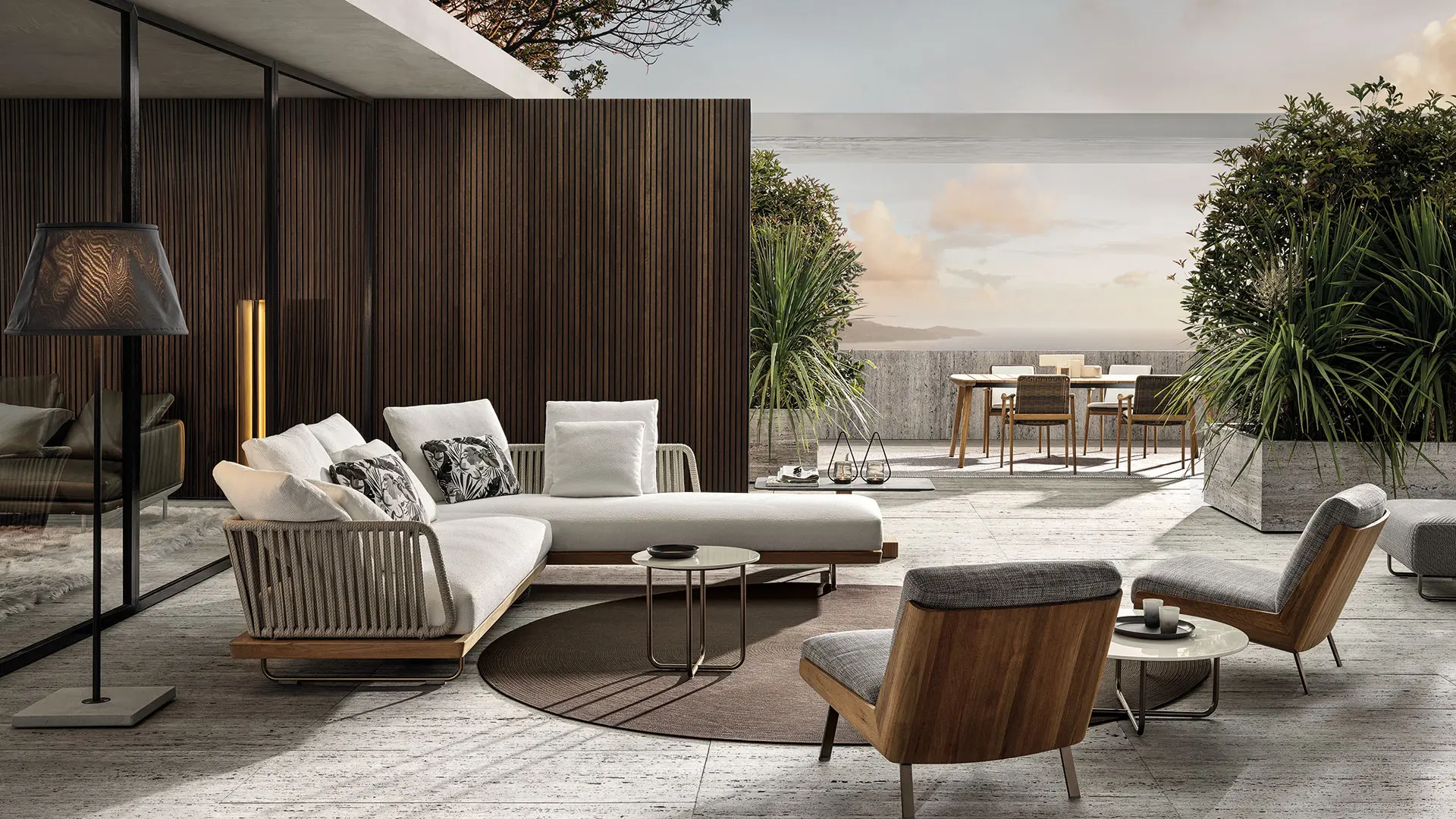 A chat with Alessandro Minotti, General Manager of Minotti S.p.A, ranging from market performances to the new digitally-presented collection, the importance of the product and the emotion of home living.
It seems paradoxical, but you worked harder than ever during lockdown. Early into the office to try and curb the impact of the pandemic on the 42 flagship stores and the network of around 250 retailers with whom the company works in over 60 countries around the world.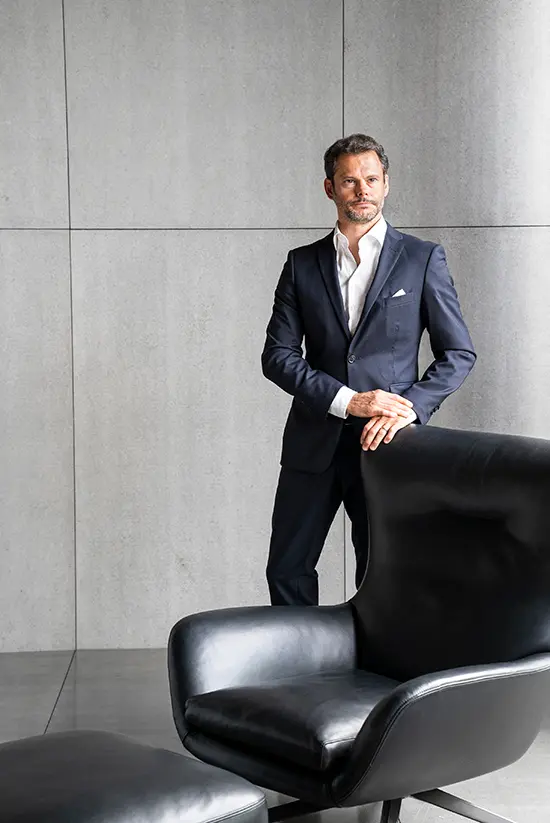 A routine question: how's Minotti doing?
We closed 2020 on a positive note. A small, single digit "+" that is nonetheless significant given what a critical year it was. 2021 got off to a good start, the markets are functioning. Why did we close so well? The home is undoubtedly a sector that has benefited from the situation – being forcibly confined inside the domestic walls has encouraged people to focus on their own homes, to think about how they might make them more comfortable, their own outdoor spaces included. Against this backdrop, Minotti has proved to be a winning choice, given the quality that has always been ascribed to the brand.
What's the outlook globally?
Our company sells to more than 60 countries around the world. Aside from Italy, Germany, Belgium, Holland and the Northern European countries in general have reacted positively to the lockdown. China, the first country to be hit by the pandemic, and the first to exit it, is also seeing large growth.
What are the differences with China?
They're two different situations. Europe is a consolidated and mature market, with consumers familiar with Italian design. China is a "younger" market for various reasons: we're reaching out to a younger target group, aged 25 and upwards, that has travelled and often studied abroad. This generation is looking for modern houses, often as an antithesis to their parents' more traditional taste. Our furnishing range is crosscutting where the markets are concerned. The collections are the same everywhere, but the range is designed to be interpreted according to the culture and tastes of individual markets. There are also different buying attitudes and habits in China, where we've had a distribution policy that has seen us gain a unique position in single brand shops with local partners – clients often want to buy what's right in front of them, the way it's showcased, without having to wait, as well as being more fascinated by the brand itself. In Europe, clients would rather explore potential solutions for ad hoc projects.
What about the United States?
It's an excellent market for us. We are opening a new flagship store in Boston in July, bringing it in line with New York, Miami, Chicago and Los Angeles. The US has frequently demonstrated just how dynamic it is, and quick to recover.
What's the year been like with no Salone?
At the beginning of March, we suddenly found ourselves with no Salone del Mobile di Milano to look forward to, but with our 2020 collection ready to launch. It was really traumatic. We had to reinvent ourselves and went for a sort of "digital fair" with a virtual launch. We harnessed the available technological tools and reworked our communication methods. We are historic partners of the Salone and when it couldn't be held, we felt disorientated, also because for us it represents the beginning of our business year.
How did you launch the new collection?
The collection was in fact the largest to be presented over the last few years, including three seating systems, accessories and armchairs, as well as an extensive and cohesive outdoor collection.
In fact, we had invested in a Super Set to give us increased exhibition space and in a television studio with a real recording booth. We produced a 75-minute video, featuring members of the Minotti team as well as the owners of the company, and sent it out to all our main global stakeholders. A packed narration, discussing and showcasing the collection in the round, followed by a series of webinars digging deeper into the most specific and technical aspects of each product. We worked by fixing daily appointments, respecting the time differences in the various markets.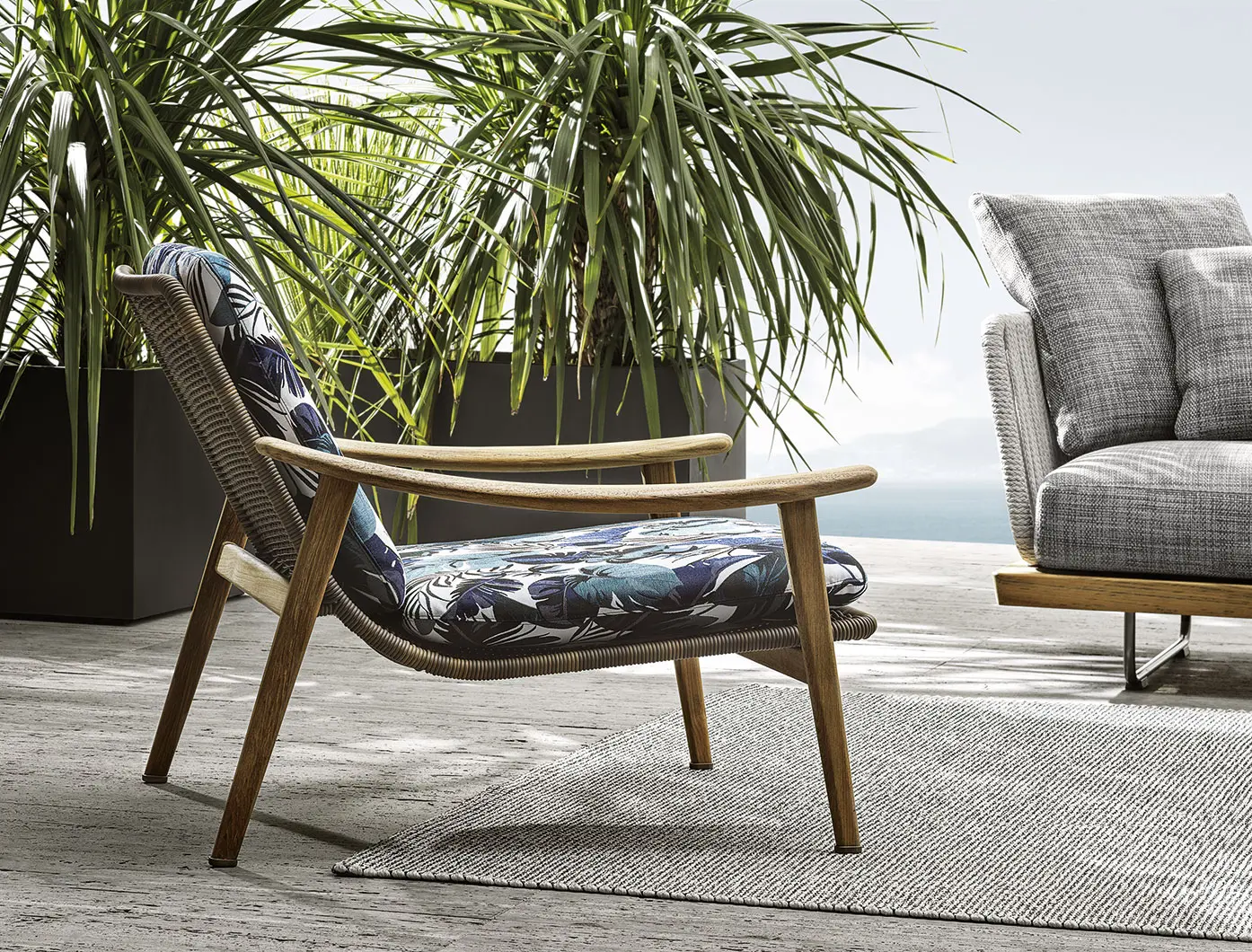 The title of one of the episodes of the digital series Endless Moments of Pleasure, Chapter #2, in which the stars are the highlights of the 2020 Collection, is Home is a Feeling. What does home mean to Minotti?

Emotion, good looks, quality, functionality. We take huge care over our exhibition spaces to ensure that the contextualised product triggers a strong emotion in the clients. As of 1997, when we started to work with Rodolfo Dordoni – the company's art director – we've worked on collections and always created a context in which they were perfectly situated and valorised. It is this combination that makes our offering unique. Each collection has a specially tailored atmosphere that represents it, over and above the design of each piece. That's the emotion we want to transmit, the feeling of home that we want to emit.
You represent the third generation of Minottis.
My grandfather set up the company. My father and my uncle took up the reins and steered its expansion at international level. Then, many years ago now, I and my brother Alessio, my cousin Susanna and, recently, my cousin Leonardo joined the company. The second and third generation work together as a close-knit team. Every day we challenge ourselves to go further, with an exchange of values and ideas that form the basis for important decisions for our future.
The Findomestic consumer credit group 2020 snapshot is bleak, with sales of durable goods (cars, design pieces, electrical appliances) down by 10.3%.
It's a terrifying figure, the pandemic itself is scary. Our products are high end, for a client base looking out for quality, real quality, and a certain style, but there's an economic crisis, so we have to do whatever we can to make things go well. We try to manufacture impeccable products that blend the values of Made in Italy with our couture savoir-faire as regards workmanship. People who buy a Minotti product are aware that they are buying a durable product, not subject to fashion – simply celebrating form has never been our strategy.
Predictions aside, we are looking forward. As a company, you have to be constantly geared up to respond to the market, alongside our retailers. Clients and shops live off new things, new collections bring energy. We are always ready.
It's important to constantly stimulate the end client, as we did with our most recent collection, with the indoor/outdoor pairing, making the transit from the living space to the outdoor one as smooth as possible.
In 1951 Elio Vittorini suggested the word 'Gettoni' to Einaudi, as the title for a fiction series: "I am suggesting this title because of the many meanings of the word: a telephone token (and therefore a communication tool), a games counter, and also a bud." Who would you pass the 'gettone' for this interview on to, to continue the conversation?"
It would be great to hand it over to the professionals we work with and who have embraced the way we are. We're currently collaborating with five designers who hail from different cultures: as well as Rodolfo Dordoni from Italy, Marcio Kogan's from Brazil, GamFratesi from Scandinavia, Nendo from Japan and Christophe Delcourt from France.