Didier Fiúza Faustino: "I claim for the un-comfort"
Add to bookmarks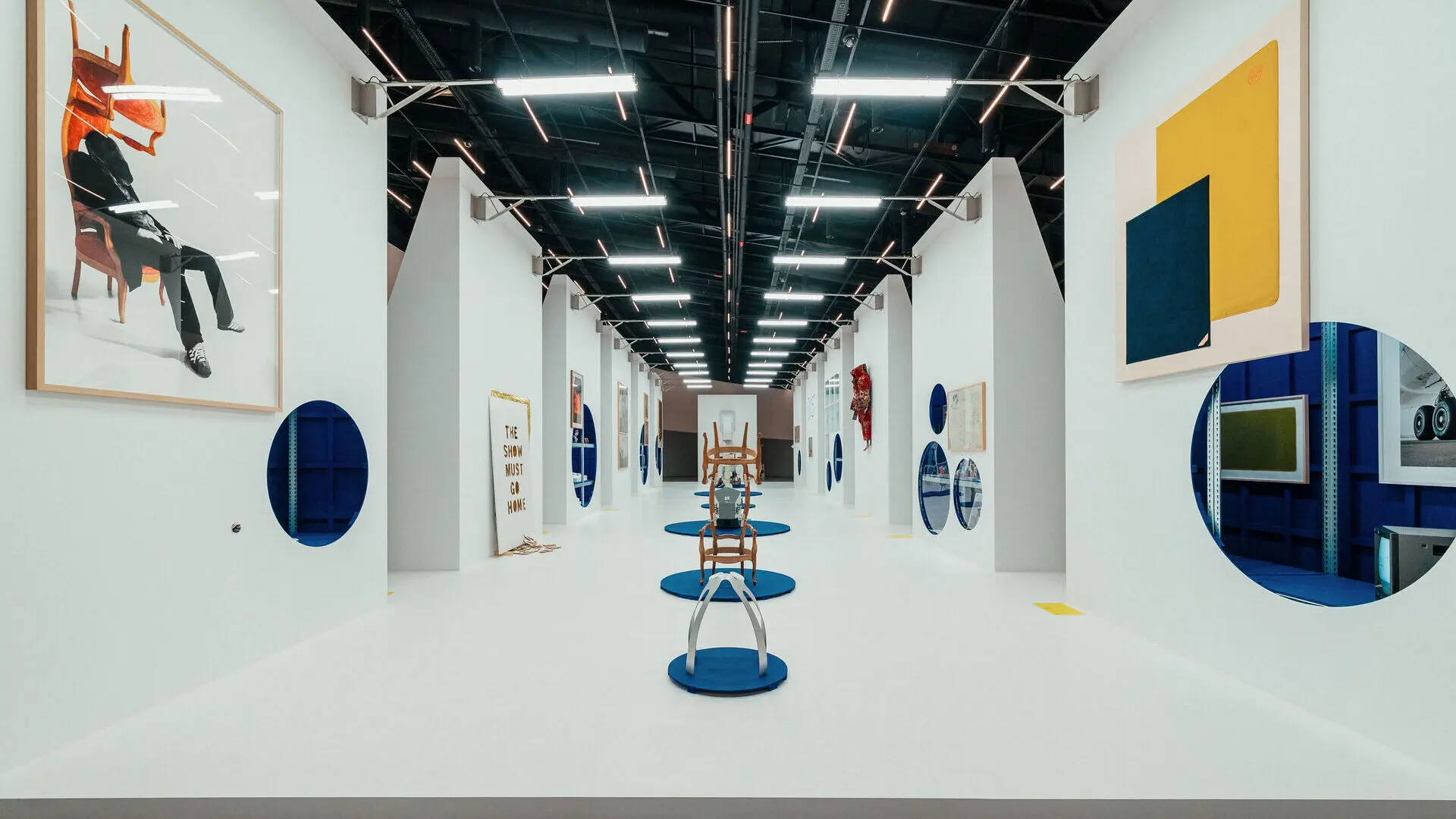 Architect, artist and designer Didier Fiúza Faustino is presenting his first retrospective at the MAAT in Lisbon, curated by Pelin Tan. Here he shares his thoughts on the meaning of design, comfort, and questioning the norms we live in
After thirty years working in the interstices between architecture, art and design or, rather say, observing how the human body crosses our world through norms, constrictions, migrations, sheltering and contradictions, French/Portugues 'experimentalist' Didier Fiúza Faustino (b. 1968) is finally on show with a mid-career retrospective at MAAT in Lisbon, open until March 3, 2023. Curated by Pelin Tan and strongly wanted by director Beatrice Leanza, who is concluding her mandate at the museum with this last show, "Exist/Resist" is an exhibition worth seeing for the piercing questions that are presented in the form of powerful pieces that include prototypes, photos, models, large-scale installations, films, and multi-sensorial design.
Faustino interrogates social norms and the way our bodies are forced to adapt to standardization and rules, breaking the notion of comfort. His Love me Tender chair, for example, is an aluminum chair with legs that end in the shape of spikes: you cannot use it without acknowledging that it will surely hurt the architecture it is placed into, as the spikes would penetrate and damage the floor. The exhibition is organized around four main topics that are recurrent in his work, "Housing and Dwelling", "Borders of Bodies", "Design as Resistance" and "Agonism in Public Space". Here our conversation with him.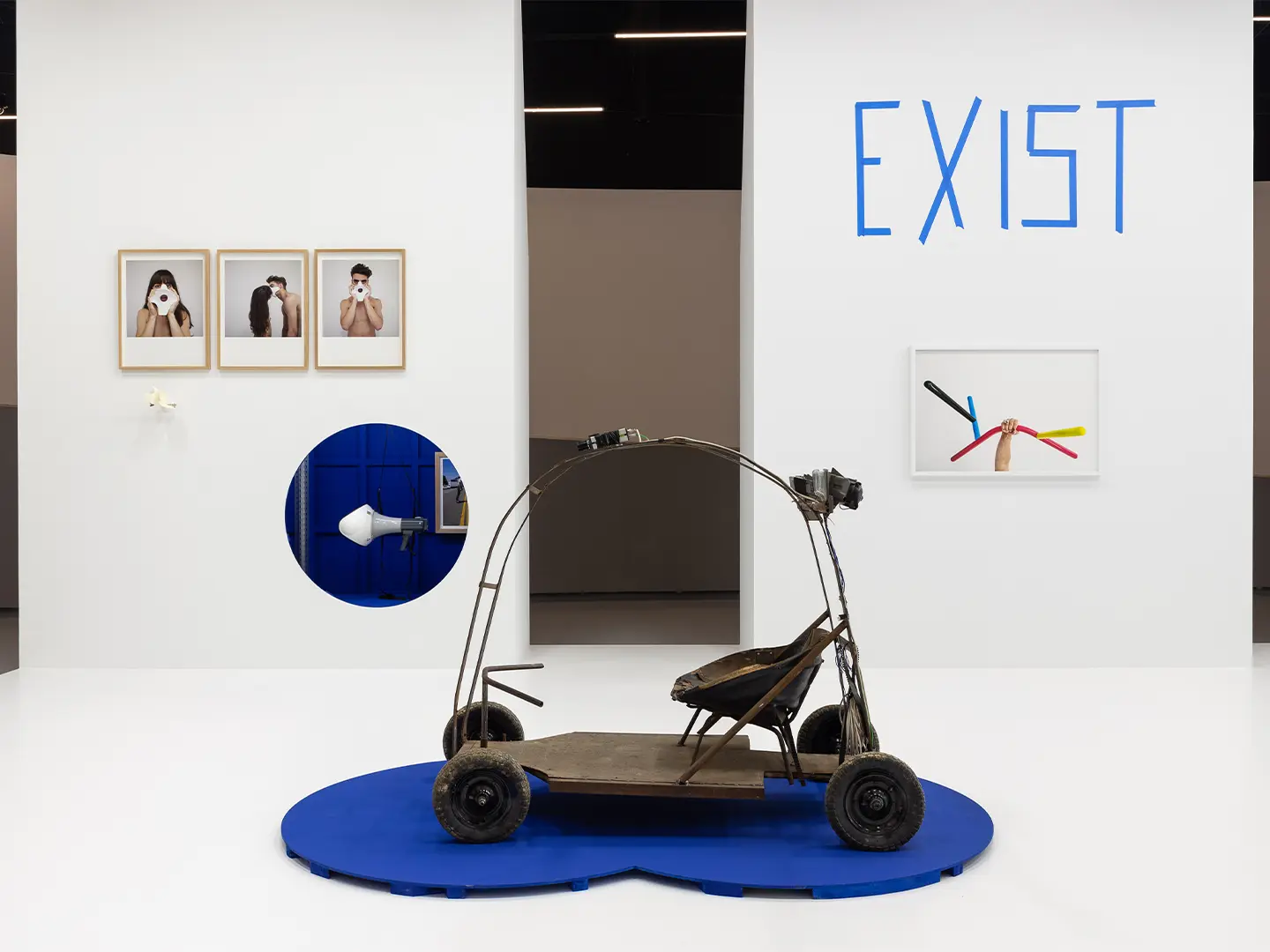 So, you finally made it here, in your country!
Yes, but it's an Italian director who brought me here.
What was your reaction when Beatrice Leanza asked you to exhibit a retrospective on your work?
I was surprised, I asked her "Are you sure? For whom? For what?". I still think my work is a clandestine practice, a work of acupuncture that questions society. Together with curator Pelin Tan we thought that it would be interesting to put things together in perspective, rather than retrospective and ask myself, what have I done?
And how was it for you to look at the mirror?
Not easy. I wasn't looking at the same person, it was somebody else. I am still a foreigner to myself, be it Didier, or Fiúza or Faustino. All these projects we put together have their singular stories and personalities, we put them together and it creates a family made of fragments of individuals. The pandemic has been an interesting period to look at the mirror, because we developed a parallel platform in our studio (Mésarchitecture, Ed.) to bring in stories and discussions, asking ourselves the validity of things, and validating some hypothesis on which we are working now. It made things clearer: and now we forgot everything again. It was a moment of consciousness but now we jumped in this amnesia again. Amnesia is good as looking too much into the past can be frightening. We cannot work looking into the past, we need to live now.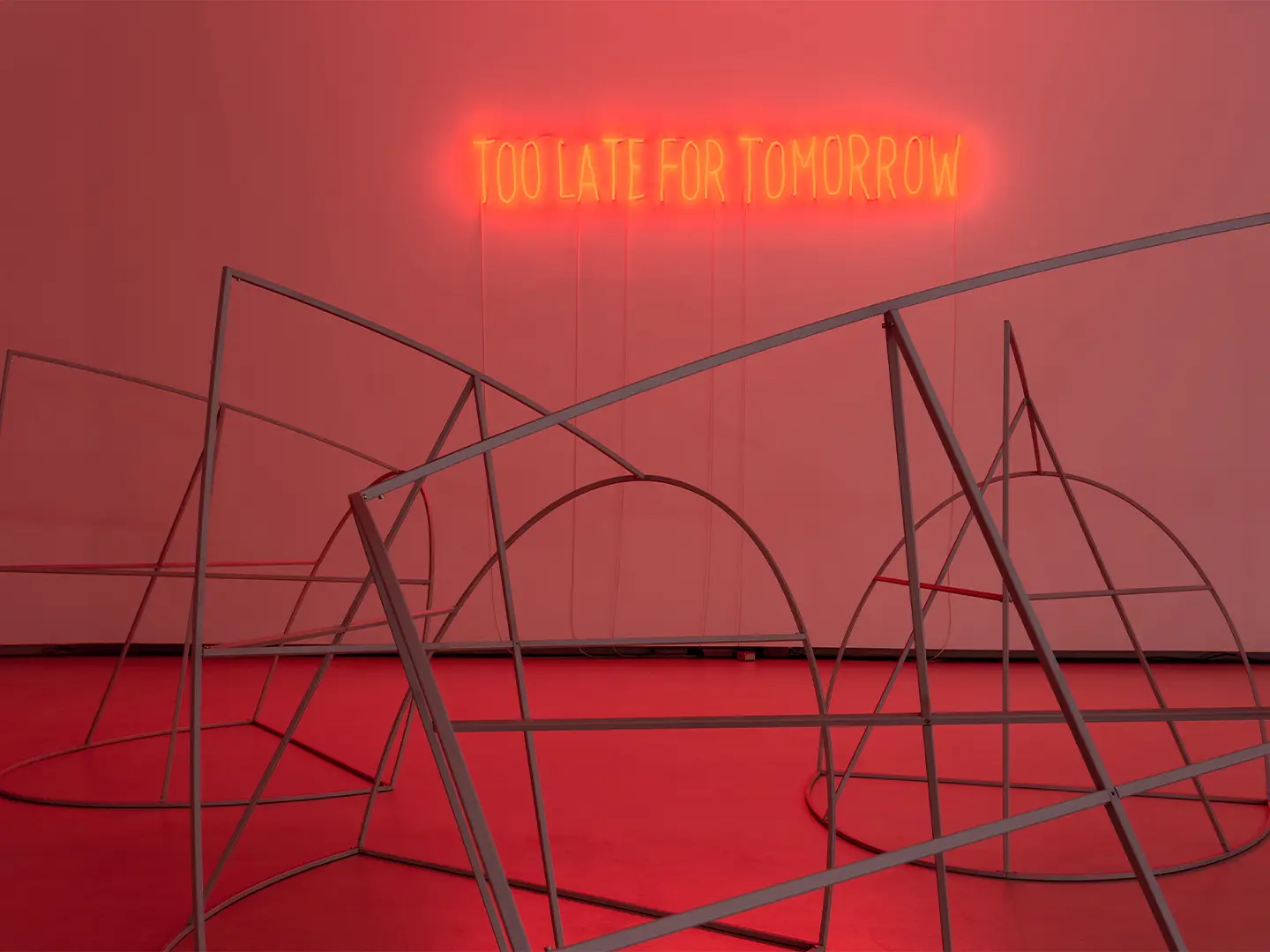 Did the encounter with the man in the mirror change you?
I don't think it has changed me. I'm looking at the space here more as a designer of the show.
What is the message of the exhibition?
The pieces are autonomous and send their own message. For example, in Democracia Portátil (portable democracy, Ed.), a mobile place where people can share their thoughts safely. The pieces work as messages in a bottle, that somebody will find.
Your pieces situate between art, architecture but design is at the core.
Yes, I use design to contradict the behaviors or the norms. When I design a piece, it is always about questioning that: when I design a chair, for example, I would rather use the French word dessiner with its broader meaning of organizing, constructing the behavior and the use.
What is the relationship with the materials you use? They are always clear and recognizable.
The material is not driving the project, but viceversa and it relates to the narrative of the piece. There is a meaning if we use galvanized metal or if we opt for wood. I like metal, for example. I find it interesting it because of its plasticity and it is easy to work with. The strategies of the design are always linked to the narrative and the question you put in it. My design it's about questioning. Take for example the "Interrogative Design Group" at MIT chaired by Krzysztof Wodiczko: I love this idea and I think I am an interrogative designer. I produce objects that are not answers, but sometimes one question is enough.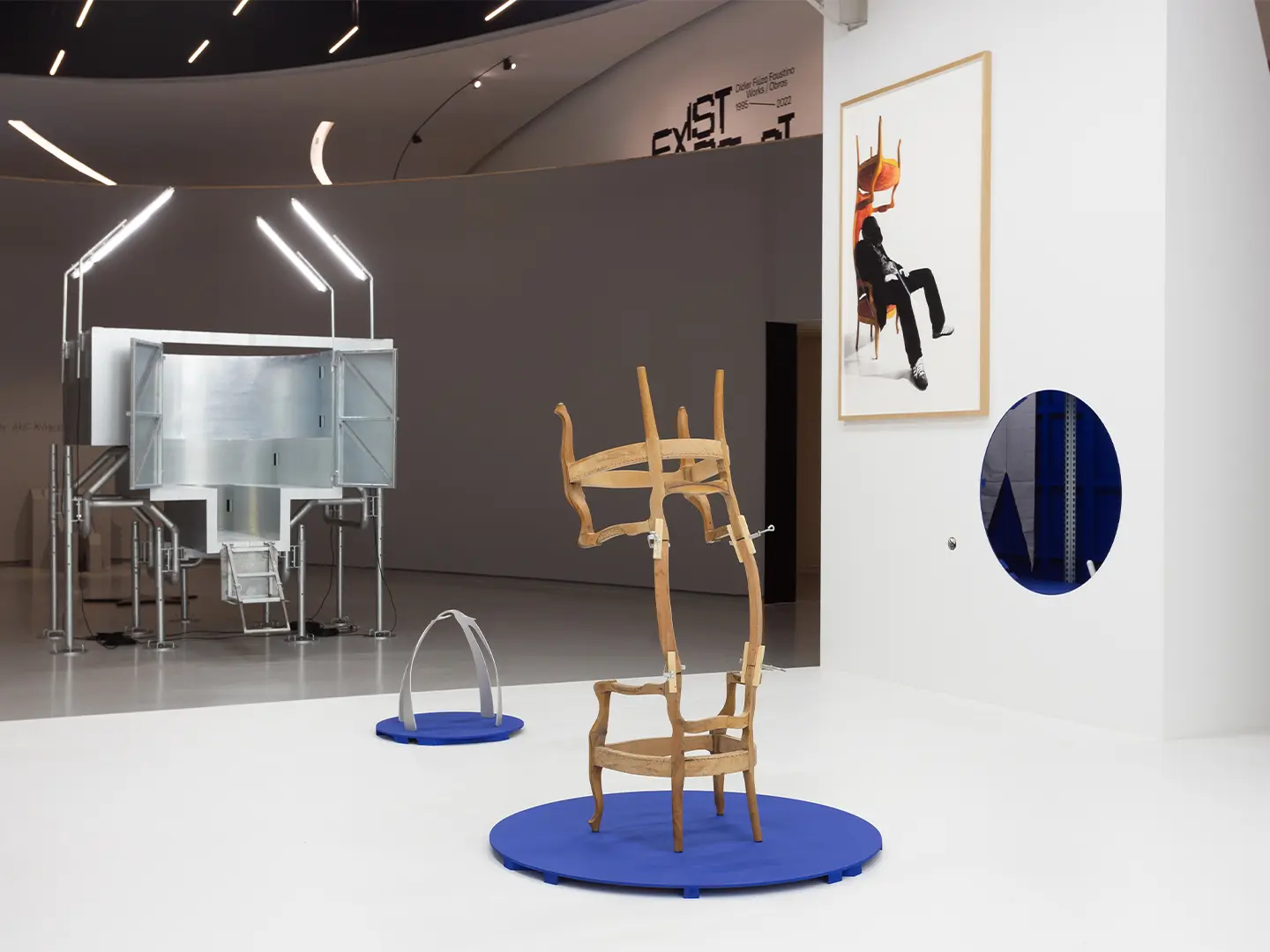 How do you organize this questioning in your work?
It's totally random. It's about reacting, crying in front of an image or in front of TV and then jump to the studio and speak about that. The studio is organized as a horizontal dialogue with people. We discuss, somebody brings in an idea, a question or an observation and then we suddenly decide that we can work on that. The studio is spread between Paris and Lisbon. The Parisian became a very small studio, more like a salon, a place for discussion, while the Lisbon studio is more a laboratory to work. A main island, Lisbon, and its satellite, Paris. I am always jumping between the two, becoming a little bit crazy.
But you are used to that.
I claim for 'un-comfort'. If our feet stay comfortable, I'm sure we will die in the habit. Each day is about finding the way to stay in déséquilibre. If you find equilibrium, you are stuck.
We are trained to panic in front of the imbalance.
Panic is a moment of huge consciousness! It's not easy, but interesting, because it's a moment of brightness. When you start panicking, you also establish the understanding, things become obvious and the situation becomes clear. There is no panic when you don't know. Panic is about the pornography of things becoming so real that they ask to be faced, to be solved, and that's when we realize we need to do something.
Do you have a vision of yourself in the future?
I'm still a bit punk on my life, I still don't see the clearness about the business. Probably building a stable environment for the un-comfort of our behavior and our thinking. Which means having the stability to be free to keep on questioning.