A conversation with Roberto Palomba and Ludovica Serafini. Design as a shared concept
Add to bookmarks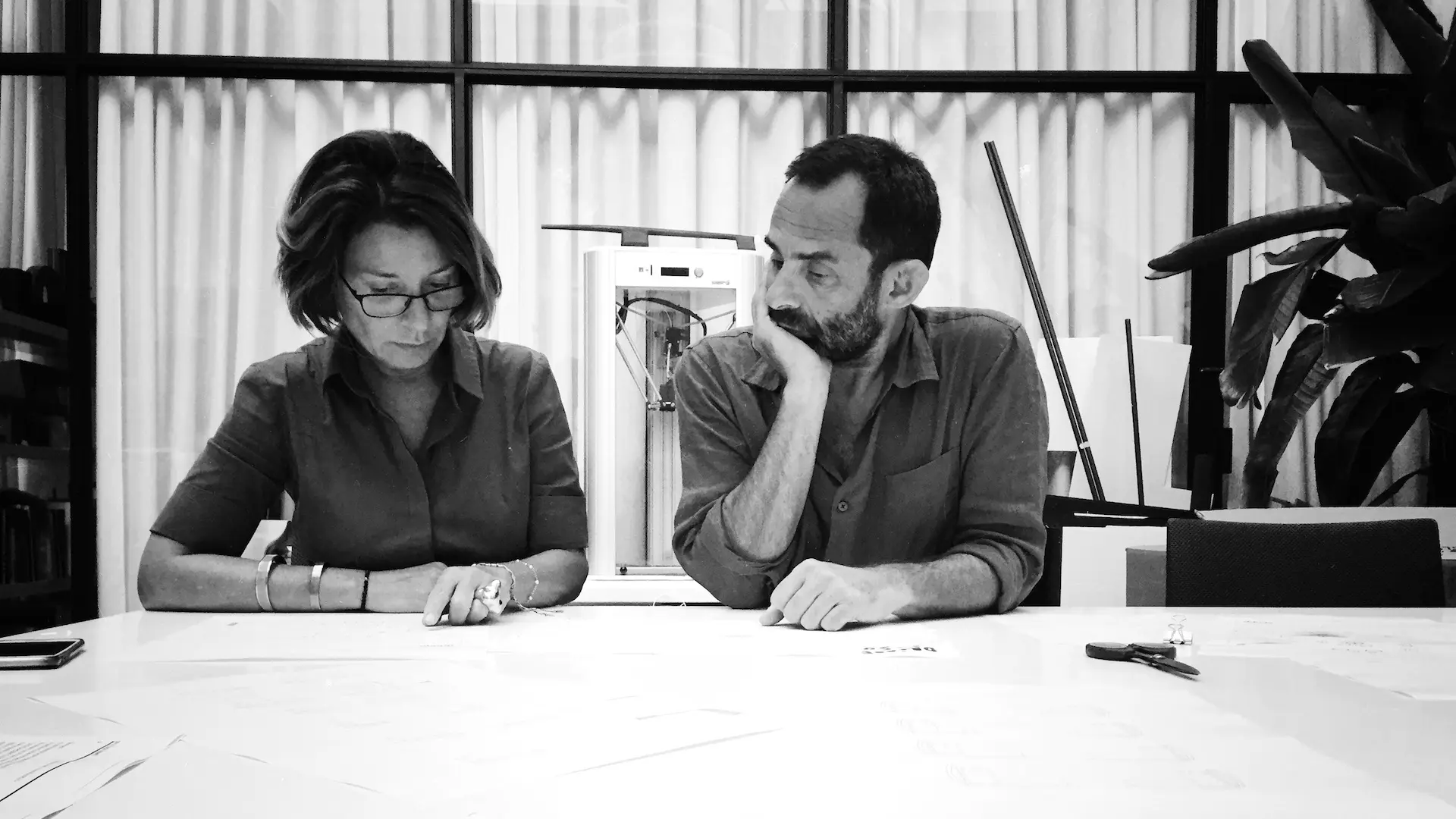 We moderately workaholic designers love living and transforming our passions and realities into inspiration. In this way, day after day, we renew our enthusiasm and – especially – our enjoyment.
I speak to them by phone in their car as they head towards Porto Ercole. And the interview with Roberto Palomba and Ludovica Serafini becomes an entertaining conversation that interweaves work and banter, reflections and confessions. Because designing is a serious matter, of course, but life – real, authentic life – prevails above all else. It is the primary impulse, the incessant inspiration, the source of that wide-ranging happiness that characterises their projects. The next few months will be full of new projects, starting with the upcoming "super show".
RP: In September we will present new collections for Kartell and Poltrona Frau – we have long-standing, familiar relationships with both companies now. And we are also hard at work for Talenti, a young brand with solid values, destined to do great things in the future; it will be a line of modular outdoor upholstered furniture with a very refined metal detail, designed on structures wrapped in rope worked in a rather unusual way. We are also working on a surprise for next April: the company's first indoor collection. Then we'll be signing new products for Ideal Standard, whose creative direction we oversee, to be released in September and October, including a collection inspired by the work of Gio Ponti – this will be unveiled at the Salone del Mobile in the form of an iconic washbasin, made using technology that allows very large units to be developed in a single piece with very thin layers – and a mainstream, more accessible line. In the meantime, the digital project, Together World Tour, continues, having chosen six cities around the world as the backdrop for the presentation of as many of the company's collections; next stop, London. We are also continuing our collaboration with Versace –we launched our first home collection for them last April. A wondrous folly. To work with a brand that has been the originator of so many inventions and revolutions requires carefully identifying its values and articulating them in a rational manner according to the rules of good design.
There are products, but also architecture in the studio's immediate future, both imbued with new disciplines, thanks to constant renewal and ongoing curiosity. Plus renovation projects, as well as brand new constructions.
LS: At the moment in Italy, a lot of our projects are near the sea. Hotels are an important part of our design work; we are currently working on projects that will come to completion on 2023, which, it seems, will be the year of a real re-launch. During the holidays, I will be taking my dog to hunt down the eagle's nest in Sardinia, where we are building a holiday farmhouse structure in the wilderness, in Muravera. A project that will come to fruition fully respecting the DNA of the territory, using locally-sourced materials – like the traditional tiles – and maintaining the undulations of the terrain.
LS: Yes, a genuine eagle. This property has a terrain made up of flatlands that stretch out to the sea, the mountains and its woodlands. The territory is protected from hunting, and is home to a number of eagles, a huge and fascinating creature. So I'll be spending a week there, studying and breathing in the location where the architecture really will be sustainable and zero miles. In Milan, we have just terminated a house for the influencer Ludovica Valli, which will provide the setting for her social network images: that was certainly a fun project. This is our second project for an influencer, the lives of whom are a great point of interest for us. They have a real "here and now" approach: their spaces, like their days, must be containers for brief storylines. These apartments, therefore, become complex narrations for chapters in continuous evolution, but they must always be in tune with concepts of solidity and architectural coherence.
RP: A year ago we finalised Paolo Stella's house, which the influencer has transformed into a real stage for design. We are also creating special edition objects with him: a table collection for Ginori 1735 will soon be released, with the same decoration as the wallpaper designed for the hallway of the apartment, which Wall&decò will put into commerce. And in September a new kitchen, also designed with Elmar, will be installed.
LS: Architecture is different from a digital project, but also from mere furnishings. It is static, linked to a specific context, but vibrant with the stories it is destined to convey. That is why we are passionate about its inhabitants. Being curious, mixing environments, is fundamental. We are invasive! With the influencers we have started to do projects that evolve in unexpected ways because they are young, they are dynamic.
RP: It's about designing a space via imagining the lives of the people who live in it; therefore, also designing the experience of spaces. This means expanding the potential of architecture, and that is something that fascinates us. It makes us question and learn new things. And it allows us to have fun and increase joy through sharing. Never giving up living an authentic life.
So, will you still find the time to return to Salento, to the marvellous house you have there?
LS: Of course. Salento is like a finger on your hand – you can't live without it.