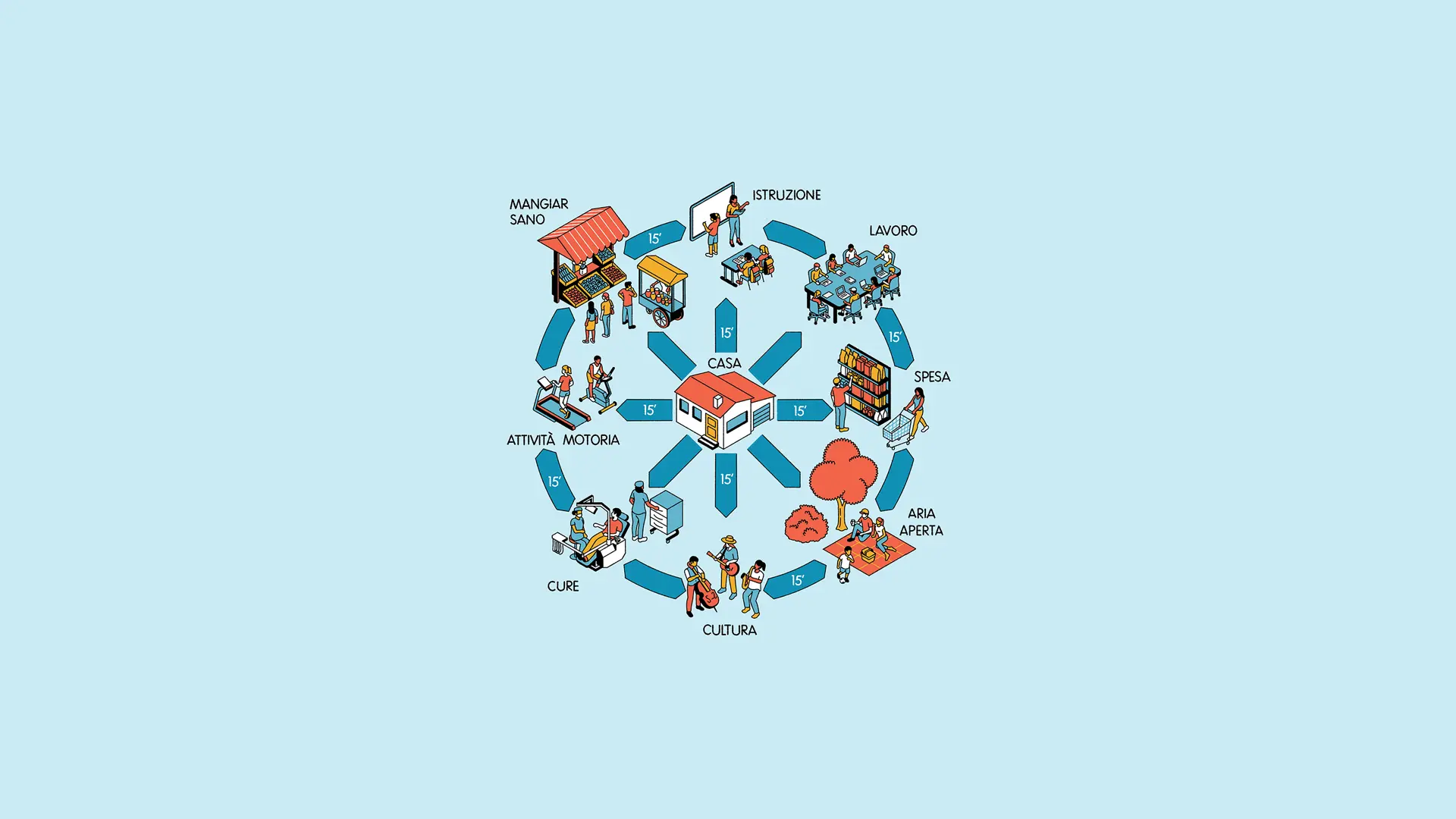 The November-December issue of the magazine The Good Life Italia features a study into the future of urban centres, designed to provide access to readily available services and characterised by a rethinking of traditional physical shops
The acceleration of lifestyle changes triggered by the pandemic is geared to "less polluted cities, more liveable, more joined up," says the author of the article, Stefano Cardini, in the latest issue of The Good Life. A revolution that can be summed up by the historian Carlos Moreno's theoretical idea of the "city in 15 minutes" and put into action for the first time by the Mayor of Paris Anne Hildago, "setting up polycentric facilities easily reached on foot within a one-kilometre radius," Cardini explains. The collateral effect is that goods are delivered as quickly as possible to the front door or up to a landing. 
In Italy, things are far from this ideal: according to ISTAT, only one Italian in 10 goes to work on foot, 75% go by car, 21% by public transport and 4% by bicycle or scooter. These numbers should be read in conjunction with the figures for retail sales: while 77,000 shops closed in Italy between 2020 and 2021, decreasing 15% in historic city centres (Confcommercio data), on the other hand online sales grew by 45% (Milan Polytechnic e-commerce observatory data), while 71.7% of families made online purchases during lockdown (Censis data). "We've now got retailtainment," Cardini says, "a sales strategy that hooks in the client through play." 
We've also got on-demand online spending, with home delivery services within 10 minutes, a steadily growing phenomenon, as are proximity logistics, not simply limited to food, and initiatives such as the "commercial districts" in which local shops network, both physically and digitally. This is one of the strategies small traders are adopting in reaction to their crisis, particularly in Italy's  Emilia-Romagna, Lombardy, and Veneto regions.
Against this backdrop, there is the decline of large commercial centres, which are giving way either to small city shops perhaps open 24/7, or to more open retail outlets such as the Apple Store in central Milan: "a shop but also a space that dialogues with the square in which people can walk, sit, eat or enjoy some down time," said Fabio Fulvo, Marketing, Innovation and Internationalisation Director at Confcommercio-Imprese per l'Italia, in an interview on the subject.
Credits
Original Text: Stefano Cardini
Photo: Jacopo Rosati
Magazine: The Good Life
Publisher: Feelgood 1986 S.r.l.