Short working week? Office furniture responds in a functional manner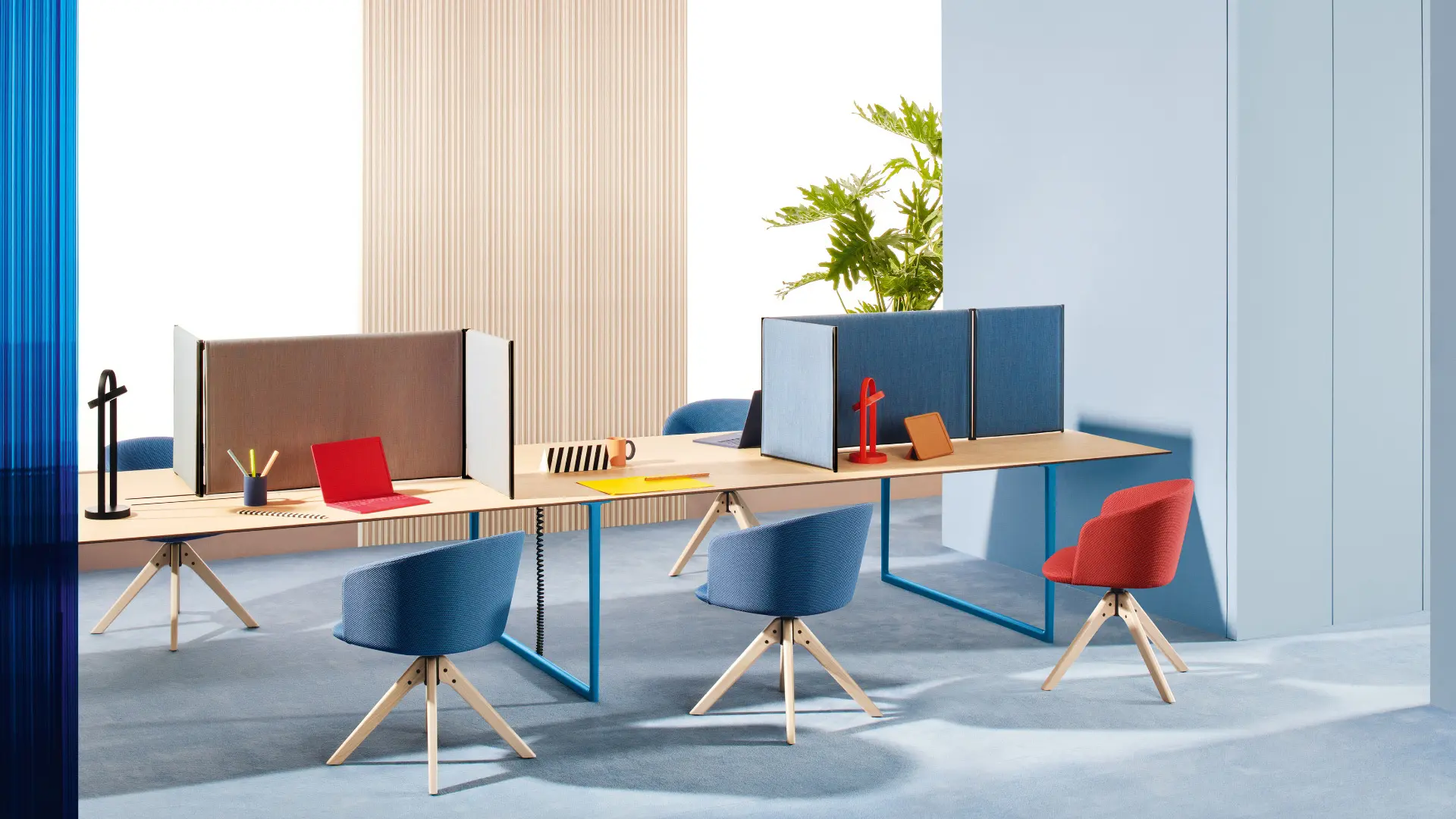 Meeting rooms suitable for packed agendas, bookcases that promote team synergy and interchangeable  workstations. The working week may have got shorter, but IOC, Fantoni and Pedrali know just how to reconfigure the spaces
The short working week is no longer a utopian dream. Countries such as Portugal have launched pilot 4-day working week schemes, whilst in Italy a number of companies and manufacturers are taking huge steps in that direction, although with different solutions and forms.
"The last two years served to change our concept of the office," said the architect Raffaella Mangiarotti, Art Director of IOC. "The office has become a lifesaver, as well as a place in which people carry out their duties. Consequently, the furniture has already begun to be increasingly functional and capable of responding to demands such that for a short working week, no longer a trend but a reality."
Tables and desks that can be slotted into and removed from rooms, according to the activity being pursued, for example: "We are looking at the short working week, interpreting it with the multifunctionality of the office and the compacting of functions, with slim furniture and the creation of larger or smaller phonebooths, capable of becoming units in their own right that enable offices to be used more intensively, thanks to products that are efficient and can be used by more than one person, even in more contained spaces."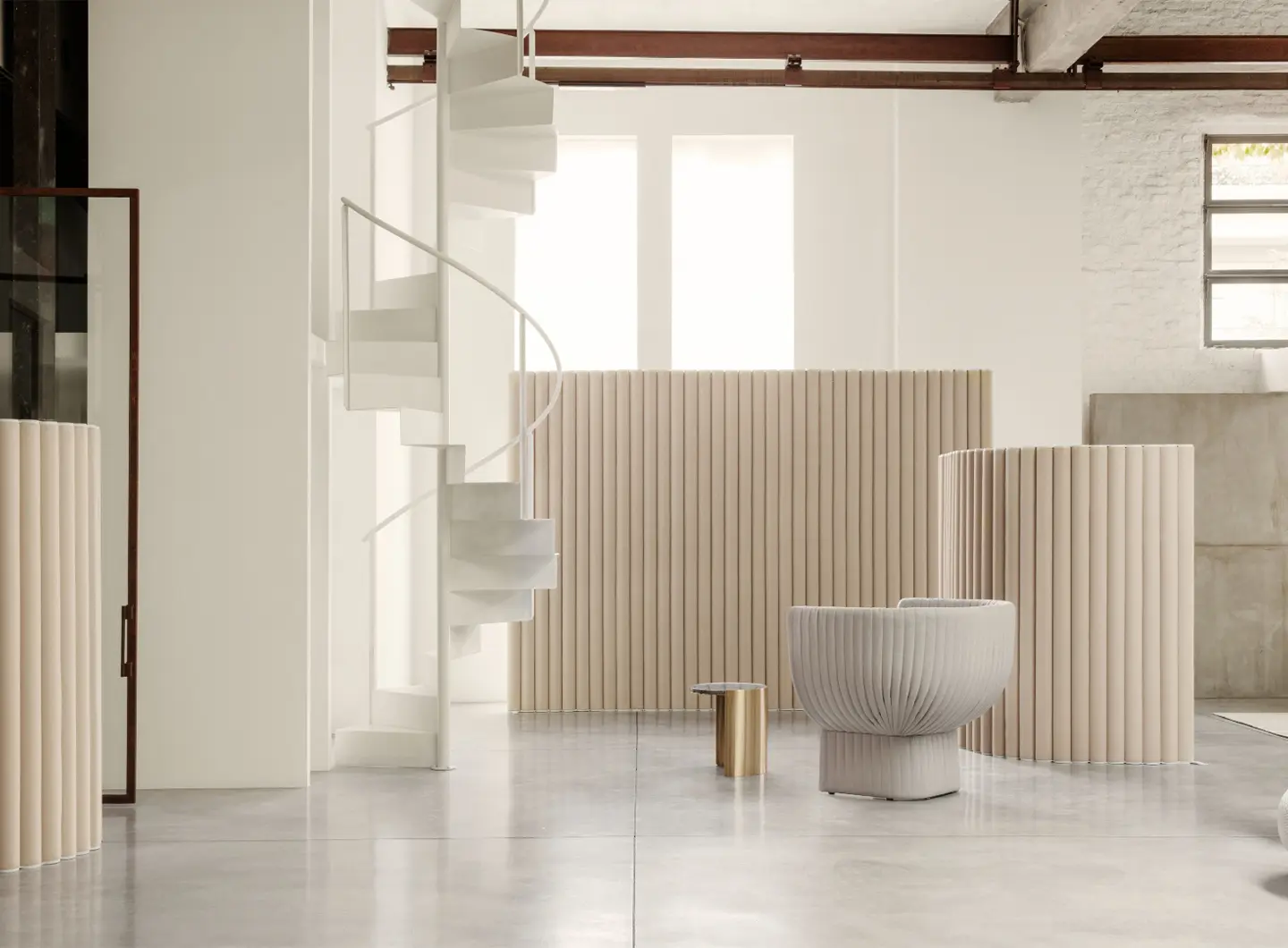 Do short working weeks mean concentrating activities that might previously have been spread over several days? The first spaces to undergo a makeover are meeting rooms: "I designed some tall armchairs, Ghisolfa, that can be placed facing each other to create visual and acoustic insulation, ideal for a short meeting, or a more informal get-together that nevertheless guarantees strong, if not total, sound insulation and that sense of intimacy that is crucial for these sorts of interaction," said Raffaella Mangiarotti.
A two-pronged approach is therefore important: "At the Salone we presented a more classic synchronised telescopic glazed partition, Privé-Synchronized, designed by Krzysztof Miksza, that enables meetings held totally behind closed doors, perhaps for discussing delicate matters, to continue to be just that." Alongside, the Monforte partition (designed by Raffaella Mangiarotti), is made of fabric-covered sound-absorbing tubular elements: "Almost as if it were a styling piece, it can be moved as desired, configuring the space with curves or straight lines, as preferred, improvising areas by positioning the partition as required."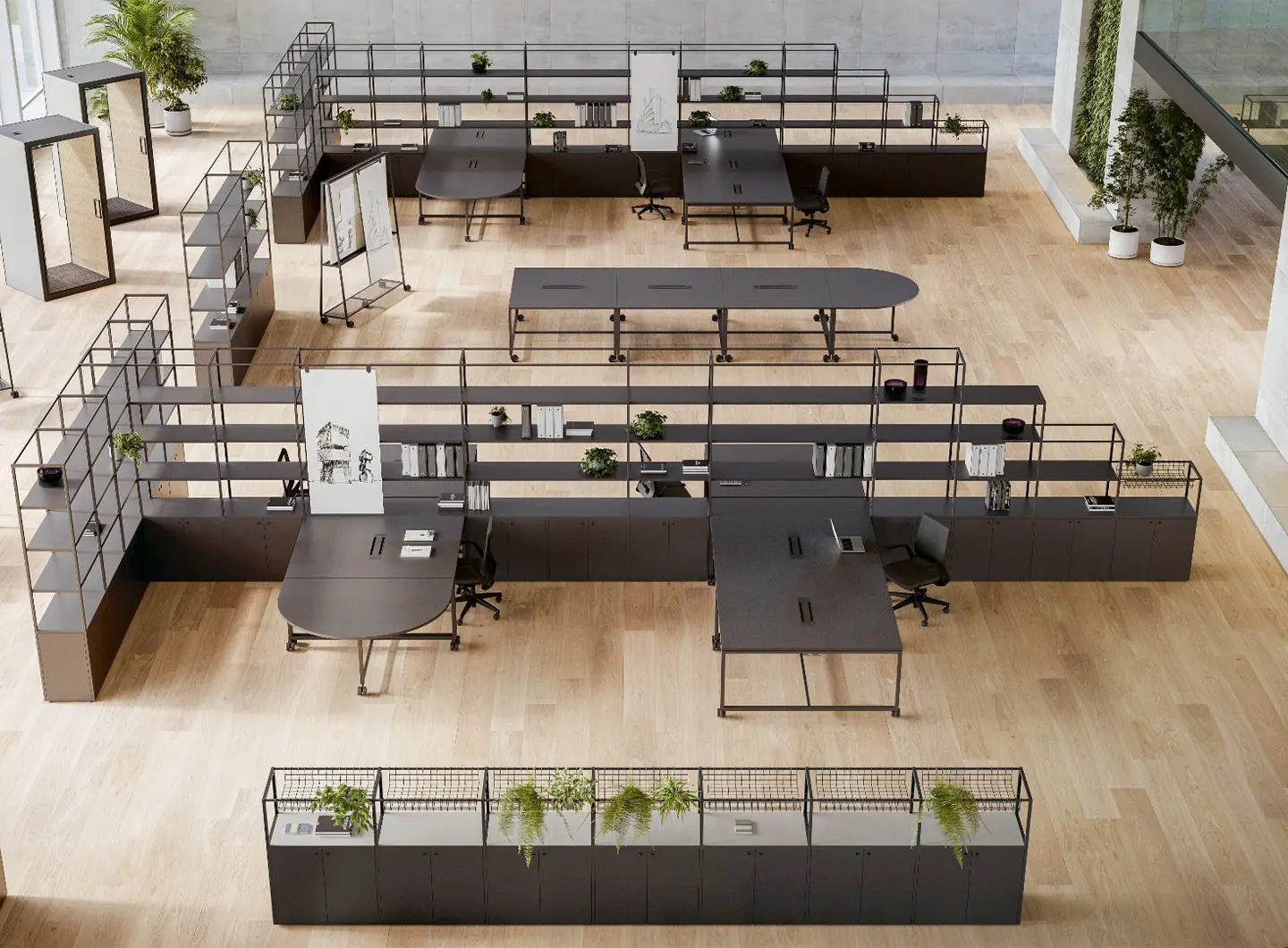 This approach is echoed by Fantoni: the Atelier collection is built around a bookcase that constitutes the backbone around which the layout of the spaces develops, whilst also being a dividing element, and one of union and connection: "This dual identity is the natural consequence of a freestanding bookcase not built (just) to house files, but also to display and narrate people's work. Each work team is free to configure the surrounding space as best suits their daily requirements and to position a series of tables on casters on one side or other of the bookcase, configuring the team's workspace," said Marianna Fantoni, Fantoni's technical director. Pinboards can also be attached to the highest level of the 240cm bookcases, for notes, mood boards or for recording work progress: "As needed, they can be moved onto the mobile board when meetings are being held or hung on a special wall structure, given that visual  sharing within a workspace can generate synergies among different teams."
According to Fantoni too, this is a time of many changes, on a number of levels: "In this scenario we see for example that the number of traditional workstations within the office space is lower than in the past, making for what we describe as third spaces, made of soft seating and especially shared areas such as meeting rooms and  acoustic pods."
We will shortly see not only a reduction in working hours, but also an evolution of the real estate world, said Marianna Fantoni, with long-terms lets rapidly being cut, with clients preferring to invest in freestanding rooms enabling soundproof spaces to be created rather than investing in glazed partitions: "Acoustic pods, rather like traditional furniture, can be dismantled and reassembled many times, as desired, guaranteeing a long-lasting, flexible solution in line with the changing demands of the client. This type of product – which we call an Acoustic Room – comprises a very significant part of our offering, whilst also allowing us to comprehensively demonstrate our skills as furnishing, movable partition and sound absorbing panel producers."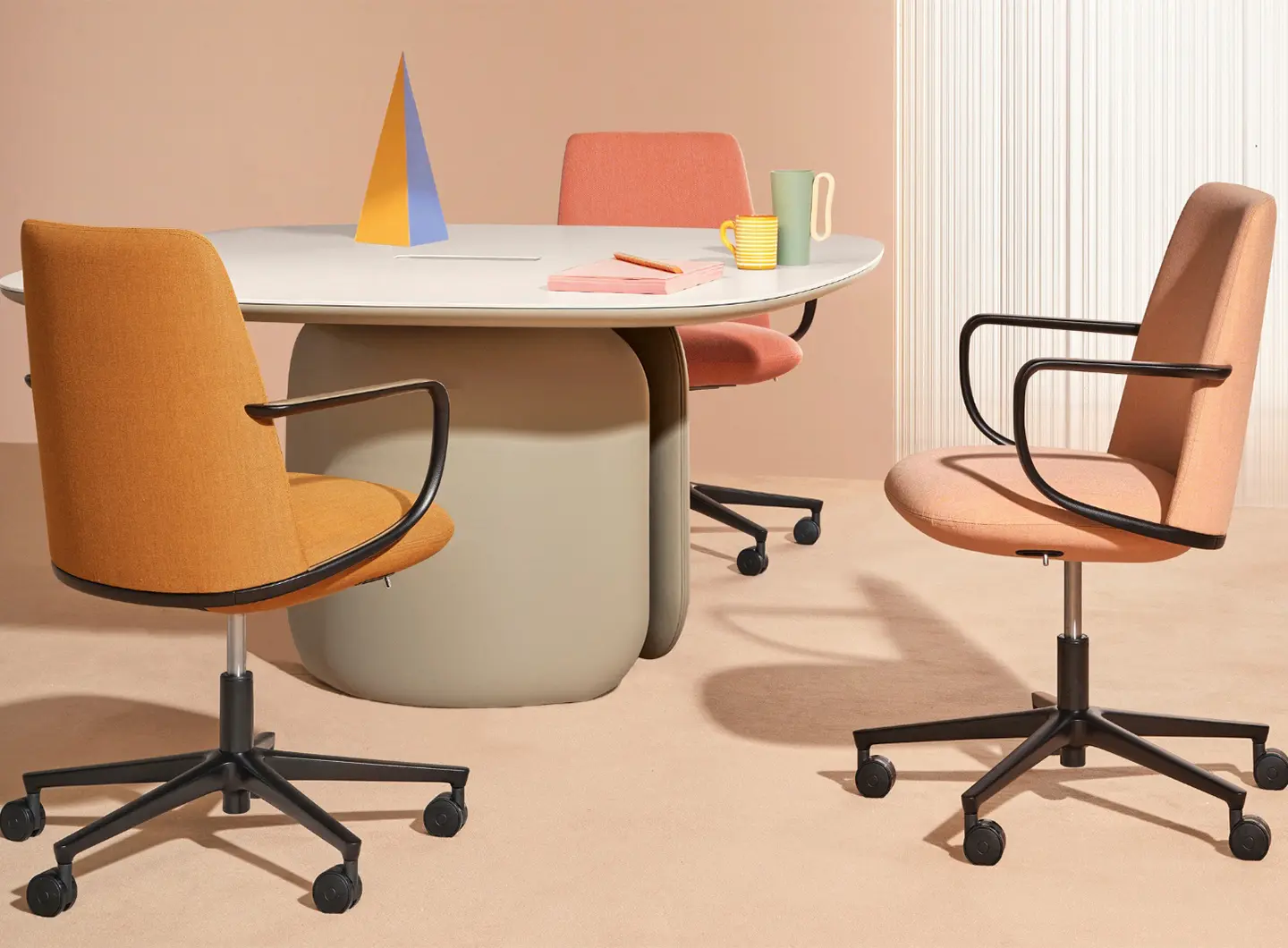 Pedrali is also focusing on more dynamic and multifaceted workspaces, with the short working week in mind, with furniture geared to multifunctionality. With this in mind, CEO Monica Pedrali explained, desks are no longer necessarily assigned within the workspaces, replaced by interchangeable workstations: "The two or four-seater Toa Workstation table designed by Robin Rizzini, is characterised by bridge legs positioned at the ends of the table to optimise space," says Pedrali.
In order to demarcate the different workstations and divide the space, the company has come up with the sound-absorbing Toa Folding Screen, also by Rizzini, designed to respond to the need for mobility and configurability: "The metal frame has a fabric cover that can be removed for easy cleaning and maintenance, thanks to a zip positioned at the bottom of the screen. It is foldable and lightweight and can easily be moved from place to place." Rather like the Elinor low back chair (designed by Claudio Bellini), in a new version featuring a lower backrest and conceived for use either in meeting rooms or in administrative offices.
The aim is to allow for the creation and configuration of different temporary workstations within a space. One such example is the  Buddyhub desk designed by Busetti Garuti Redaelli: "The Buddyhub Desk is characterised by a perimetric sound-absorbing panel embracing a solid laminate top, thus creating an enclosed and sound-proof niche. This new piece can be configured like a workstation. Or like a temporary workspace, 90 cm high with a  82x59 cm work surface, designed to be a private area for informal work or making/taking calls, either standing or seated," said Pedrali.