Designing with plants, the new collection Coloniae by Gionata Gatto
Add to bookmarks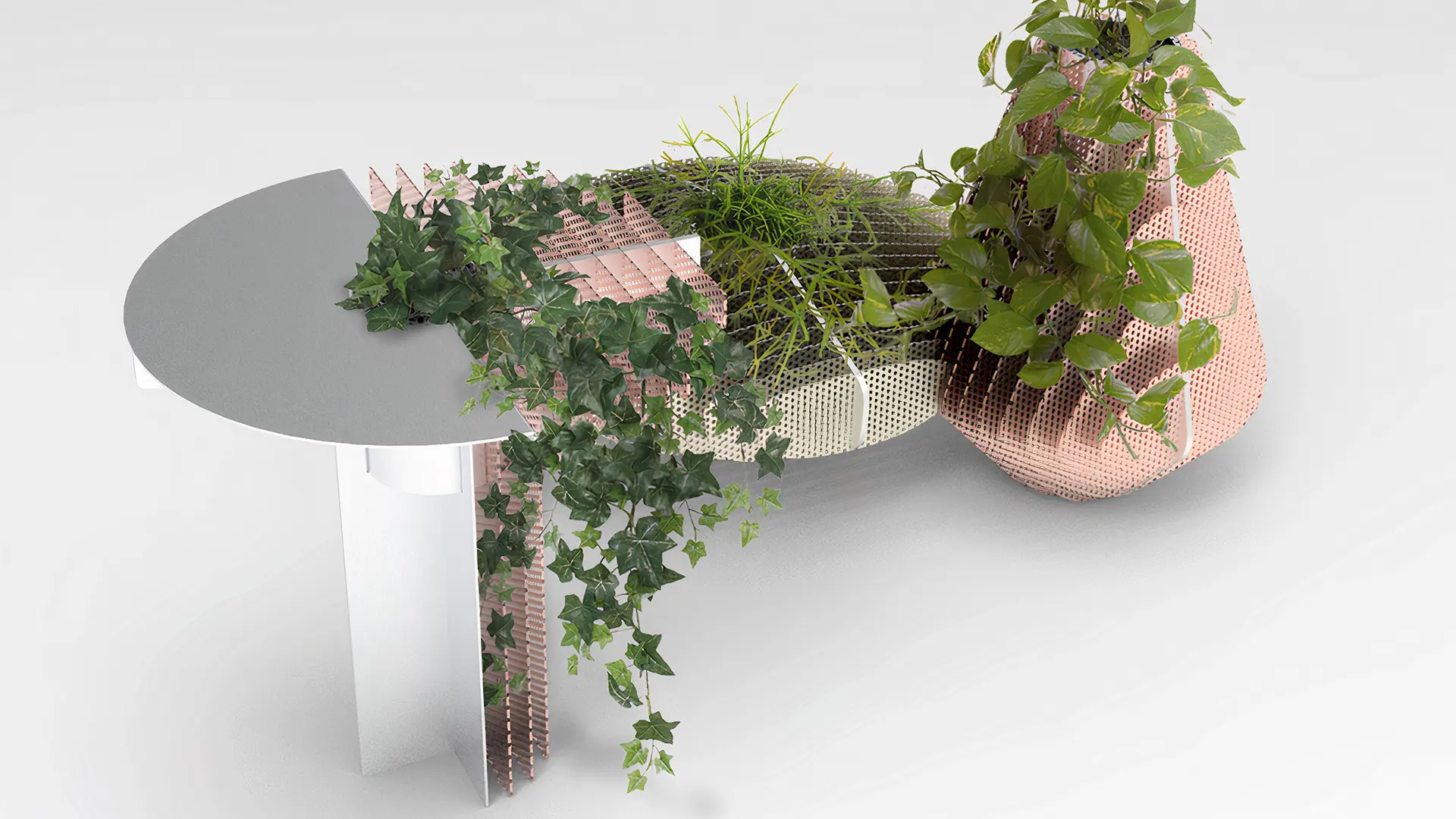 Designed for JCP Universe, Coloniae is a collection of objects that explore the relationship between man and plant and will be presented at Salone del Mobile 2022
Gionata Gatto is an Italian designer living and working between Venice, Rotterdam and Dubai where he is Assistant Professor at Dubai Institute of Design and Innovation. Taking an interdisciplinary approach with research and collaboration in the scientific and environmental sectors, gives his designs great relevance today. His work's conceptual, experimental nature also looks far ahead into the future. At Salone del Mobile 2022, Gatto will present Coloniae for JCP Universe, a collection of objects that explore the relationship between man and plant. Having spent much of the last few years researching and conceiving various podcast series in very much related fields (From the Moon, and Architecture & Anthropocene for Triennale Milano), David Plaisant sat down with Gatto and discussed how to design for plants.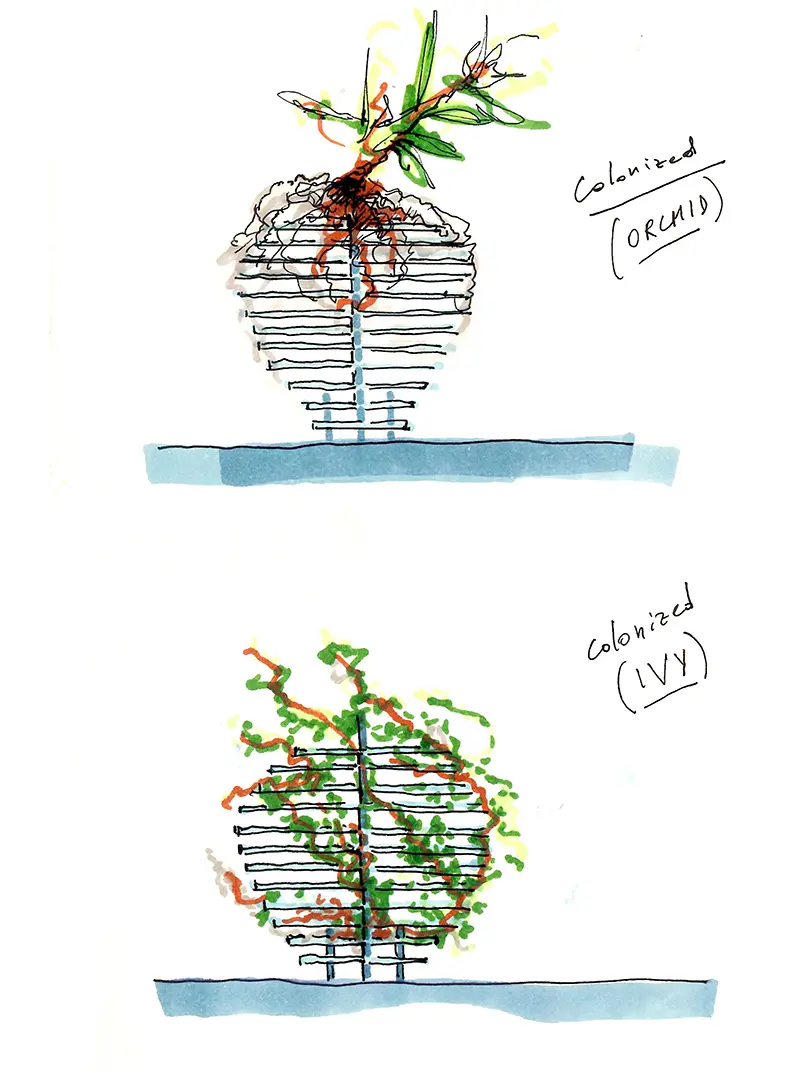 To start, could you introduce us to the world of Coloniae, the collection of pieces you have designed for JCP Universe?
The project is a sort of investigation into the relationship between people and plants. I wanted to think about how people grow plants, whether indoor or outdoor and how they use them too. Are they just for decoration? Or is the plant world's ability to take over really being taken into consideration? How do they grow in spaces? What kind of spaces do they need?, and so on. The project is basically a collection of furniture pieces that are perceived as different habitations for a colony, and these pieces interact together by compenetrating each other with each piece being designed to host a different plant species. So initially, the piece will look like a series of metal sections that are perforated allowing roots and branches to take over, over time the plant colonizes the object, to the point that the plant subverts the object with its leaves and branches and eventually the object starts to disappear. The idea for Coloniae came because of the fact I like to think about these plants taking over not just the single vase or object in which they are planted, but taking over other objects close by. By raising objects by nearly a meter, those plants can jump onto another vase, growing and colonizing different furniture pieces in the process.
There's a very science-fiction or futuristic dimension to Coloniae, fundamentally it looks conceptual. And I wanted to explore with you the balance between the conceptual and the practical, where do you think this particular project lies? And looking at your work in general, where do you think the pendulum swings for you as a designer? Is it more towards the conceptual or the kind of practical implications of your objects and pieces?
That's a great question actually because I think it lies in between really. I would call it between the speculative and the realistic if you want. I'm almost thinking about users that don't exist in any way. Most of the work I have done in the last few years is intended to be like scenarios, in this case the domestic environment in the future, how it will look like and to think about how people might interact with plants for instance. So yes, Coloniae is very speculative in that sense, I am talking about things and scenarios that don't exist yet. So the project is an intersectional space between the present and the future you could say. Another thing to consider is that these pieces might not be very comfortable to use, because once the plant has colonized the entire object and maybe spread to other objects too, so it might not be possible to move the object since everything has become so entangled. And this is exactly what I wanted, because I wanted to question where our constant desire to move things to improve their functionality for us might end. So do we prefer to compromise the rights of plants and move the piece around? Or should we leave the piece alone, and instead reframe our domestic space? It's a kind anthropocentric critique if you like.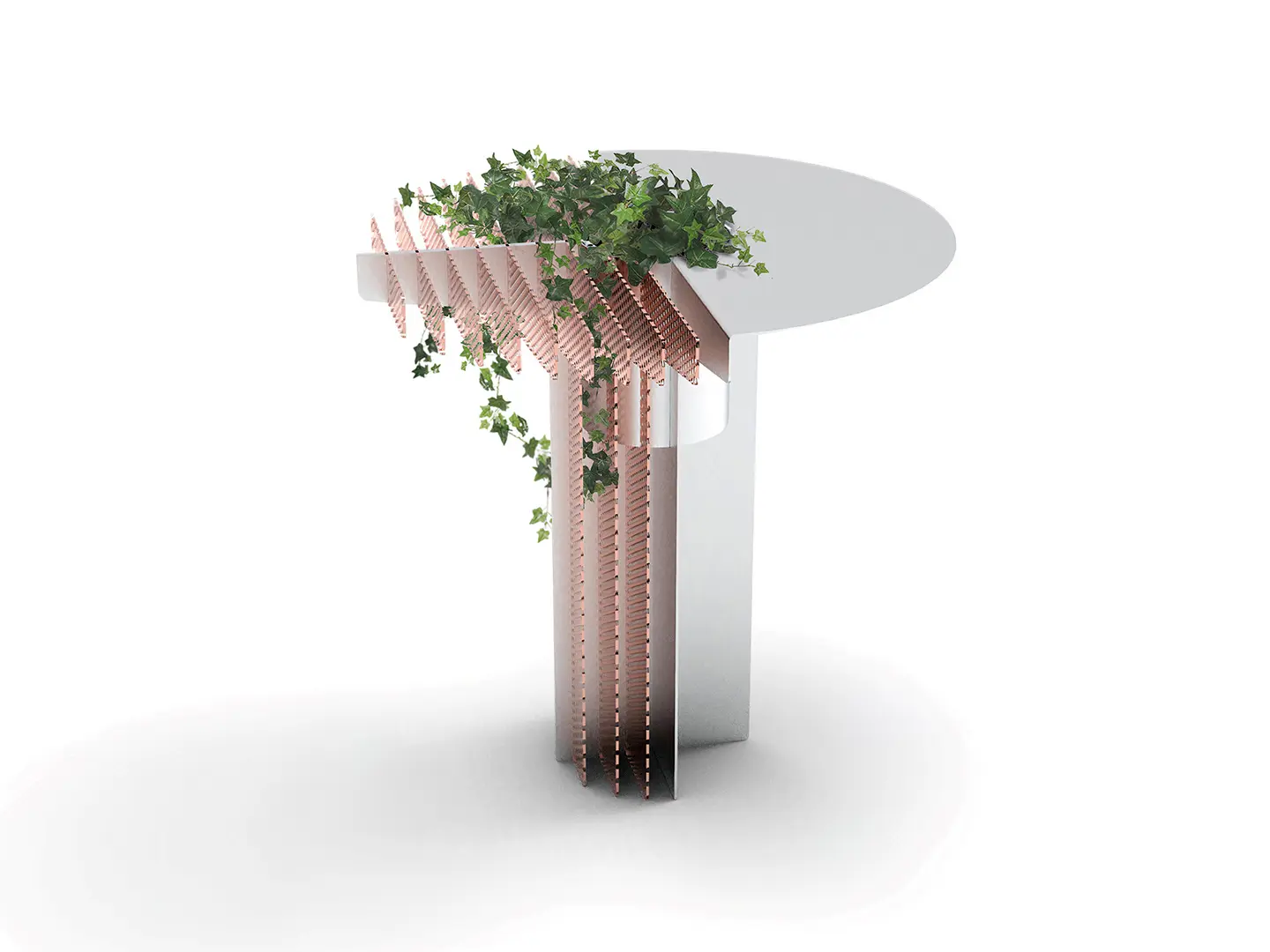 It's a kind of utopic dystopia where human users do not exist. So are you designing for the plants therefore?
It is us who uses the furniture, so these objects are ultimately furniture that is just for people right? But at the same time the furniture is made of parts that plants might need to survive or grow better, so in a way rather than designing for the plants, I'm designing with the plants.
Designing with plants, can you tell me a little bit more about that. I've seen some of your preliminary sketches, where you are looking at the way that plants and their roots grow and can you tell me a little bit about that kind of exploration.
I did some research around the roots of specific species to understand how they kind of entangle with anthropogenic structures and I came to the conclusion perforated materials are a really interesting form of support that plasma use to fortify themselves. I wanted to expand on that in a way, that was where the whole story started.
Despite what you said previously about the desire to move the pieces you have designed versus the needs of the plants, there is something implicitly modular about Coloniae. It feels experimental and almost like a prototype, but a prototype that will be in a permanent state of flux. Is that how you look at it?
Yes definitely, I really wanted it to look and feel like an ongoing prototype. And the way it is built as well with all the screws and mechanical components being visible was intentional, I wanted it to have a rough feel. Another big element in terms of how the final product will look, is the unpredictability of the plants. The real question is: will they do the 'right' thing? I hope so, I hope the plants will find a good space and will be able to do whatever they want. I'm also keen to see how specific species that we selected such as philodendron or ivy behave. I'm looking forward to seeing how the plants grow when they are left alone. Plants have their own time, they grow at different speeds, and humans need to get rid of this idea of trying to control things.
Finally as a designer you, like all of us, have experienced a very strange couple of years, what does the Salone del Mobile this year mean for you?
In my mind, after this break of two years I hope that it has been an occasion for everyone to rethink how we do things. Maybe we can stop doing so much or stop just creating new evolutions of the same old concepts every time and start to think about things like: what kind of politics might actually change in our way of doing things, you know, our ways of living? And perhaps this project is a provocation in that sense. It might not be immediately commercial like other tables let's say, but I hope that at least we'll push a bit of a conversation around some of these topics.