Design and colour: the 2022 collections
Add to bookmarks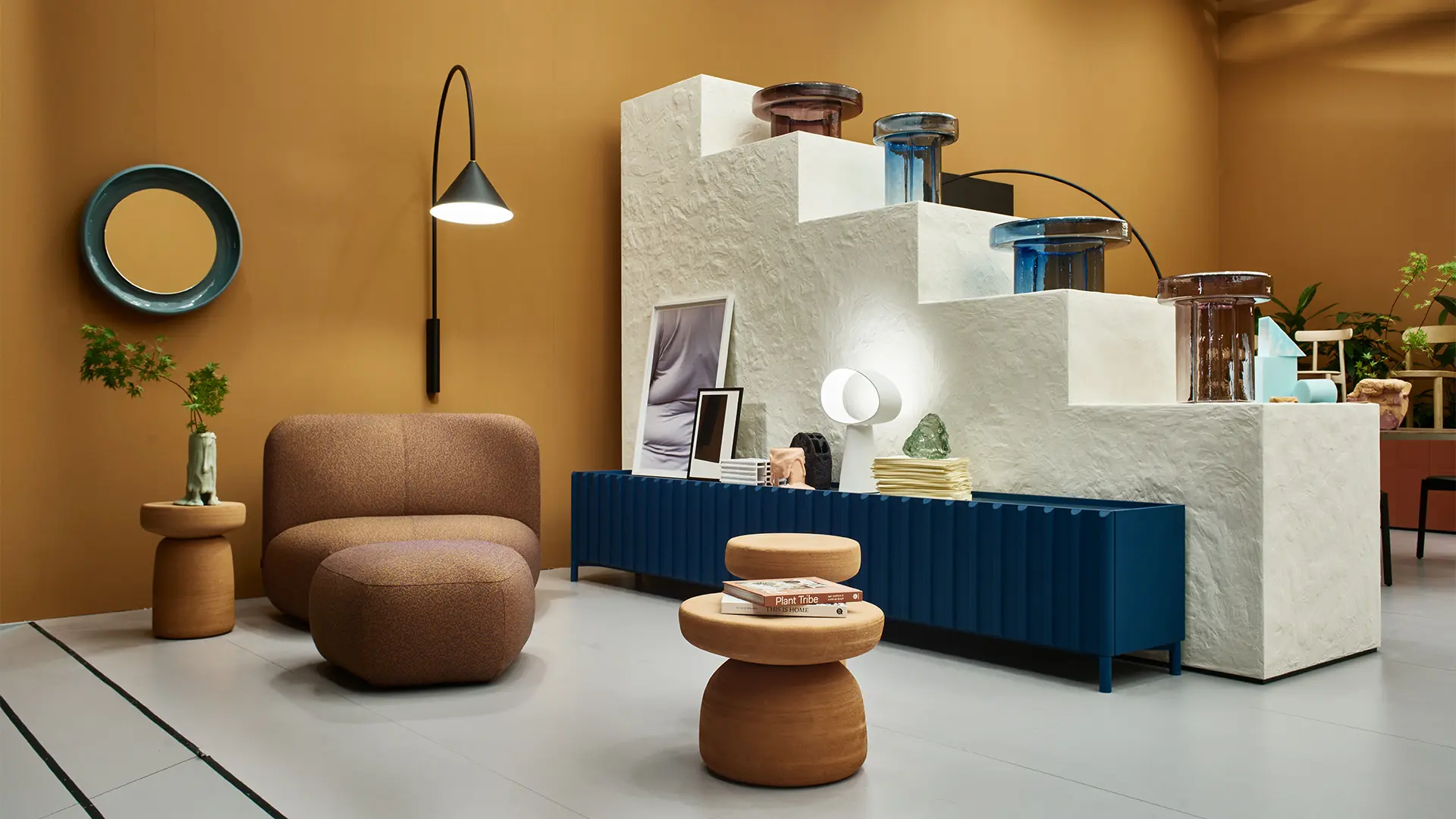 From living rooms to kitchens, and bathrooms to wallpaper, shades inspired by nature and metallic tones prevail, in the name of contemporaneity, as seen at the Salone del Mobile 2022
A design theme, research subject, inspiration and trend – by its very attributes colour is an essential quality when it comes to design objects, helping to define not just their aesthetic appeal but also their material identity and functional role in the domestic landscape. Colour at the Salone del Mobile.Milano 2022, leapt out from textiles to wallpaper, furnishings and even electrical appliances, bringing interior design, decor and technology together and striking elegant notes and pairings or, on the contrary, marked contrasts. This was the year intense tones prevailed, reminiscent of the colours of nature, alongside precious and metallic finishes, and historical references, unerringly interpreted with taste and a contemporary aesthetic.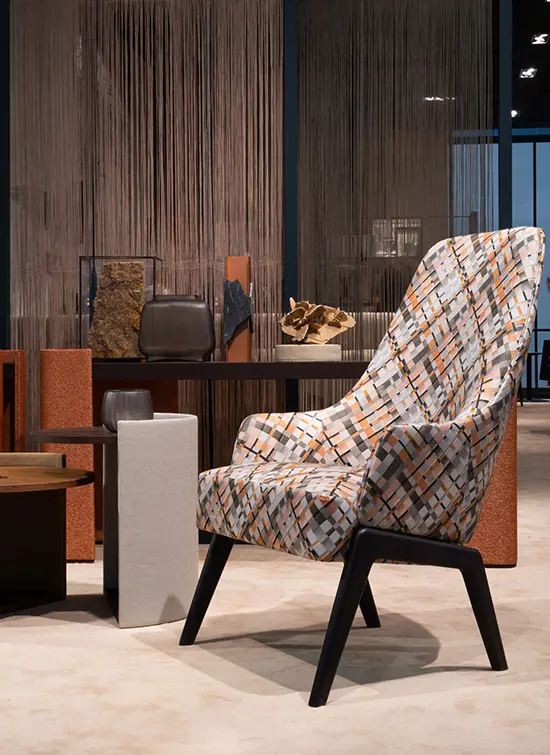 Let's start with the living room, and the new Rubelli Casa collection, inspired by the work of Pierre Chareau and Eileen Gray, where classic, energetic forms, unambiguous geometries and a marked taste for plasticity informed furnishings in which elegance and functionality, dynamism and sobriety made for a blend of past and present. Colour brought coverings and surfaces alive, conferring unity and emphasising their lines - as in the Gio armchair, dressed in apricot-coloured Saint-Étienne fabric, and the Sinua collection of coffee tables, consoles and desks, in which the integration of textiles and furnishing allowed for ample customisation, including 80% of the Rubelli fabrics, not least the very latest Return to Arcadia jacquards and prints by the British artist and designer Luke Edward Hall, in fresh, lively colours.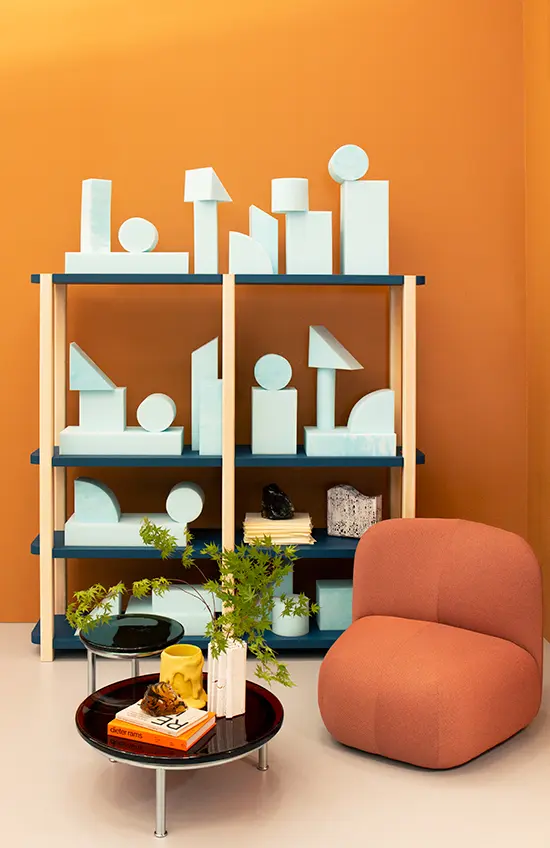 "Primitive" was the guiding theme of the Miniforms exhibit curated by the e-ggs studio. Elementary, simple and well-defined objects, channelling material surfaces and earthy, warm colours. Wood and clay reigned supreme in the Plauto table and the new Tototò coffee tables, designed by Paolo Cappello e Simone Sabatti, but glass was much in evidence too, such as in the iconic Soda hand-blown glass coffee tables – presented in the latest amethyst and blue colours, and the cast glass, zinc-coated Zigo collection, designed by Zaven. Bisanzio Blue, Pompei Red, Bloody Mary Red and New Juta enriched the palette of lacquers, seen in revisitations of much-loved products and set to define those yet to come.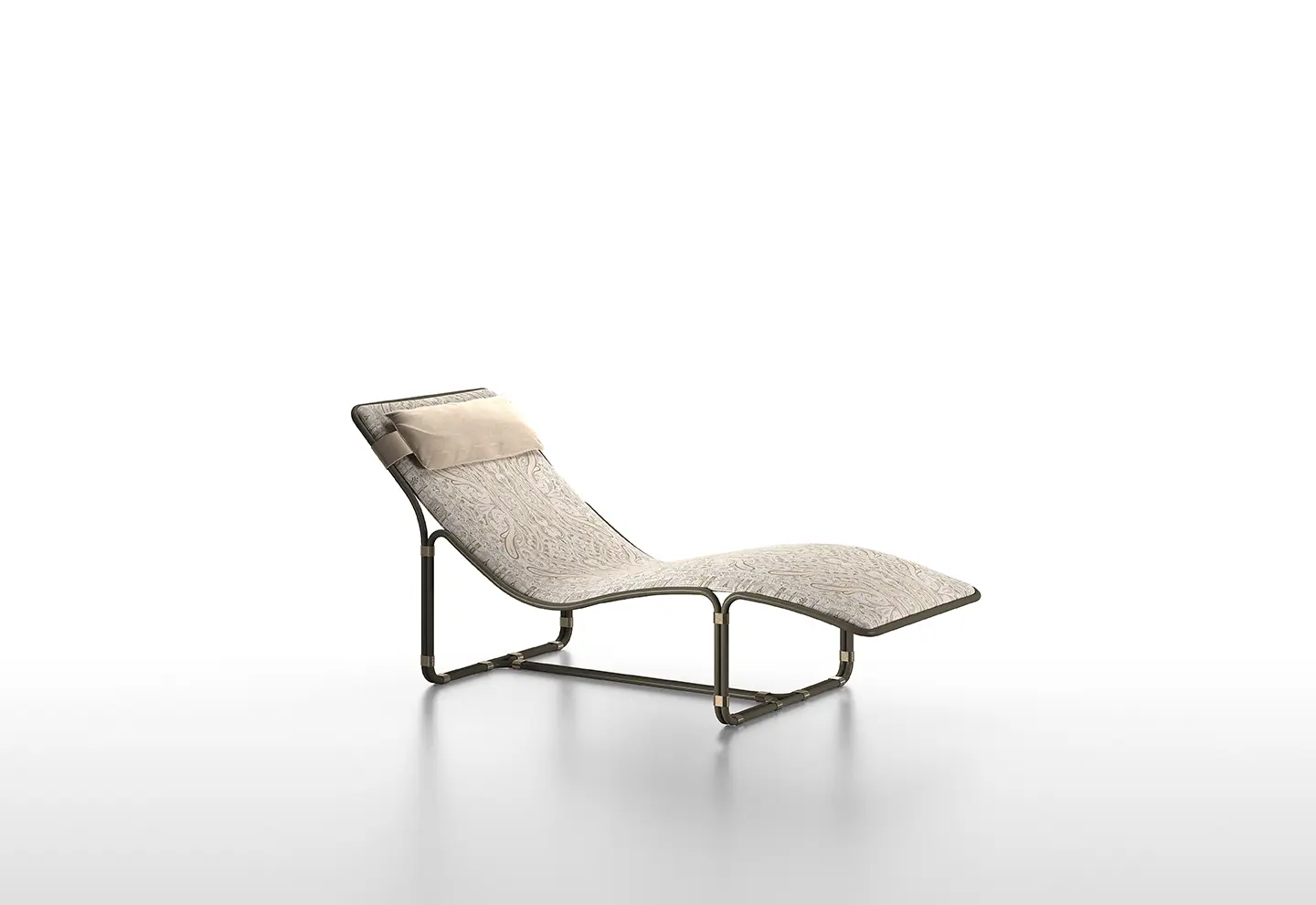 The new ETRO Home Interiors collection presented at the Salone del Mobile.Milano boasted a mix of fascinating exoticism, vintage references and contemporary allure. Solutions for living, dining and bedrooms as well as outdoor spaces, wrapped in a sophisticated colour palette, favouring neutral shades with pops of gold and sage green.  Brass finishes characterised both the sophisticated capitonné Delfi bed and the Berenice chaise longue, while gold details paired with Canaletto wood marked out the all-new Tangeri range. Of the different woods, Carbalho stood out, precious and elegant, used for the base of the new Mekong sofa.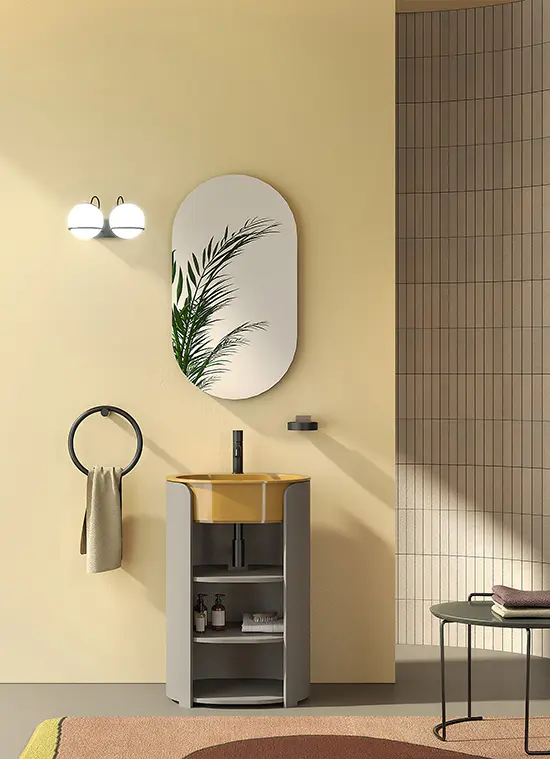 In the bathroom world, Ceramica Cielo put a sensitive and contemporary spin on ceramic material and demonstrated its particular material-processing expertise.  In Tiberio, the new freestanding washbasin designed by Andrea Parisio and Giuseppe Pezzano, ceramic and wood come together to create a mix that vibrates through the exclusive colours of the Terre and Acque di Cielo palettes. Tiberio is distinguished by the generous rim of the washbasin, while the storage unit is equipped with three partially open shelves that set up a dynamic play of solids and voids – it's suitable both for domestic bathrooms and is perfect for the contract sector, thanks to the huge range of personalisation options.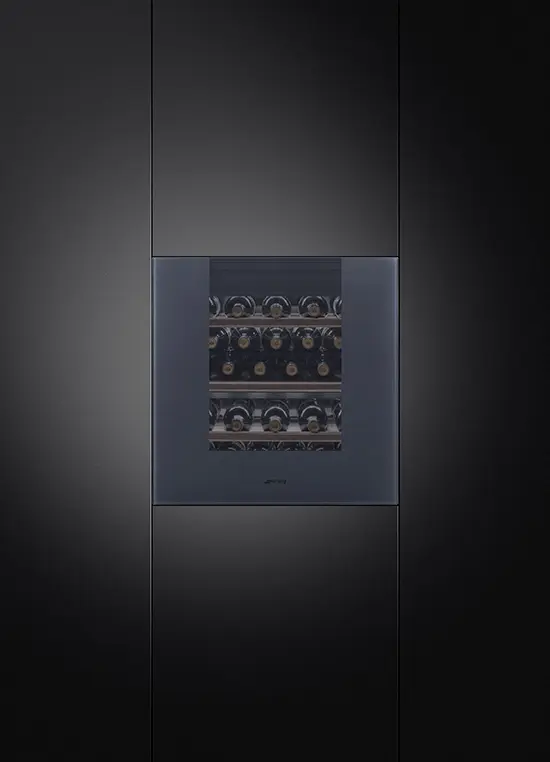 New colours are making inroads into kitchens, with Smeg showcasing its iconic Linea series of domestic appliances in a brand-new colour - Neptune Grey. It's a dark, sophisticated and tactile hue that, along with opaque black, interprets the latest interior design trends. The new colour connotes induction hobs, blast chillers and built-in coffee machines, as well as the Galileo 60 and 45 cm ovens, which guarantee flawless cooking results, thanks to a combination of traditional, steam and microwave functions.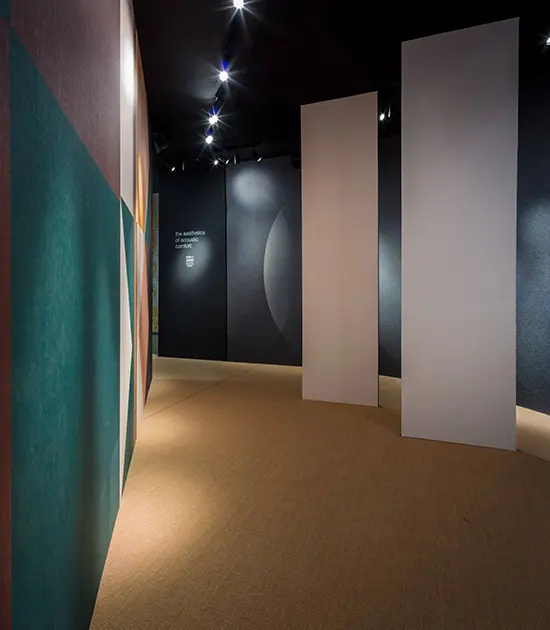 Colour was everywhere, even on the walls. Better still when leveraged in tandem with sound: two sensory realms brought together in a new, innovative project by Wall&decò, showcased in a theatrical display at the fair. Sound System Wallpaper is a wallcovering system that enhances the acoustic comfort of interiors. Thanks to its double layer composition, it reduces reverberation and ensures wellbeing without sacrificing decorative impact. It is also PVC-free, recyclable, washable and hard-wearing. In other words, it's beautiful, original wallpaper that's virtuous to boot.