"Waste Age: What can design do?" Design Museum, London
Add to bookmarks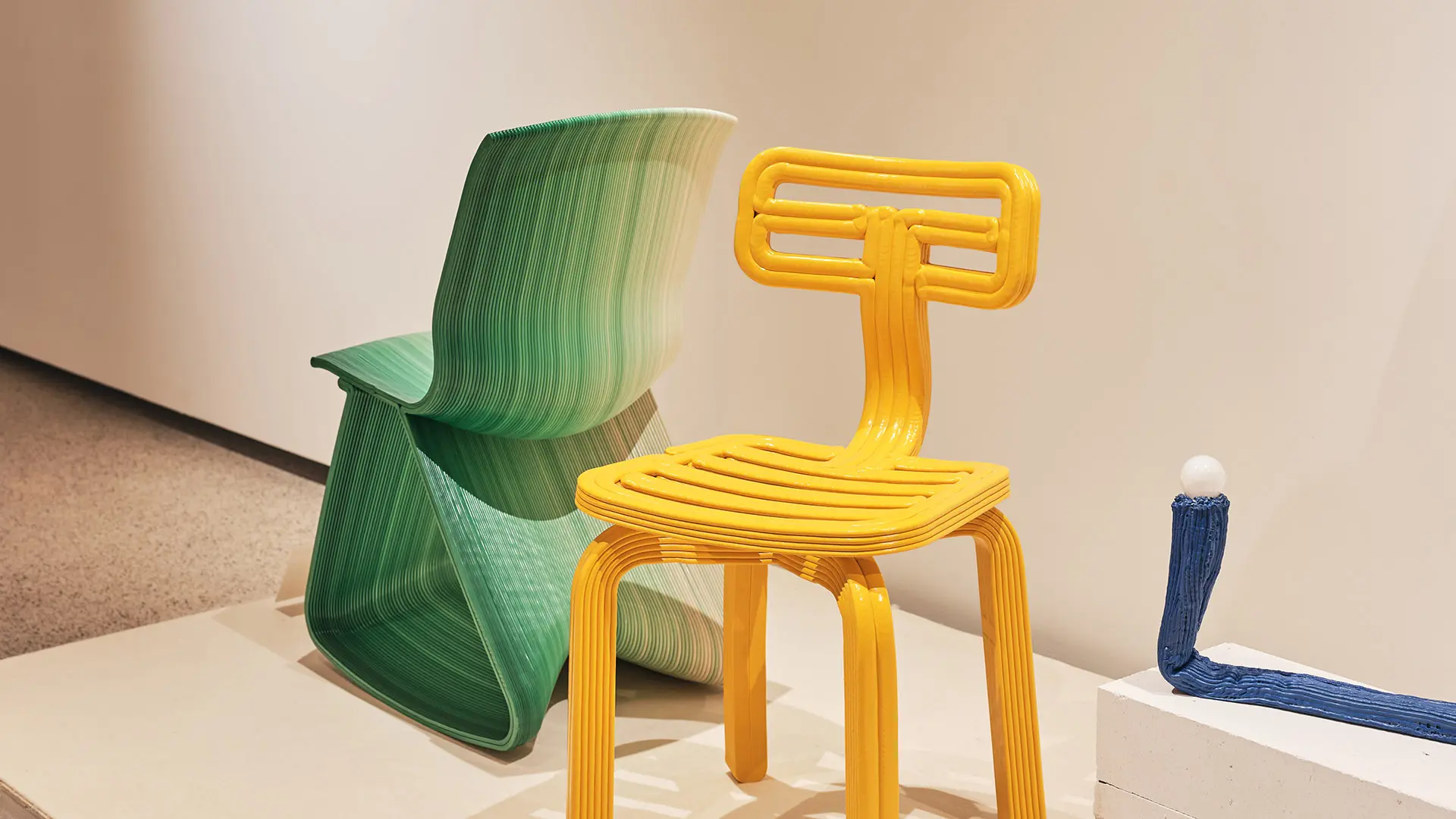 "The Stone Age, the Bronze Age and the Iron Age – throughout history materials have defined the ages, but could it be that we're living in the Waste Age?" asks a video introducing a new exhibition at the Design Museum in London, Waste Age: what can design do?
The show, opening to coincide with the COP26 climate change conference and running until 20 February 2022, looks at innovation across fashion, product design and construction where designers are making waste their material of choice. "Design has helped create our wasteful society, and it will be crucial in building a cleaner future," says Waste Age co-curator Justin McGuirk. "That means rethinking the lifestyles and materials that do so much damage." The exhibition is split into three sections – Peak Waste, Precious Waste and Post waste – beginning with our current position and speculating on a brighter future.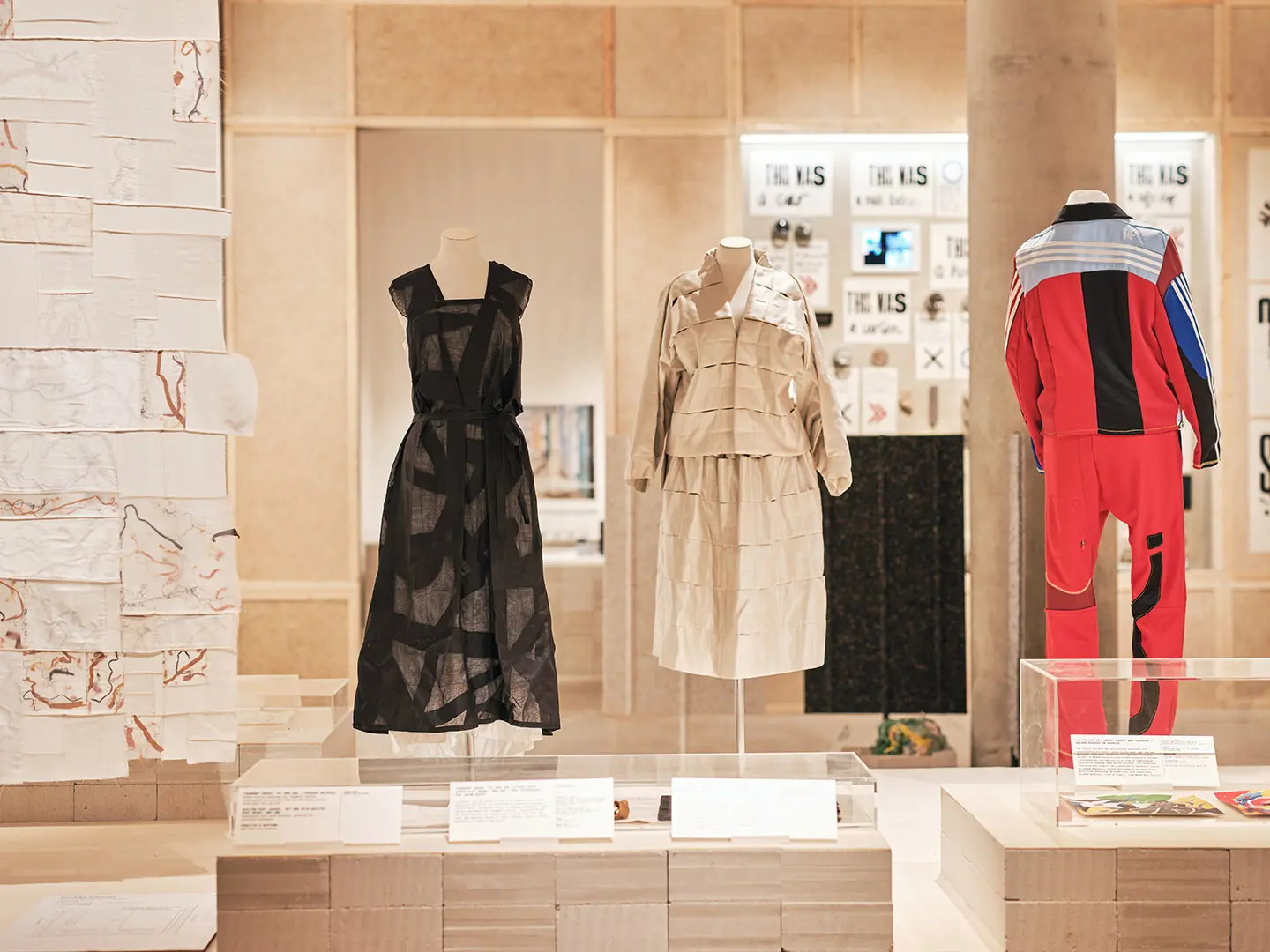 It opens with a brief but seductive display of plastic objects ranging from Joe Colombo's covetable injection-moulded Sedia Universale for Kartell to the ubiquitous electric kettle, like the Autoboil from Redring Electric, where it's easy to grasp designs' enthusiasm for the material. But the pieces are surrounded by many more exhibits of plastic's unwanted presence – the thousands of bottle tops washed up on a beach in a single season, unnecessary packaging and a series of large-scale photographs depicting vast landscapes heaped with tires and eroded by mineral extraction. Taken from the Oil and Anthropocene series by Canadian photographer Edward Burtynsky, the images are a jolting glimpse of mankind's impact on the earth. Adjacent, an installation by Ghanaian artist Ibrahim Mahama titled Fadama 40 confronts visitors with a sheer wall of waste – a huge piece made from televisions salvaged from an Accra scrapyard dedicated to European e-waste. Following are over 300 objects showing how rubbish can be rethought as a valuable material. Among them are a number of recycled plastic furniture pieces, including the S-1500 Chair designed using discarded fishing nets by the practice Snøhetta.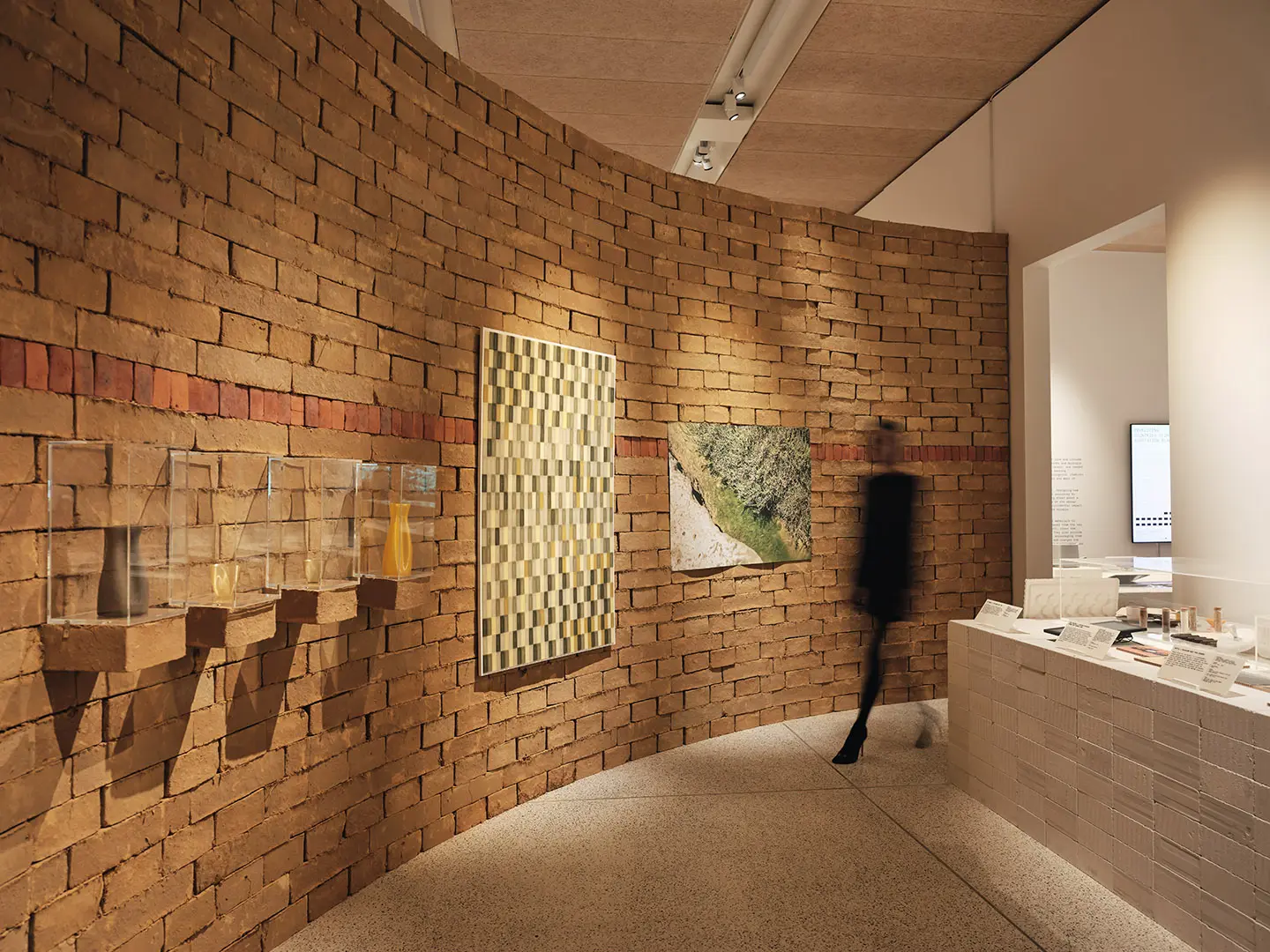 Architecture's endeavours are presented by the careful material choices used in the transformation of a Bordeaux housing scheme by Pritzker Prize-winning architects Lacaton & Vassal, and innovative new materials like the K-briq, a brick made from 90% recycled construction waste by the Scottish start-up Kenoteq. British fashion designer Stella McCartney's No Waste Dress, made from the excess fabric from previous collections, is also on show alongside a new surface material developed from corn husks by the Mexican product designer Fernando Laposse. Each of the designs has meaningful and far-reaching impact.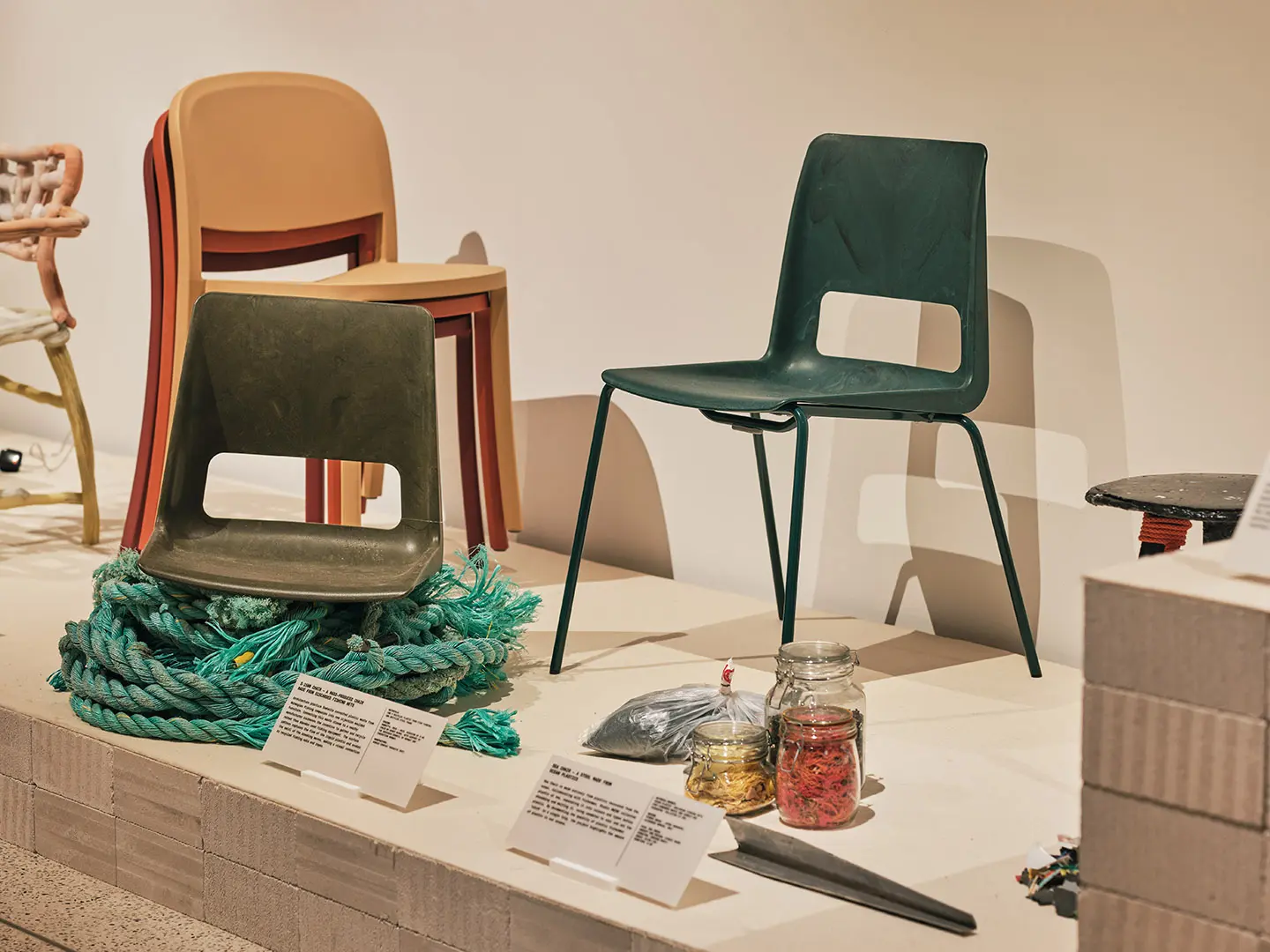 As well as showing off best practice, the exhibition hopes to prompt action. "This optimistic exhibition demonstrates the energy and ingenuity being applied to the challenge – and we want it to mark a turning point. There is so much we can do, but it begins with understanding our waste," says McGuirk. Starting with itself, the Design Museum asked a panel of sustainability experts to advise on reducing the environmental impact of the exhibition, and appointed creative consultancy Urge Collective and data analyst Ralf Waterfield to conduct an audit. The museum shared the results of its environmental audit on its website, estimating it produced 10 tons of CO2 – with 80% of that coming from the build and the remainder from things like the distance materials travelled as well as the energy used in digitally communicating throughout the process. "We asked specialists to monitor our process, helping us to make change throughout," says Curtin. "This is just a starting point for us. It's a journey we will continue, using our experiences and data from Waste Age as a guide." Also offered online are a number of suggestions on how to bring the exhibition's often conceptual ideas into daily life, from evaluating your food waste to listening to the Circular Podcast hosted by design writer Katie Treggiden. "We must face the problem of waste – we can no longer ignore what happens to things when we get rid of them. Instead of thinking of objects as things that have an end life, this exhibition proposes that they can have many lives," says Waste Age co-curator Gemma Curtin. "This is not just an exhibition it is a campaign #EndTheWasteAge, and we all have an active part in our future. The exhibition will show design is at the forefront of sustainable solutions."