Terraces and gardens, the new parlours
Add to bookmarks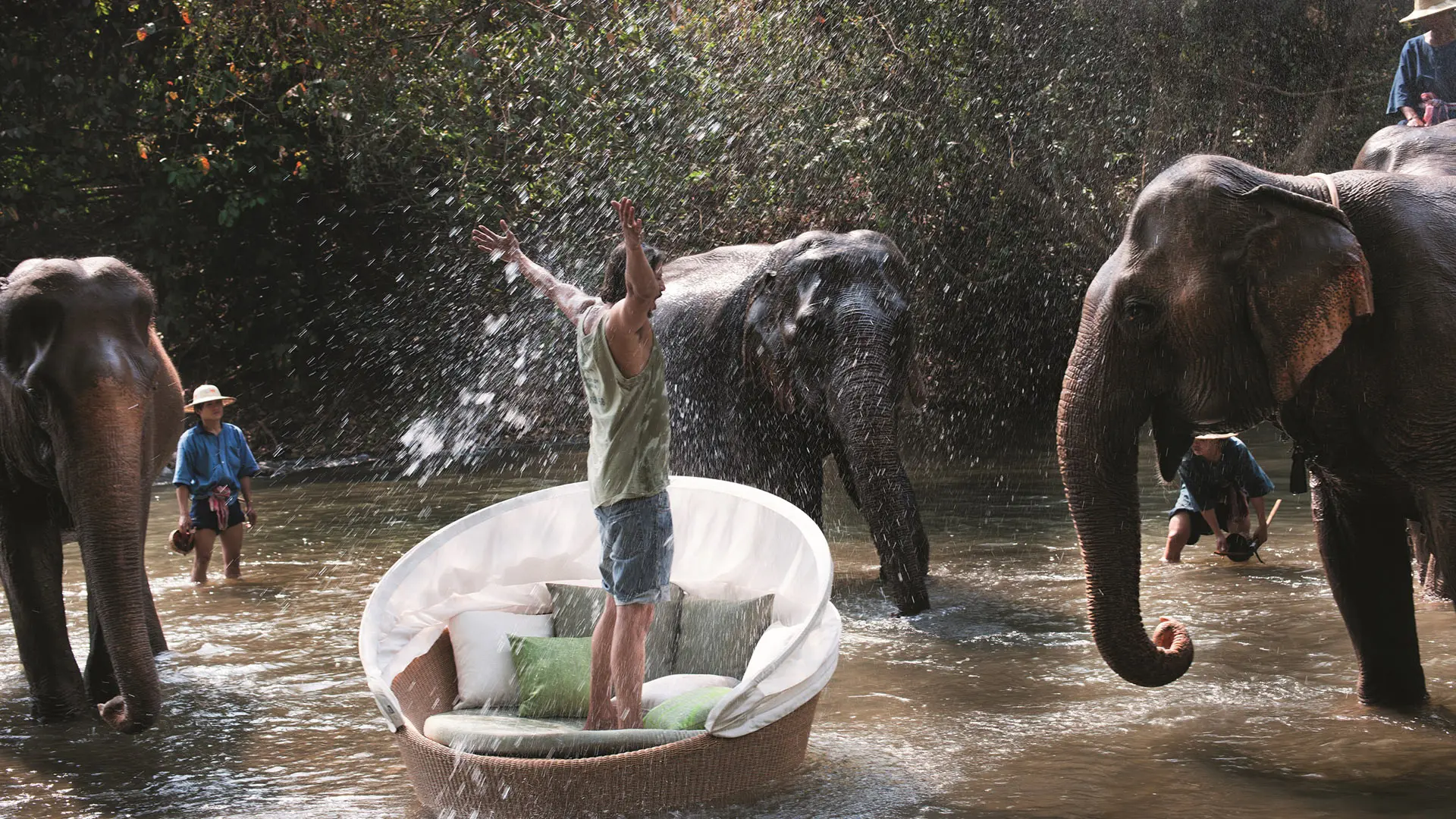 Points of contact between home, nature and the city, outdoor spaces are turned into the new "extra room." Geared to accommodating all the functions of domestic living, with furniture helping to assert the new protagonism of outdoor life.
It may be clichéd to think back to it, but the exceptional circumstances of the last year of the pandemic have helped us rediscover some undervalued spaces, with balconies, terraces and gardens unquestionably top of the list. They are border areas between the intimacy of our homes and the outside world, open-air domestic spaces have often been ill-treated and neglected, along with a distracted, less keen perception of our outdoor lives. Now, our renewed thirst for fresh air and nature – fed by the current ongoing cultural changes and the fact that we are living in the age of multispecism and allotments, shared gardens, glamping and vertical forests – it is in our domestic spaces that we can strengthen this relationship, turning terraces and gardens into welcoming, inclusive and – why not – dramatic spaces, allowing them to become the new "best parlours" of our domestic lives.   
Furnishing plays an essential part in making the absolute most of these exceptional rooms/non rooms, not just in order to confer functional versatility on an ideal space for hosting, relaxing, working, eating and doing sport, but also for dressing our outdoor urban spaces with sophisticated furnishings, distinguished by the supremacy of materials albeit conceived for outdoor living, but absolutely on a par with the quality and refinement of finishes for indoor furnishing.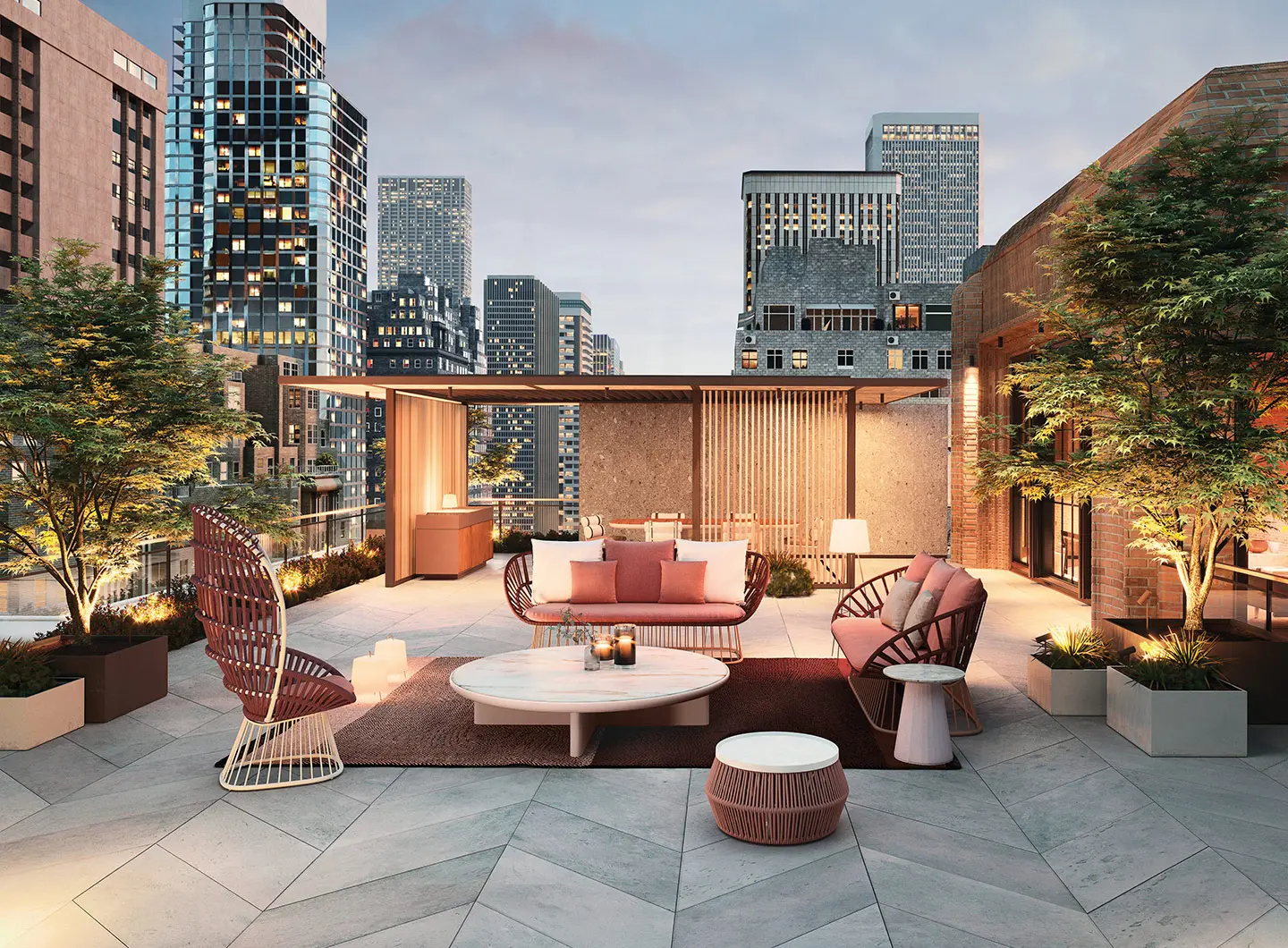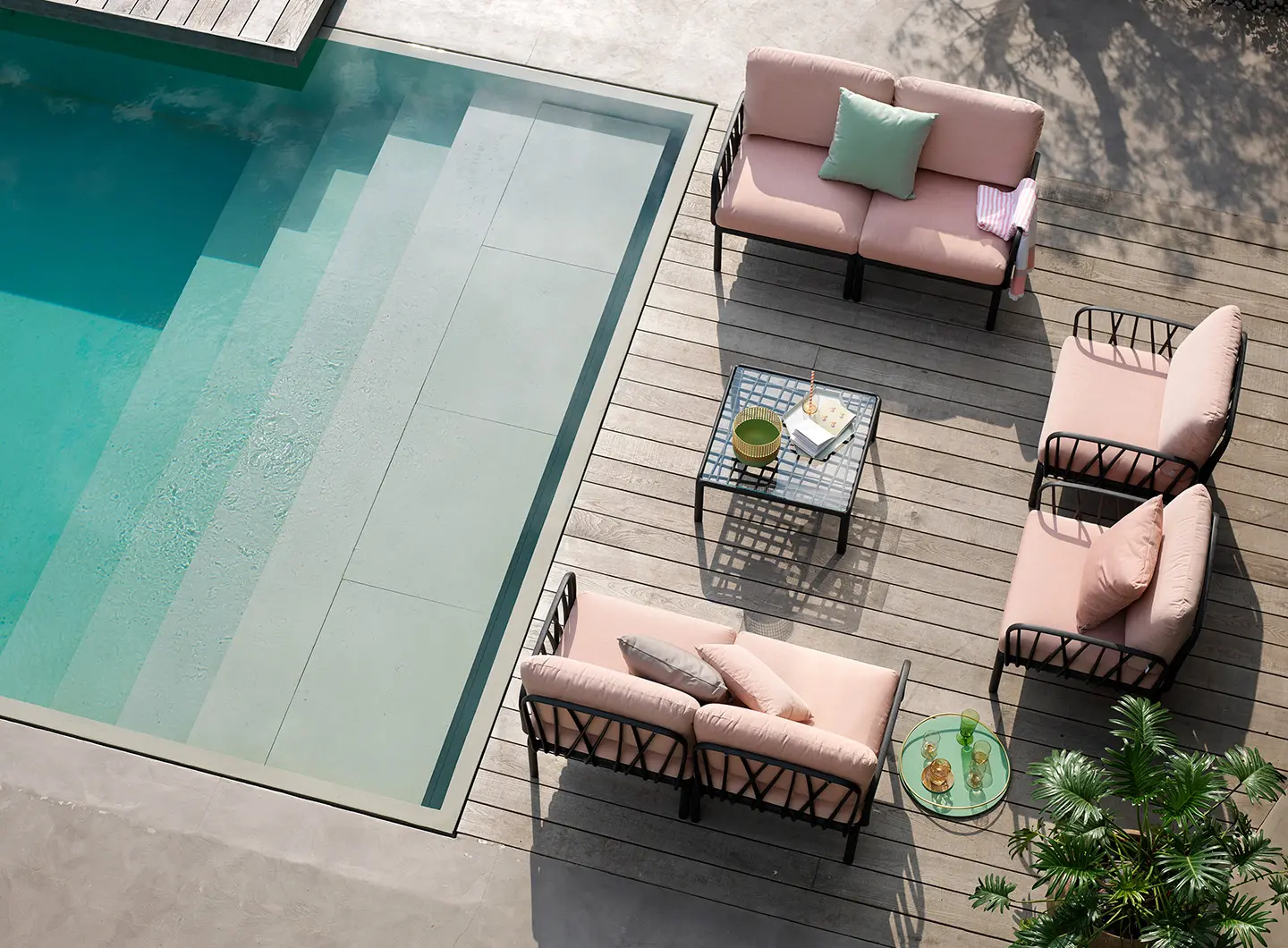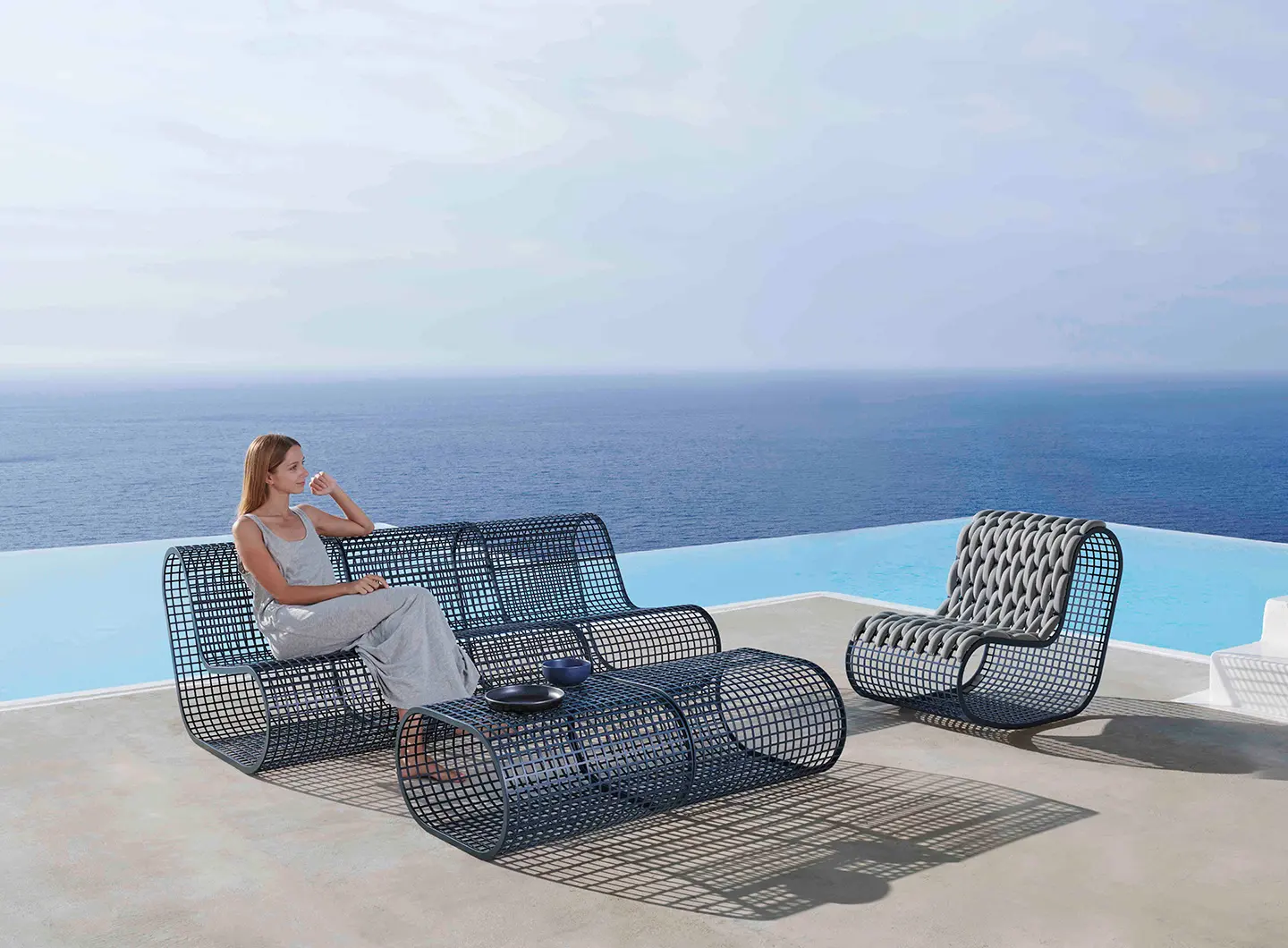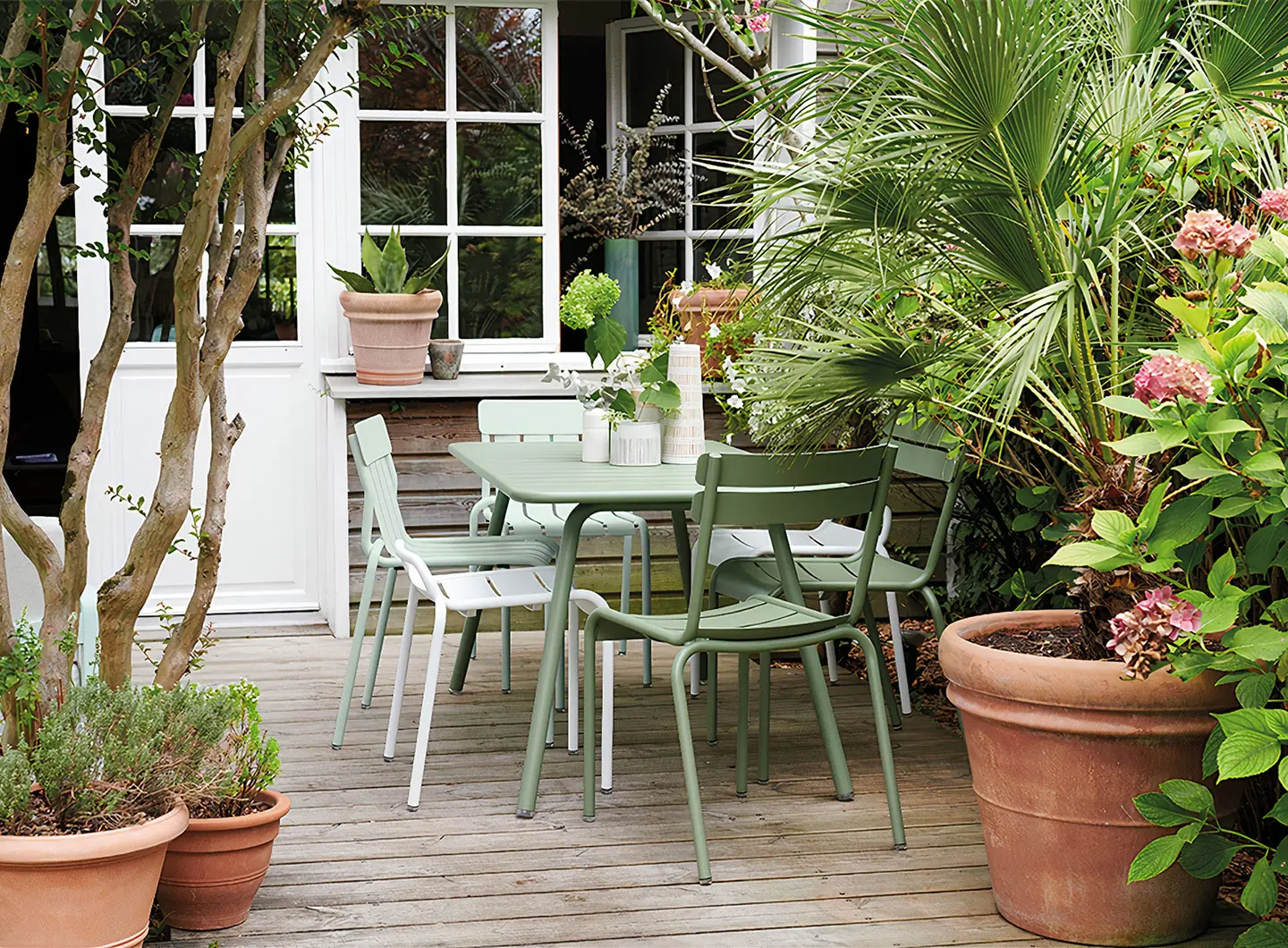 Seating is undoubtedly the first piece around which the identity of the outdoor living room should be built. Rather than pieces inspired by more established types of outdoor furnishing, the last few years have seen the arrival of more distinctive styles, making for a striking effect offset by less neutral colours and design. Thus, the armchair from the Cala collection designed by the Doshi Levien duo for Kettal, inspired by the famous Emmanuelle armchair, has been transformed with extrovert colours into a three-seater sofa with a distinctively airy open-weave base. The catalogue of the Italian brand Nardi features Komodo, a modular system of upholstered fibreglass resin chairs. Inspired by organic shapes, the backrest draws on the geometric pattern of branches. Also channelling a less formal spirit, Gandia Blasco has come up with Buit, a seating system made up of modular chairs and poufs in aluminium. The hyper-geometric spirit of the piece, underscored both by its rounded contour and by the geometry of the metal mesh, is softened by the padding, woven in a novel way through the squares of the grid. Another strikingly styled piece is the great classic Luxembourg armchair by Fermob, which populates the gardens of the same name on the Rive Gauche in Paris, and has been updated with a fresh, new cactus colour.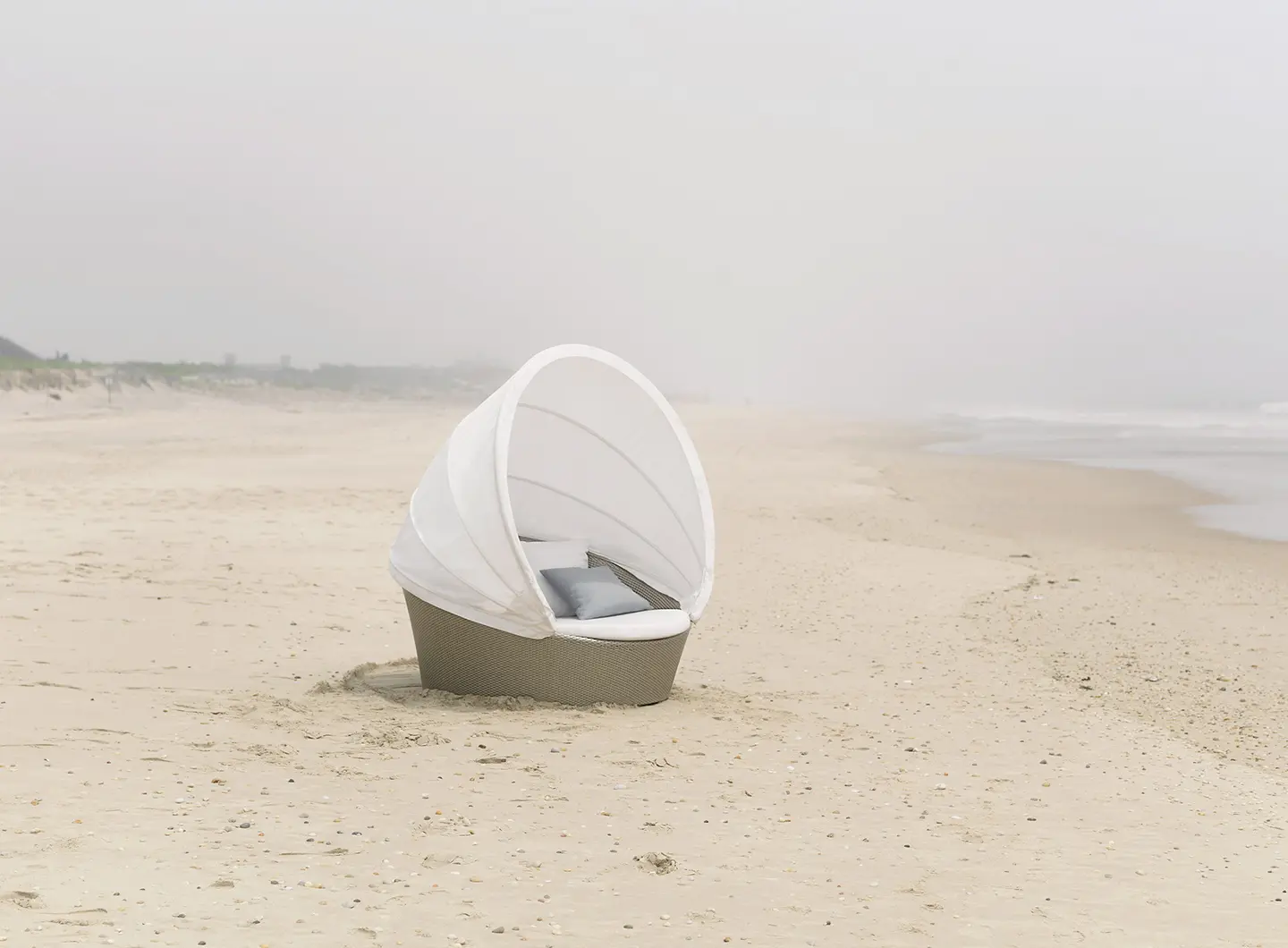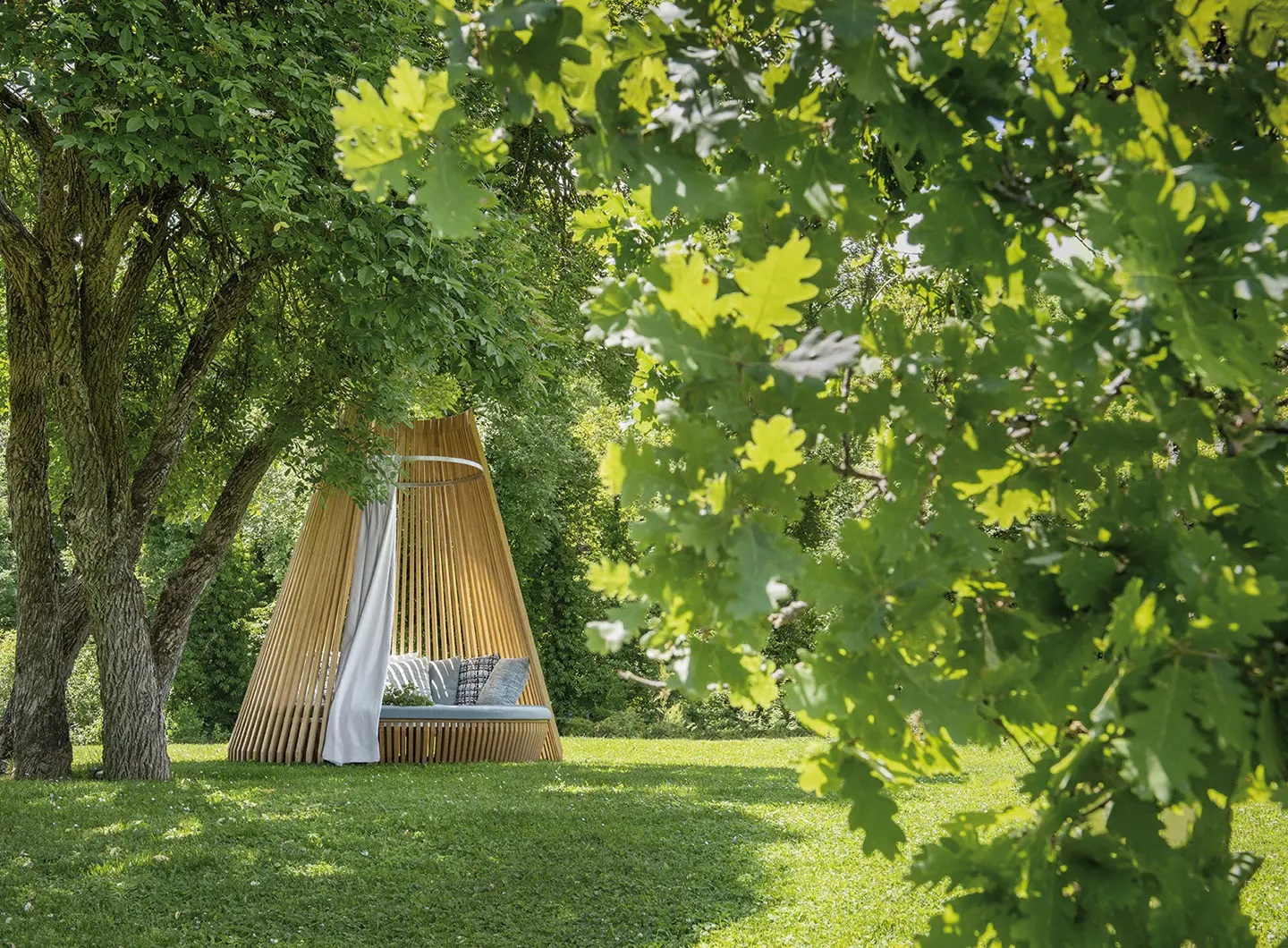 Aside from canonical chairs, other hybrid typologies channel a combination of chair, sofa and chaise longue, producing what are known as "island" models and cocoons. A perfect reflection of the times, they are an expression of laid-back culture, with open spaces seen as opportunities for a more informal lifestyle. Orbit, by the designer Richard Frinier for the Dedon brand, is a circular loveseat with a polyethylene hood, an ideal combination for reading, snoozing or even smart working, sheltered from the sun.  The tepee-shaped Hut from Ethimo is described by its designer Marco Lavit as "a unique nest on a human scale, a place to pause and regenerate" – its totally atoxic and recyclable Accoya® acetylated wood frame is inviting, fitting naturally into the surrounding space.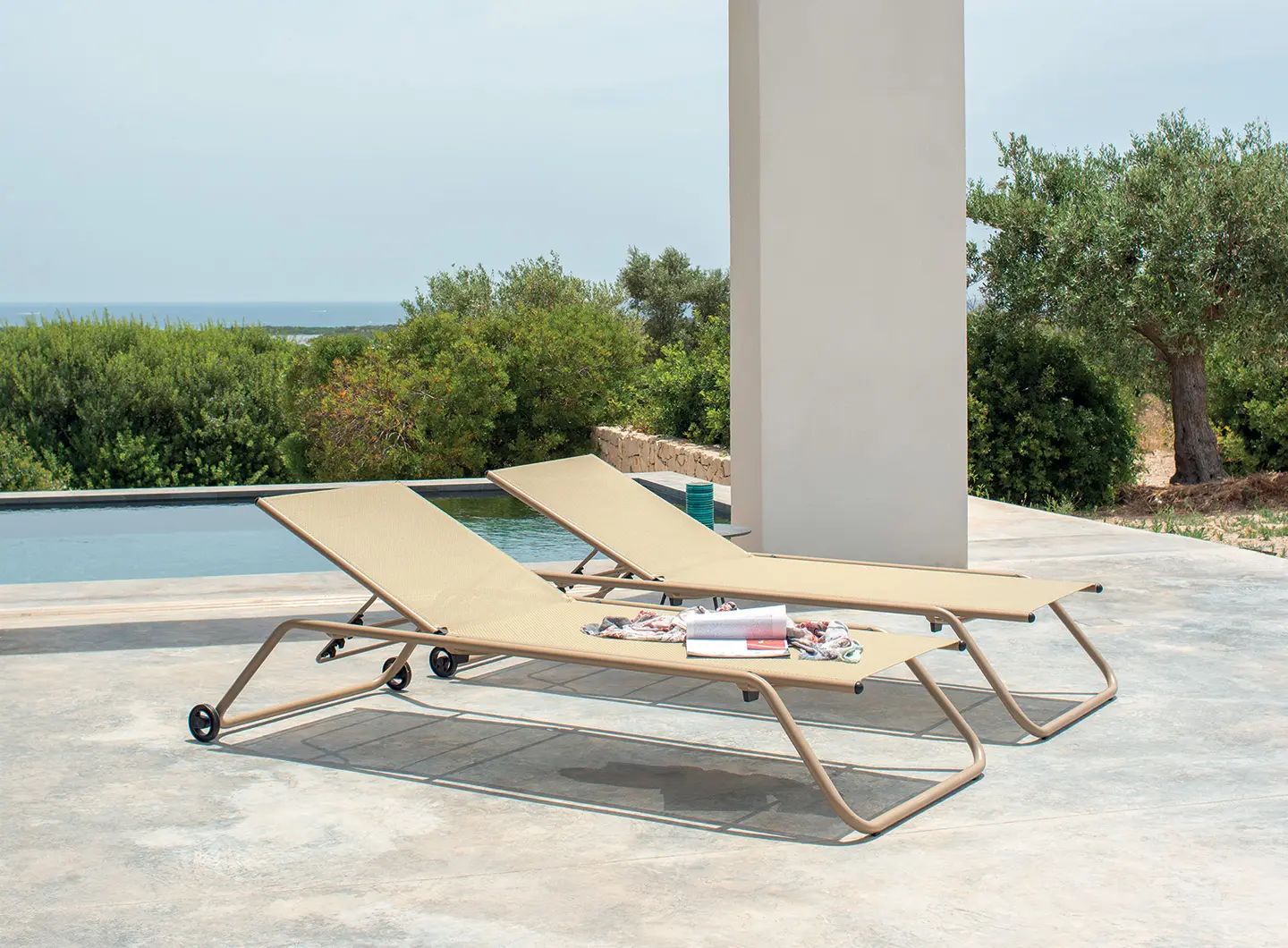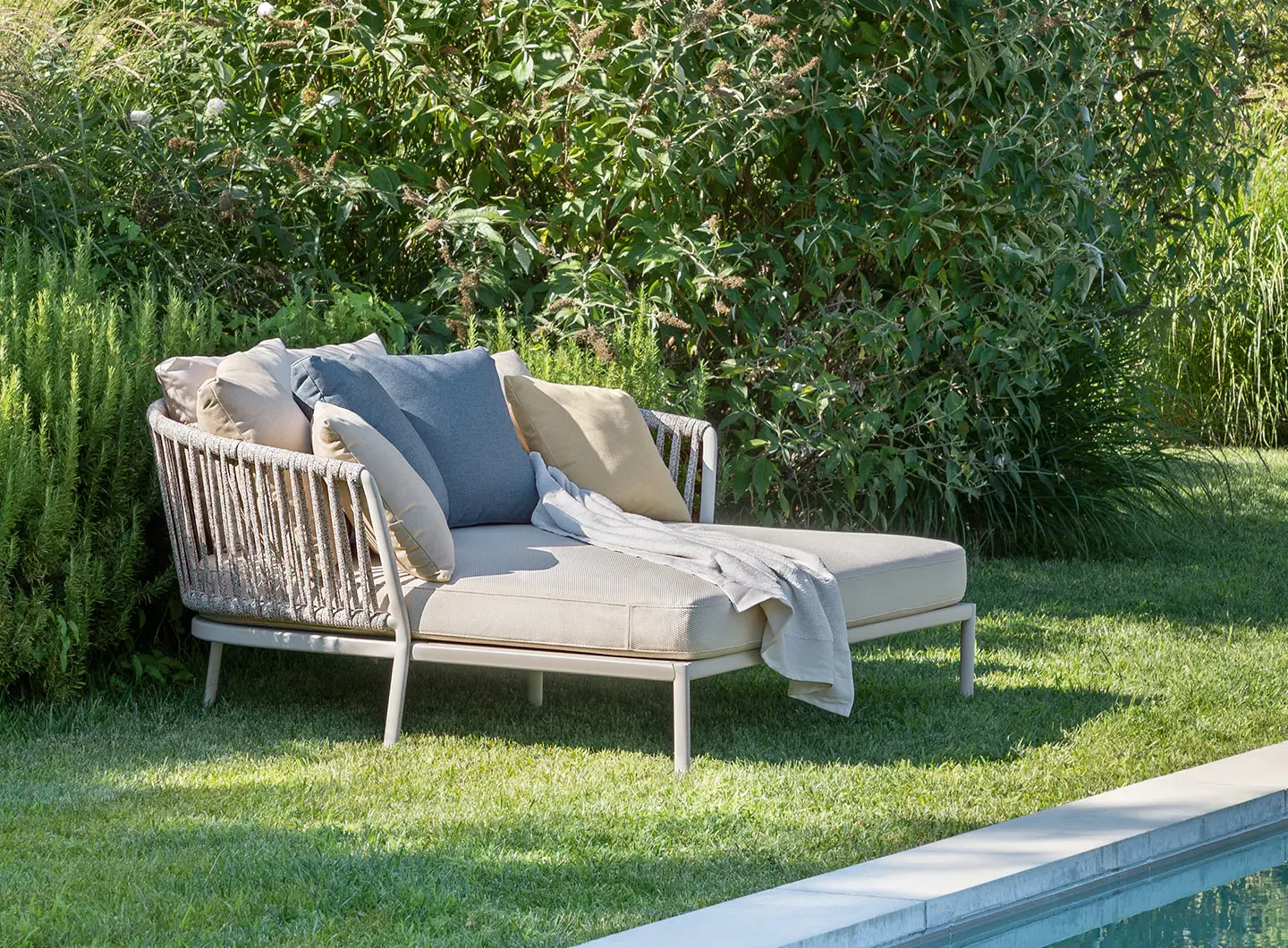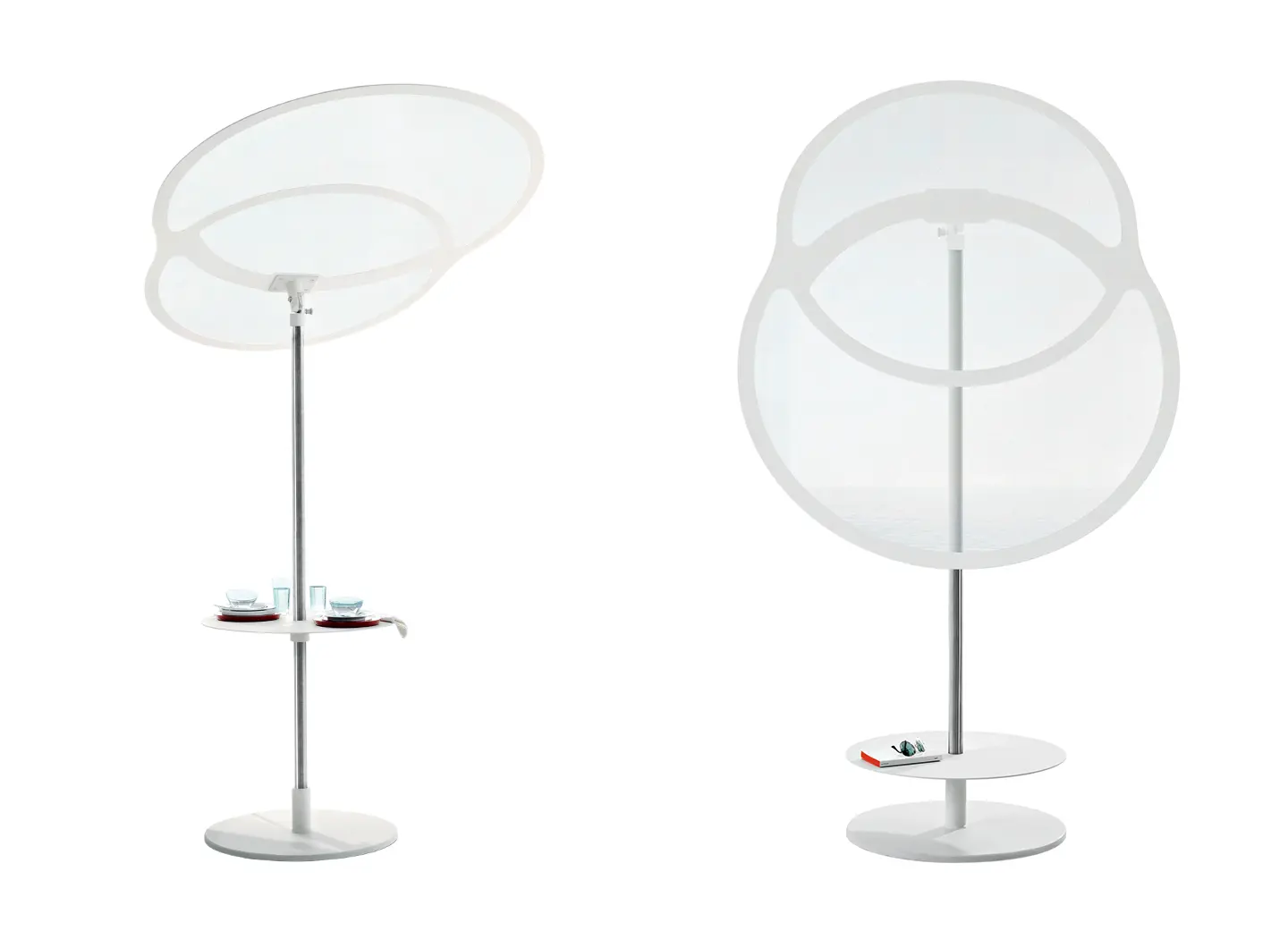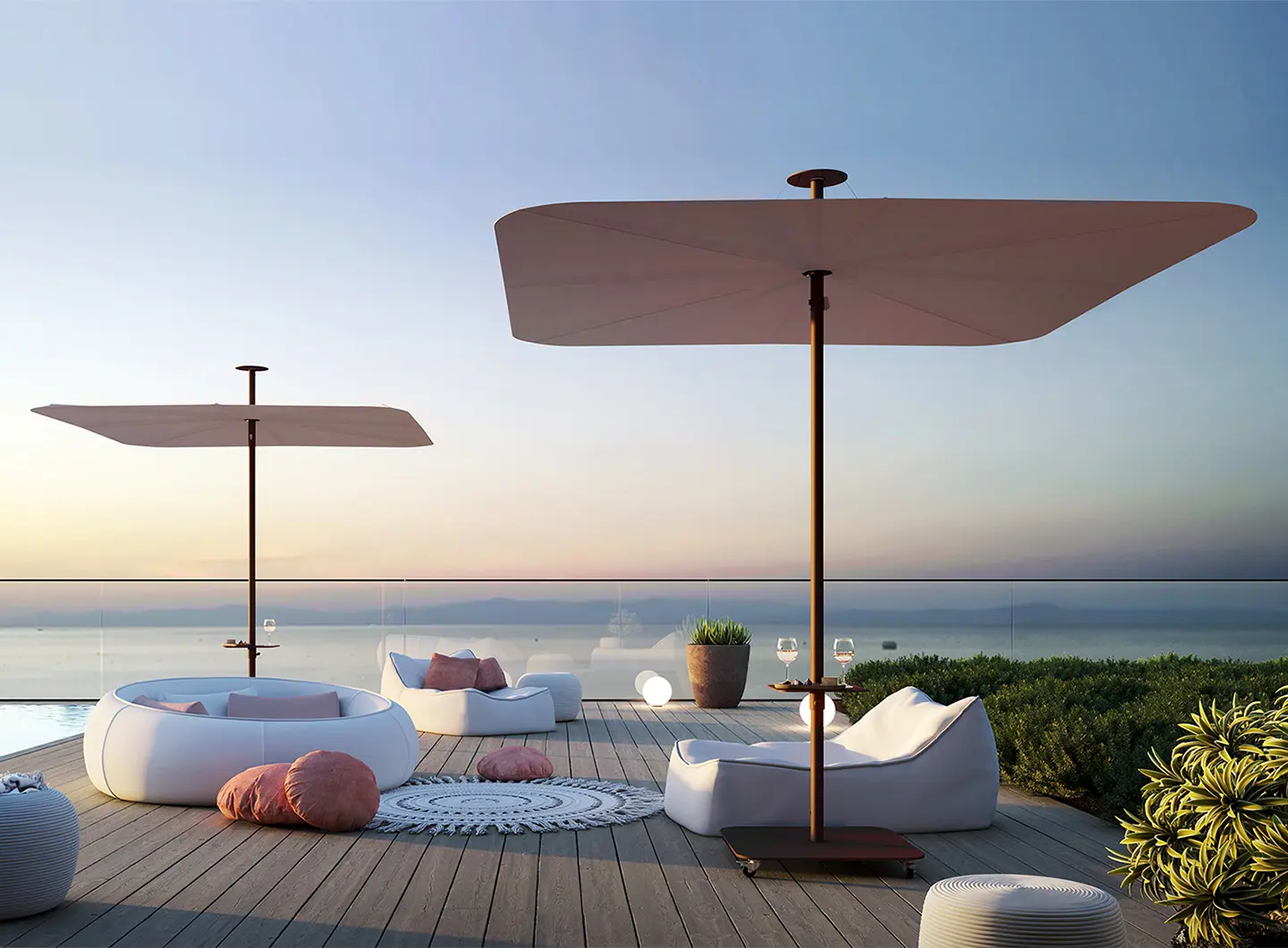 For those who long for a simulation of life on the water's edge on terraces and in gardens, Emu's Snooze sunbed comes in entertaining colour combinations that serve to further enhance the lightweight profile of this stackable chair, which also comes as a deckchair. The Spanish designer Alberto Lievore has come up with the Ria daybed, produced by the Italian Fast brand; the collection also includes a complete range of sofas and armchairs. Geared to sheltering from the sun's rays, there are also new proposals for updating the typical bottom-opening classic parasol: with its painted aluminium base, Roberti Rattan's Coral Reef stands out for its novel double superimposed ring sunshade. Lastly, Infina UX from the Belgian company Umbrosa, features an unusual, squared shape with rounded corners, conferring a merry, jaunty air.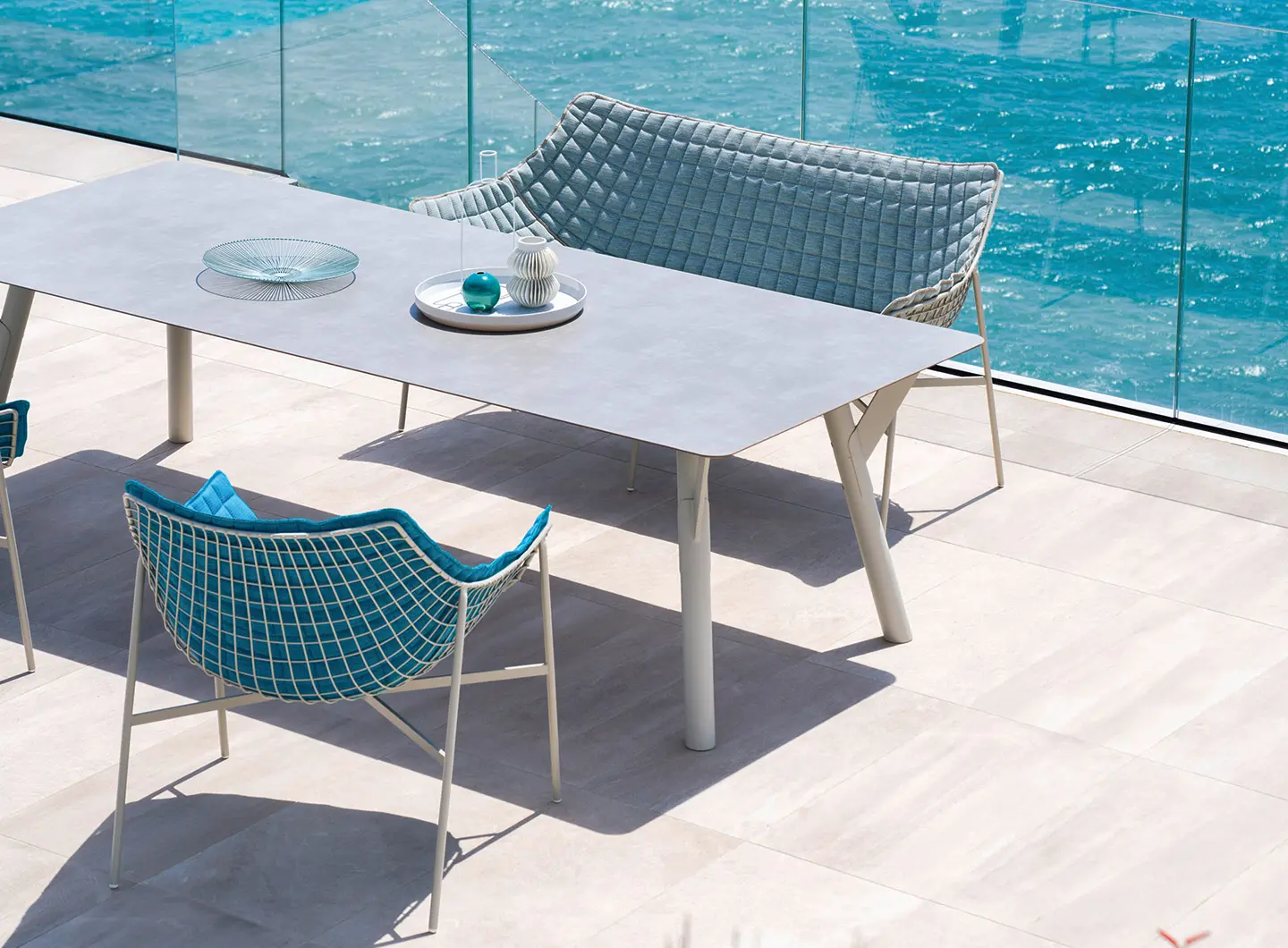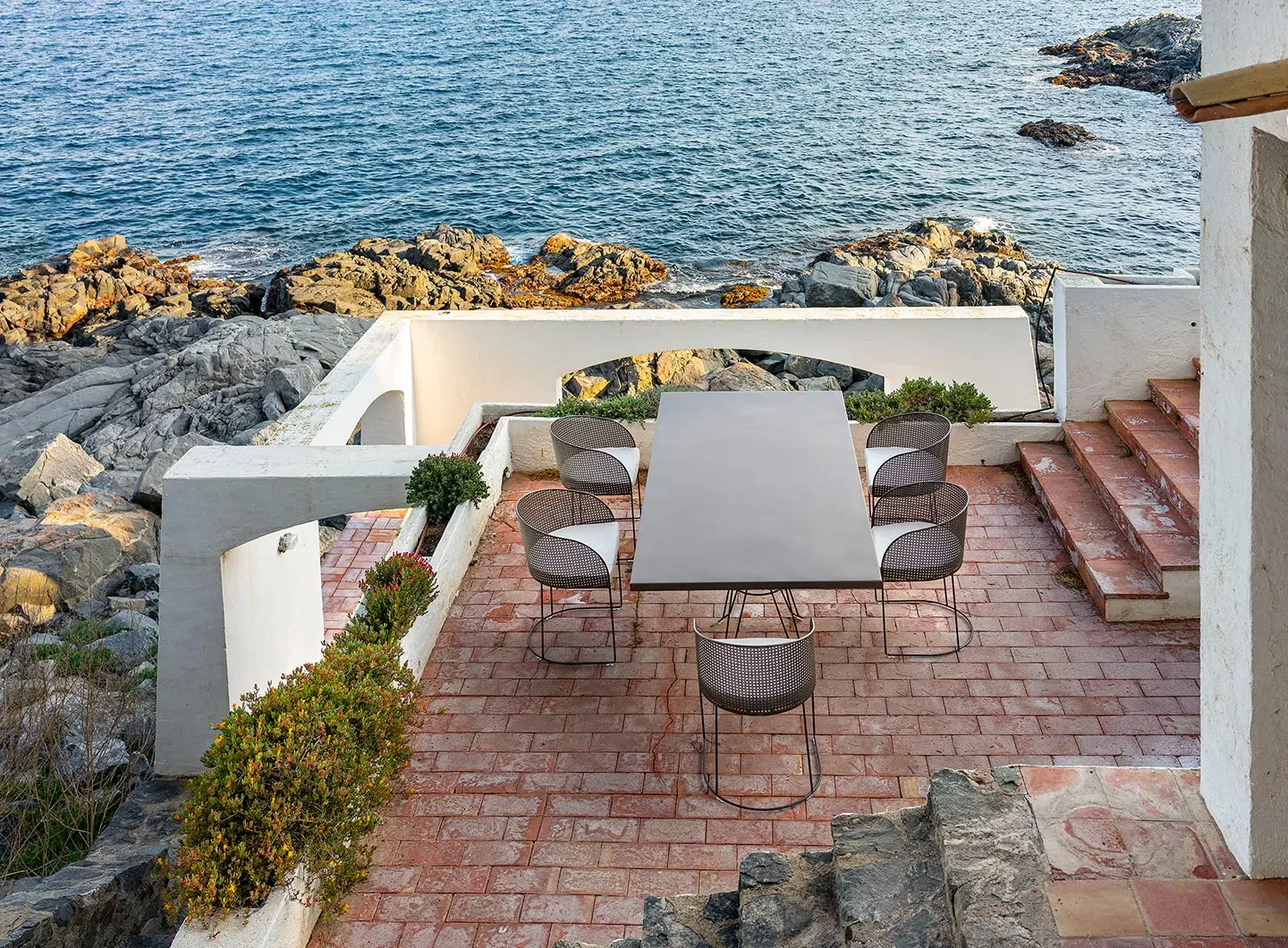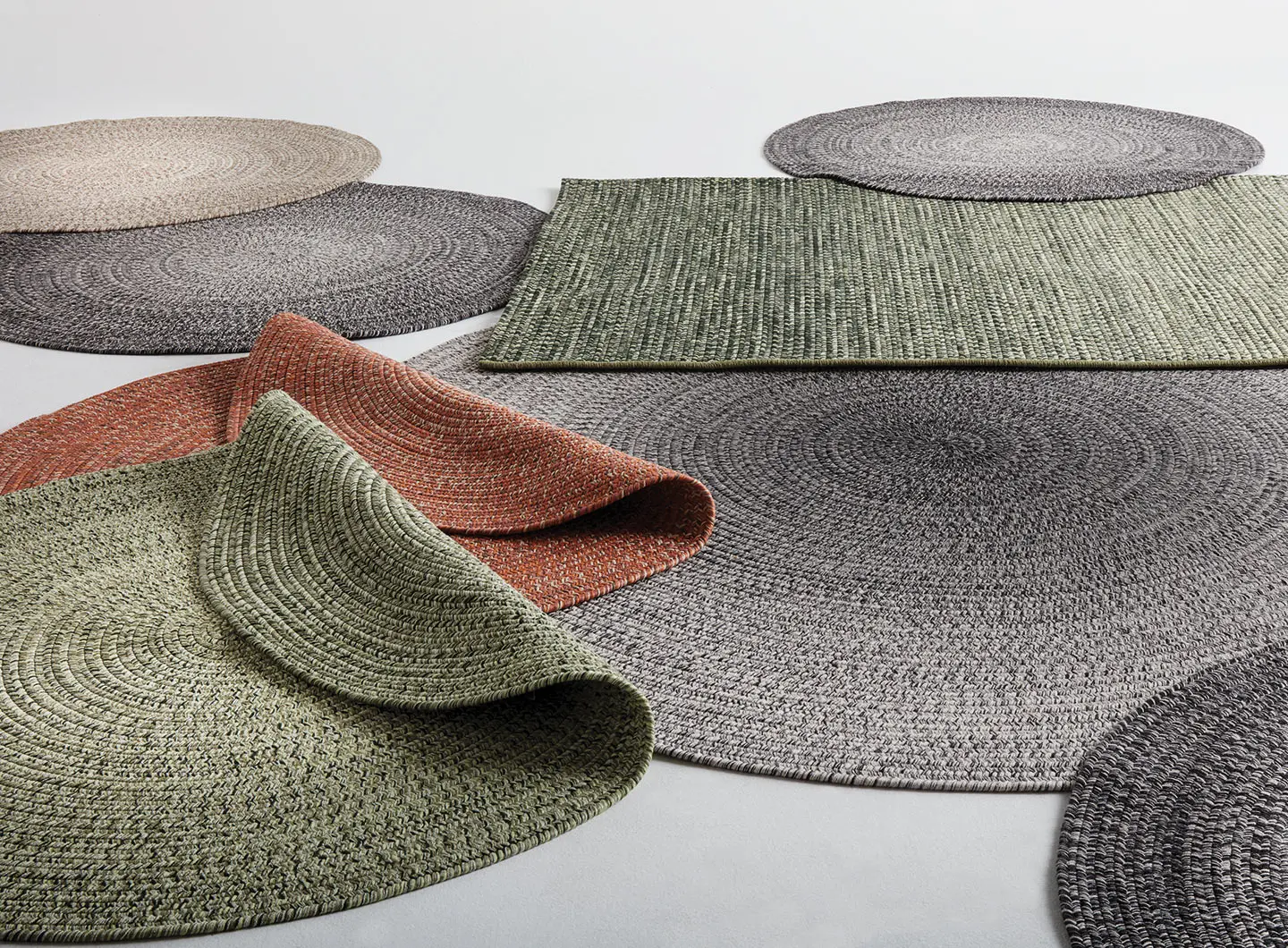 Terraces and gardens need tables if any eating or work is to be done. Link, produced by Varaschin to a design by Alain Gilles, can be elongated and customised according to need.  Isimar's Arena chair, from the collection of the same name, references our timeless fascination with Vienna straw, adapted for use outdoors. Lastly, even rugs make an appearance in open-air "best parlours"- for instance, Round from Gloster's Deco collection with material and chromatic evocations, engenders a sense of fulfilment equal to any aroused by living rooms trapped between the four walls of our homes.