Scavolini Notches Up 60 Years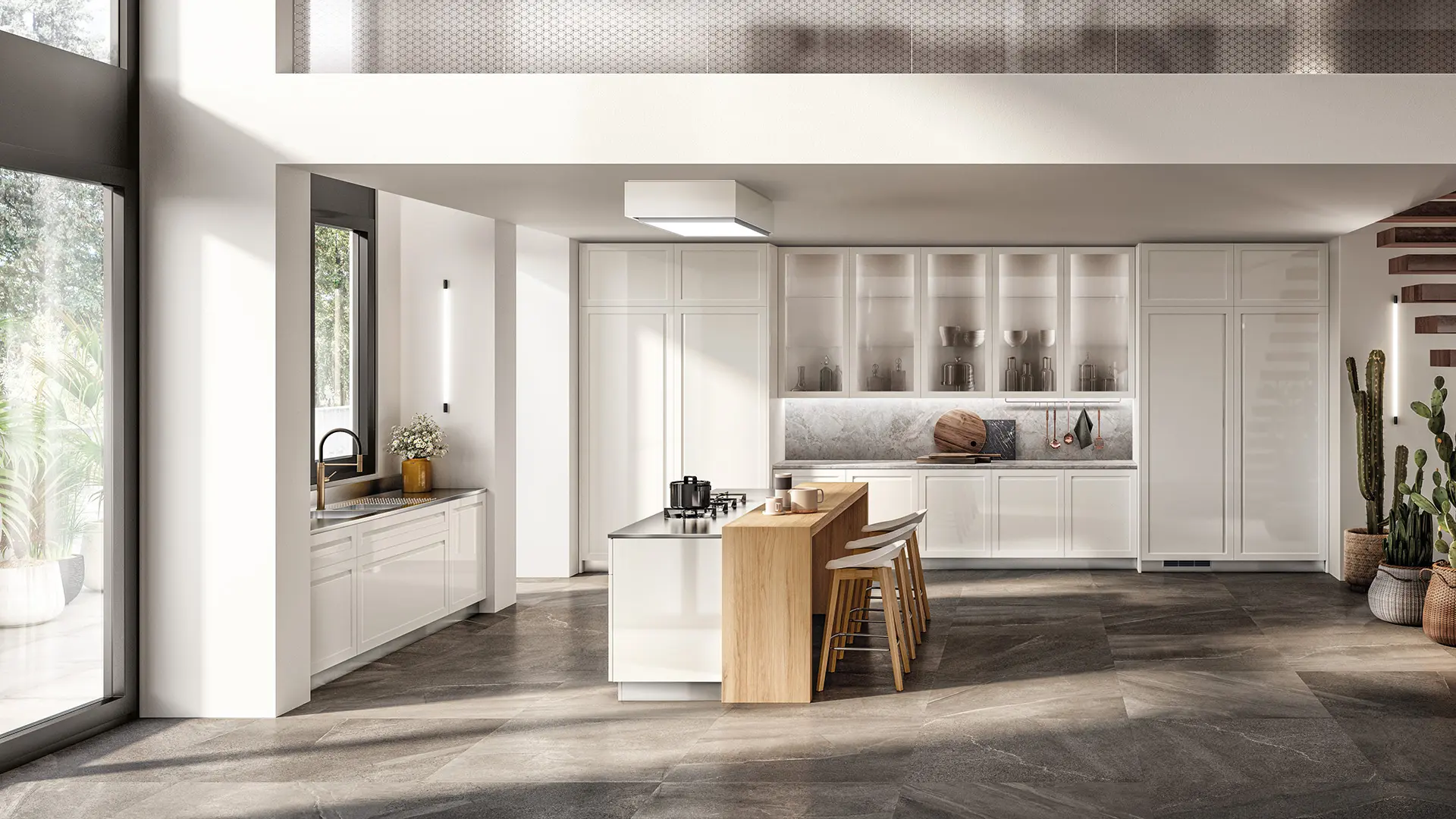 A kaleidoscopic range of proposals for a total home look. Based in the Marches since 1961, the company has pursued its innovative continuum, looking to the future, focusing on domotics and catering to the new lifestyles.
The most beloved of the Italians. Both truth and slogan. In this case, the advertising really hasn't lied. The company was a pioneering devotee of advertising within the sector, harnessing telemedia as well as sponsoring the local basketball team, and bringing international visibility. Fabiana Scavolini, CEO said: "We have tailored our communication efforts to include innovative visual codes and languages in response to the new market scenarios. One example of this is the new "60 Years Together" advertising campaign, which celebrates this major milestone with a narrative approach centred around relationships with people and an augmented range of goods that cater to a total home look."
The company has always kept a keen eye on changing habits, and in 1996 set up its internet site. In 2017, it became the first Italian (kitchen) manufacturer to dip its toe into e-commerce, further bolstering its vibrant network that now comprises 900 Italian outlets. The Scavolini Shop platform enables customers to build the kitchen of their dreams in just a few clicks. The brand has always pursued original language fuelled by an analysis of people's needs. "We developed all the tools required to increase the digitisation of our services, in order to further boost our offering. One such example is ArchitettoOnLine, a design consultancy service through which retailers and clients can share their buying experiences on the web," continued Fabiana Scavolini.
The Pesaro-based agency began life as a small artisan kitchen producer, set up by the enterprising brothers Valter (we recommend the book Valter Scavolini. La vita come grande impresa, by Luca Masia for Mondadori, June 2021) and Elvino Scavolini, and quickly became synonymous with 'home, as well as one of the leading national businesses and one of Italy's top exporters of modular kitchens. Heading up the Scavolini Group, the firm expanded in 1996 to include the Ernestomeda brand, developing into an industrial plant ranging over 200,000 m2 and employing 700 people. A major source of local employment, with a steady, undented turnover.
There's a huge variety of furnishing options on the other side of the kitchen doorway. "The decision to diversify our offering through brand extension, introducing concepts for bathrooms, living rooms and, recently, walk-in wardrobes, was a natural progression, fuelled by a desire to respond to market demand and take on a global project, further bolstering the leverage of our retailers. Up to 2012, we produced kitchens almost exclusively, moving onto bathroom furnishing. Our expansion to living rooms came in 2015, with a structured collection, putting an official stamp on an ongoing trend, with homes becoming increasingly smaller, kitchens opening out onto living rooms and the ensuing need to come up with a common style and language for all the spaces," added Fabiana Scavolini.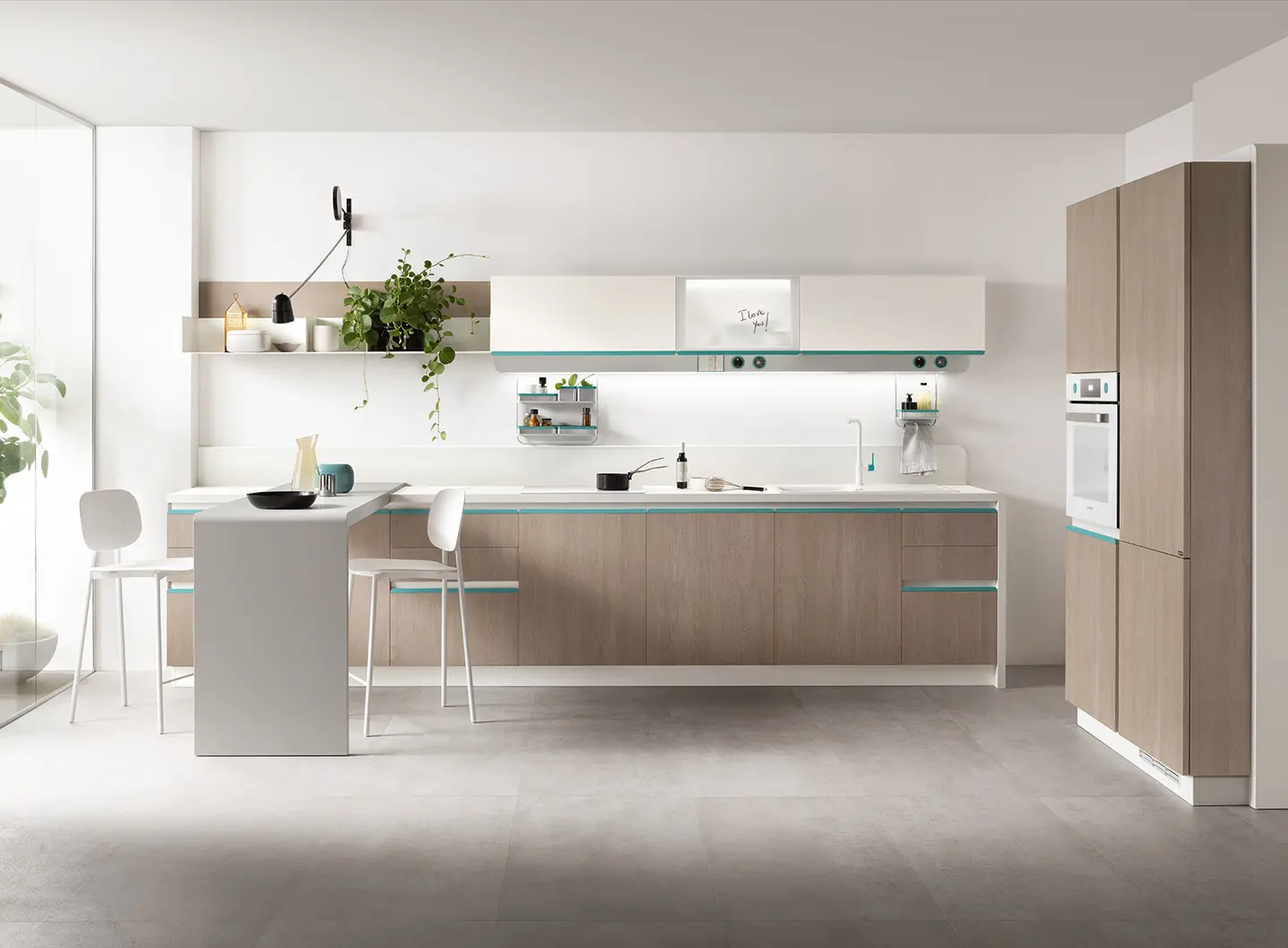 The company's extensive offering stands out for its attention to design, technology and innovation, with an eye to modularity and materials, with more than 30 models and 350 finishes. The same is true of its bathroom furnishing, making for complete spaces that come with a wide variety of compositional options thanks to the addition of mirrors, accessories and a full range of 55 lighting systems. The array of solutions for living rooms is just as vast, from integrated to separate living rooms, rounded off by a collection of rugs. A decidedly successful range of products, thanks to the creativity of prestigious designers – such as Nendo, Fabio Novembre, Karim Rashid, Michael Young and Ora-ïto – as well as leading design studios – Diesel Creative Team, Giugiaro Design, King&Miranda Design and Rainlight Studio.
What does the future hold for Scavolini kitchens? "We have always envisioned technology being at the centre of design and of the kitchen in the future, traditionally the prime space for innovation," replied Fabiana Scavolini. "The interaction between furnishings and devices is becoming increasingly important. We have focused on the increasingly pervasive role of technology in our everyday activities and in our homes, which is why we developed the Dandy Plus project, in partnership with Fabio Novembre. Equipped with the Alexa Voice Service, perfectly integrated into the Task Bar module thanks to the Living Now component from BTicino, we have given voice to the project, designed for all those seeking an all-over digital experience, even at home."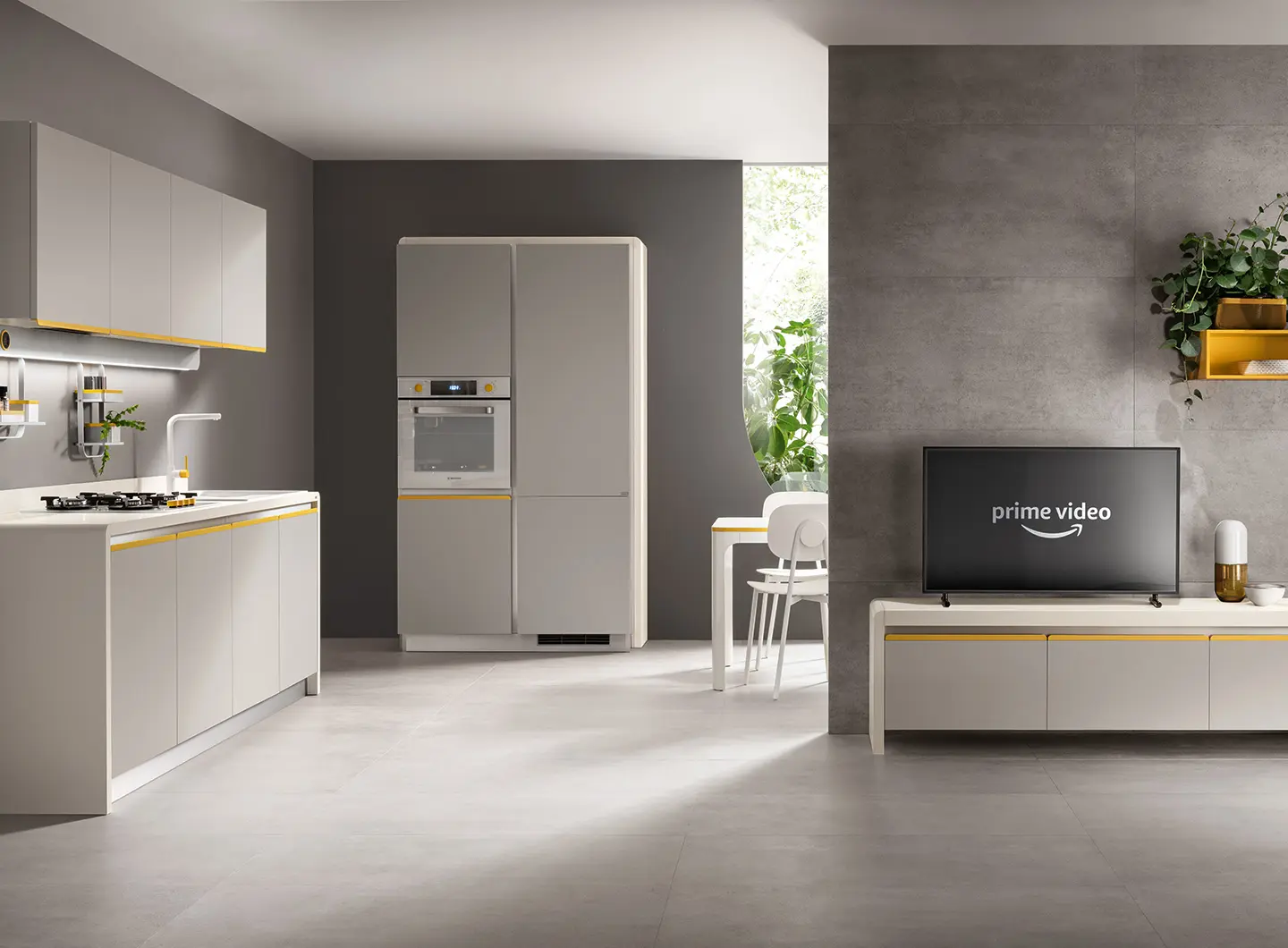 Scavolini isn't just the sum of its products, however. At its heart is a great human and environmental sensitivity. In 2008 it obtained Workplace Health and Safety certification – the first sectoral company in Italy to do so. As if that weren't enough, it also obtained Indoor Hi-Quality and Environmental Management certification, as well as garnering the Merit Award in recognition of the company's "continuous improvement" as provided for under international legislation. Scavolini also launched the eco-sustainable Green Mind project, through which it works towards the protection and conservation of the environment and resources at all levels, while the Sunload project, launched in 2011, saw the company achieve energy autonomy, thanks to extensive photovoltaic panels mounted on top of the production area.
Given the company's sensitivity towards its own territory, it came as no surprise when it set up the Scavolini Foundation, which promotes historical, literary and economic research into industrial design and supports initiatives geared to education, recreation and social welfare. The foundation was set up in 1984, preceded by Scavolini's sponsorship of the Rossini Opera Festival, now extended to other sectors.
Scavolini in just three words? Quality. Passion. Innovation. Always and forever.