Reimagining traditions in light of sustainability: five case studies
Add to bookmarks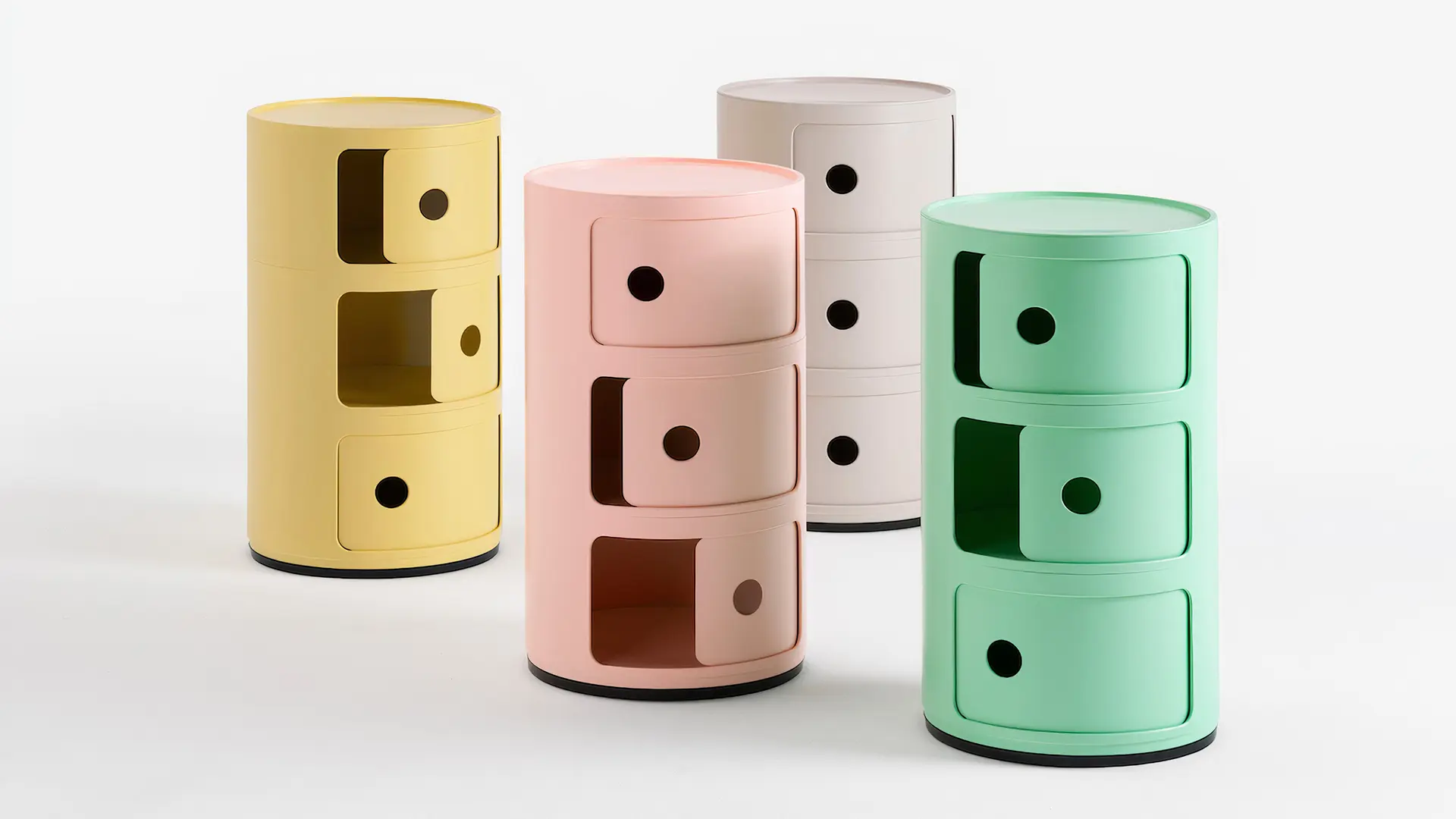 From Enzo Mari to Patricia Urquiola, five re-editions of icons of Italian design by companies in light of energy efficiency and the circular economy of materials.
Sustainable re-editions take into account both a trend and an urgency: in recent years we have been increasingly playing witness to the phenomenon of companies reimagining and reissuing the great classics of modern design; the ecological transition is a necessity that requires us to rethink the production of objects and furnishings in their entirety.
The selected products are the result of a marriage of ethics and aesthetics, tradition and innovation. They demonstrate that we can rethink our material and cultural heritage from a contemporary setting, respecting both the desires and the necessities of our time. The 2020s provide the perfect vantage point from which to reimagine the lessons absorbed from the great names of Italian design. But it doesn't end there: with a fair dash of objectivity, we can absorb their past momentum and thrust them forward into the contemporary world.
Patricia Urquola and Eliana Gerotto, Caboche, Foscarini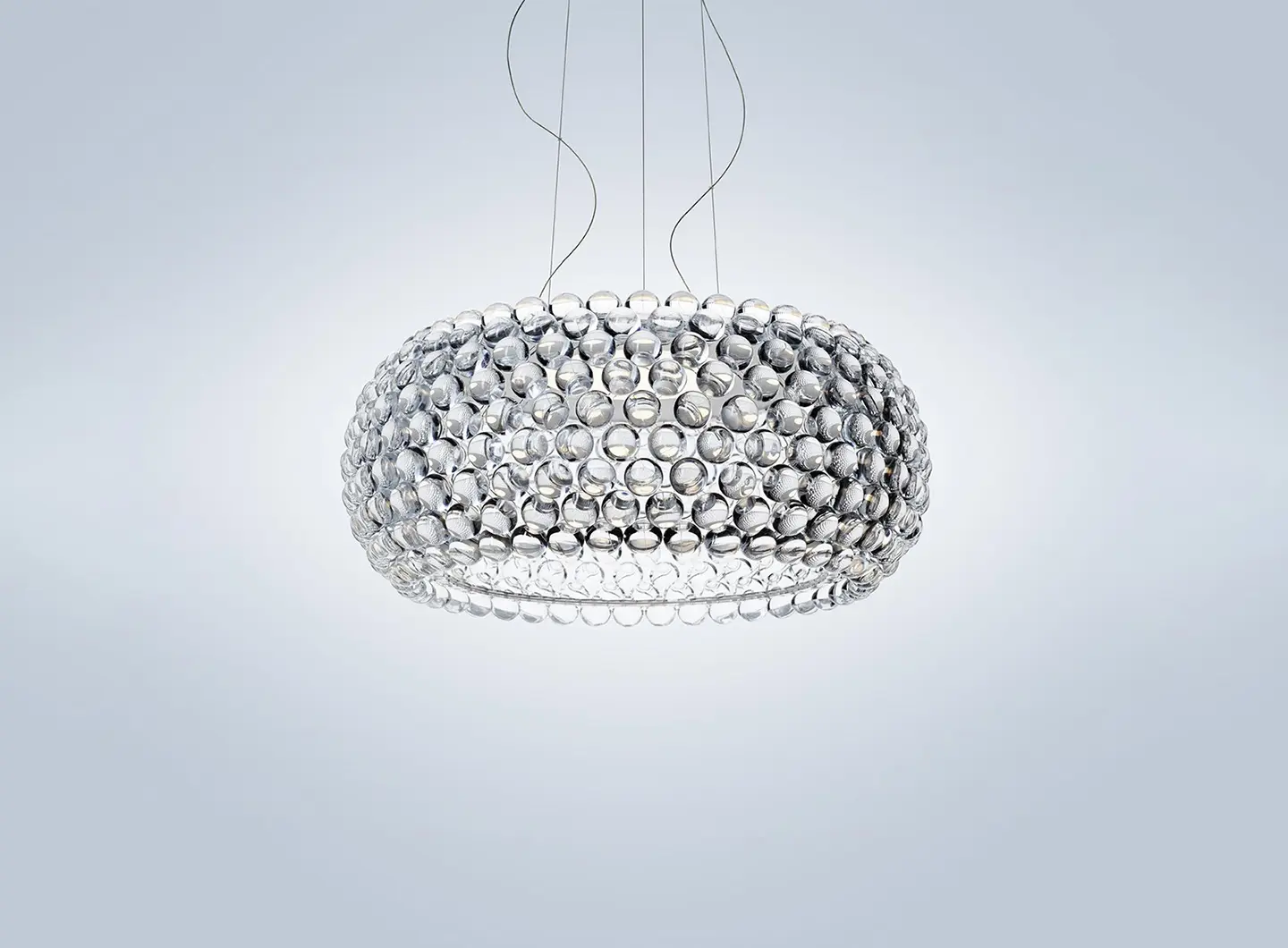 The inspiration for Caboche, a lampshade designed by Patricia Urquola and Eliana Gerotto for Foscarini in 2005, comes from a Bakelite bracelet from the 1930s. The collection, as light, sophisticated and priceless as a treasured piece of jewellery, is now transformed into Caboche Plus, a new version which takes stock of technological evolutions as well as seeing its shape simplified. The new latest generation double-sided LED light unit, designed by Foscarini, lends the lamp an impeccable light output, improving energy efficiency by up to 40%.
Lievore Altherr Molina, Duna 02 Eco, Arper
As graceful and enveloping as a flower, the Duna armchair is evocative and contemporary. Designed in 2000 by Lievore Altherr Molina, the product has been restyled as the Duna 02 Eco, which consists of an eco-sustainable plastic shell made from 80% post-industrial recycled material, with four wooden legs. Duna 02 Eco has obtained Greenguard Gold certification.
Anna Castelli Ferrieri, Componibili Bio, Kartell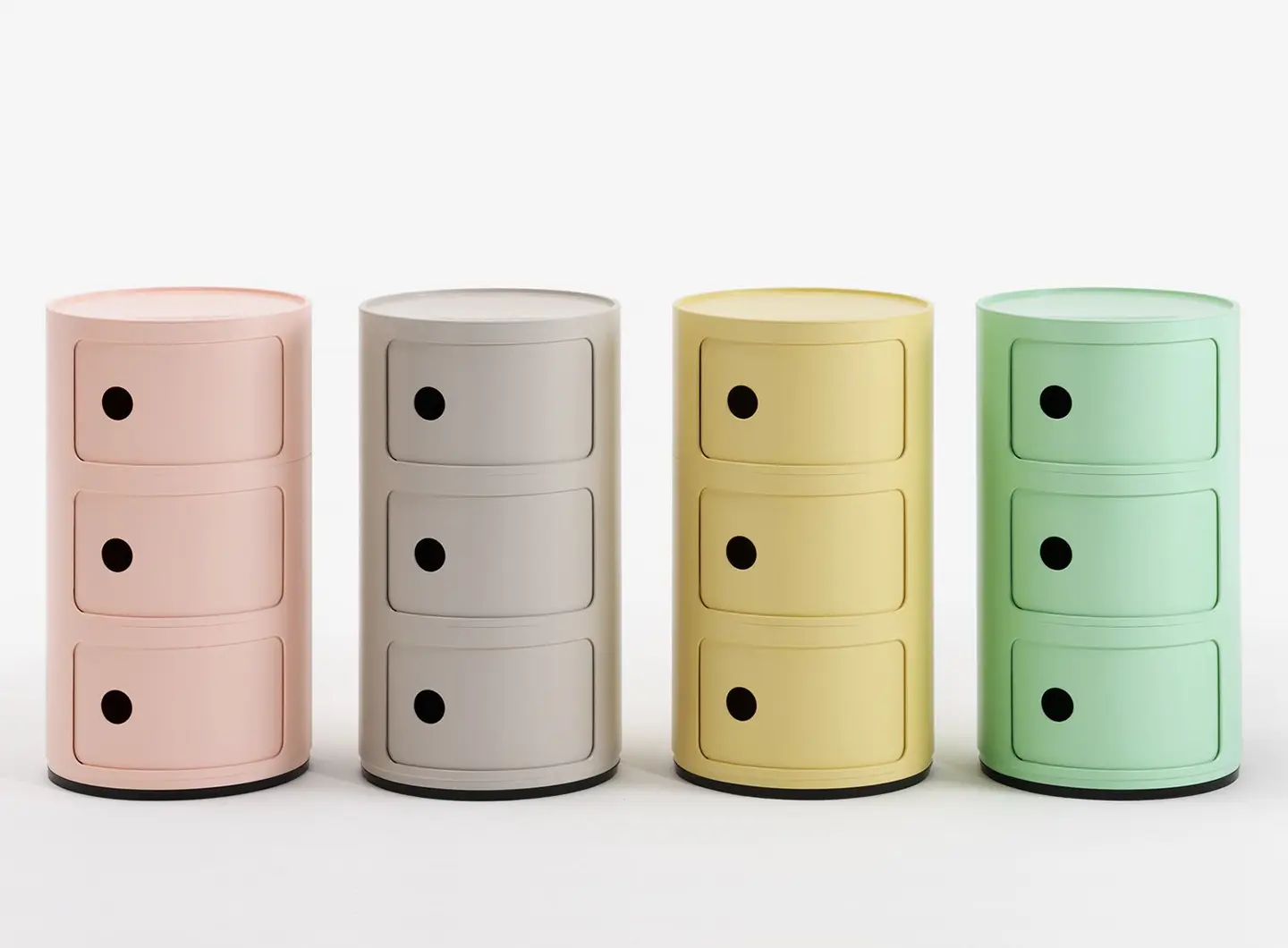 The Bio modular storage units are the sustainable reissue of Kartell's iconic pieces, presented for the first time at the Salone del Mobile in 1967, designed by Anna Castelli Ferrieri in ABS plastic, a new material for the time, innovative for its mechanical and aesthetic characteristics. Today the plastic is replaced by a biopolymer made from raw materials derived from renewable sources, of agricultural origin, non-GMO, and not destined for the food chain. Bio represents one of the new frontiers of Kartell R&D, and to underline its commitment to environmental protection, it has coined a new industrial manifesto: Kartell loves the planet. The entire production process sees Kartell committing to following sustainability protocols.
Ettore Sottsass, Pausania, Artemide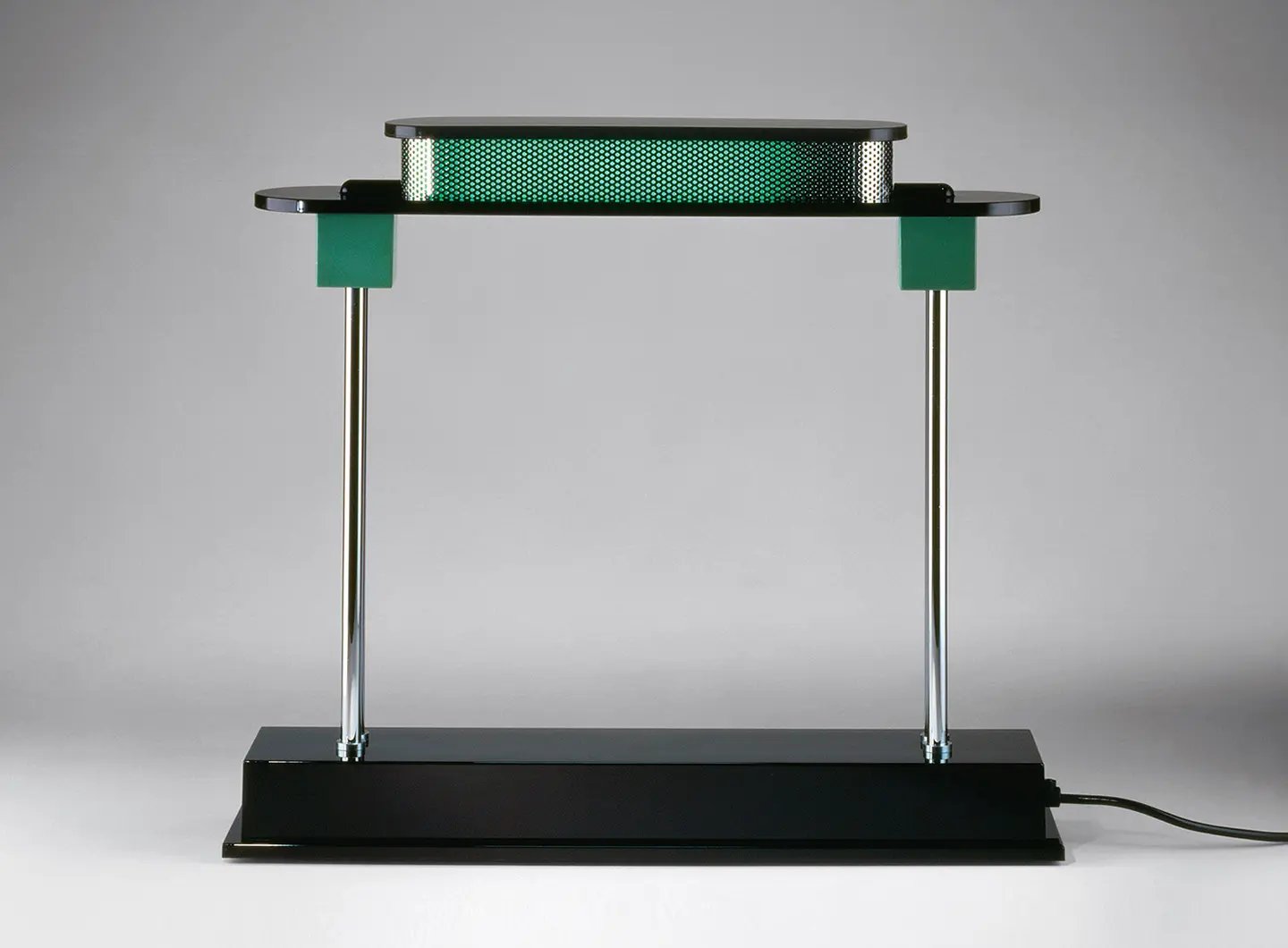 Artemide has always been a go-to in terms of sustainability in Italy, the company being aware that design plays a fundamental role in controlling and limiting the impact a product has on the environment throughout its life cycle. The brand is recognised for the development of LED technology, a light source characterised by its reduced dimension, long life, low energy consumption and very high output. Artemide's "new" products include Pausania, the re-edition of the famous desktop lamp by Ettore Sottsass, updated in an LED TW version with adjustable white light.
Enzo, Mari, Mariolina, Magis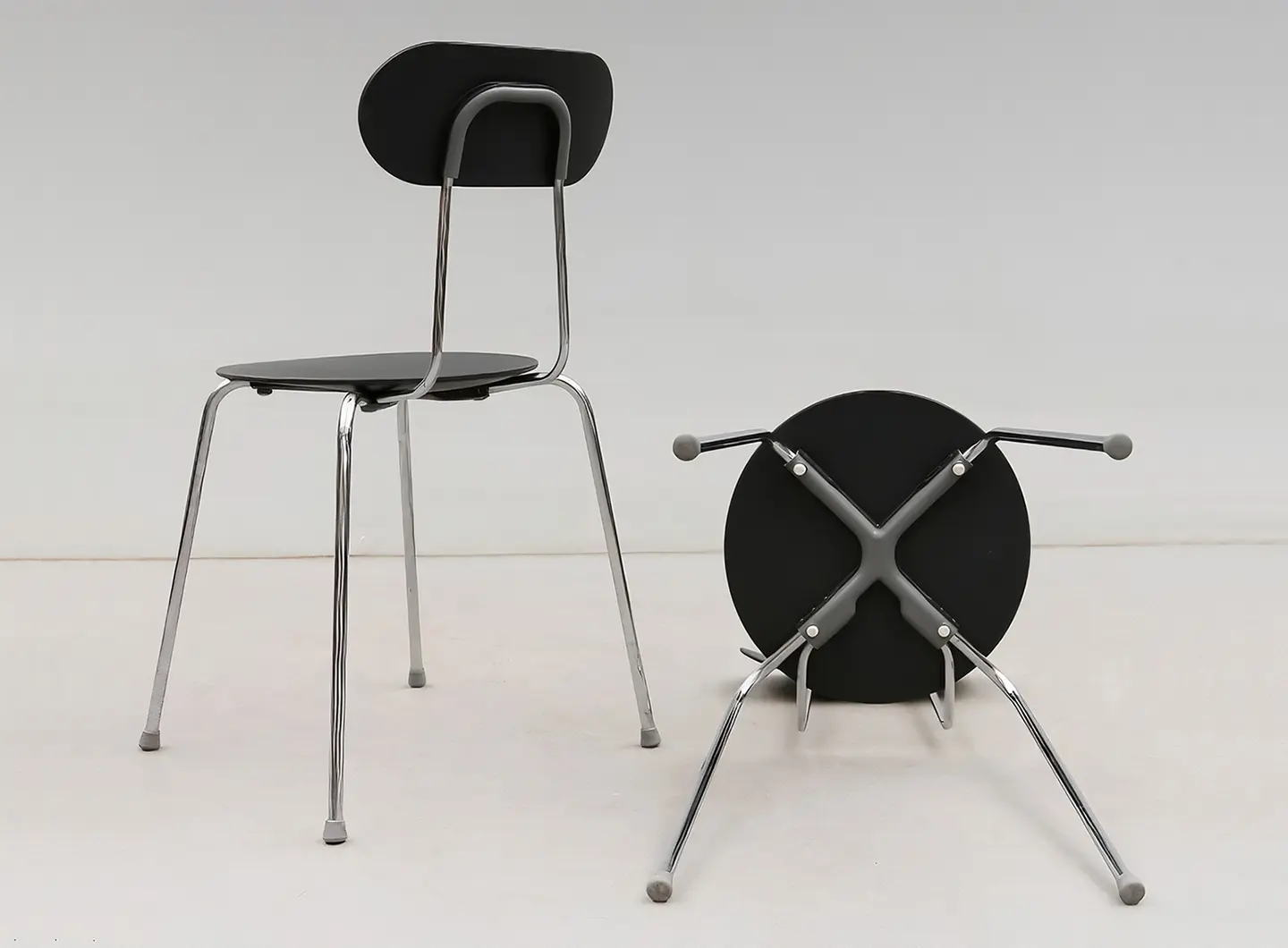 Magis launched the single-colour version of the iconic chair designed by Enzo Mari in 2002. Although this is not, strictly speaking, in the category of "ecological reissues", it has all the requisites to be included in this list, because sustainability is a concept which – even without being trumpeted – has always been the Italian maestro's design philosophy: economy of materials, precision in every detail, simplicity and, above all, accessibility. Mari has always pursued the concept of sustainability in its most diverse interpretations: not only environmental but also social.