Marva Griffin, in conversation with Cristián Mohaded
Add to bookmarks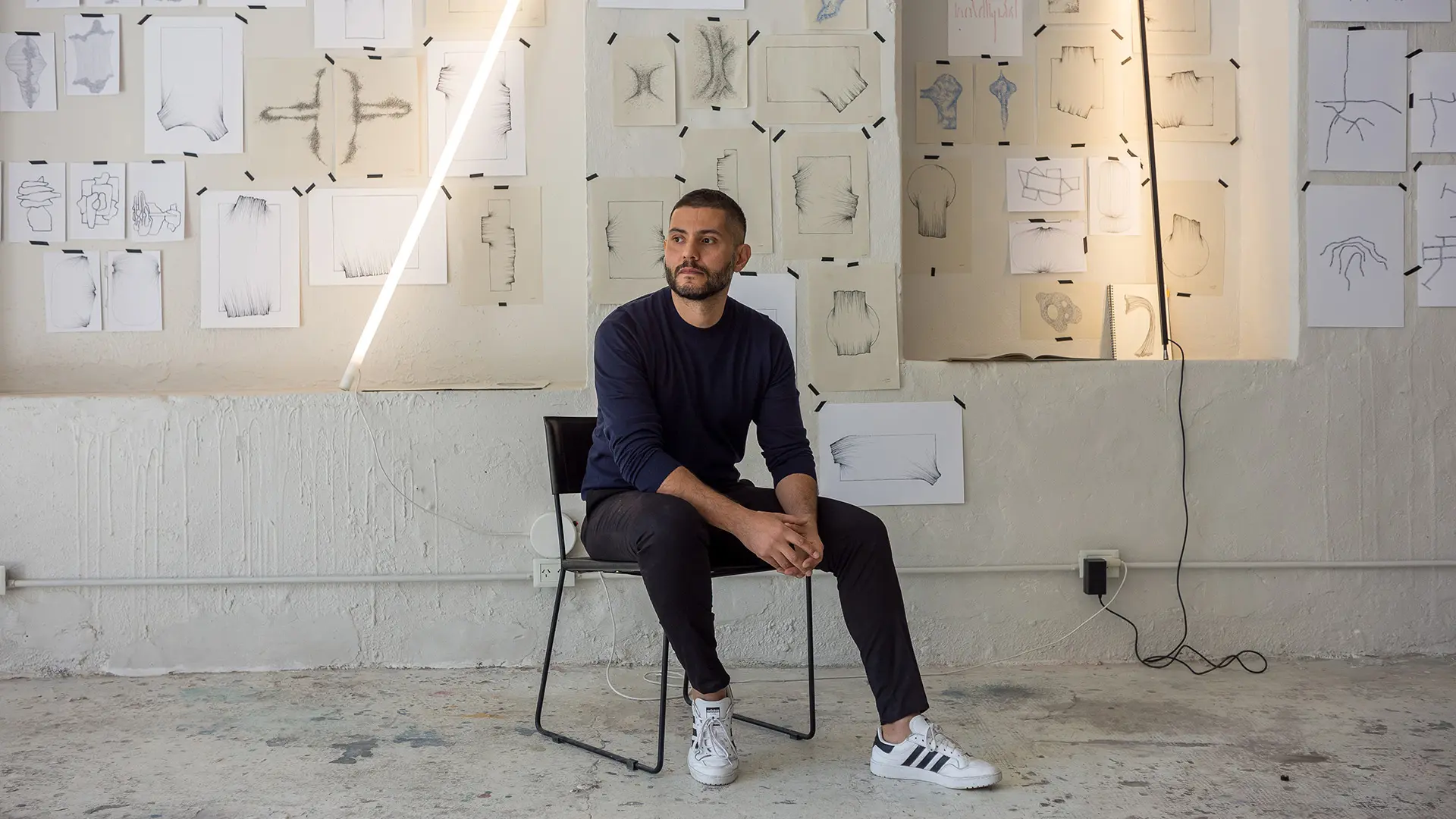 Marva Griffin, founder and curator of the SaloneSatellite and director of the International press office for the Salone del Mobile, chats to designer and artist Cristián Mohaded about his relationship with art, design and craftsmanship.
Both native to South America, Marva Griffin from Venezuela and Cristian Mohaded from Argentina, Marva discovered Cristián's work at the SaloneSatellite 2018 and has been following his work ever since. 
Cristián Mohaded is a designer and artist whose work explores the connection between craftsmanship and design. A prolific drawer, Mohaded begins his process by sketching, his concepts and ideas evolve and take shape on paper. He then works closely with artisans who develop his ideas and penmanship into art and design. For the Fuga Collection, it was cc-tapis who translated and transformed his vision into a collection of 3 hand-knotted rugs: Scene 1, Scene 2 and Scene 3. Marva Griffin explores his history, process and ideas:
MY CONVERSATION WITH CRISTIÁN MOHADED
Hello Cristián:

I don't want this to be an interview, but rather a conversation between us to find out about you and learn about your career in the world of art and design. I hope that if you are in your beloved Argentina, you are well and with your family despite the situation that everyone in the whole world is experiencing right now.

In what beautiful place in Argentina were you born? Where did you study Art and Design?

I was born in Recreo, which is a town in the extreme southeast of the province of Catamarca, Argentina. When I finished high school, I moved to the city of Cordoba to study Industrial Design at the National University of Cordoba. I was attracted to drawing and painting, and everything related to art and sculpture from a very young age, so in my free time I would explore my creativity in that area. I was never able to do a degree in art or drawing, but somehow my motivation and curiosity were latent in this regard.
Where do you live and where do you work?
Today I consider myself a kind of nomad. I travel a lot for my work, I spend weeks or months in one or another city in the world, be it Barcelona, Milan, or Buenos Aires. I really enjoy the possibility that I have of constantly meeting people and seeing new places through my work. They are cities that I'm really attracted to due to their diversity, their architecture, their energy, and their lifestyles.
Why Milan, Italy? How often do you visit?
It is undoubtedly one of the most creative and fantastic cities I have ever visited, as well as being the design capital, and since 2005, the first time I visited the city, I haven't stopped going back. I have great friends who helped me to get to know and feel part of the city. "Ti voglio bene Milano" is the first thing I say every time I arrive in Milan.
Do you feel more like an artist or a designer?
My profession is that of a designer, but my interests have always been artistic. Today the boundaries between the two are blurred. I think I have a good handle on hybrid creative languages that intersect and mix. I am an artist with a designer's ideas, and an artist with the tools of a designer.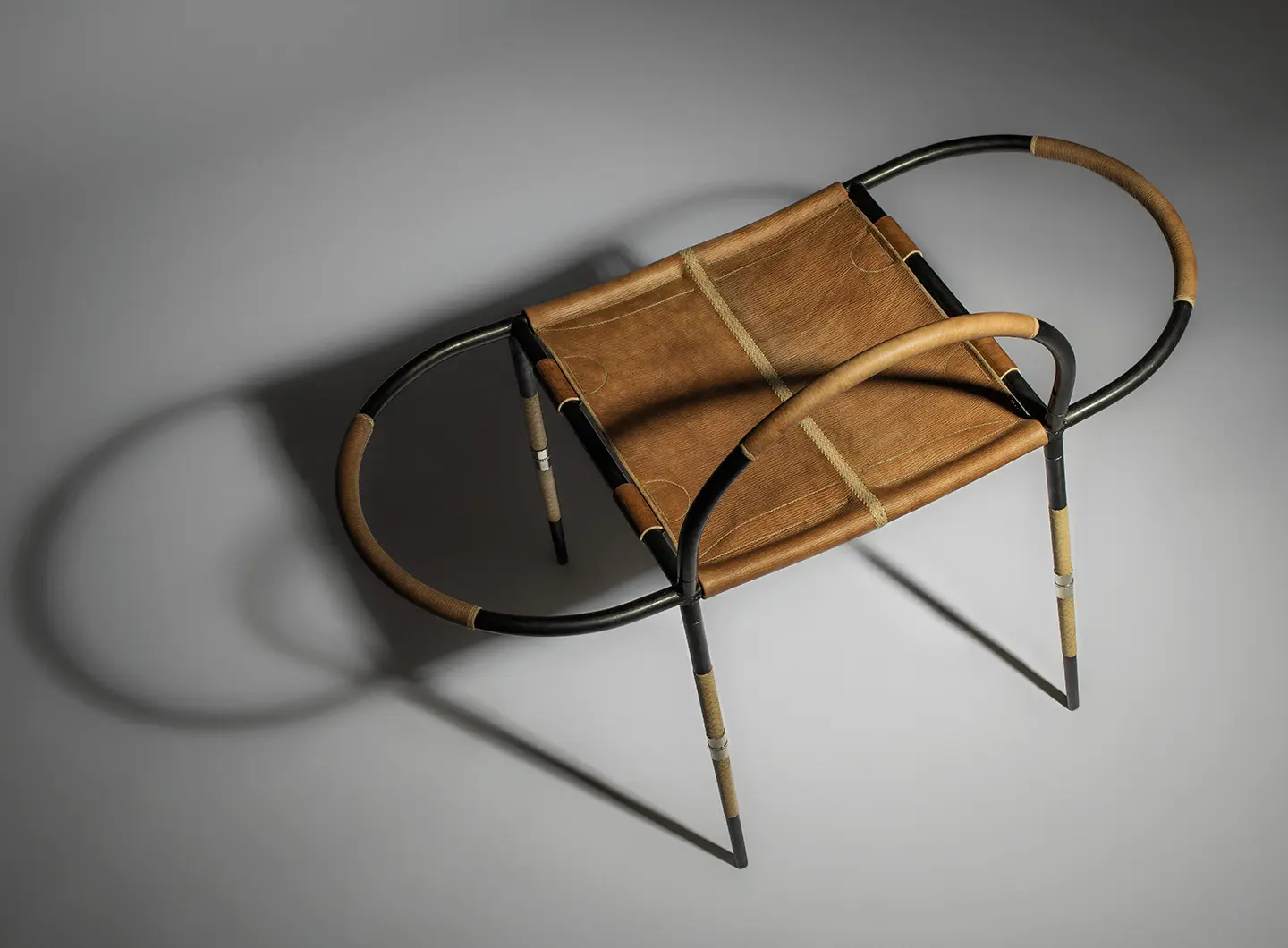 How do you differentiate your design and artwork? What is your relationship with each of these areas?
Design has different work routes; they are more pragmatic and respond to the demands of the clients I work with. I like to provide both creative and rational solutions at the same time. I work with clients in Argentina, the United States, and Europe, and this allows me to have a lot of versatility in my work and my approach to design.
But when I have this artistic space where I can play and explore other resources and tools that I have cultivated in my career, I allow myself to be more spontaneous and intuitive.
Because of your beautiful artisanal work, I know that you work with Argentine artisans. How much participation do artisans have in your project? What area of Argentina do they come from?
Just over 10 years ago I began researching for the link between design and crafts in my country, design being the tool that can bring about significant change in the field of crafts.
From my perspective as a designer, I understand that we must find a way to create bridges of contact between crafts, know-how and design, which should help us to strengthen ourselves as a society, to mature and to grow. And I think this is due to a wrong and unfavourable vision for the discipline, which is loaded with misconceptions of what we define and understand as design. We don't understand the value that design can have for a society and an economy. I am working on many projects that link these concepts with more than 20 artisans from different locations in Argentina, and different realities. This is very motivating for me, I feel that in some way I can build these bridges of contact, which will surely become stronger over time.
Tell me about FUGA, which is the reason for this conversation. FUGA is a wonderful rug collection that includes action, energy, expansion, and the relationship that you have created to enrich the collection for cc-tapis.
Yes, it is my first collaboration with the brand, and as you describe it, FUGA is about energy that expands in the fabric through each of its knots, almost like blood flows in our bodies.
I worked on literally hundreds of drawings, experimenting with different ideas, and then defining their concept; everything evolved on paper.
A line on a paper can express much more than we think. The action of drawing is a unique moment and time between the mind and the hands, it is a way of expressing ourselves that can define us and also allow us to find ourselves. Simple and delicate markings became merely a consequence of the shifting mass I was moving on paper. I was curious about the movement, the flow, the dynamic energy that can be created when borders become blurred, or rather when borders are broken. Escape has no limits, it breaks form. A collection that plays on its power of attraction, creating a connection with the space and the people around it.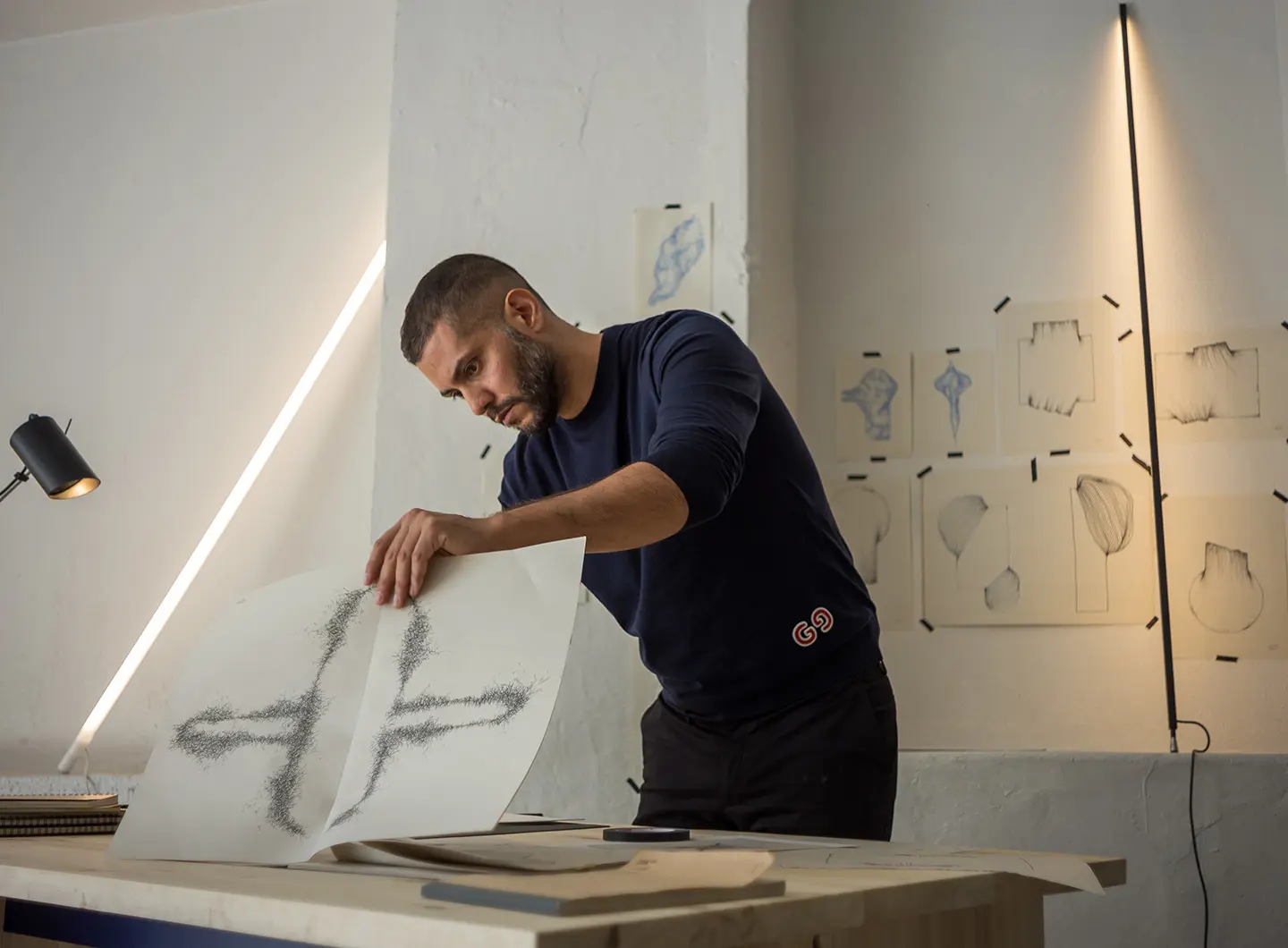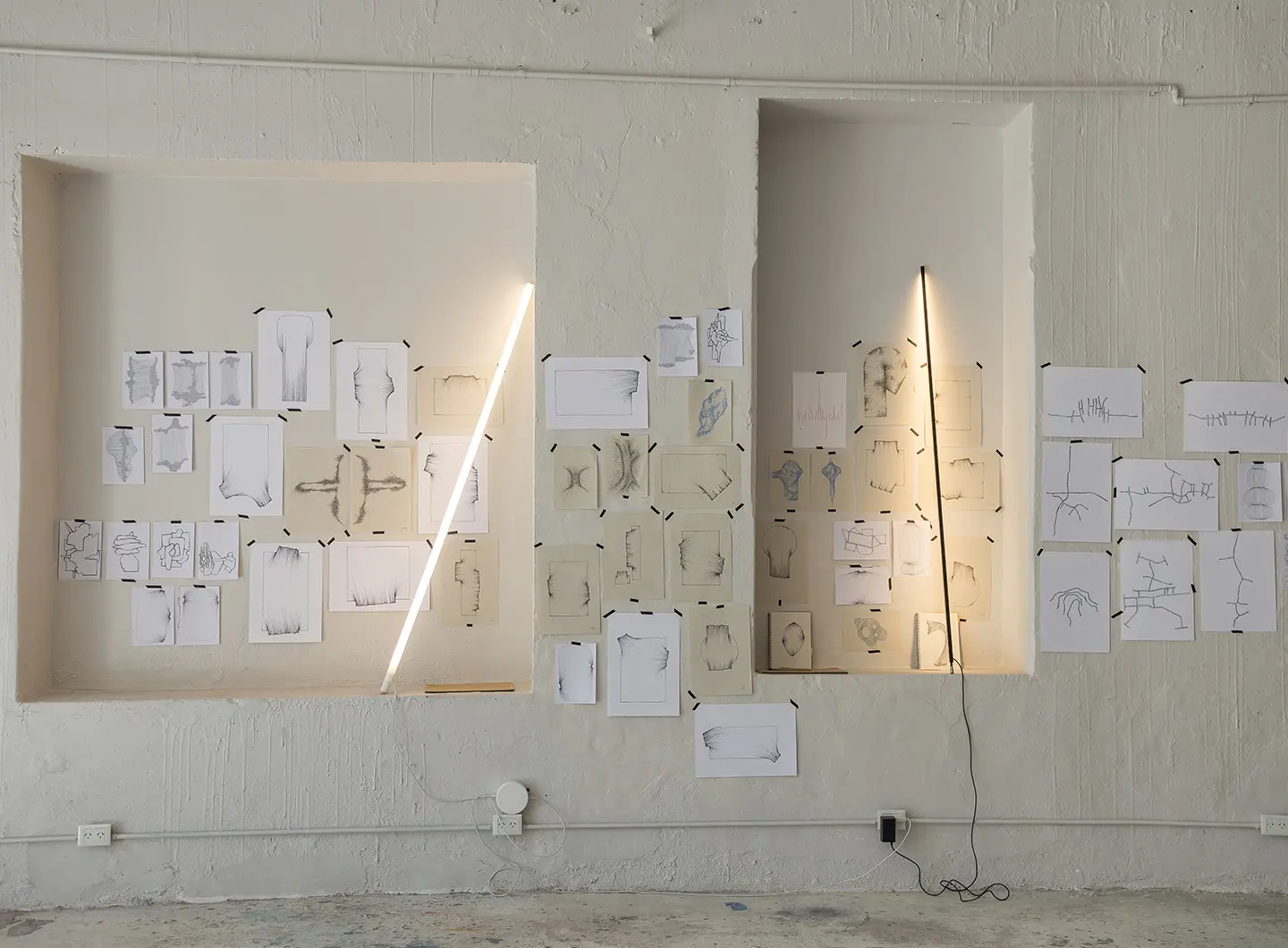 In the world of design today, the most used word is "sustainability". What is your idea of sustainability?
Sustainability refers, by definition, to the ability to respond to current needs without compromising the capacity of future generations. Based on this, design has the duty to respond to these new scenarios, design is the answer to problems; it is a discipline that has particularly important tools to offer science, education, politics, health, and other areas in which society expects answers to lead a better quality of life. I believe that our future is tied to what we propose and do as designers. We must be respectful in how we act.
In any case, I believe that society as a whole today has the duty and responsibility to rethink consumption patterns and models. Unbridled industrialisation and the misuse of our resources prove this. A large part of society is becoming aware of what we consume, what we eat, what we use, where it comes from, how it is made, what materials it is made of, where it comes from, and where these products end up.
Design has an especially important role in these new scenarios, and we must be very attentive to be able to provide sustainable solutions today and for the future of new generations; we cannot continue to threaten our planet, it's our only home.
I discovered your work at SaloneSatellite 2018 when you participated in the "Africa & Latin America-Rising Design/Design Emergente" exhibition. On this occasion I invited Fernando and Humberto Campana, who were in charge of the curatorship of the Latin American Continent, and you were one of the 18 people they specified. Your work 'Ninho Collection' was very well appreciated and from there I began to follow you, noting that some of your works are already in museums around the world. Can you tell me which ones?
NINHO (Nest in Portuguese) is one of the many research projects I have carried out that refer to materials and their application in the world of design. It is a beautiful project that focuses on reutilizing waste from industrial production.
In 2014, the TWIST #2 chair that we designed in collaboration with Ricardo Blanco, who was a figurehead and master of Argentine design, and that after being presented at Gallery Bensimon in Paris and at the same time at MALBA, entered the prestigious permanent collection of the Musée des Arts Décoratifs in Paris.
And recently in 2019, after presenting ENTREVERO, an independent project which seeks to highlight the link between design and craftsmanship, the Philadelphia Museum of Art in the USA, acquired 3 of my pieces to incorporate them into the permanent design collection of the Museum.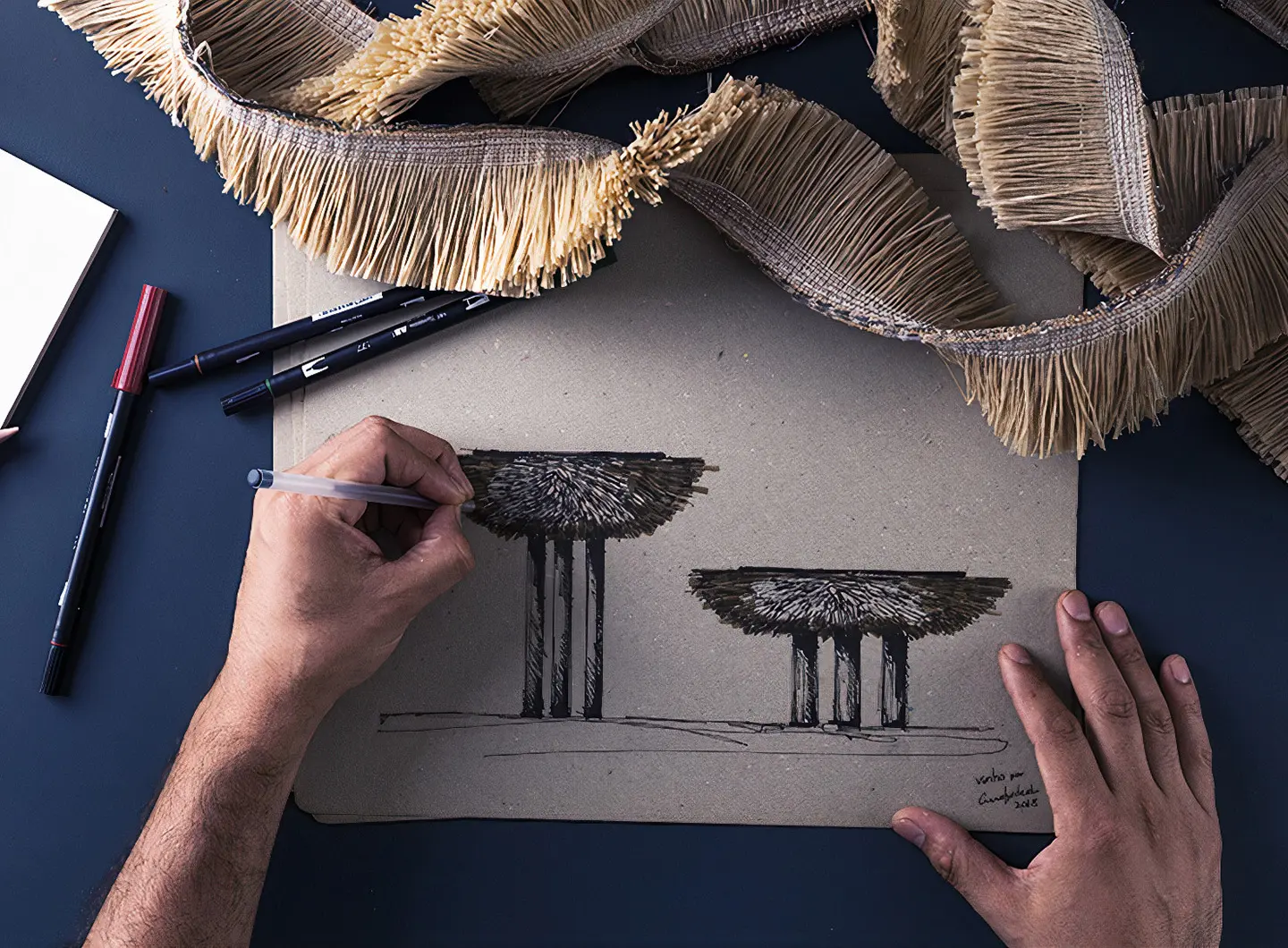 You have been invited as curator/ambassador of your country, Argentina, by the London Design Biennial next June. How did this come around?
Yes, and I am extremely excited about this project, which will be presented in London, a beautiful project that bears the name "Monte Abierto" (Open Bush) with the curator Franca Lopez Barbera, a project that will represent my country at the Biennale.
Different design studios in Argentina were invited to participate, and a selection committee made up of officials from the Directorate of Cultural Affairs of the Argentinean Foreign Ministry and other institutional bodies selected my project to be part of this Biennial.
The installation is part of material research carried out in 2013 that seeks to revalue the technique of basketry with a vegetable fibre known as 'simbol', it exposes this inter-crossing and dialogue between Lorenzo, an artisan with whom I have been working for a decade, and my work as a designer.
What new projects are you working on and what can you tell us about them?
In addition to various projects with national and international companies for the development of furniture and lighting, this September, after almost 15 years of profession as a designer, I will have my first individual exhibition at the National Museum of Decorative Art, where this meeting place between design and craftsmanship, between materials and processes, industry and technology is explored once again.
It seeks to generate a more federal look at Argentine design, where limits and geographical areas fade to show that design can and should be collaborative, where unity has no value, but it is in the whole where the strengths are found. I decided to create a hybrid atmosphere from my resources and tools as a designer and my observation as an artist.
Cristián, thank you very much for your answers, now the readers and I know much more about you and your successful career. We wish you all the more success in your future endeavours.
Affectionately,
Marva
Questo articolo è stato pubblicato per la prima volta sul sito di cc-tapis, in occasione del lancio della collezione Fuga di Cristián Mohaded [N.d.R.]