Discovering biophilic design
Add to bookmarks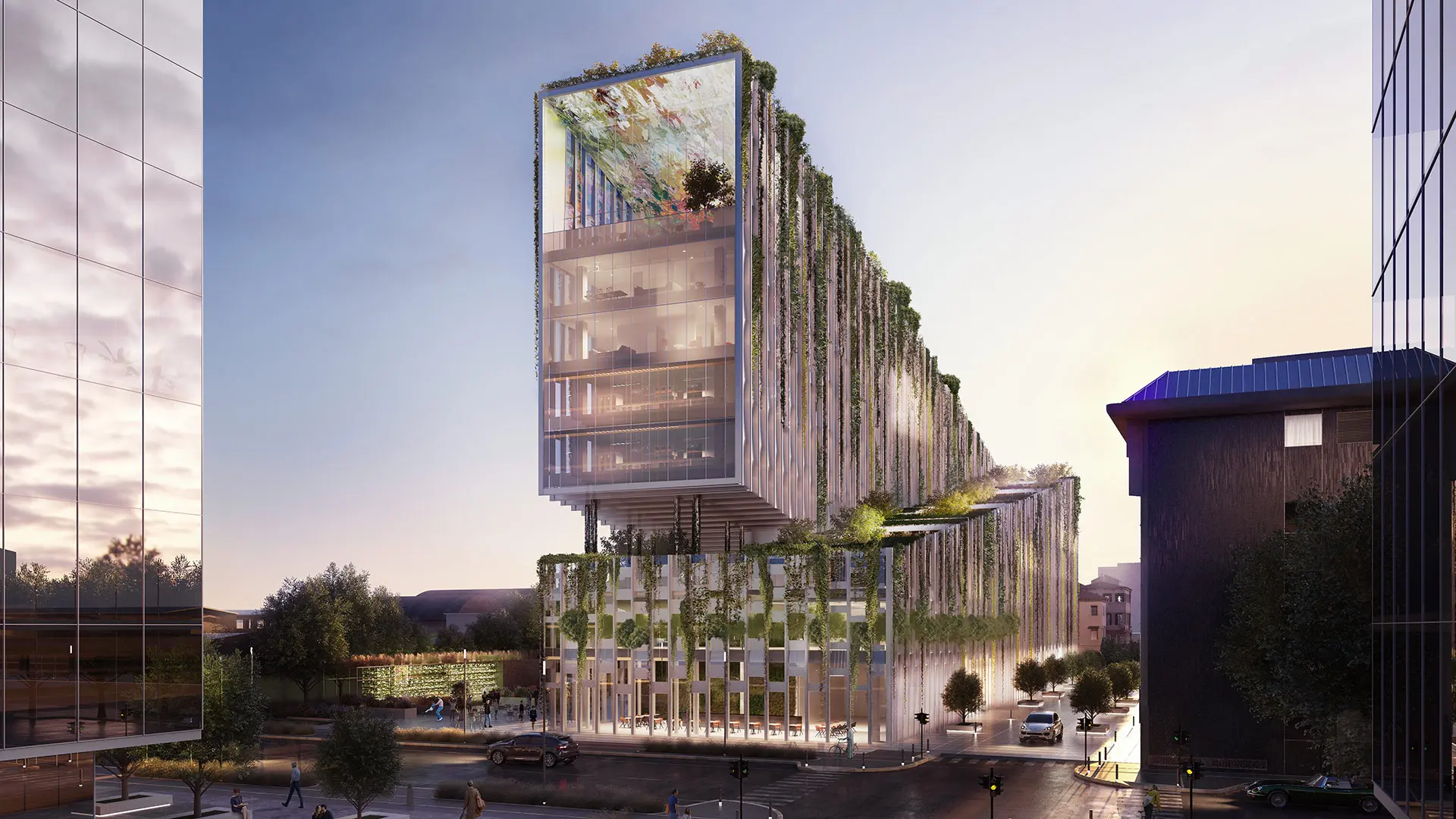 From Herman Miller to Kengo Kuma by way of Norman Foster and Carlo Ratti. Designing the future with a new connectivity with nature, geared to devising more sustainable lifestyles.
It's the ultimate in design thinking. In actual fact it has (almost) always existed, but it has only been theorised over the last few decades. We're talking about biophilia – a love of living things – a scientific hypothesis proposed by Edward O. Wilson in 1984, which empirically shows that human beings have an "innate tendency to focus on life and lifelike processes." According to the American biologist, whose thinking was shared by Stephen Kellert, Emeritus Professor of Social Ecology at Yale, we cannot live a healthy and fulfilled life away from nature. People need this direct contact, and the complex geometry of natural forms, to the same degree as they need nutrients and oxygen. There are lots of biophilia-related projects – here are just some of them.
Let's start with A guide to biophilic design, written by Dirk Wynants, founder and head designer at DWD and "big boss" of Extremis – the Belgian firm launched at SaloneSatellite in 1998 – who has always worked on innovative solutions for making the world a better place. That doesn't just mean introducing a plant or a picture of one into an interior. There are 90 pagefuls of content and ideas because, as he explains: "there's a certain urge of speed. There are serious challenges ahead in the way we live, in the way we organize our cities and our homes. We better make no mistakes, as it's not going to be easy to offer people the right quality of life needed to cope with reality of daily existence in the new era. The task of a designer is at least to try to make this world a better place for everyone, so it's my obligation to share all the insights I gathered on the matter and not just keep this for myself." A heartfelt call to action: "If we don't prepare ourselves, it will be a disaster. Look at all the burnouts we face already today, even with very young people. We need to re-educate ourselves on this matter, we really do, and we have to start somewhere."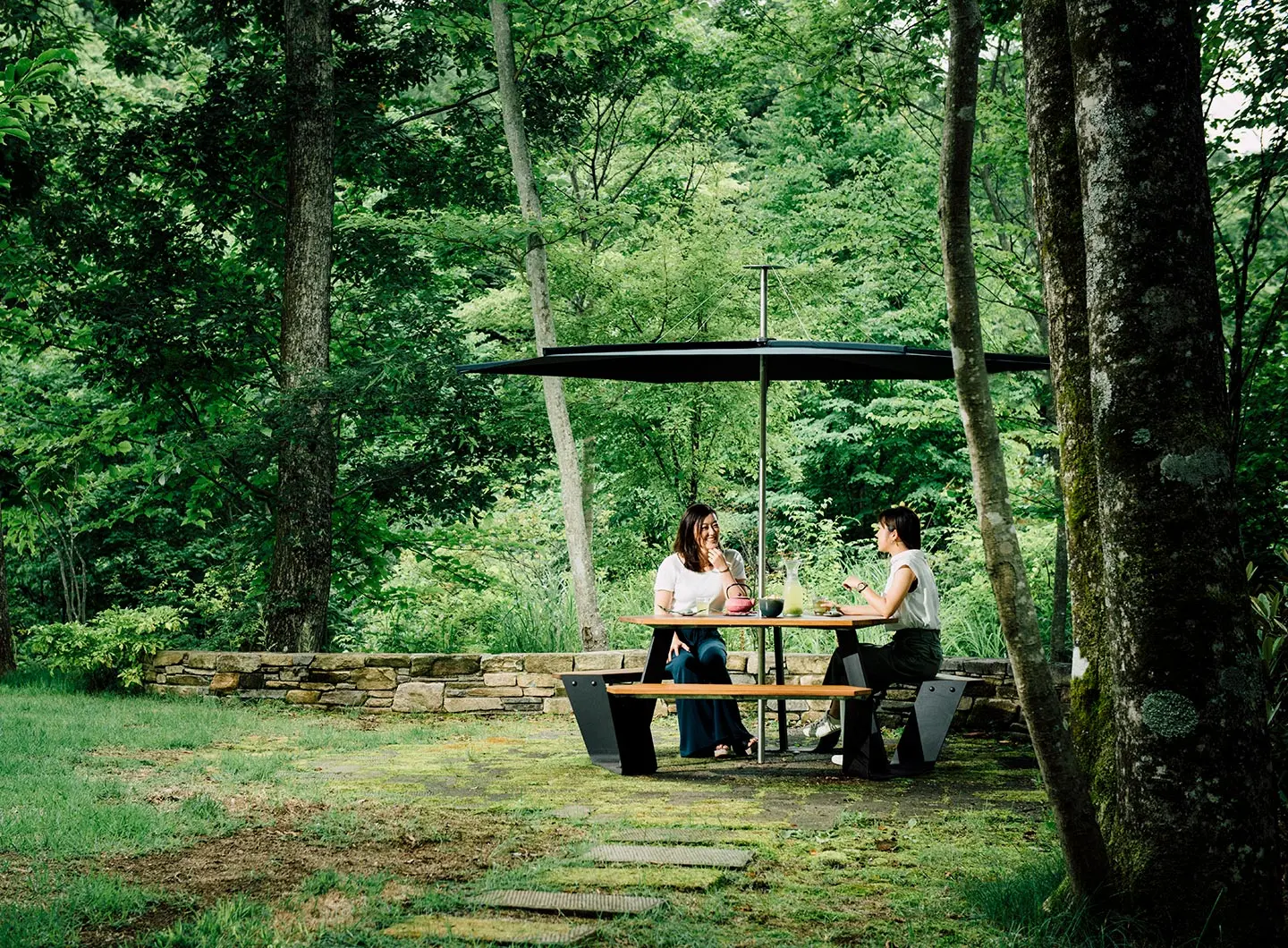 Back in 2013, the American company Herman Miller produced Nature-Based Design: The New Green, a research summary on biophilic design, underscoring the power of neurological nourishment, as well as the financial and ecological value. This concept was also supported by the environmental consultancy Terrapin Bright Green, in a comprehensive white paper in 2012, which asserted that: "incorporating nature into the built environment is not just a luxury, but a sound economic investment in health and productivity, based on well-researched neurological and physiological evidence." Terrapin, which has continued to devote itself to the cause, published Nature Inside: A Biophilic Design Guide in 2020, with an interesting introduction by Thomas Heatherwick, and has a series of targeted workshops lined up for the next few months, in the belief that designing with nature, which might initially have simply been seen as pandering to health and wellbeing trends, actually reflects the innate connection between human beings and nature. The studio is also a promoter of the ambitious Factory as a Forest project, in conjunction with Interface and Biomimicry 3.8, geared to redesigning an industrial site to function in a similar way to a forest ecosystem.
Living in symbiosis and in contact with nature underpins the philosophy behind Welcome, feeling at work, the biophilic office of the future, a project commissioned by Europa Risorse and designed by Kengo Kuma and Associates, due for completion in the former Rizzoli area, near Milan's Lambro park in 2024. It will be Europe's most advanced ecological intervention, with health and wellness Platinum Well certification and energy efficiency with Platinum Leed, compliance with anti-COVID-19 guidelines (Ashrae, Rheva, Aicarr and ISS Report), circularity of construction materials, total absence of fossil fuels and resilience to climate change for a climate-neutral future. "Sustainability is the future focus and social responsibility for any industries and enterprises," said Kengo Kuma and Associates partner Yuki Ikeguchi. "Natural elements in architecture; green, light, air, timber that appeal to human senses make a difference in workplace, living culture for better mental, physical states, creativity, and productivity." The project is geared to the wellbeing of people and the planet, anticipating the city of the future: green, hyperconnected and at the service of knowledge and people.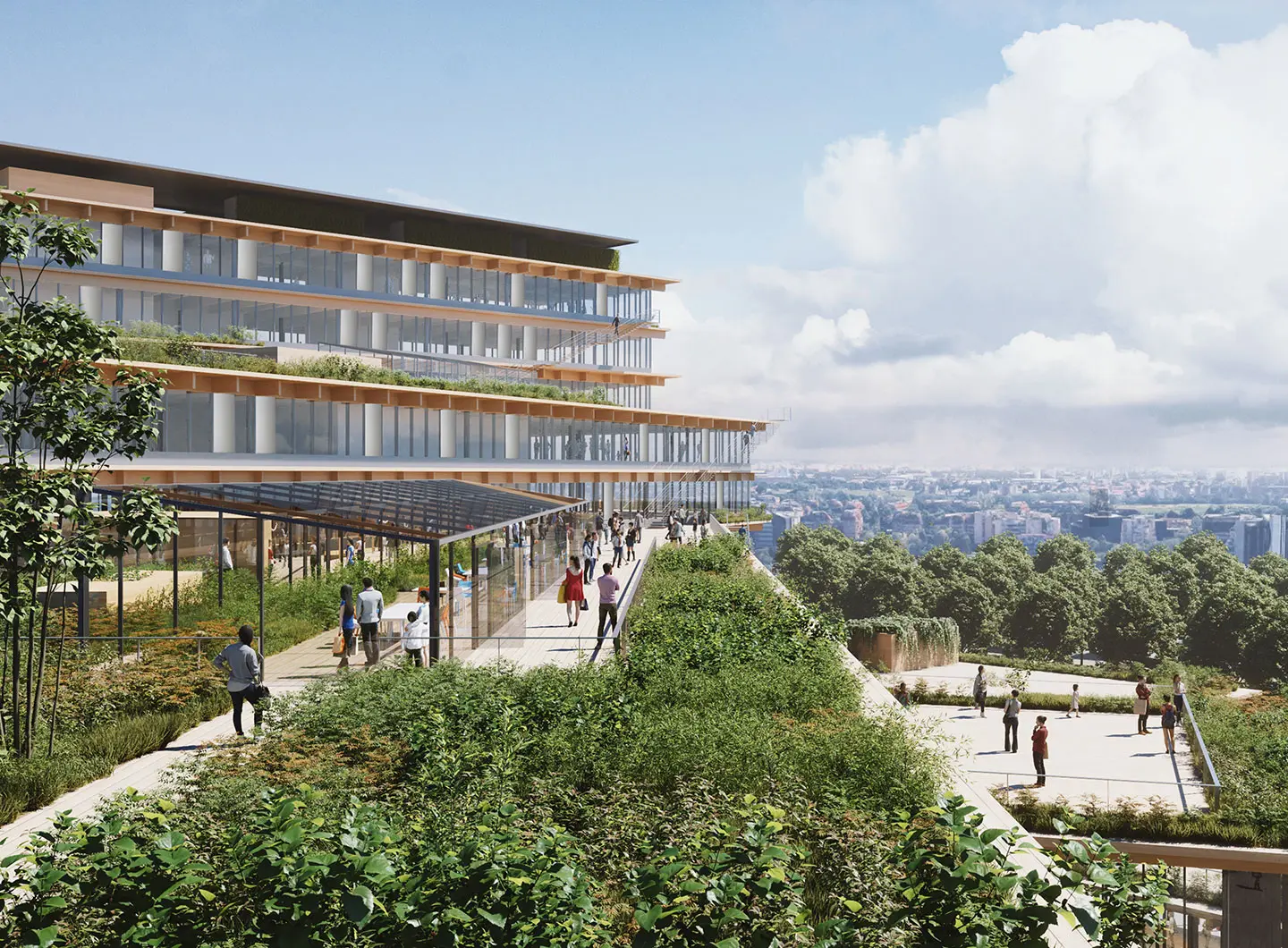 Not just focusing on work, but also on being cared for in and by nature is the aim of the Magdi Yacoub Global Heart Center Cairo, a hospital that will be immersed in a lush green landscape with views over both the lake and the Pyramids of Giza. "Lush and verdant, this oasis of paths and parks promotes wellbeing," said Norman Foster, founder and Executive Chairman of
Foster and Partners, which is responsible for the project. "With its passive design strategy, it is an exemplar of sustainability, responding to the needs of patients." The state of the art centre will provide free care to the people of Egypt and of Sub Saharan Africa. Nigel Dancey, Head of the studio, had this to say: "This is a special project that focuses on giving the best care to the patients and offering them the best natural setting to recover in […]. It brings together the latest research on biophilia and the positive impact of nature in clinical settings with our pioneering work on collaborative working environments that allow healthcare professionals to give the best care."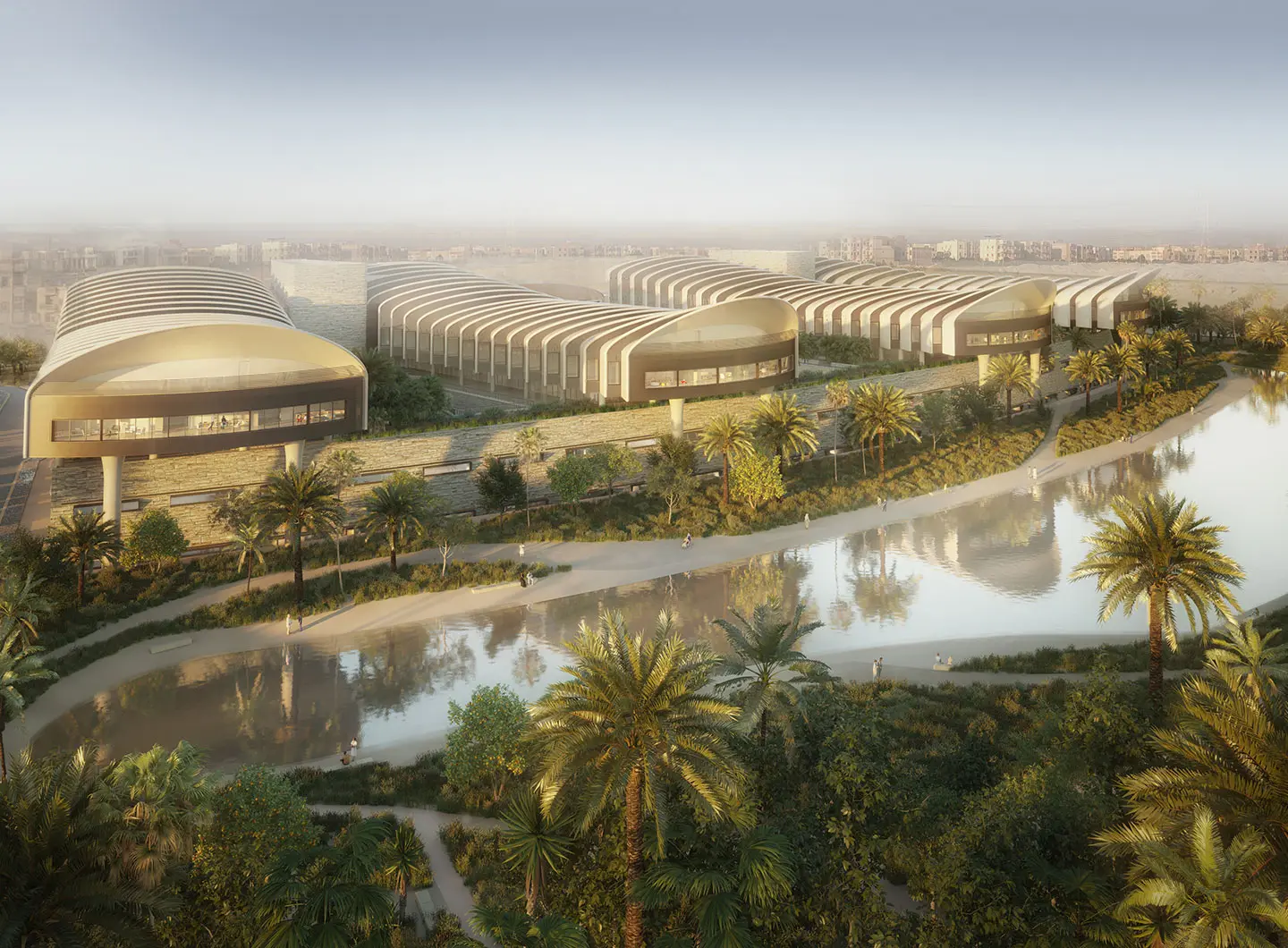 CRA - Carlo Ratti Associati won the international Reinventing Cities competition, promoted by the C40 network for sustainable and carbon neutral urban regeneration, with its Vitae project. Inspired by the harmony between nature and science, and public and private life which existed in the ancient European Carthusian monasteries, such as the nearby Abbazia di Chiaravalle, the 10,000 m2 complex – due for completion in 2022 – will contain offices, molecular and oncological research laboratories, guest rooms for the researchers, allotments and a public space, where a 200 metre pergola will make its way up between the street and the roof, providing a pedestrian pathway and playing on the double meaning of "vitae" – a plant in Latin and life in Italian. "We tried to imagine how best nature could embrace the entire building and plumped for a vine," said Carlo Ratti, in a response to what he describes as an "instinctive love of nature," biophilia, in other words – as theorised by Edward O. Wilson.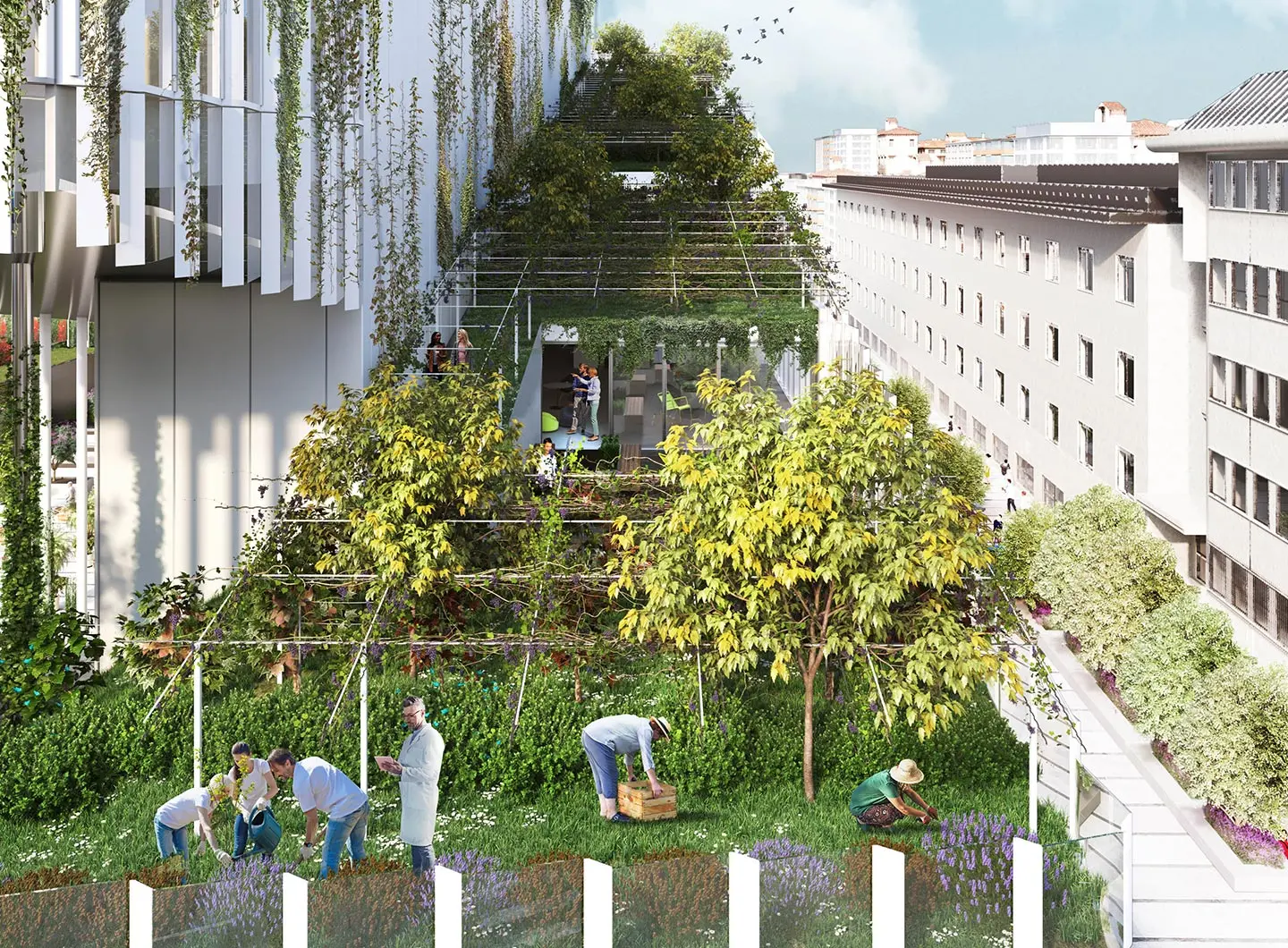 The disconnect between man and nature, particularly when related to food, is perfectly obvious to the Austrian architect Chris Precht, who designed The Farmhouse in bid to re-establish the connection. A wooden skyscraper combines modular housing with vertical farming. The residents will cultivate fruit and vegetables with sustainability in mind – the compost will be obtained from the biological waste and filtered rain and greywater, in a use and recycle system that will ensure that the structure is virtually self-sufficient.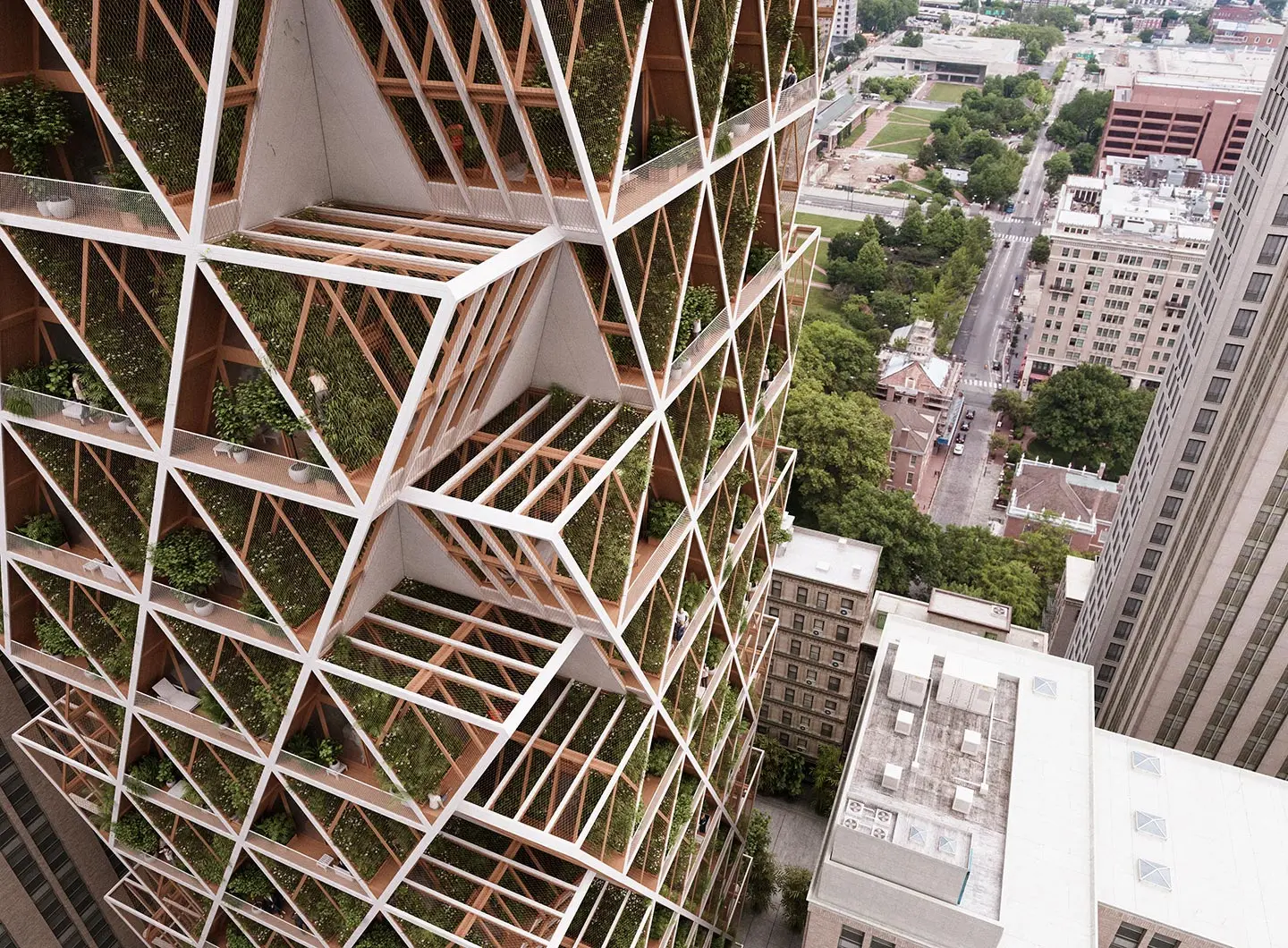 How to connect cities with nature, though? Hopefully Planted, the first event devoted to biophilic design, scheduled to take place last year but postponed because of Covid, will come up with some answers next September. During lockdown, the format changed to an online discussion forum on subjects such as the sustainability of design, architecture, food and rewilding. It is now accepted that nature has a positive effect on people's psycho-physical wellbeing. According to Oliver Heat, one of the most authoritative figures in the biophilic design field, as well as one of the promotors of Planted, the principles of this sort of design are key to creating more desirable urban environments and can be applied to entire cities, districts, buildings and interiors.
So, as human beings, we cannot but act effectively in the world. Driven by a love of life!