All the latest from the 2022 Madrid Design Festival
Add to bookmarks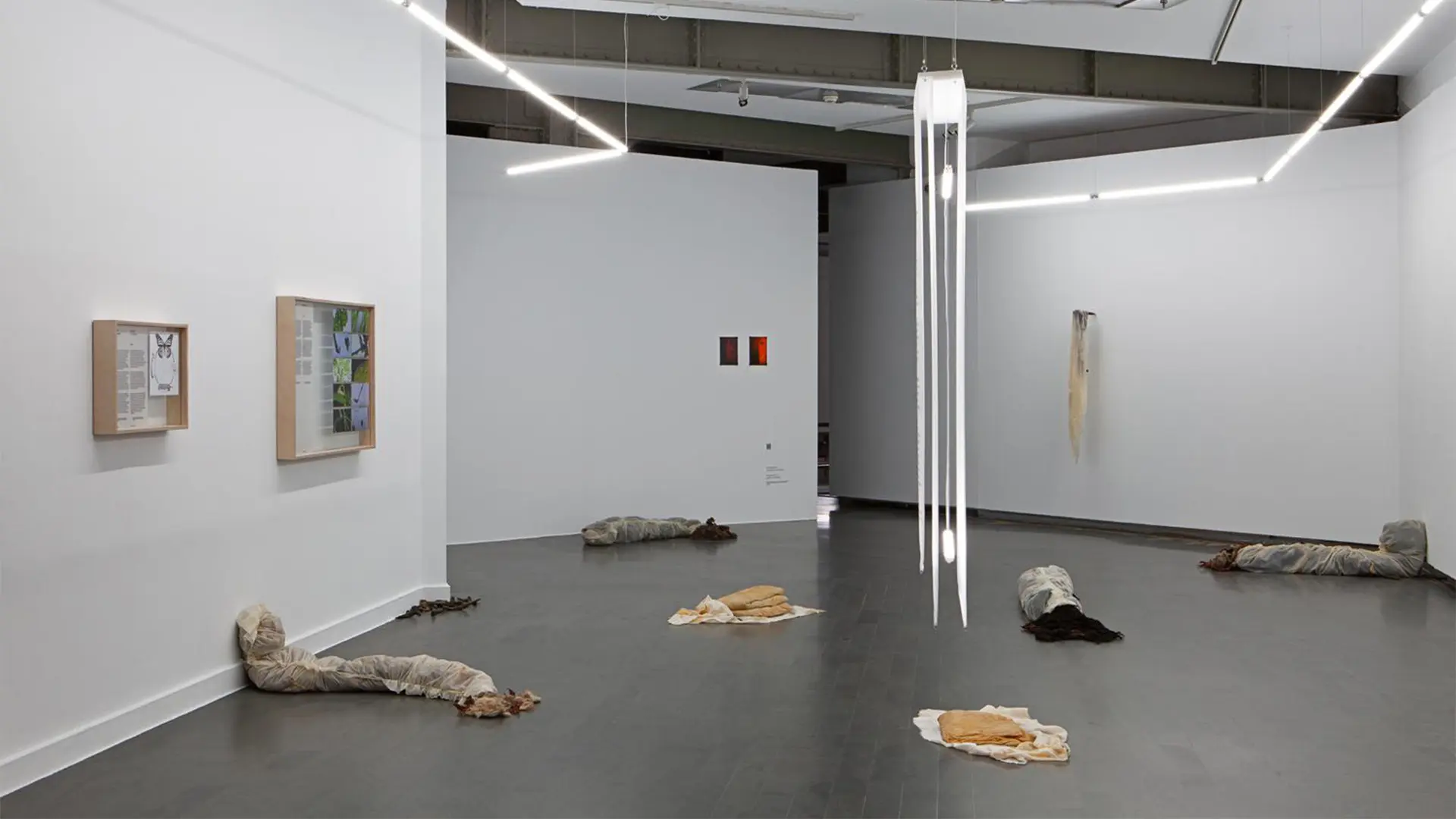 Running in the Spanish capital until 13 March 2022, the event – now in its fifth year – offers a packed programme of sustainable projects, immersive installations, and young talents
With its cross-cutting and inclusive approach, the fifth Madrid Design Festival is going from strength to strength. Featuring 41 exhibitions, 7 installations and 219 activities involving over 600 design professionals, the event puts Madrid on the map as a top-ranking design capital. Read on for our take on the Spanish experience as we touch on three recurring themes. The Madrid Design Festival will be livening up the city's museums, galleries, showrooms and public spaces until 13 March 2022.
Sustainable design is the name of the game
Without needing to be stated explicitly, the Festival puts sustainability front and centre with a focus on how new forms of design can reduce society's impact on the planet.
The 131 participants of the MINI Design Awards - one of the highlights of the Festival - include many designers with fresh ideas for reusing waste materials, reconnecting the city with nature, and creating energy efficient buildings. One project that made it to the shortlist is M15, a neighbourhood system created by designer Lucas Muñoz that maps materials flows for setting up commercial spaces and other temporary events within a 15 km radius of downtown Madrid. By sorting and recycling waste Muñoz puts together a collection of new furniture for showrooms and residential settings.
"Sustainability is a synonym for beauty. The aesthetics and sustainability of a building are defined by its harmonious design, use of materials, construction techniques, relationship with the surroundings and environment, users and the socio-cultural context," says Anna Heringer. The German architect is on hand at the Madrid Design Festival with a solo exhibition at the ICO Museum, her first in Spain. Heringer looks for powerful connections to places through her architecture. The concepts underpinning her work are summarised in a display of textiles made together with Bangladeshi women and reproducing the plans and elevations of her buildings. There are also models, installations, sketches and photos depicting the main projects that Anna Heringer has worked on since 2006.
CentroCentro is hosting "A Green Jade Lake", an exhibition curated by the Institute for Postnatural Studies, a multidisciplinary research collective based in Madrid. A group of designers, architects, artists, philosophers and performers invites visitors to reflect on the boundaries and compartments that define our idea of nature and to rethink relationships between human and non-human. The research has given rise to an exhibition teeming with myriad materials, from paintings to immersive installations, sculptures and holograms – all offering visitors a multi-layered experience suggesting the complexity of the theme.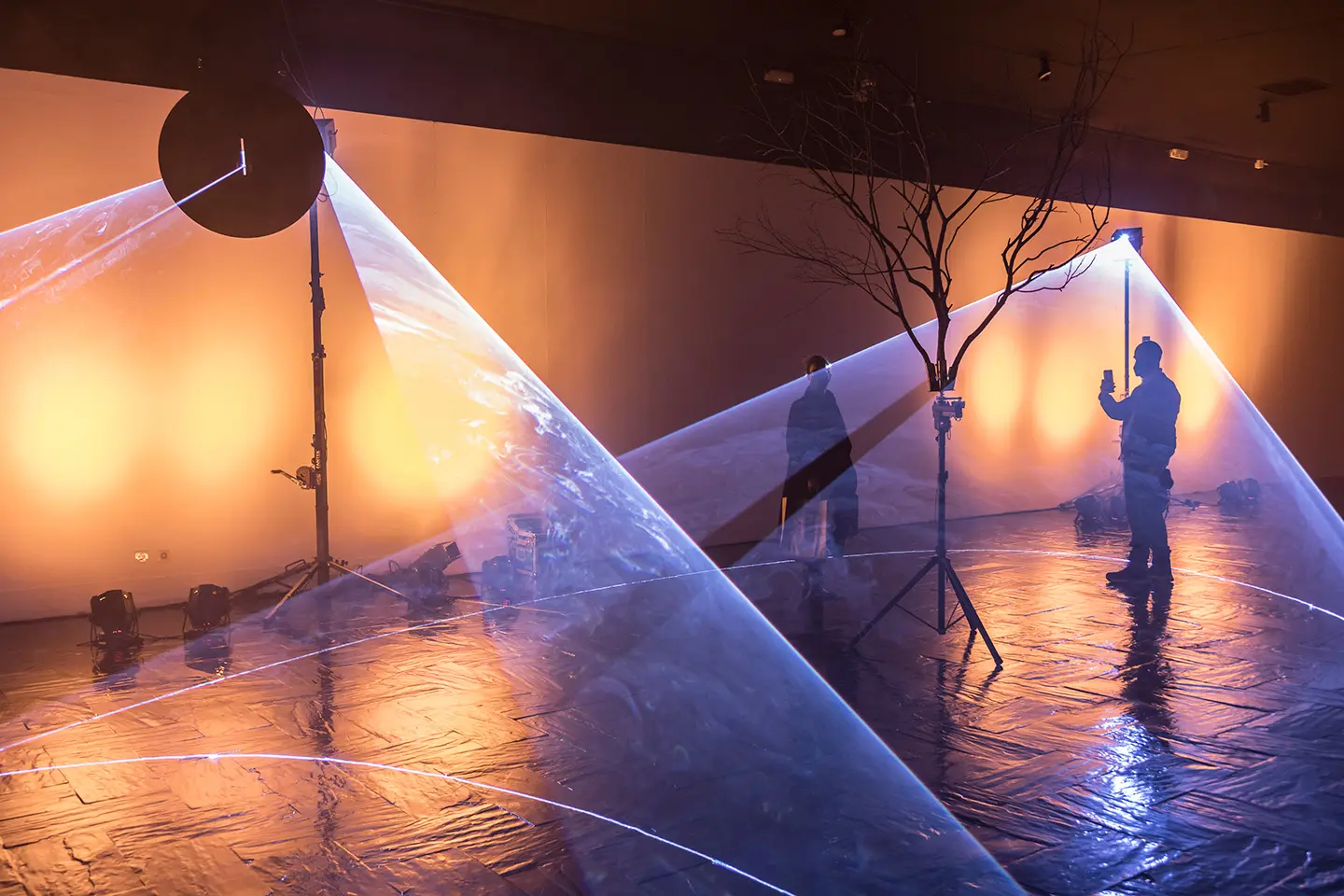 Design is immersive
Reaching out to a broad audience of non-experts are several sense-stirring environmental installations that describe products and urgent issues.
Izaskun Chinchilla has come up with an urban oasis designed to reconnect man with nature. Coloured wooden panels recreate an environment filled with the shadows, sounds, silhouettes, smells and rituals of the forest. The spatial experiment offers a series of eight activities designed to deepen our relationship with nature.
Chinchilla's project, entitled Connective Nature, is on show at the Fernán Gómez Cultural Center, along with another environmental installation: Fiat Lux. Architecture of Light, by Estudi Antoni Arola. The Catalan studio's immersive experience aims to "awaken the senses and consciousness, with the intention of making the visitor feel part of an illusion." Light is used as a construction material that defines dynamic and ephemeral volumes. Beams of light and smoke machines - which make the air tangible – form abstract walls reminiscent of the materiality of marble. The work encourages visitors to wander through the space, contemplating the changing scenery and interacting with the physical elements and volumes that pop up and fade away.
"An aged and ageing society is by no means a bad society; on the contrary, it offers everyone opportunities," says Espada & Santacruz. The architects have created a large, shimmering interactive installation in Plaza de Colón with a view to collectively imagining urban solutions for a fast-ageing society. Next Gen: Senior is an immersive digital tunnel in which visitors can interact with Artificial Intelligence, share information, musings and ideas about a knotty challenge facing not just Spain but many Western countries as well.
Museums shine the spotlight on young talents
Madrid is witnessing a groundswell of young and emerging designers actively questioning the role of design in contemporary society. The Spanish establishment is keenly supporting their experimental endeavours by offering them spaces and opportunities.
In 2019 Madrid-based designer Jorge Penades staged the first edition of the curatorial platform "Extraperlo", which in Spanish means the untaxed sale of goods, a kind of black market. The exhibition was held in Penades's home-studio and was accessed by invitation only and word of mouth. Three editions later, the Extraperlo project moved to the Museo Nacional de las Artes Decorativas, an institution devoted to the preservation and dissemination of the skills and expertise of craftsmen, artisans, artists and specialists in the industrial arts. The project's success undoubtedly stems from Penades's collaborative mindset and flair for surrounding himself over the years with young talents and outstanding curators, including Maria Cristina Didero, Aric Chen and Libby Sellers. The unorthodox format of the exhibition is also a major drawcard, with all projects and materials submitted having to fit into a shoebox, to make shipping the works easy and cheap. This year Extraperlo highlights designers whose names might be less well known but who work in some of the world's leading design firms. "The goal of this new edition is to show the hidden faces of the design industry. The idea is to reveal who is hiding behind globally recognised practices, giving voice to those who, often, are not in the spotlight."
Extraperlo is just the tip of the iceberg when it comes to the network of relationships and collaborations between young talents, that are the driving force of design in Madrid.