Ultimate Gray & Illuminating, the new 2021 color storytelling
Add to bookmarks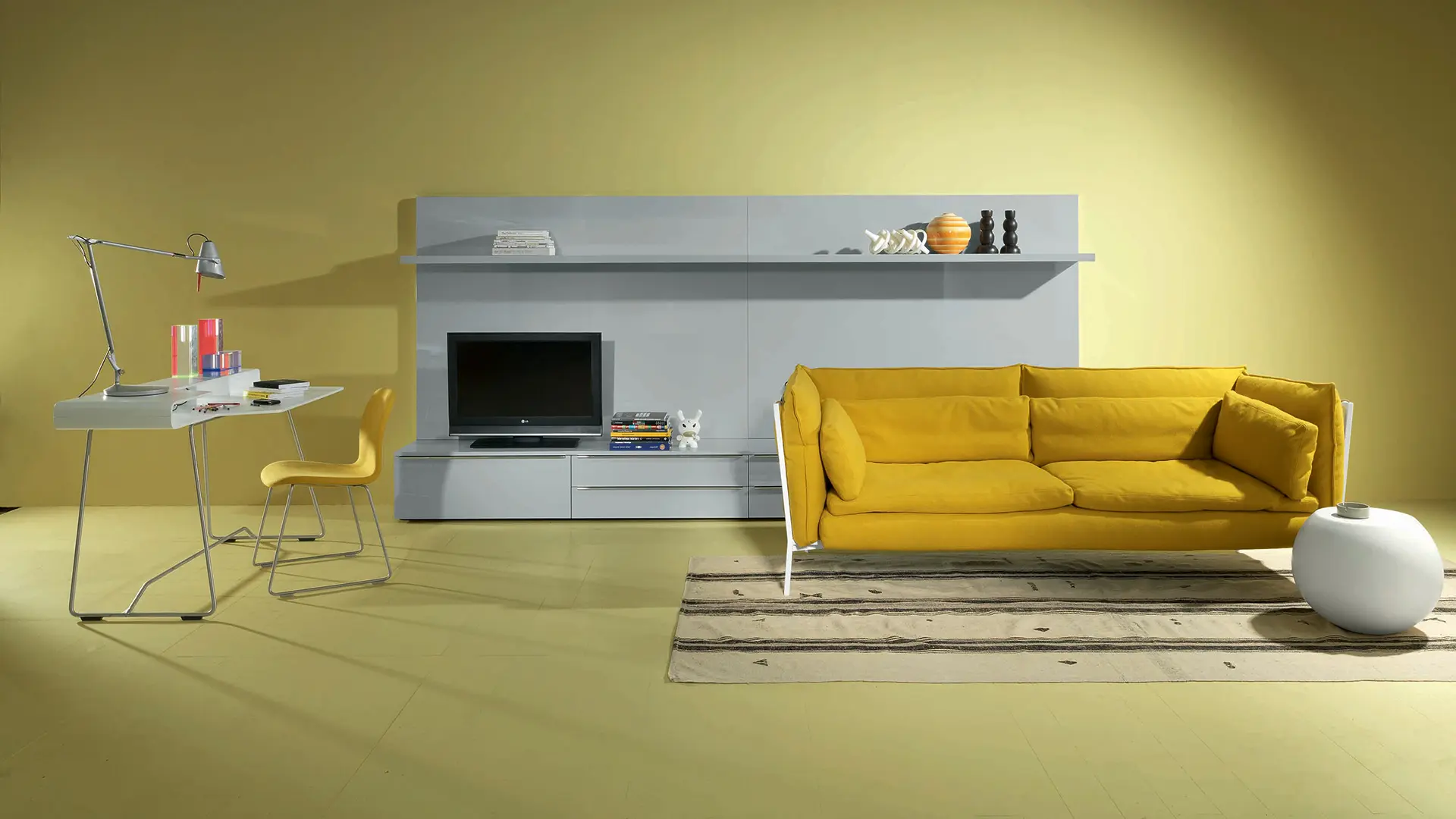 An optimistic and versatile palette that speaks of creative energy (yellow) without forgetting sobriety (gray)
The 2021 colors, chosen by Pantone Color Institute, are Ultimate Gray and Illuminating, a mix of colors that conveys a sense of resilience, strength, courage and positive thinking. Illuminating is a bright and festive yellow, a warm tone that is infused with the power of the sun. Ultimate Gray is a concrete and solid shade of gray that brings to mind reliable – often natural – elements that stand the test of time; a discreetly reassuring color that soothes us, favoring self-control and determination. When they are mixed together, they call for introspection, innovation and intuition, while expressing respect for experience and intelligence and urging us to think differently.
And if, in all probability, we will see it used more often in the world of design in the future, there are a number of companies and designers that have already taken on the challenge with these colors.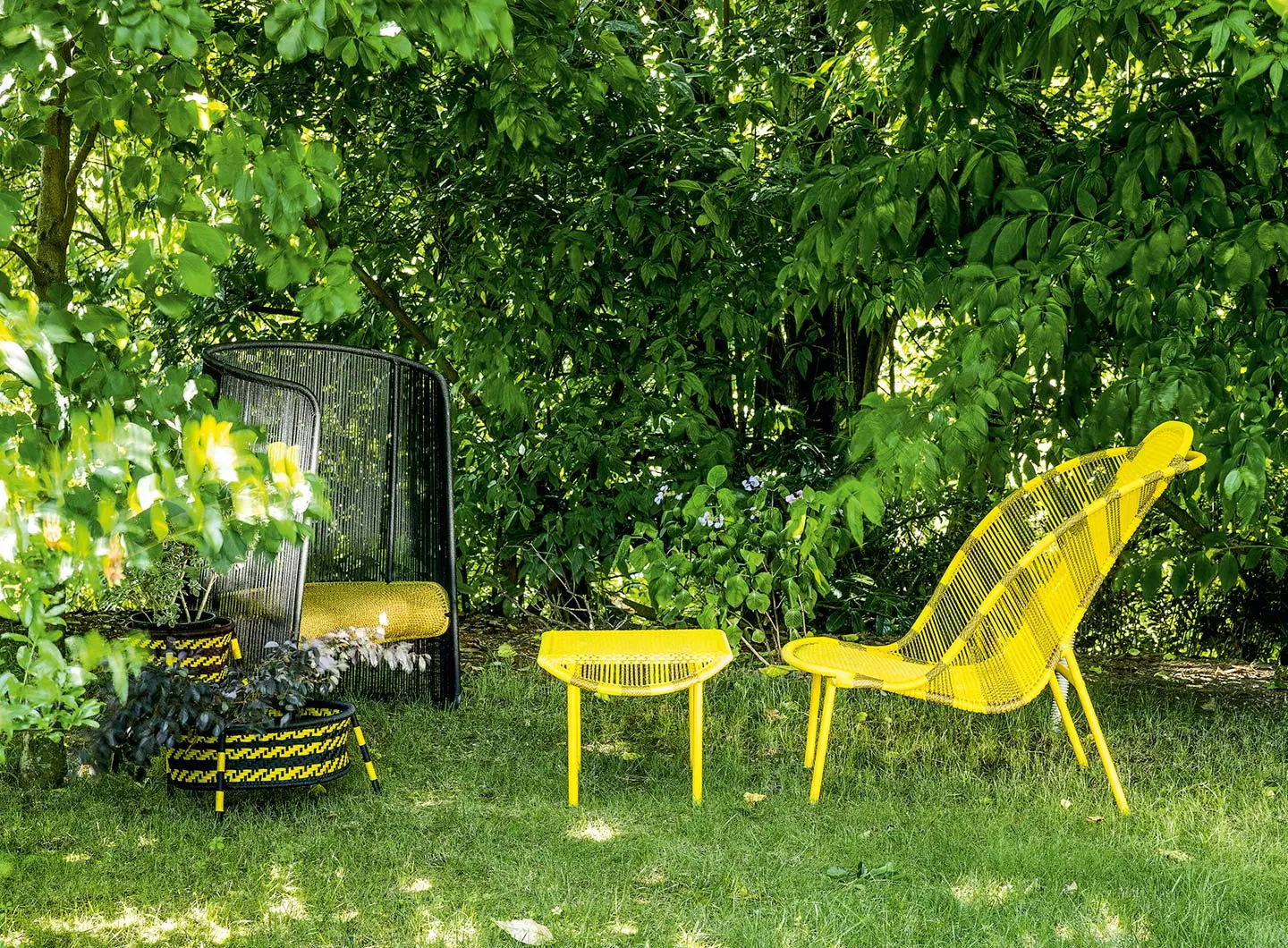 Natural gray is the color of the Tip Ton RE chair designed by Edward Barber & Jay Osgerby for Vitra and made from 100% recycled plastic sourced from local household waste in Germany, which undergoes a special creative recycling process. Plastic, metal and other composite materials are first sorted, then plastic is shredded, washed and converted into a re-usable grainy material that is not tinted in any way. This is why you can see tiny spots of color inside the gray, which vary slightly from one chair to another, making each creation unique and interesting, broadening our perception of the material and lending depth and history to it, just like the structure of a piece of wood tells the story of the tree it comes from.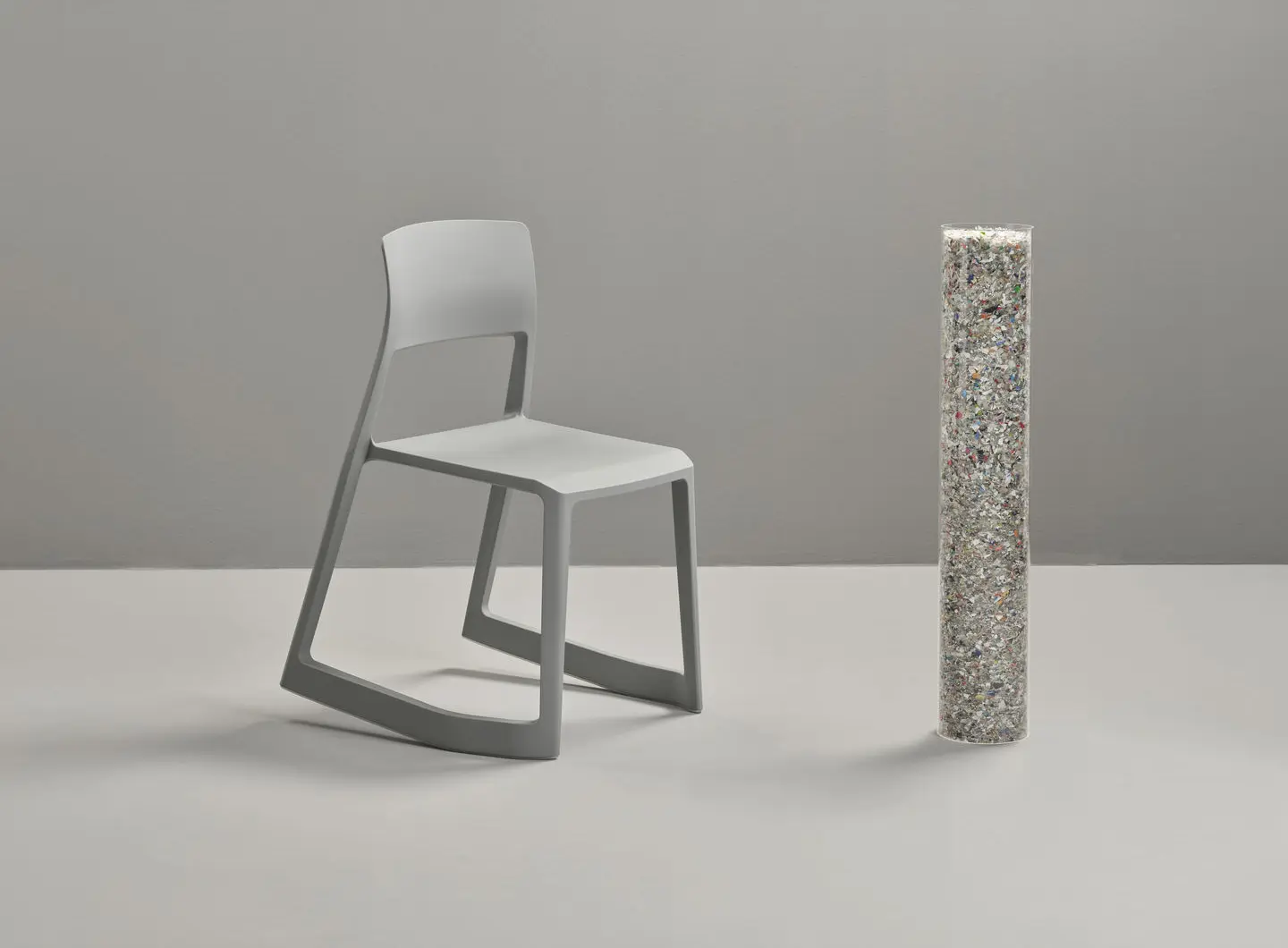 Patrick Norguet, instead, chooses bright yellow for the Dan chair by Zanotta. In its hi-tech version, it is a new and essential project: the chair's straps – which nod to the automotive world − become functional and comfortable performance elements that are designed for a modern kind of storytelling, as they can be customized with graphics or text. Moreover, the product owes its name to the belt ranking system used in Japanese jujitsu, where colored tabs on the belt indicate your skill level. A chair with a sleek structure characterized by just a few elements that, therefore, wishes to be a symbol of a life path, a past experience, a story.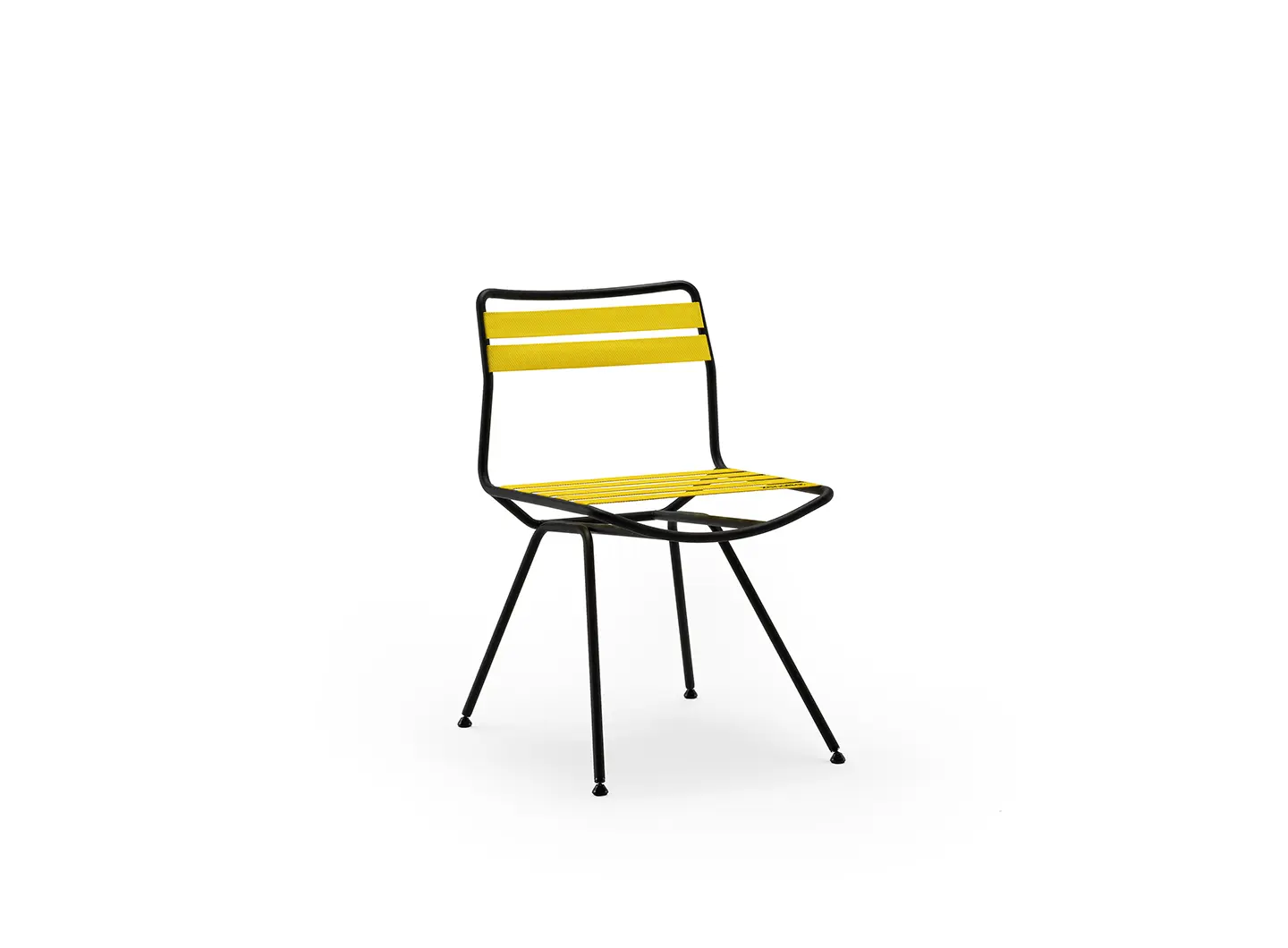 Johannes Torpe also chooses yellow for Precious Chair designed for Moroso: probably because it goes well with the joy and vitality associated with love, which is the source of inspiration behind this item. A wedding ring serves as the starting point, and the details of the object are then developed by reinterpreting the initial inspiration and by trying to make the sections as thin as possible to create a lightweight and elegant product that is the perfect blend of extremely clean-cut shapes and solidity.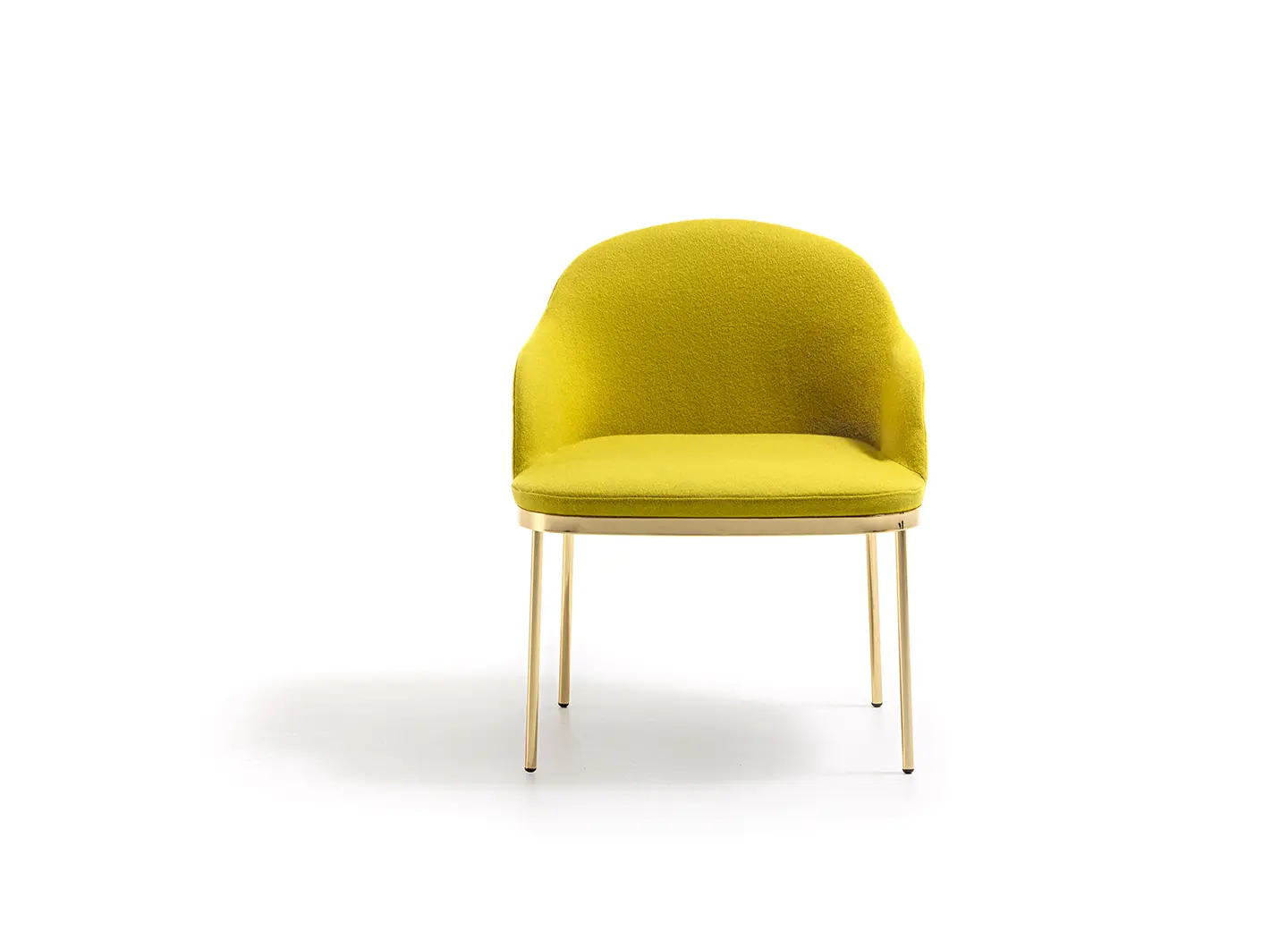 A combination of the two colors, instead, for Tombolo by Piero Lissoni for Living Divani, a chair that oozes femininity from each and every detail, and especially from the skillfully embroidered fabrics and the original cover designed by Bettina Colombo and Agnese Selva from UNpizzo studio. Inspired by the ancient Cantu lace making technique, this process uses traditional stitches, such as tent and canvas stitches with the typical twisting, yet revisited with a contemporary flair to create, with an extra-large bobbin and a much thicker yarn, patterns and designs that are always new and innovative.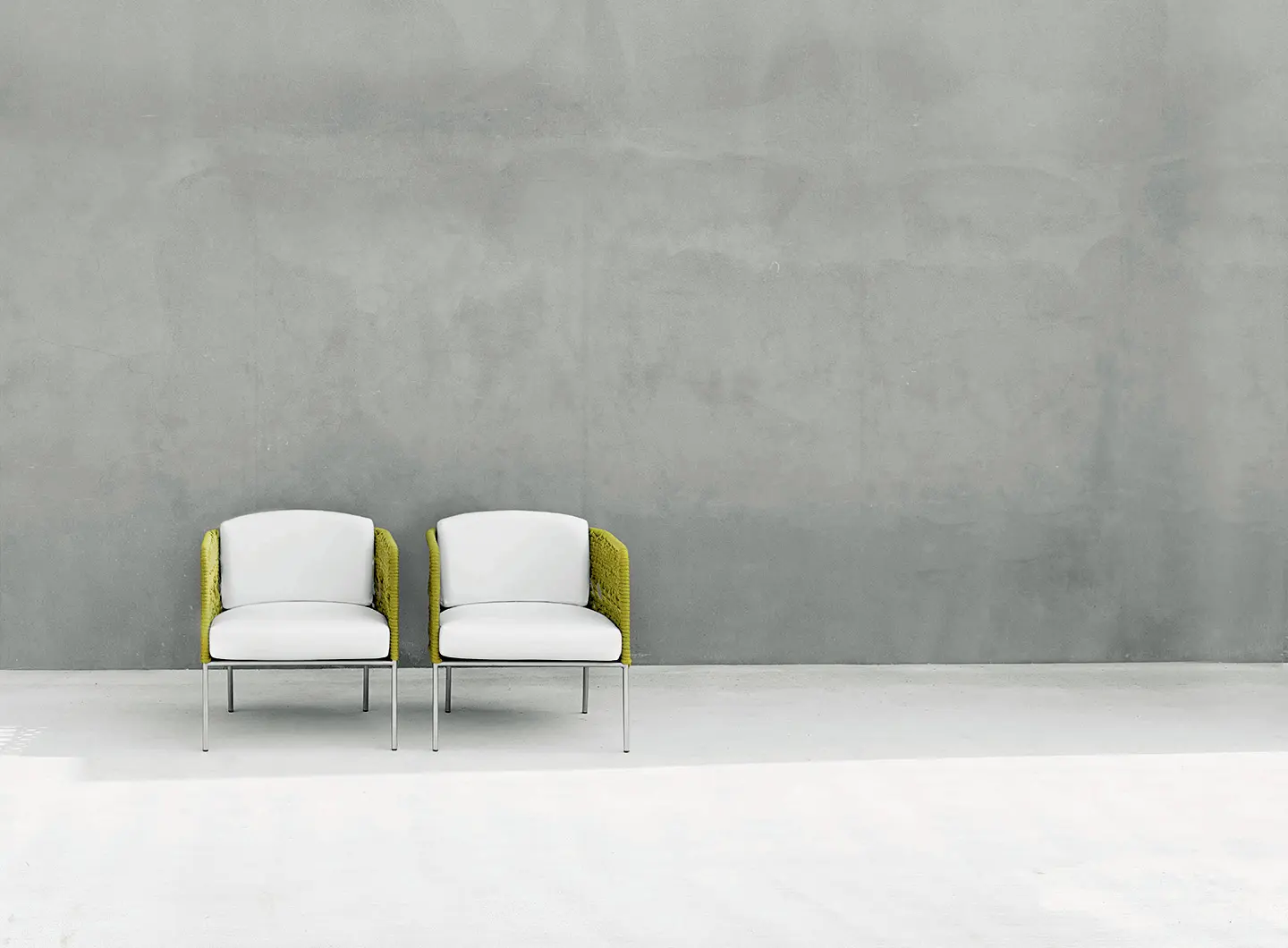 Yellow is once again the color of choice for the P32 armchair by Osvaldo Borsani for Tecno: the perfect nuance for a relaxing conversation lounge chair that is well suited for work spaces as well as living rooms of character. This sunny hue is, in fact, a great solution for office spaces, as it conveys energy and vitality, and stimulates the left brain, encouraging creativity. And, actually, this chair – from its sharp and clear-cut lines to its cozy construction – was specifically designed to ensure maximum physical and visual comfort, and, compared to other innovative pieces developed in those years, features a unique combination of swivel and reclining options.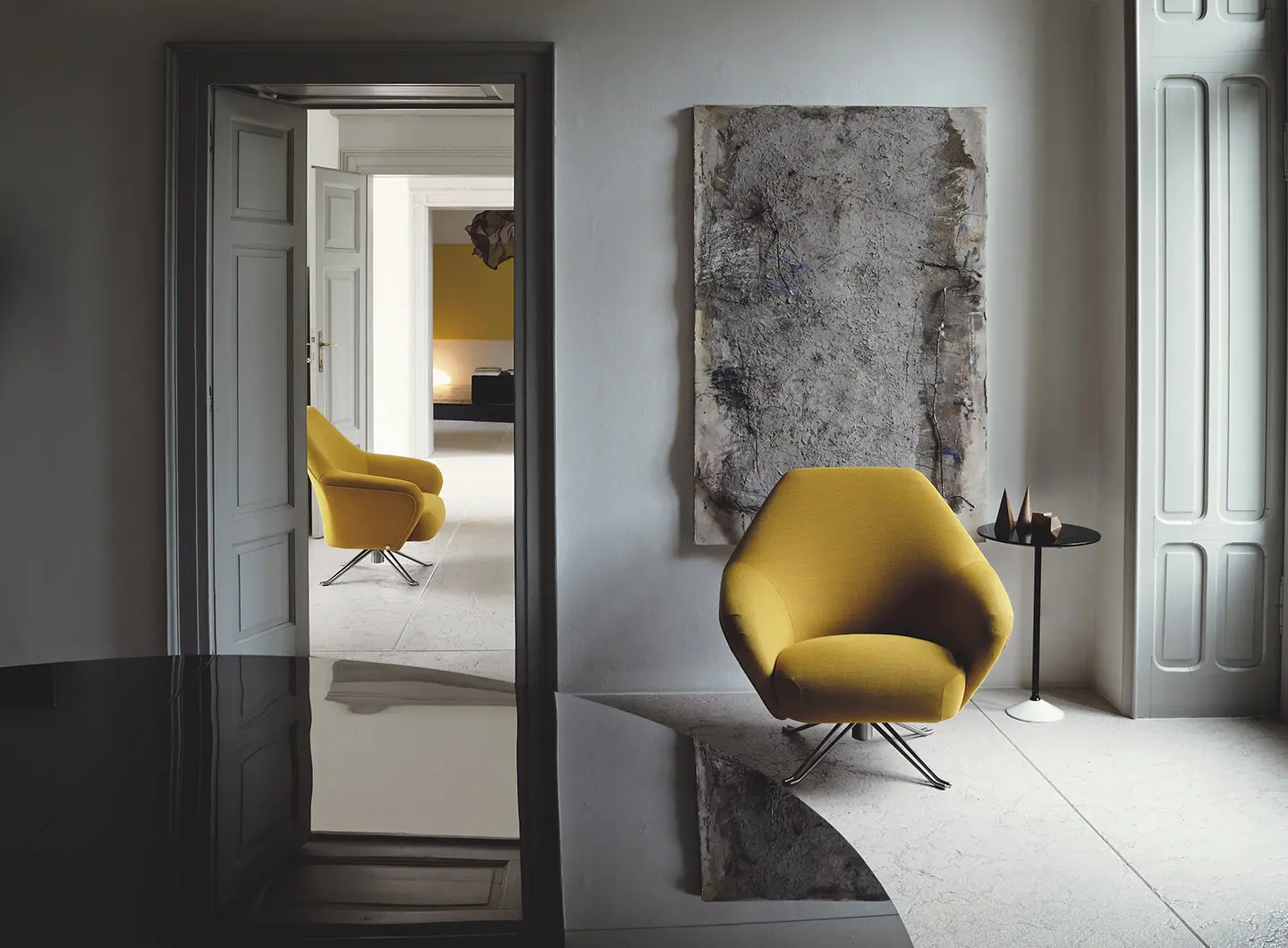 Sand Sofa by Daniele Lago for the Lago brand was also designed to convey a visual and structural sense of extreme comfort thanks to its softly rounded shapes. Bases of different sizes are combined with a variety of modules to create personal customized compositions and spaces that are in perfect harmony with their users. And what about the fabric's shade of gray? It enhances the sense of balance and sophistication of the design and conveys confidence, independence and elegance.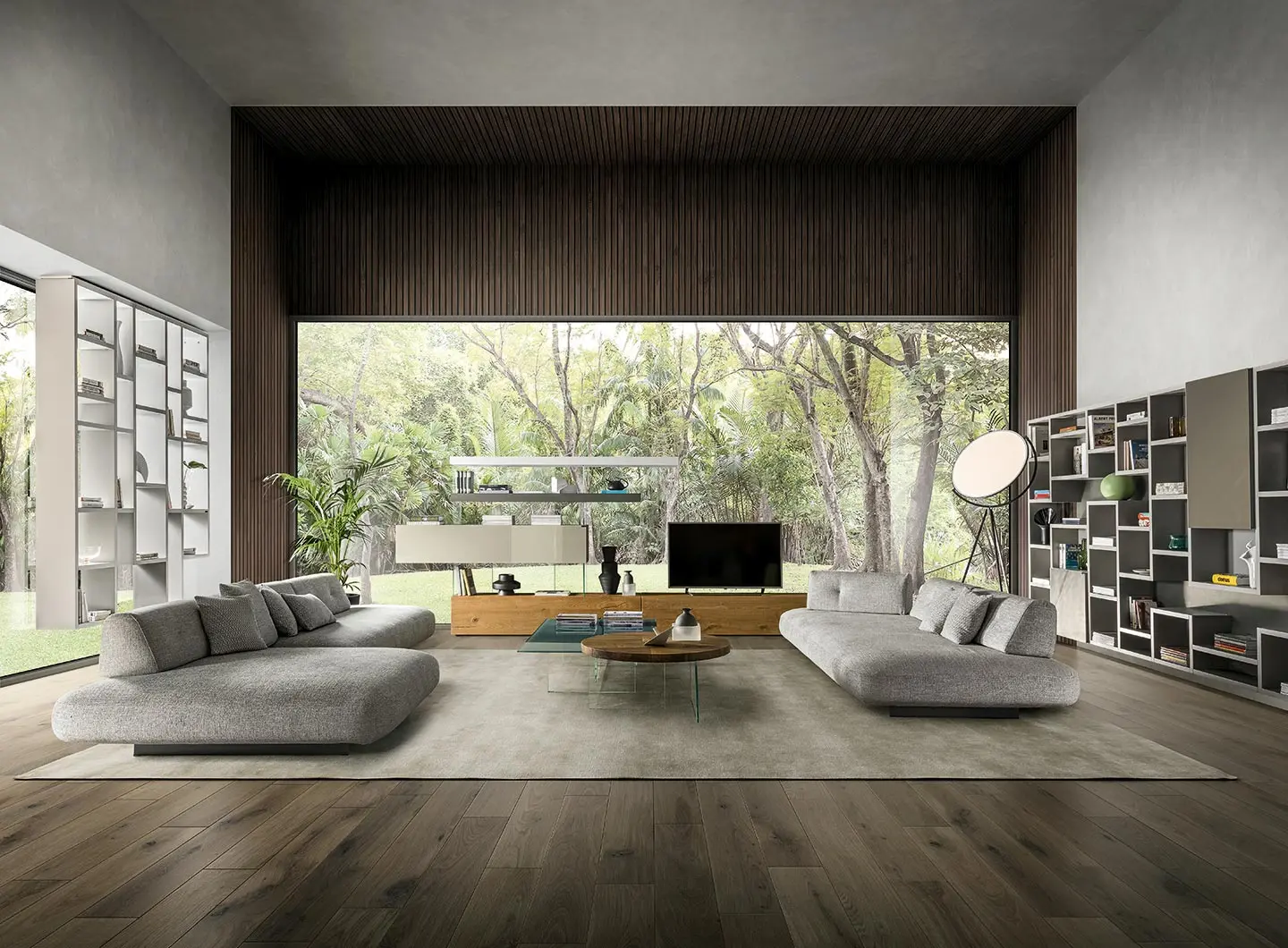 Patricia Urquiola chooses a combination of the two nuances that were "crowned" colors of the year for 2021 by Pantone for Tufty–Time by B&B, and revisits the Capitonné and Chesterfield styles, specifically focusing on their 1960s and 1970s reinterpretation. Fully achieving her goal, the designer contaminates these traditional designs with a freer and more informal lifestyle, translating it into extremely versatile compositions. Thanks to its great seat depth, this comfortable sofa turns into a meeting place and a haven of comfort to snuggle up on.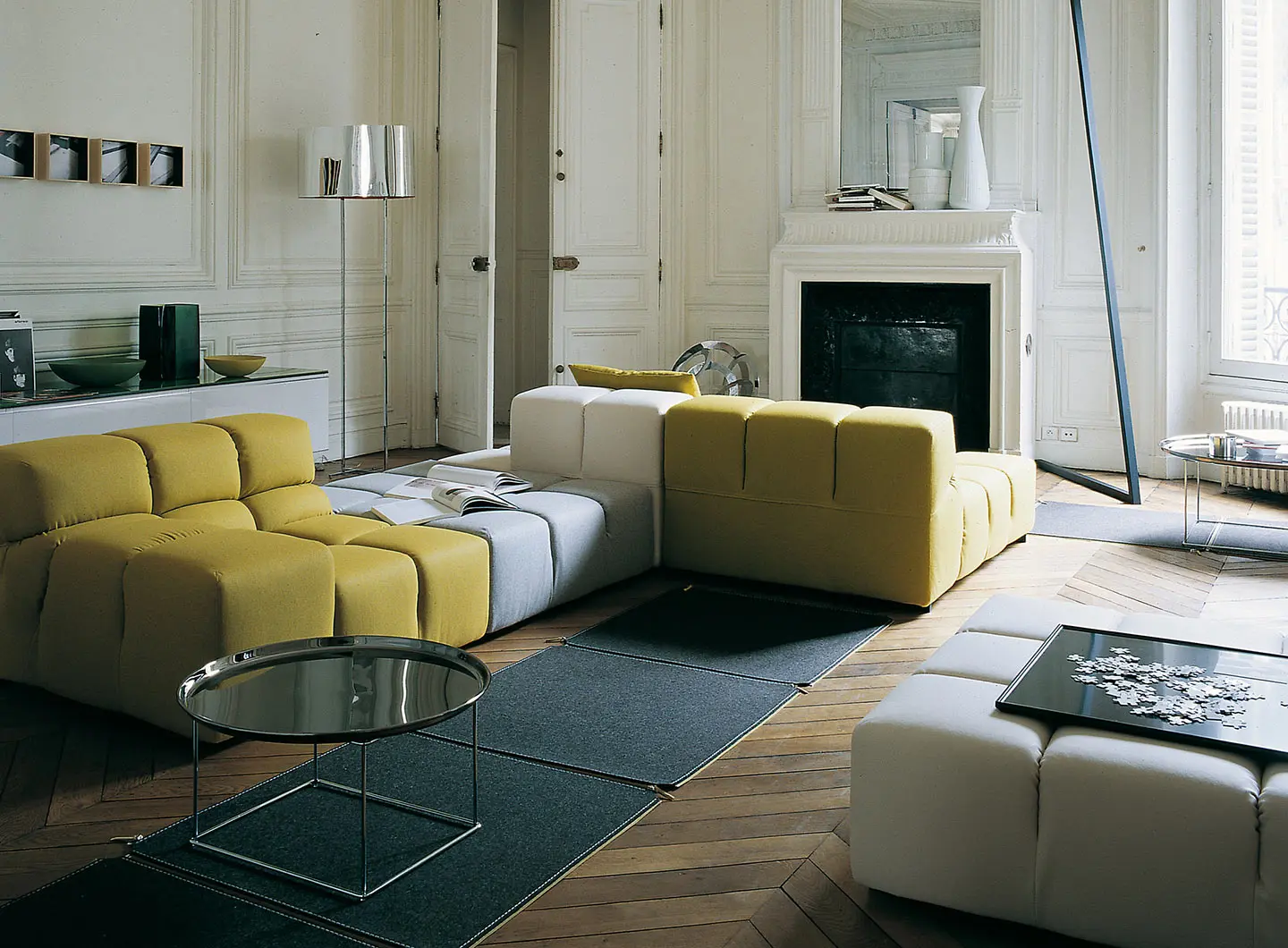 Maximum freedom of expression and a harmony of contrasts – which help create contemporary spaces – are also the features of Flexi Container by Cappellini, a set of containers for the living room, bedroom or the office that can be used individually or together. The perfection of the gloss lacquering and the endless range of colors, including an optimistic pumpkin yellow and an intense gray, offer a multitude of color customization options to achieve the ultimate goal of interior design: user well-being in living spaces.
True modernist art and design icons, the USM modular furniture systems not only stand out for their formal rigor, flexibility and easy-to-assemble design, but also for their fourteen color options and three materials – glass, perforated metal and powder-coated sheet steel. Bold, bright and dynamic, USM Haller's shade of gold yellow adds a warm note to any home or work space. Pair it with black and gray to enliven ordinary or dark color schemes.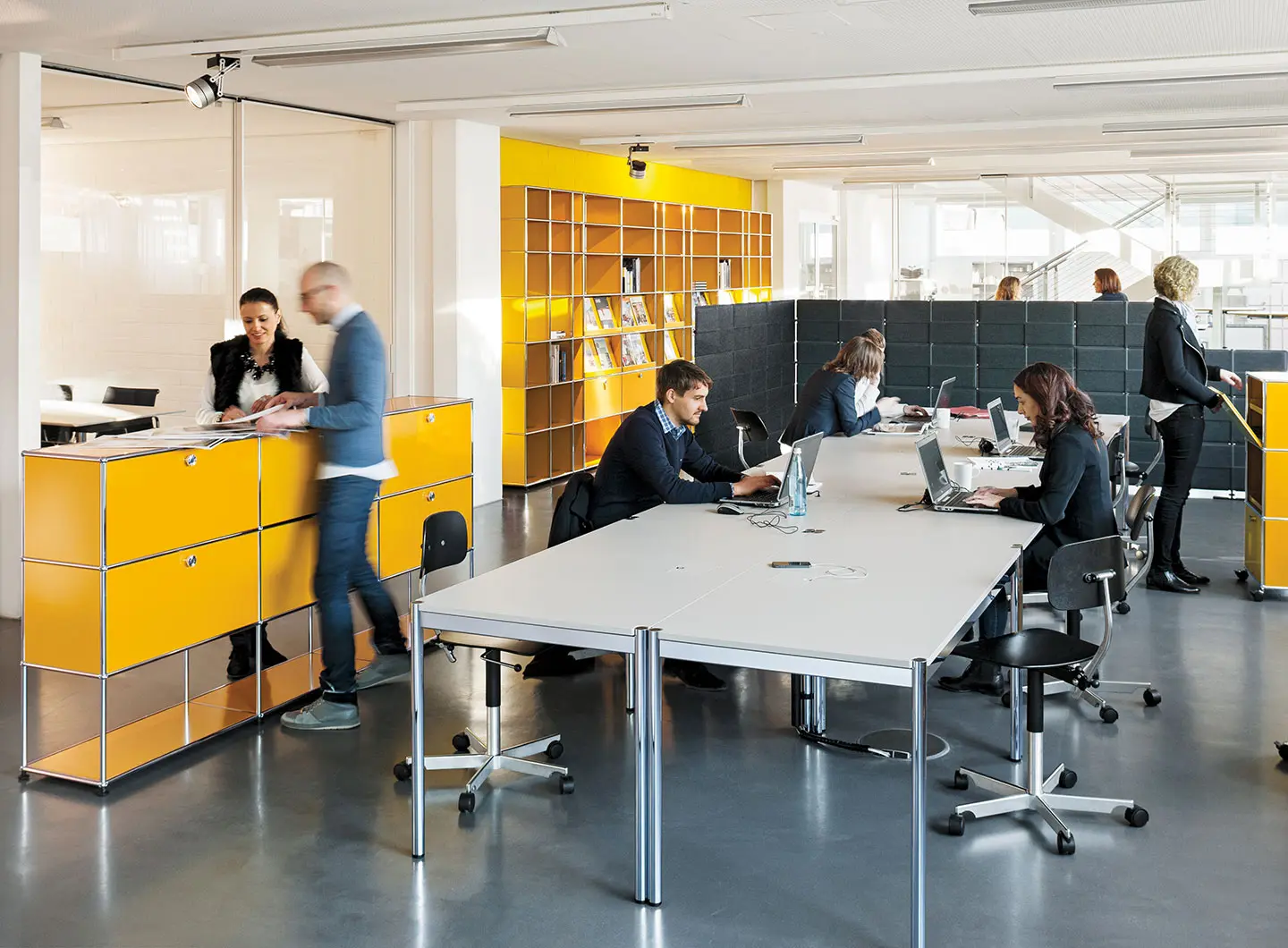 Lending a touch of color to home décor by adding details of character is a unique way to create your own space: this is Fabio Novembre's vision, who breathed new life into Dandy, a 1980s bestselling kitchen design by Scavolini, reinterpreting it with a contemporary twist to create a smart kitchen with connected appliances that speak to you with Amazon Alexa's voice. Dandy Plus is thus born: with its soft curves and its mix of mustard yellow and gray plus, it allows for a variety of customized options with an extremely modern appeal, designed for those who see the home as an extension of their own style.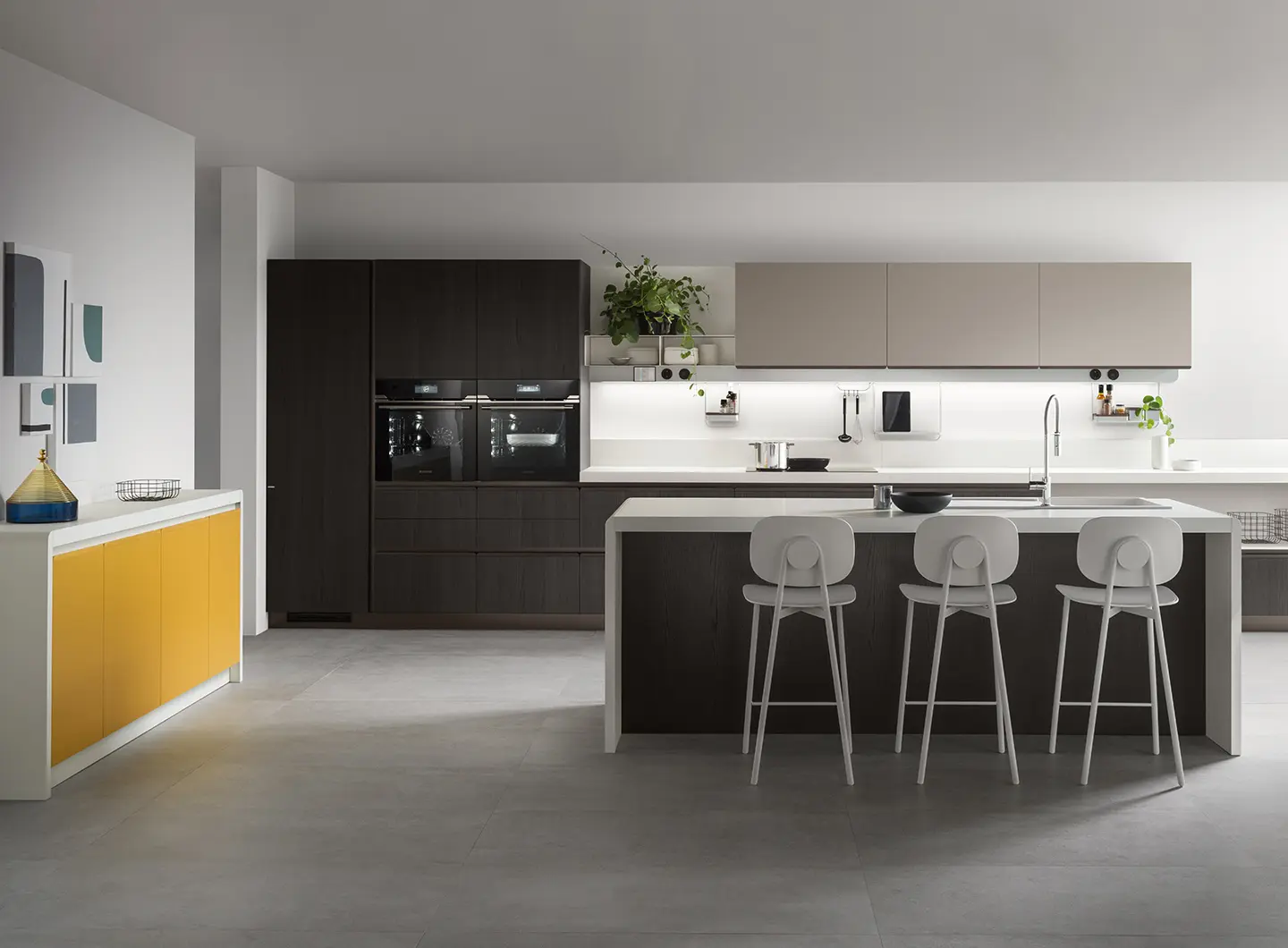 Lievore Altherr Molina also exquisitely combines Ultimate Gray with Illuminating in Parentesit for Arper, a collection of modular decorative wall panels that lend comfort to contemporary open-plan office designs. Available in a circular, an oval and a squared version – that taken individually express the graphic design of their geometric shapes, while arranged together create rhythmic and harmonious compositions – and featuring integrated lighting and sound systems, Parentesit reduces background noise and creates the right workplace environment to help individual concentration or teamwork.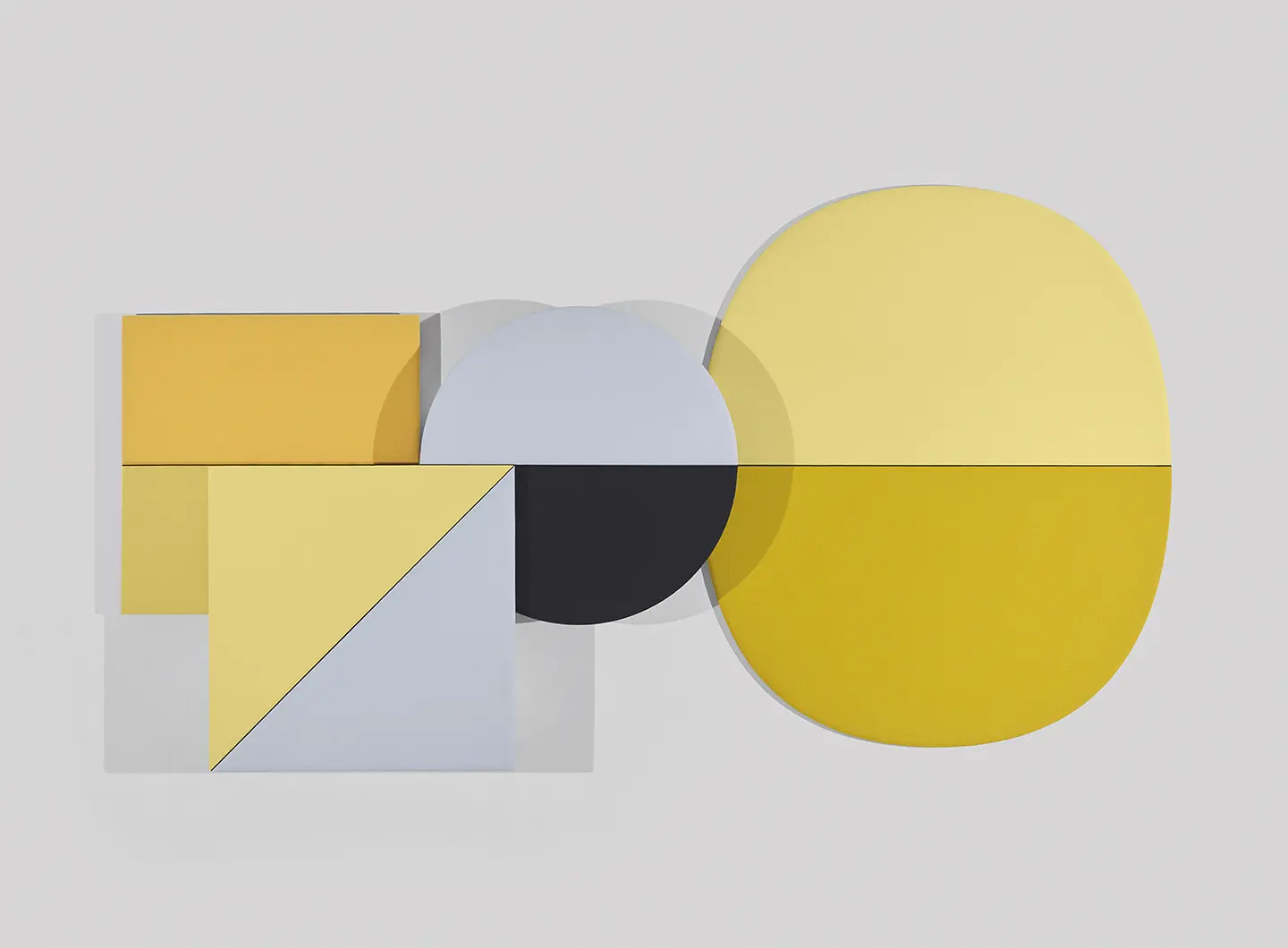 But design is not just for adults. Four- to ten-year-old kids dream of being explorers, pilots and astronauts: this is why it is crucial that the space they live in, on the one hand, encourages them to unleash their creativity and ingenuity and, on the other hand, adapts to the endless options created by their vivid imagination. Choosing yellow as the main color in the kids' room and pairing it with neutral hues will do the trick, because it conveys serenity and cheerfulness while favoring concentration. Portuguese brand Circu, which is appreciated worldwide for its magical and fairytale-like collections that turn the kids' room into a truly unique place, offers Sky B Plane for little adventure seekers, an airplane bed with a stimulating and compelling aviation-inspired design. The body is entirely made from gloss varnished fiberglass and features chrome plated finishes in the engine and wheels. It has several storage compartments and the top wing is designed to be used as a bookshelf. All in all, a bed that makes kids' dreams come true.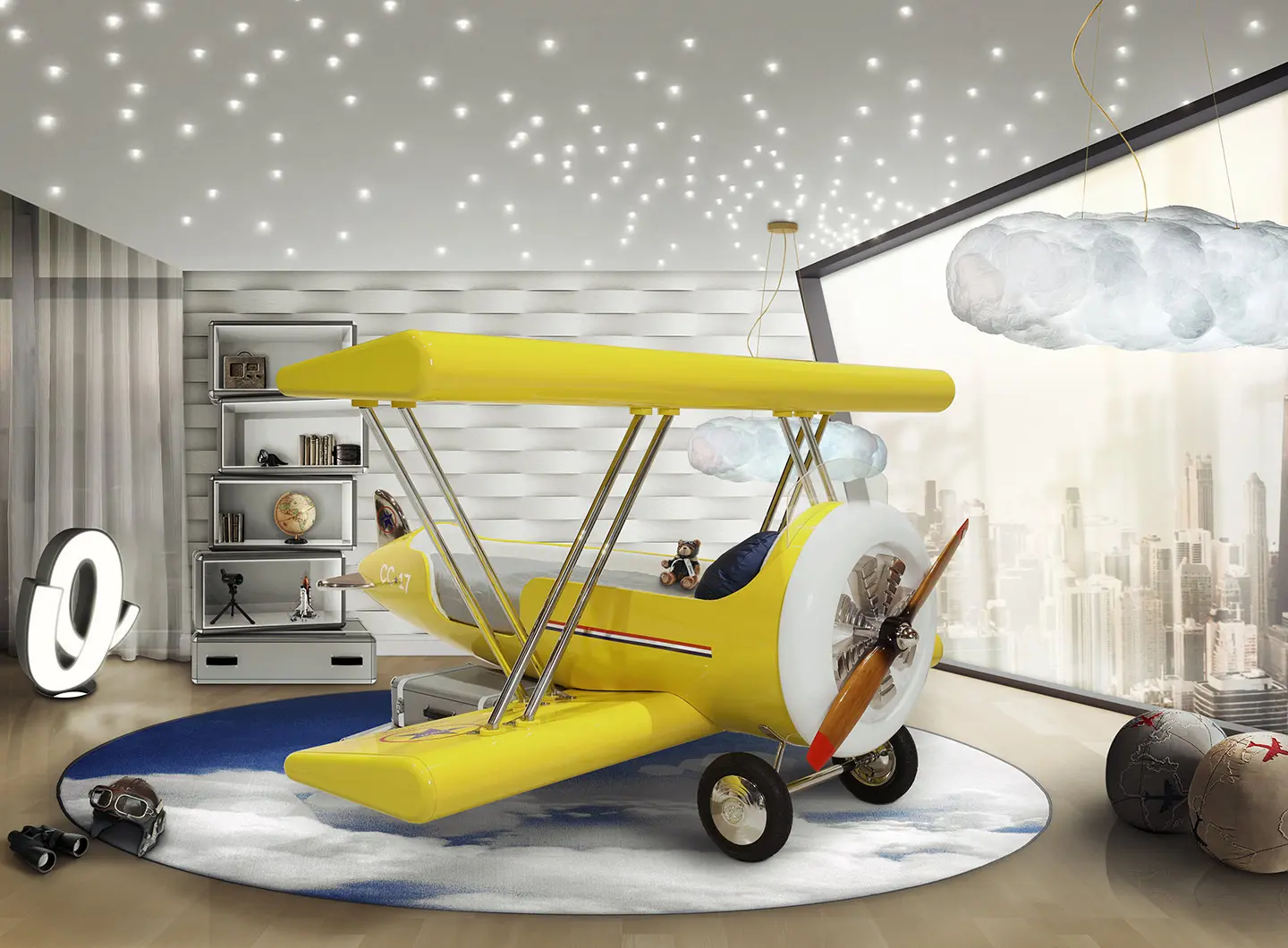 Lastly – and although it doesn't happen very often – light is also tinged with color. Neutral as well as pop hues, like neon yellow, fit Tobia by Ferruccio Laviani for Foscarini like a glove. It is a portable "luminator", a nomadic object: a floor lamp characterized by a unique central "handlebar" that invites you to grab it and featuring a powerful direct light that is cast upward and that, by refraction, turns into diffused light. An example of how simplicity can have character: sleek and compact, easy to move around and playful, Tobia is a functional led floor lamp that meets the needs of a broad range of customers.