Konstantin Grcic and the Bell Chair by Magis
Add to bookmarks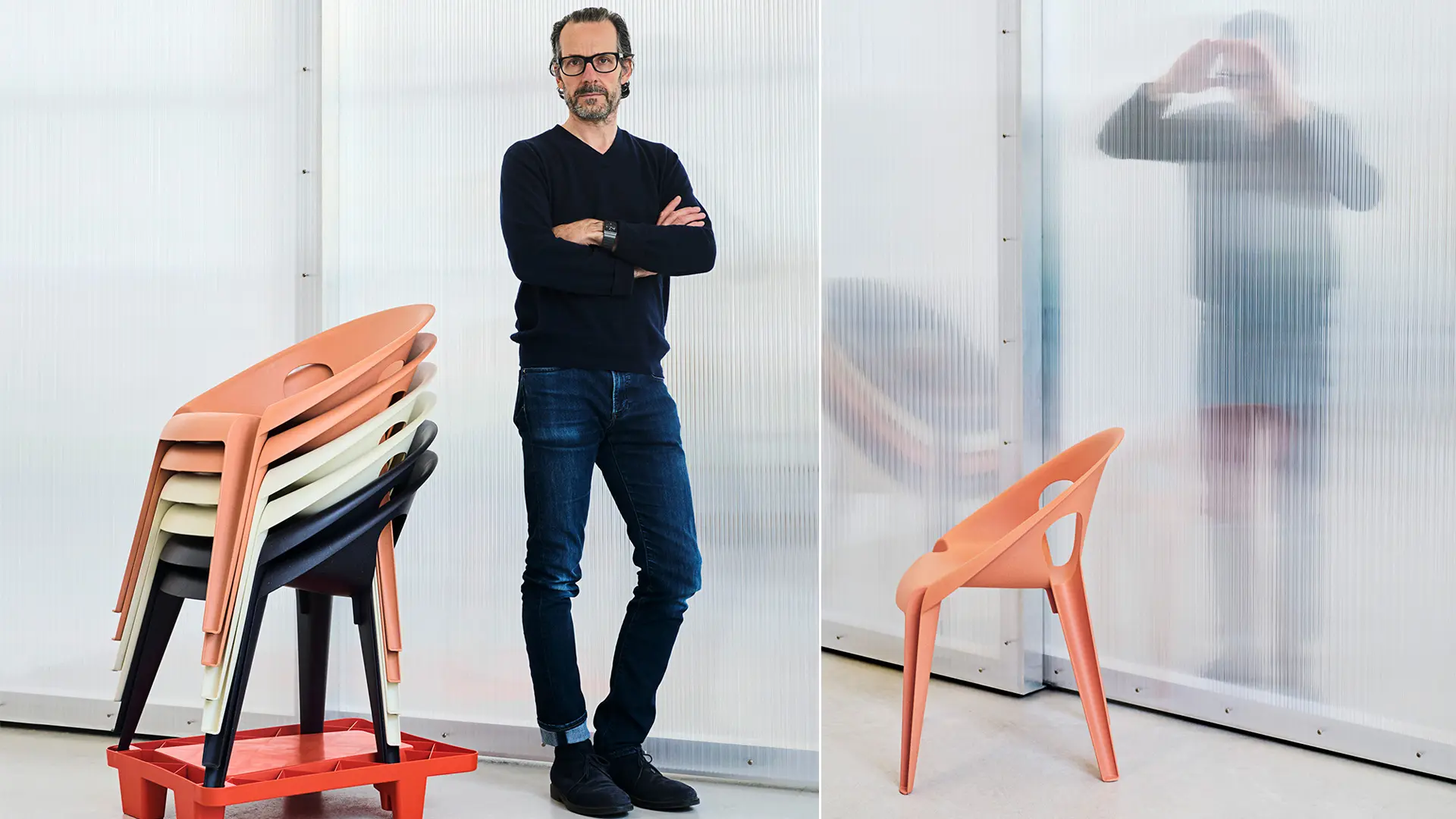 Low-cost, versatile and responsible: Konstantin Grcic's Bell Chair for Magis is a monobloc piece made entirely of recycled and 100% recyclable polypropylene.
What were you trying to achieve?
The project started with the hypothesis that we could develop a chair that would sell to the public for just over € 60. This figure conditioned everything: from the technology and type of material we used, right down to the exact amount/weight of material per chair, the length of the production cycle, logistical footprint, etc.
Our aim was to develop a high-quality chair with the bare minimum of material. This target was important to us for ecological reasons, but it also had a strong financial impact on the project. We wanted BELL to be affordable for everyone. In order to achieve this, we had to find the right balance between technology, performance and aesthetics.
In this project, was the study of the materials the most important thing, from which everything else derived?
Of course, we did ask ourselves whether the world needed a chair like this in the first place. I was quite critical at first, but the more I got into it, the more I could see a great opportunity for our project. There is a need for chairs that are both affordable and versatile, but the products on the market tend to be either cheap or too exclusive. We saw interesting potential in creating a very economical, but well-designed, well-engineered chair. The big breakthrough came with the commitment from our supplier to provide us with a high-quality recycled material. This material is not retrieved from post-consumer waste but obtained from industrial waste. Thus, Magis turns the waste accumulated by their own furniture production into a new product.
What kind of relationship grew up between you and the product?
If you think about it, the plastic monobloc is the most popular chair in the world. It has sold in its billions, but at the same time it is tainted with a lot of negative connotations: it is considered to be ugly and cheap, and it is commonly agreed that its widespread use is polluting our planet. It was clearly a challenge to tackle an object that, despite its undeniable success, is loaded with so much rejection! Looking for what is good about these types of chairs, I came to realise just how rational they are. And from there I started to see the great potential of the project – in terms of design as well as sustainability. The simple fact that our chair uses no more than 2.7 kg of plastic – almost half that of an average chair – illustrates this quite vividly.
How/where do you see this product in 10 years' time?
Hopefully in many different places - in cafes, offices, hotels, in gardens, in museums ... Bell is durable and versatile and should be used accordingly.