Kitchens, from freestanding to island
Add to bookmarks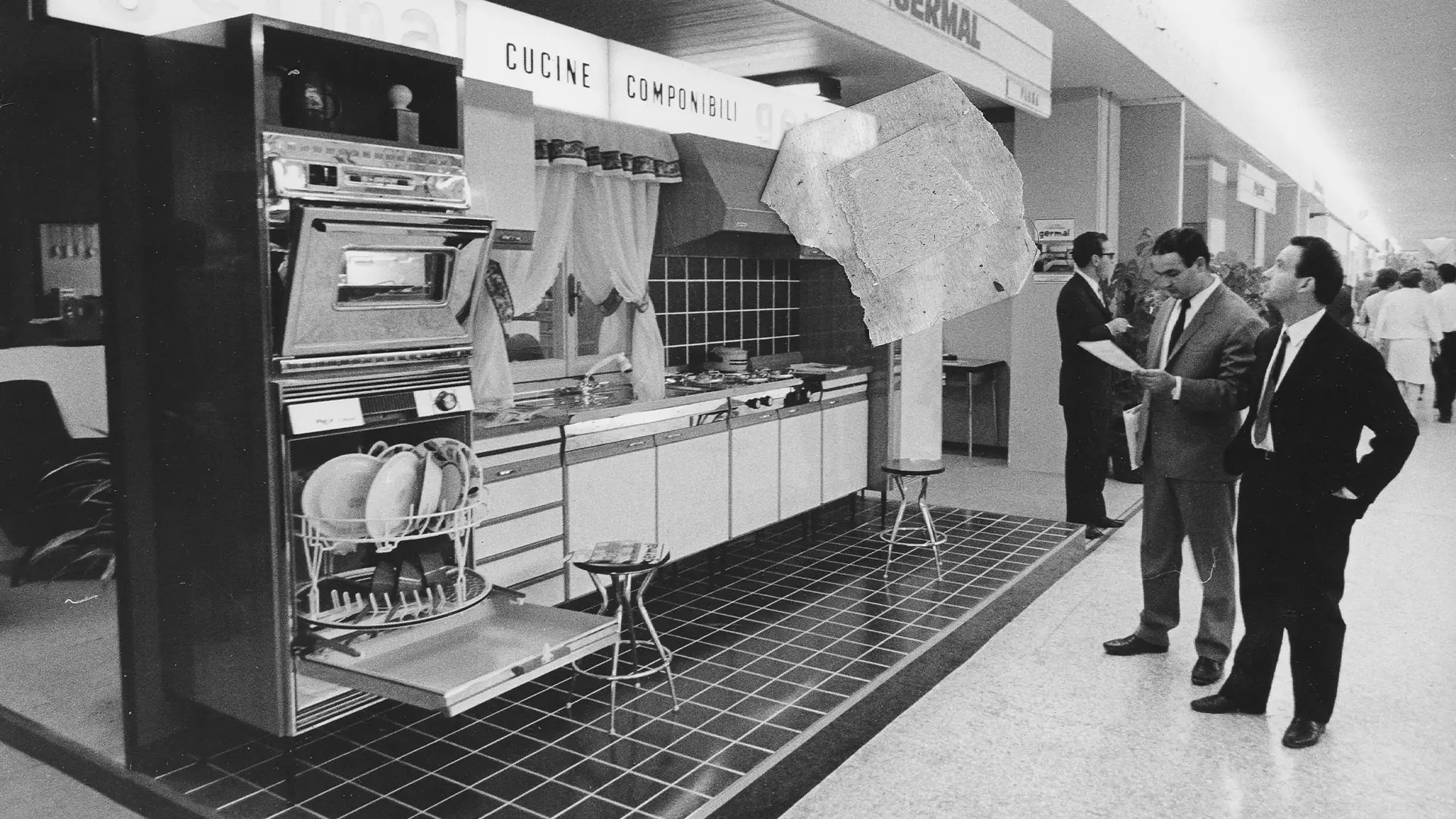 How the kitchen has evolved as a space… In the run-up to the Salone del Mobile.Milano in June 2022, we continue our journey into the past with previously-unseen images from the Fondazione Fiera Milano Archives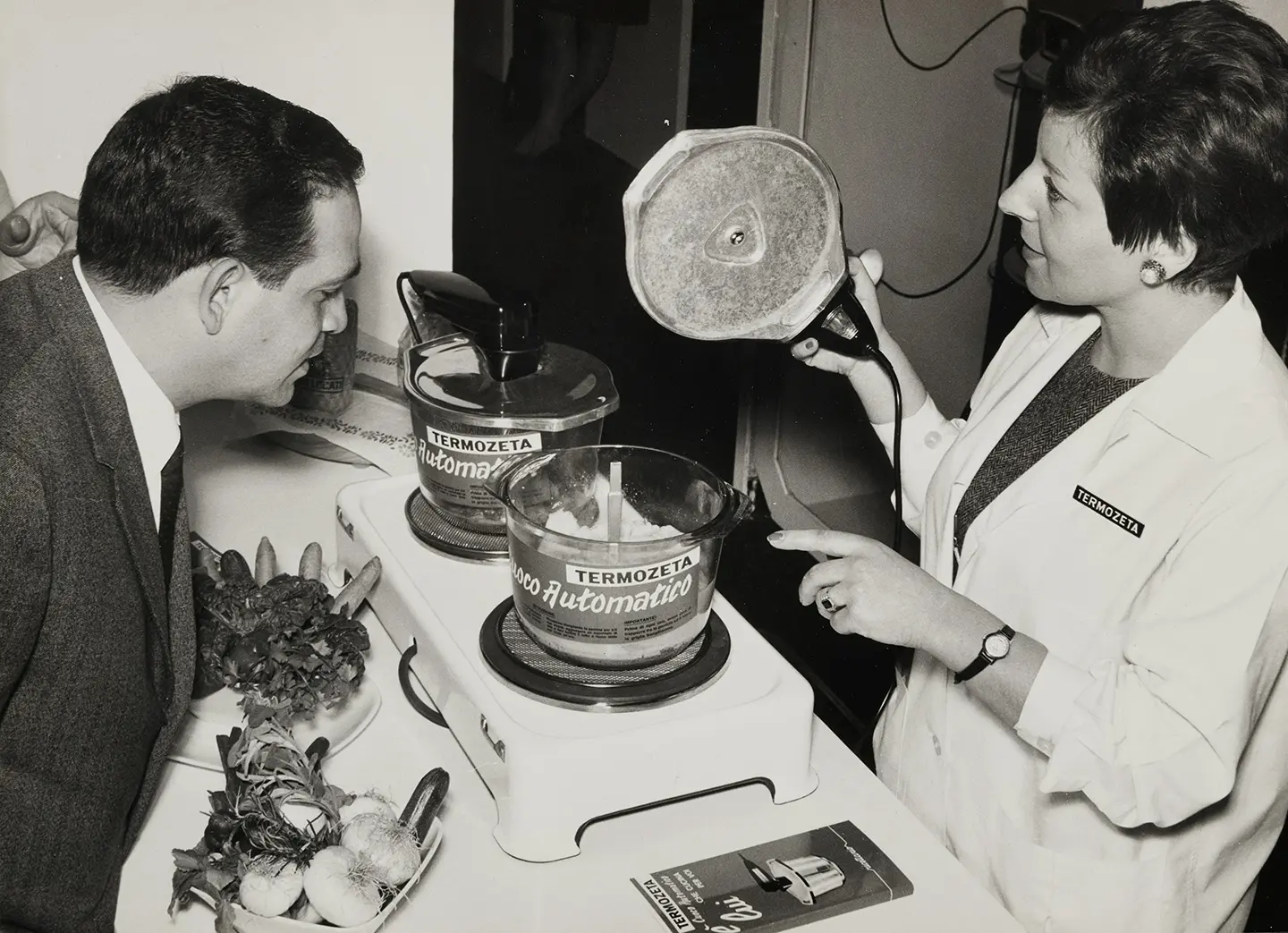 Desire island should surely be in an archipelago in the Lesser French Antilles or Polynesia, circled in red on the map or pinned to a globe in some kid's bedroom. A restaurant kitchen would very rarely occupy a similar space in a normal home.
And yet whether you call it an island or a peninsula, they have become something of an obsession. Allow me to share the results of a little research: first off, if the island is a full parallelepiped – generally, if the kitchen is not too large then you have to exploit all the space – you're going to be constantly banging your knees into that island, and as for the tall stool option, that's a non-runner (when it comes down to it, they were designed for bars, so why should they be in the kitchen at all? Go to a bar if you want to see them, and take advantage to meet some people too), forcing you to eat breakfast turned three-quarters, a bit like a mannequin from a 1930s glossy magazine or, worse, standing up.
The island's extra-deep drawers are deceptive, too: you may think they make an ideal pantry, a replacement for modular kitchen wall units, but it's almost certain you won't be able to physically reach that very expensive pistachio pesto, your ten sachets of cuttlefish ink, flour for making chapatis, umeboshi plums in salt, or the carob compote you bought on your honeymoon, all of which are destined to sail past their use-by dates! You will also be losing radio contact with the grape-drainer, blackberry-blender, torta al testo stone, and lima-bean toaster... So not OK!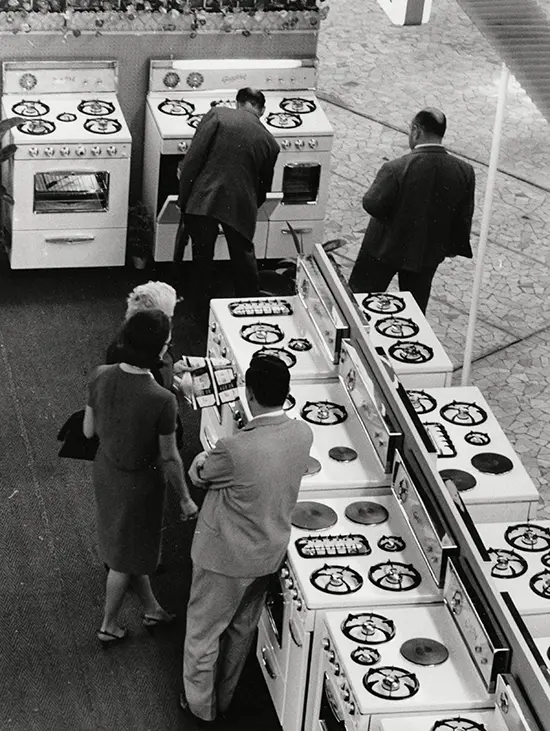 Secondly, the island forces a family into secret-sharing. Don't expect me ever to spill the beans on my peperoni della Fina, my star turn. I turn my back on anyone who might be in the kitchen when I'm finishing it off. Also, if your guests arrive early, when you're still dreaming of a hard-earned, pre-dinner shower to make you look fresh and lovely, you'll end up having to accept welcome kisses in the hair, alas necessarily bunched up, still scented with "Ligurian stockfish stew" (let's say it once and for all, there is a code of behaviour for these things, and that means not arriving early, plus flowers should be sent in advance rather than brought along, i.e., no tripping up the hostess with giant bouquets which require cracking out the ladder to search for the vase hidden behind everything else, and last but not least, giving a hand to clear the table by making a "little pile" of dishes is simply not done, so don't even try it).
Once upon a time, there was the kitchen, first freestanding, then fitted, built around a cooker where we all felt a bit like old-time character actress Ave Ninchi, rather than one of today's brawny, tattooed chefs who claims to be nourishing us with truffle-scented "parmesan cheese mousse". Back then, you could count on outsized pots that allowed no end of second helpings until everything was finished, with a final prize for anyone who managed to grab hold of the pot: using a hunk of bread to mop up the last of the sauce, what we Italians call doing a scarpetta.
In days gone by, the Fair witnessed a solution to a certain "heaviness of stomach" delivered via ostrich: a supply of valuable, definitely harmless effervescent powder.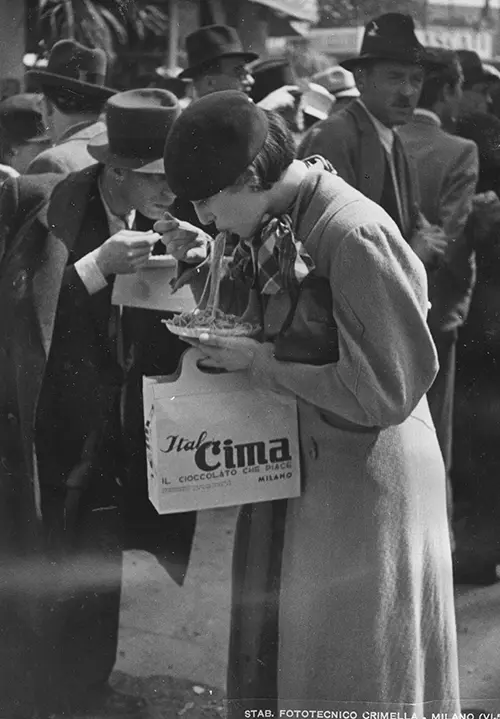 I must, however, admit that kitchen technology has made enormous strides, in part driven by an awareness of how important wholesome eating is. I'm being serious this time: just look at the flourishing output of blogs, TV formats and Instagram feeds offering broadcast-quality online lessons. Today, we must try and balance the importance of the kitchen environment and what comes out of it – food – with those who enjoy it – namely, us. A rustic dish of risoni in broth can bring people together as effectively as steamed salmon in coconut milk and coriander leaf! One thing's for sure: constant innovation has swept through the world of cooking and household appliances.
My grandmother had a "Gasfire"-branded stove with a glass door on the side that housed an electric spit with dedicated thermometer. I spent my childhood staring through that glass to see the magic of a pale bird being transformed into a crispy, bedside-table-coloured dish, complete with shellac polish finish. She had a drip pan so she could hang up ladles without making a mess. She referred to her sinks as aquai. The stove hood did nothing to freshen the air, it just accumulated stickiness and grease, and when you lit the oven you risked instant depilation merely by waving the match over the gas burner!
Over the years, the Fair and the Salone have striven to show visitors this evolution as it happened. Perhaps that's why we keep going back to see what each new edition brings. So many people have told me they bought their first ever household appliance at the Fiera Campionaria. Imagine walking up and down the aisles at the Fair and seeing the latest products to lighten the burden of household chores all laid out in a row, or for the first time be able to tackle new types of recipes and cooking methods.
Nowadays, you can just ask your virtual assistant to boil water for the pasta, but the joy of getting your hands dirty is priceless: you have thirty minutes to make eight pears in wine... Now, GO!