Jayden Ali, a London city changemaker on speculating the future
Add to bookmarks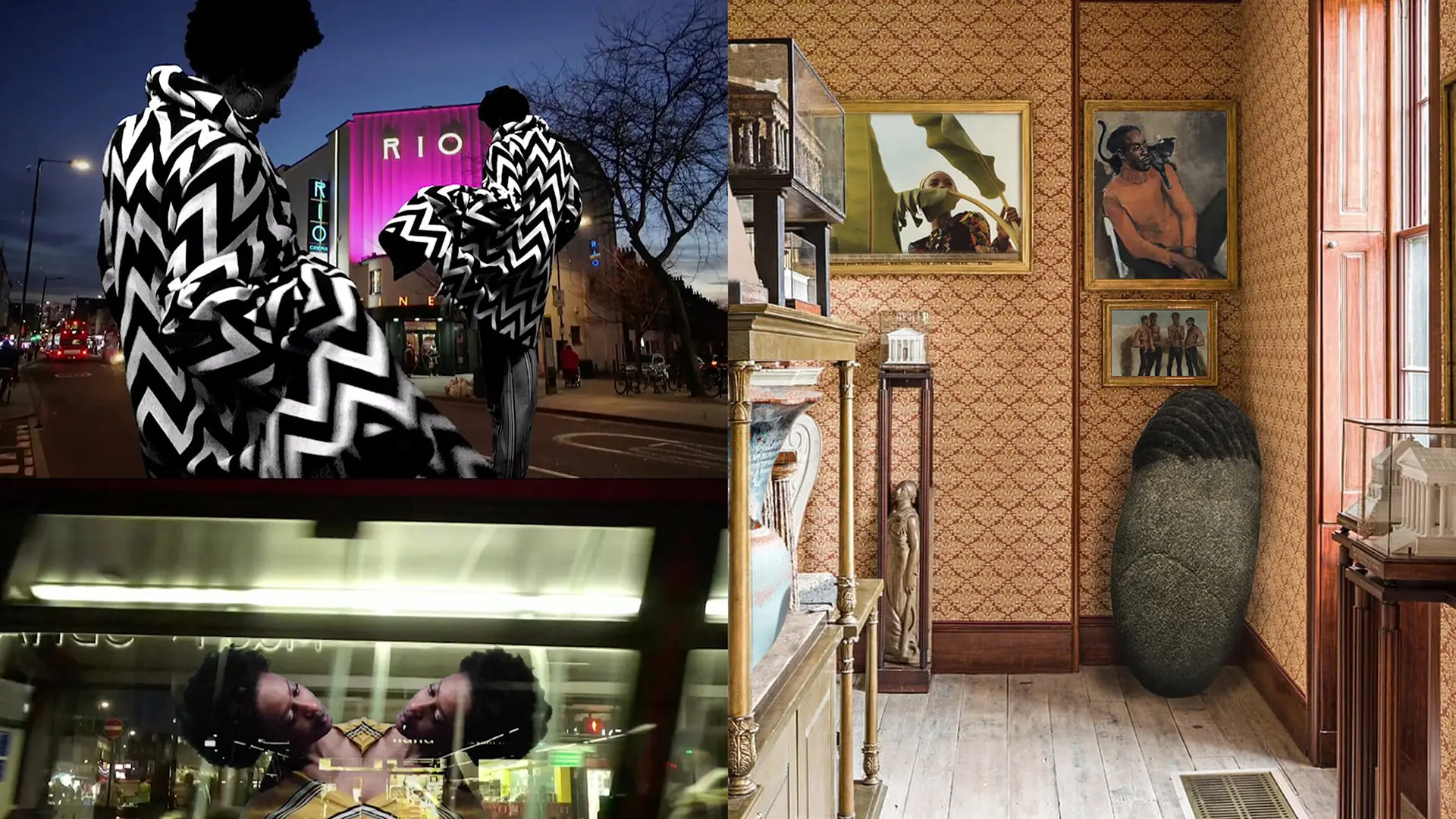 Architect Jayden Ali creates memorable city experiences with his interdisciplinary practice JA Projects. From revitalising public spaces to creating filmic cultural narratives, his work uncovers hidden stories while considering the mechanisms of a city, and designing for all communities that make London come alive
For a while now, architecture has not been just about the buildings we see, the foundations and structure that encloses them. It's been about the experience; about everything around us, and how humans live with these spaces. One architecture practice that is honing in on this concept, and bringing a new energy to the practice of city evolution, is JA Projects, founded by Jayden Ali. 
JA Projects is described as working in the intersection of art, architecture, performance and an urban strategy. But what does this look like on the inside? "This time last year, we were two people. We're now 10 people. So it's pretty big growth," Ali reflects on a team meeting where they were trying to articulate how the practice works. There's a sensitivity to the local community embedded in each of the projects, which Ali describes as "creating practical strategies to improve the lives of people."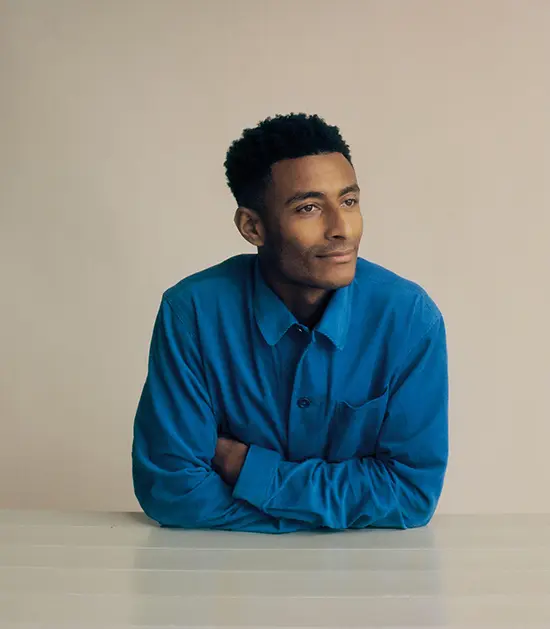 Recently JA Projects has been working on the strategy for Thamesmead's town centre, a new waterfront neighborhood that will provide at least 11,500 new homes alongside commercial and leisure space to the area. Having grown up in Peabody housing, a London-wide social housing estate, this is work that is close to Ali. "I've always known the value affordable, high-quality homes and a supportive community can have on your life chances… to be able to help deliver 10k new homes for the housing association that provided me and my family with a roof over our heads is a complete honour."
Ali's team are also working on the revival of Newham's Queen's Market – a historic east London location that will improve how the market looks and feels, which keys into the practice's aim of creating culturally rich experiences, concentrating on how visitors to the space will interact with it. Through delving into the archives, JA Projects looks to reignite the vibrancy that the market had back in the 1960s-1970s, while thinking about the future. Longevity, says Ali, is vital.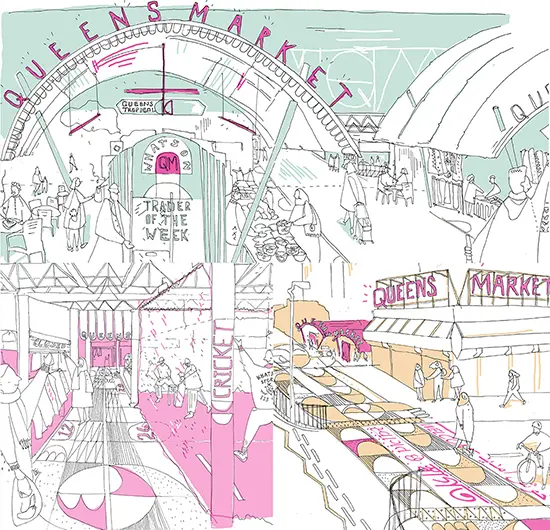 Head into JA Projects HQ, and you'll find a team as eclectic as the work they produce. Compromised largely of trained architects, their expertise lies between architecture and performance – Ali calls them 'architects plus.' He refers to a former fashion show producer and a London city tour guide on the team, and how each of them bring fresh perspectives to the fabric of JA Projects.
There's a thoughtful method to how JA Projects works, too. When approaching a commision, Ali's team looks at what is missing from an environment. Take their latest project, as exhibition designers of Fashioning Masculinities: The Art of Menswear at the V&A Museum: "We're interested in revealing the hidden narratives," explains Ali, and here they are unpacking the projection of fashion through the ages, dealing with "the depiction of man, the body and masculinity." Curiosity finds its way into this as they look at the gaps, asking questions and "considering all timeless aspects of the topic, like gender fluidity and ability, or disability, or race."
There isn't much difference in how the JA Projects tackle The Low Line, an initiative by Better Bankside, a walking route activating historic railway infrastructure spanning three South East London areas: Bankside, London Bridge, and Bermondsey. For this, Ali's team are exploring the area to create interventions, engaging with the local communities to build on the design strategy around it. A walk around the area and they've uncovered the infrastructure of the car industry and how they occupy the various arches in this new public realm. Like they did with the V&A exhibition, their investigation begins with what is missing in an area that's stopping it from working for people from all walks of life that inhabit it.
Building such a unique practice has led to Ali being recognised recently in Architects' Journal 40 under 40, but his agenda goes beyond running a thriving studio. As a changemaker, Ali has a role in education running the curriculum for the MA Architecture course at Central St Martins as Unit Leader. In 2020, JA Projects produced a filmic work AmericanGods250520 – a tribute to George Floyd that is a layered montage of cultural exposures, honing in on the names of those who have suffered at the hands of racial injustice. 
Ali and I speak of inequality through architecture. "There is no one who looks or sounds like me that is successful in my industry," he says. This ongoing problem within the ecosystem of design and architecture is being confronted by a magnitude of platforms, like Design Can which calls for an inclusive and representative creative industry, and Sound Advice who have published Now You Know,  – a publication of sound advice to challenge spatial and racial inequality from 60 architects and urbanists, including Ali. Here, he powerfully reflects on the need for the "formation of Black sculpture, Black buildings and Black institutions." For Ali, changemaking is knitted into his work as a curious architect who looks to engage with the mechanisms of the city: "the idea of advocacy is about speculations on a new future, and I don't see the difference between that and being an architect."