Autumn palette
Add to bookmarks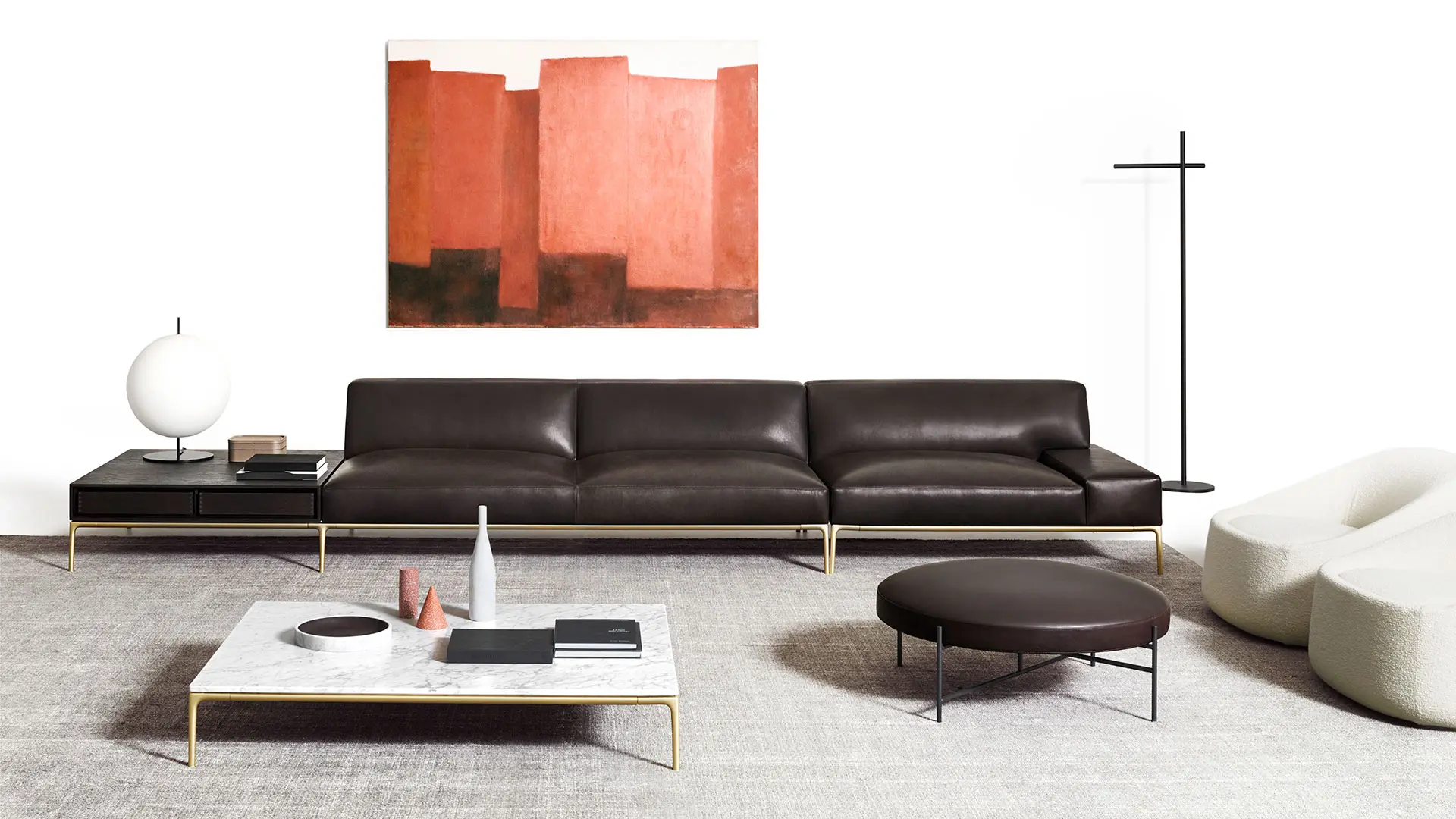 In design, as in fashion, this season's shades range from ochre to browns, and deep greens to an infinite variety of shades of blue and red.
Punctual as always, autumn, the season of comebacks and new beginnings, of calm and reflection, erupted into our lives on 22nd September. A slow time, compared with the summer that's just bowed out, but brimming with energy, priming us to give a new twist to our routine, to our "normal." The simplest way of achieving this is to invest in and play around with colour – in clothing and make-up, of course, but also in furnishing and design. Because colour influences our state of mind, our emotions and our actions.
An autumn palette is therefore making inroads onto the furniture scene, charged with shades suggestive of creativity, determination and confidence as well as positivity and optimism. These are the colours of the earth, the forests and the sky, from which we gain strength, equilibrium and awareness. Warm, gourmand, spicy colours, but always ultra-sophisticated and refined. Alongside the more classic red, brick, pumpkin, ochre, hazelnut and caramel, this year burgundy, clay, copper, cocoa bean, rum, chalk and goose down marry beautifully with Alpine and sage green, dusty blues, blueberry and dove grey.
Paola Navone's new Milano sofa for Baxter employs Kashmir Mimetique leather like a soft, smooth, almost formless textile, making for enveloping and inviting seating, the sage green shade enhancing the feeling of relaxation and comfort as one sinks into it.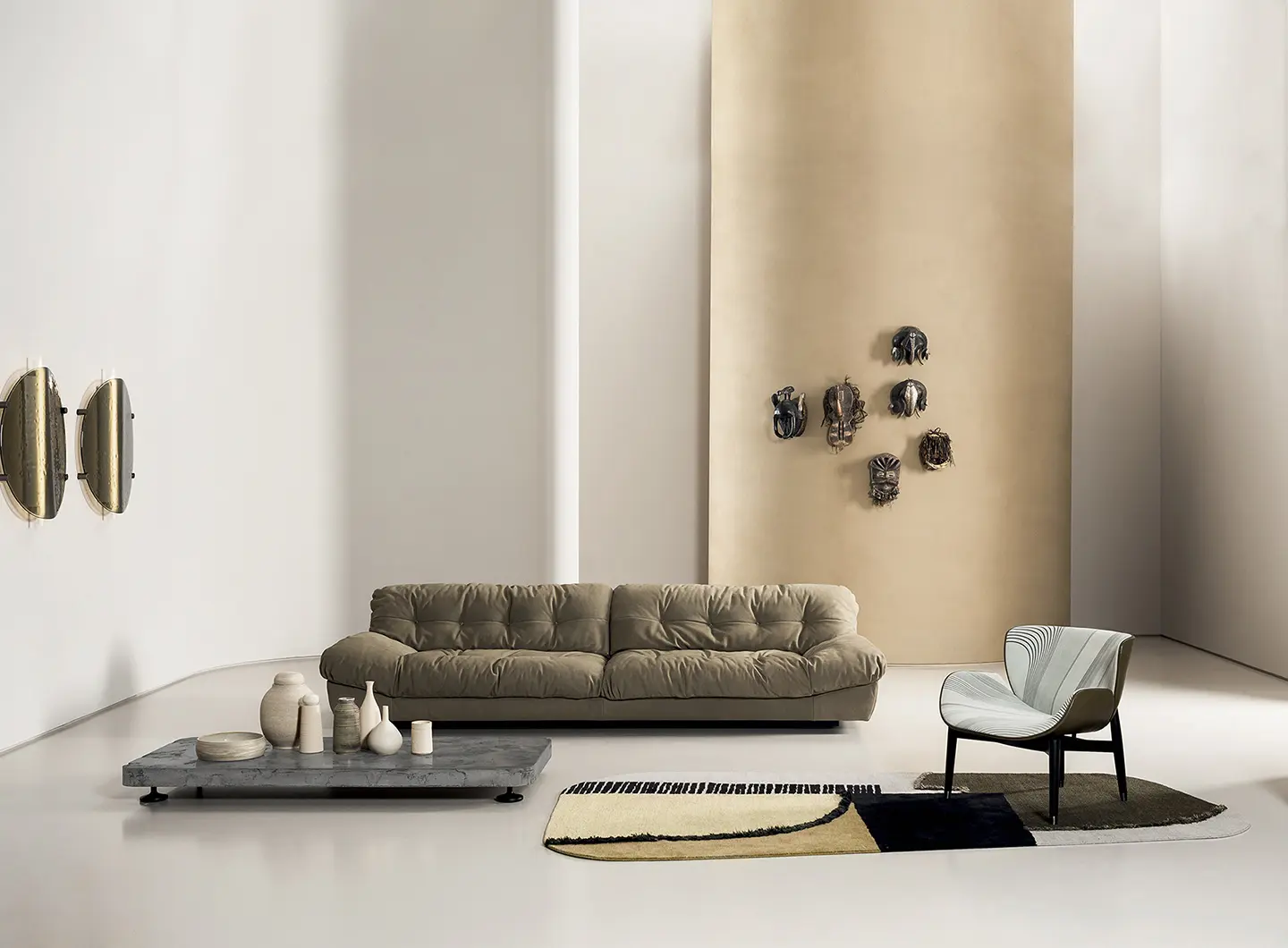 The same enveloping look is generated by Rodolfo Dordoni's Mattia for Minotti. Here, however, it's the result of different formal solutions, influenced by architectural and sculptural concepts. The balance between the rigid structure of the external shell that opens up like a corolla and the suspended volume of the cylindrical backrest informs a chair that provides a contemporary take on an early Seventies design. The green Orangerie fabric (wool and viscose bouclé) is deep and vivid, a tone that channels security and tranquillity.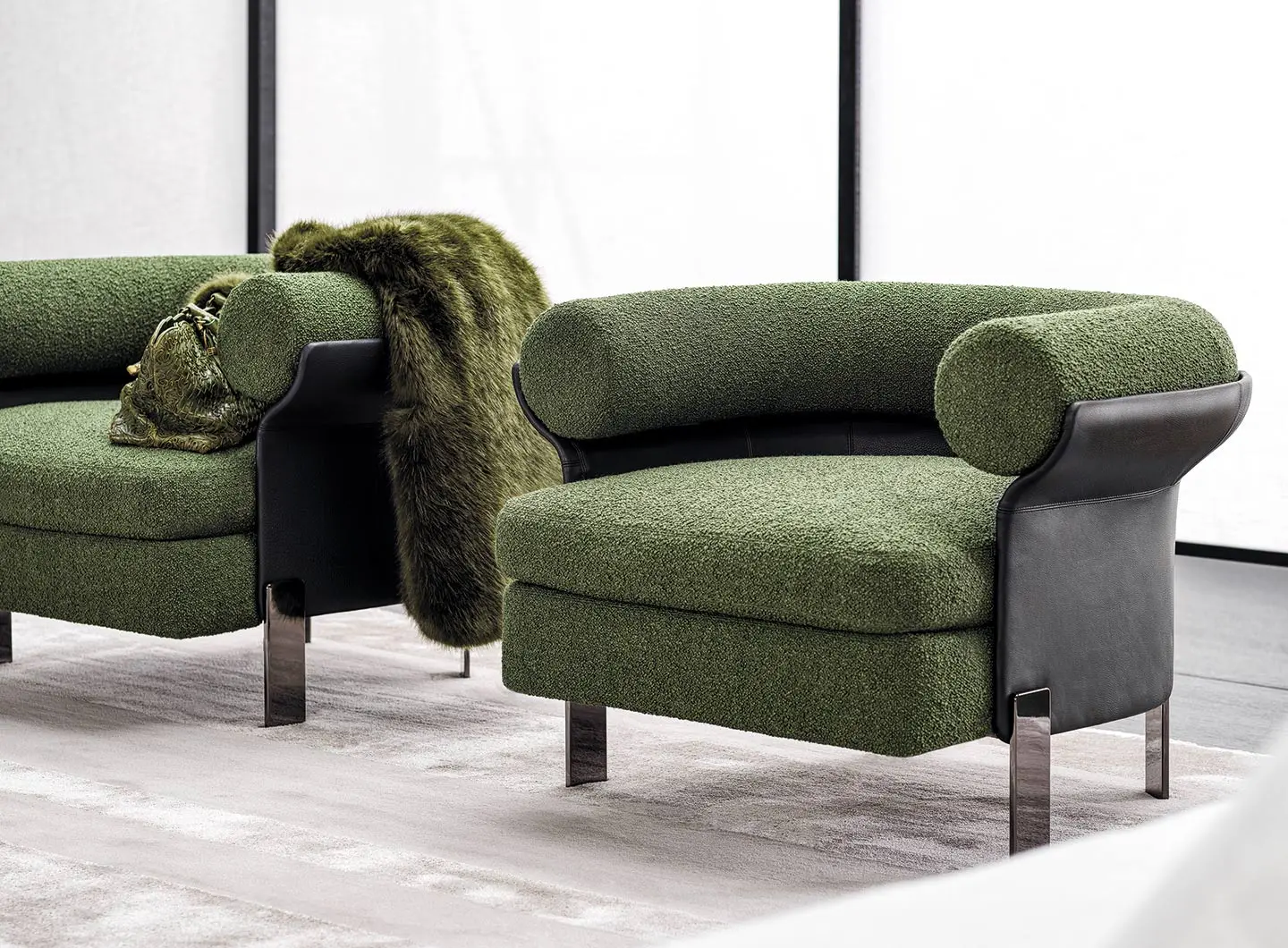 Inspired by the Twenties, Studiopepe's Daybed Five to Nine for Tacchini is an invitation to relax from the name onwards. This daybed, which consists of a series of cylindrical cushions individually positioned on the frame and covered with tan aniline leather or green Ottanio fabric, emanates character and positivity. The shades undoubtedly have a part to play: the former is warm and sensual, while the latter is cold but intense and deep, both boosting the fascination of a modernist furnishing piece.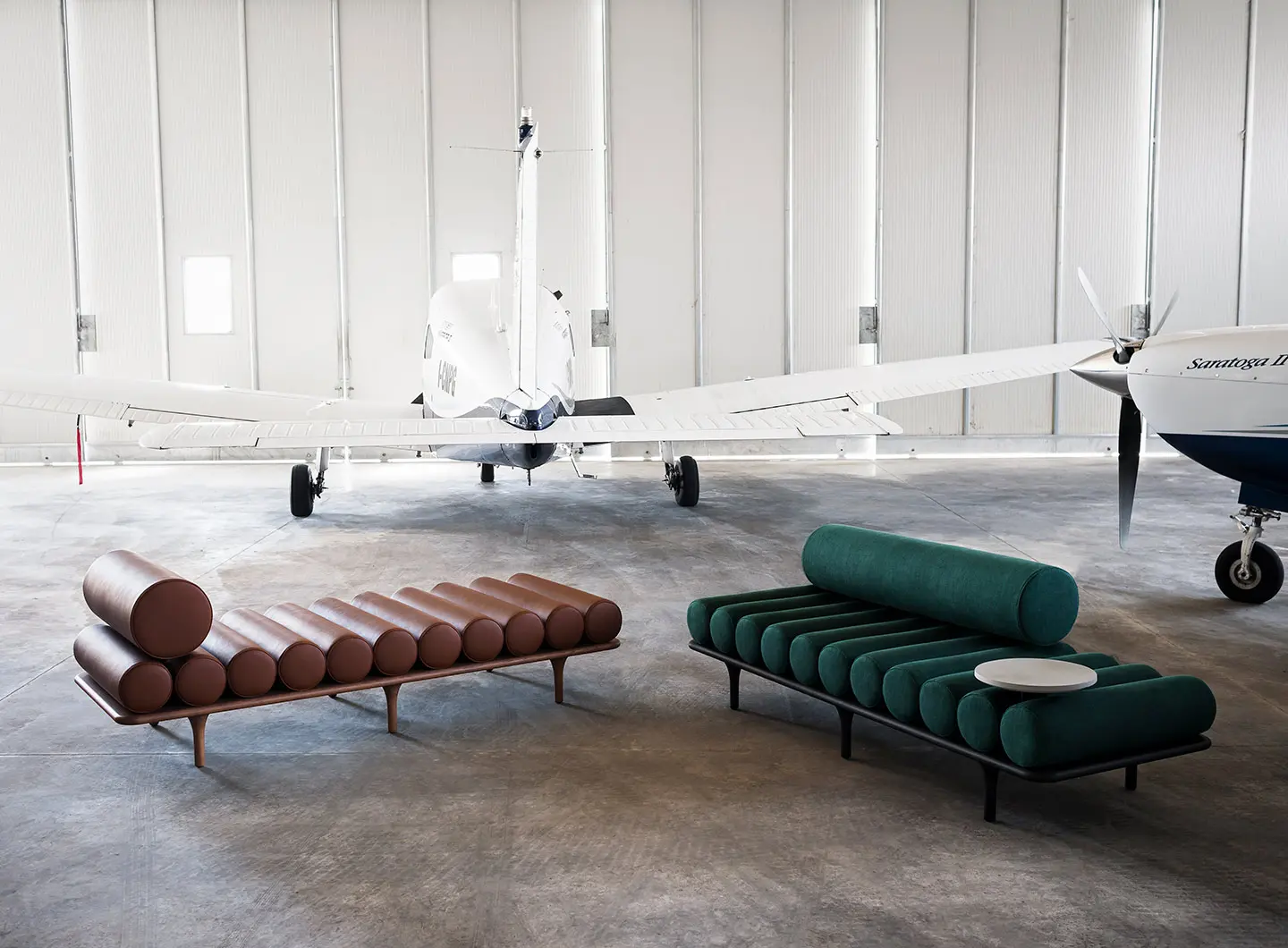 Mario Bellini's Camaleonda for B&B Italia, marks a direct return to 1970, with the elements that made it an icon of its time intact: the ample module of the seat, the generous characteristic quilted polyurethane padding – achieved by a system of cables, hooks and rings invented by Bellini himself – that define its look and modularity. It can be configured in an infinite number of ways, allowing each element to become a sort of giant pixel with which to mark out one's own domestic space. The saffron colour of the velvet needlecord, the spiciest of the solar hues, accentuates the dynamic appearance of the shapes and brings luminous warmth to the shortening autumn days.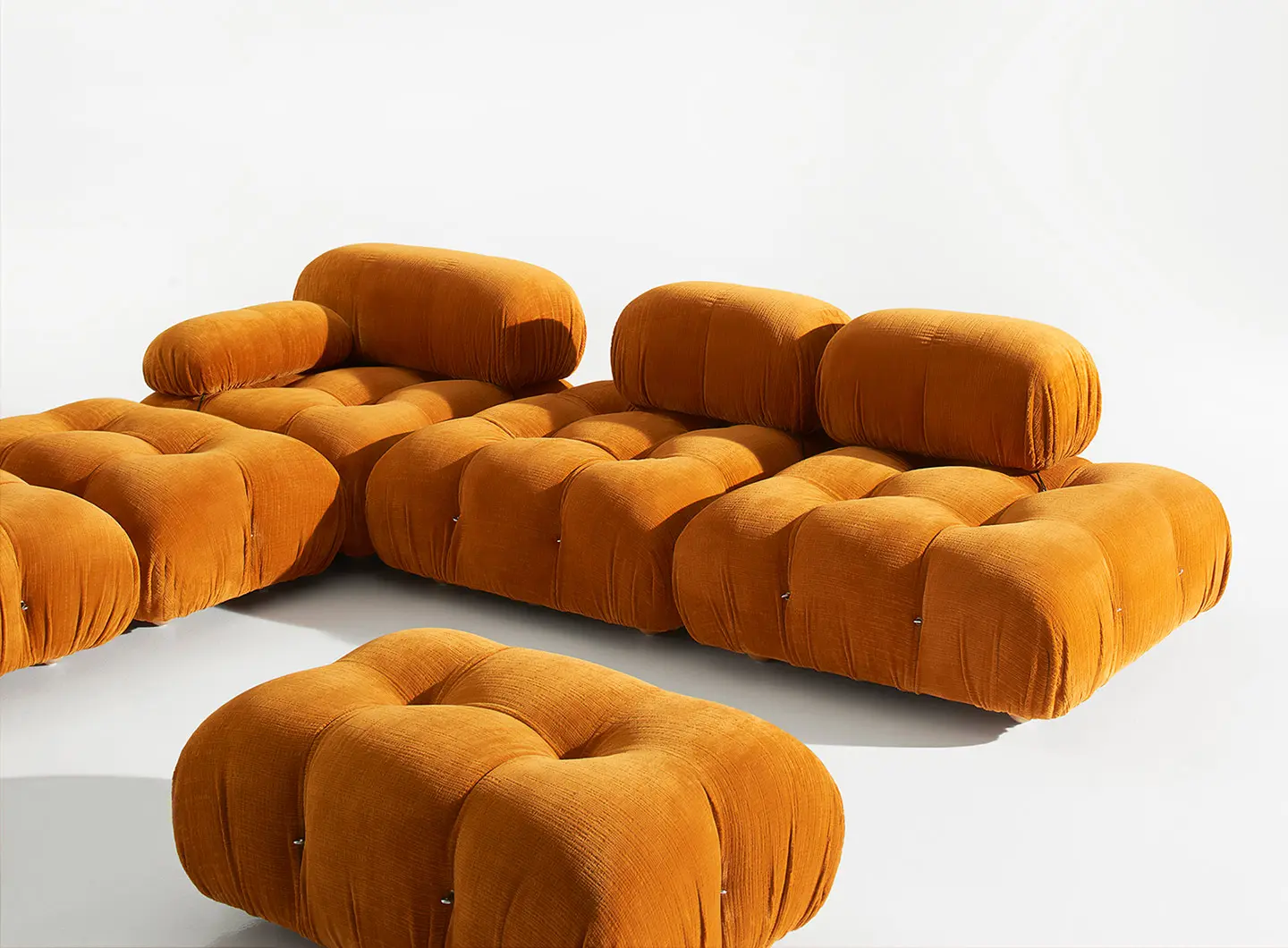 The small Ruff armchair by Patricia Urquiola for Moroso, perfect for those conversations that come about naturally during this season, also plays on a dialogue between different shapes. The wide armrests sit on the sides of the chair, enveloping it firmly, making for a harmonious balance of curved and straight lines, its simple and poetic geometry enhanced by 100% mohair fabric in butterum, a shade that emanates warmth and a feeling of welcome.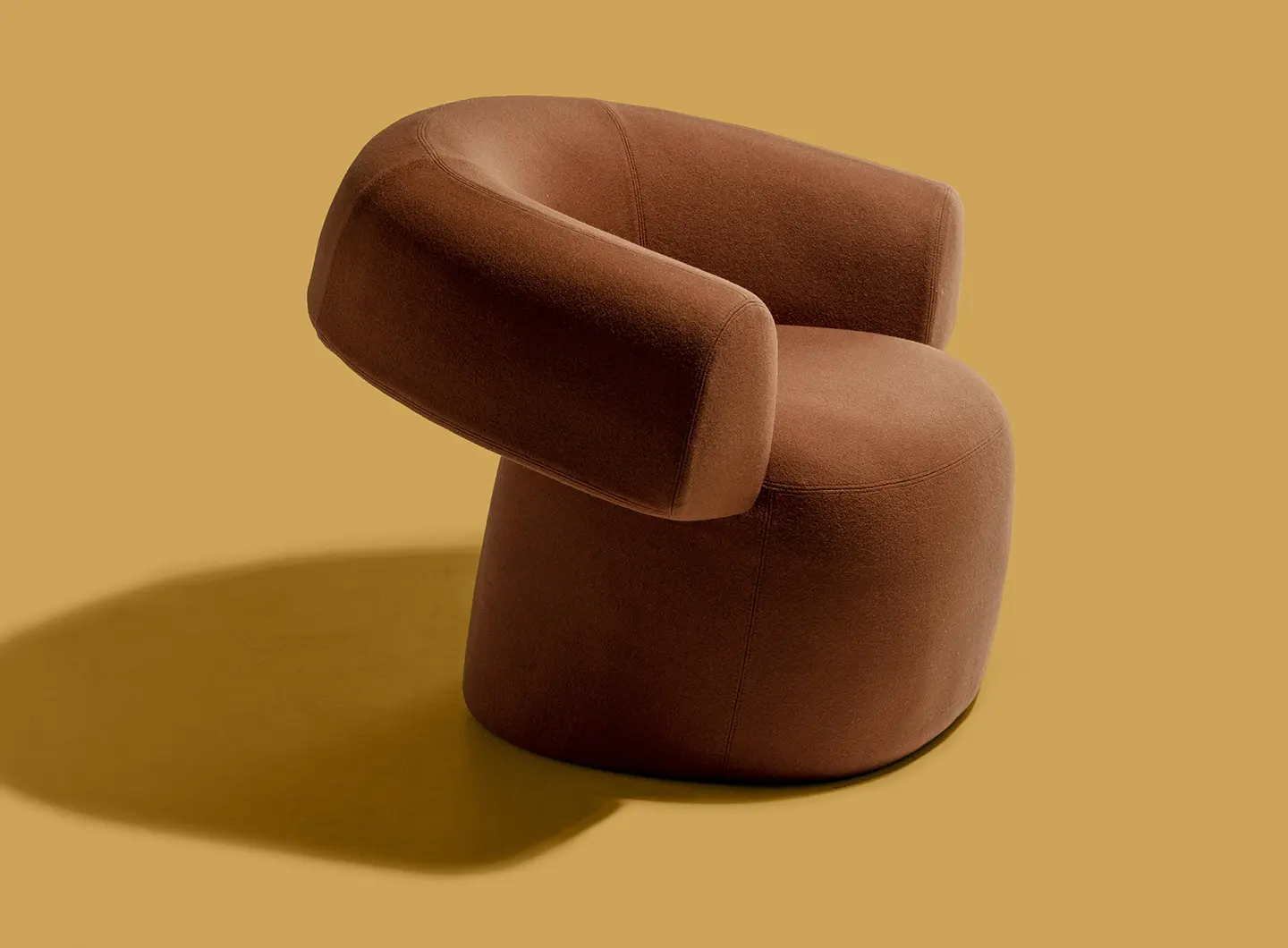 Again by Patricia Urquiola, the Lud'o Lounge chair for Cappellini is extremely soft, eloquent and multi-faceted, an invitation to give into autumn relaxation with the same ease with which one slips on one's favourite coat. Innovative in appearance and ingeniously constructed, this armchair is a design piece that can be "dressed" and "redressed." The removable covers are a founding concept, and can be put on and taken off easily and naturally, and the padding covering the shell removed entirely and substituted with a new one. Most suited to this particular season is pure cotton corduroy in khaki, which adds a welcoming touch devoid of any hint of melancholy, and conveys early autumn brightness into our sitting rooms.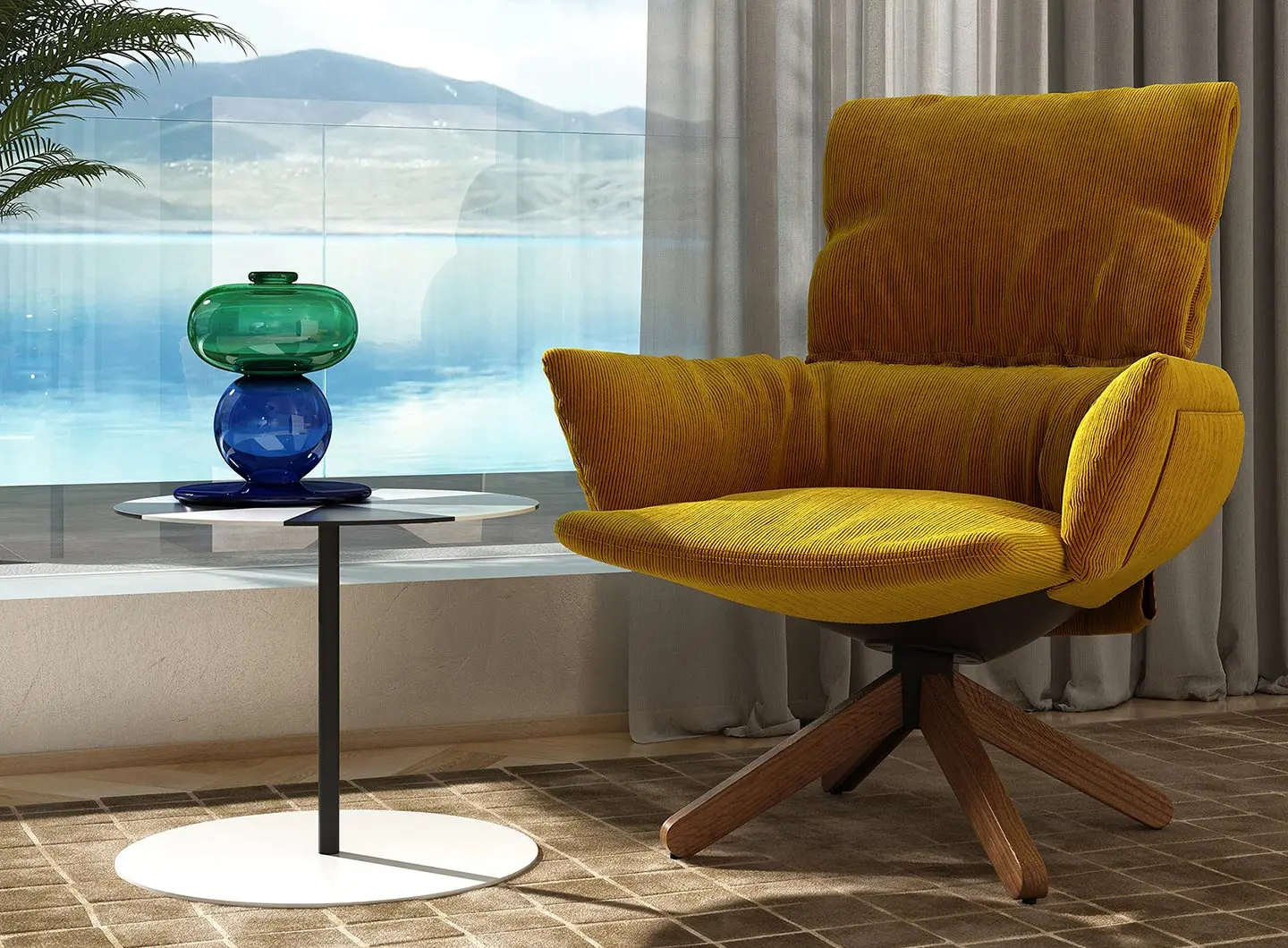 Finishes can also transform spaces. If the walls of one's home look a tad bare, why not go for wallpaper - a tremendously posh option over the last few years - perhaps with a botanical theme, creating lush indoor gardens no matter what the season? Londonart has come up with Out of Focus by Ferruccio Laviani in which the gold background shines, sometimes dazzlingly, through an exuberant floral pattern in raw, silver or green.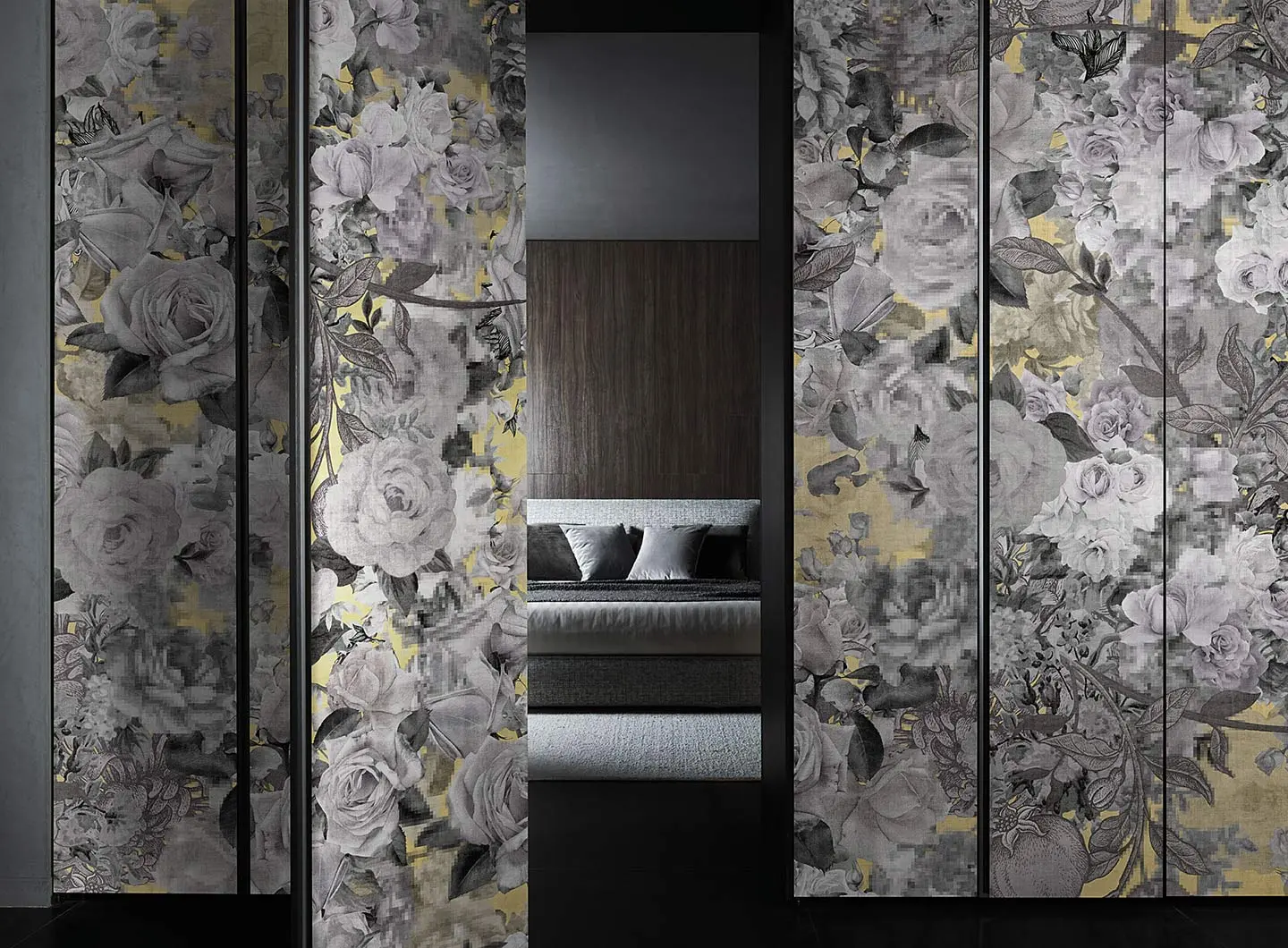 For a more radical wow factor, there are the Terre Arate wall coverings from Lithea in Grigio Billiemi marble and Pietra Pece stone, designed by Martinelli Venezia Studio, which are a material interpretation of autumn on the island of Pantelleria. Once assembled, the characteristic irregularly shaped modules draw on the curved lines painted on the roofs of the dammusi houses. Alternating smooth and grooved lines are reminiscent of the rows of local vines, a homage to the famous zibibbo tree, grown in the typical circular holes to protect it from the strong winds that blow across the island.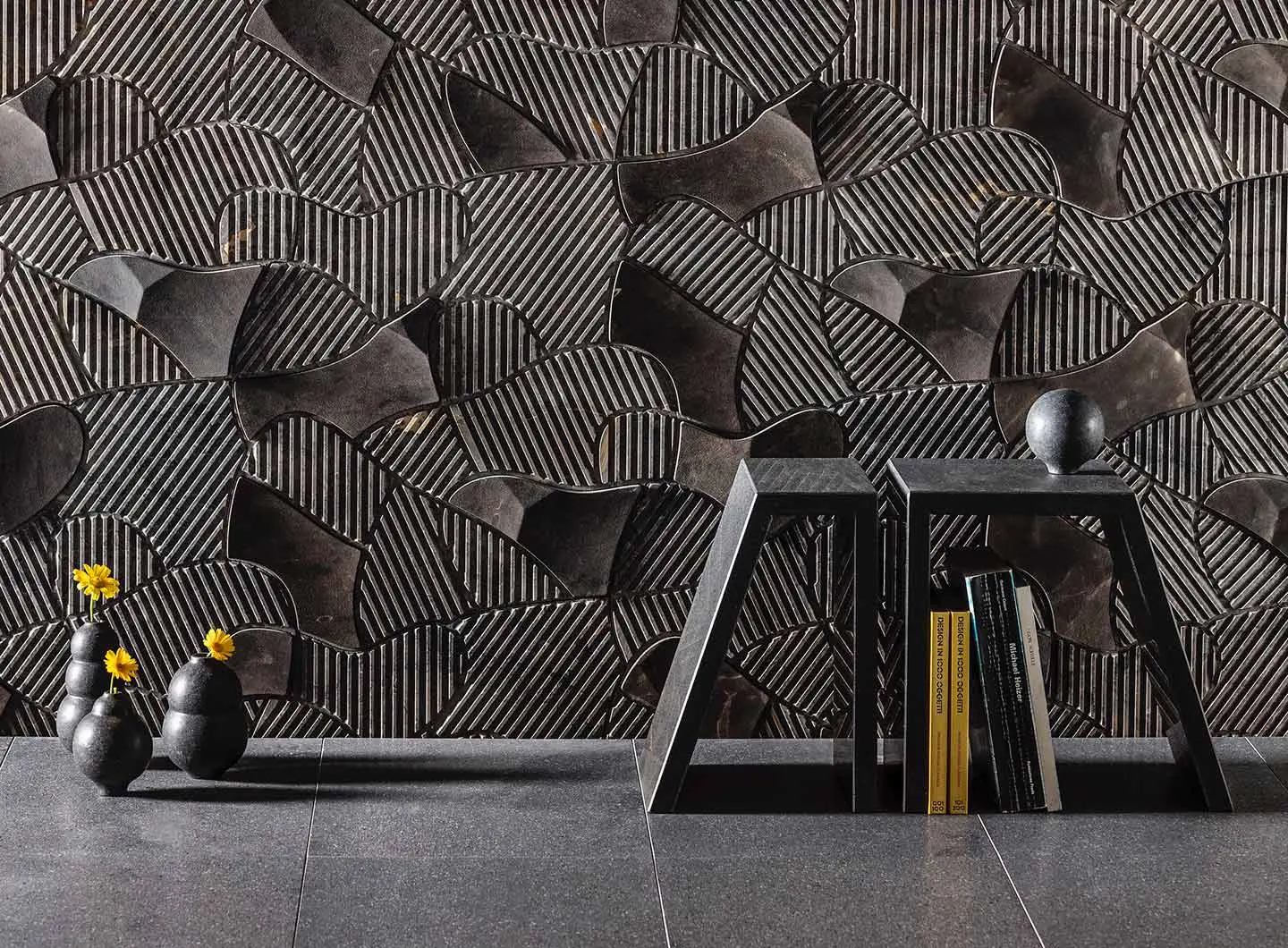 Luxury, from the Dissonanze collection designed by Raffaello Galliotto for Lithos is an abstract and almost futurist marble wallcovering, featuring neat circular incisions finished in gold, copper or bronze. The colourways are sophisticated and extremely bright, striking an iridescent, metallic note and turning a plain wall into a precious surface.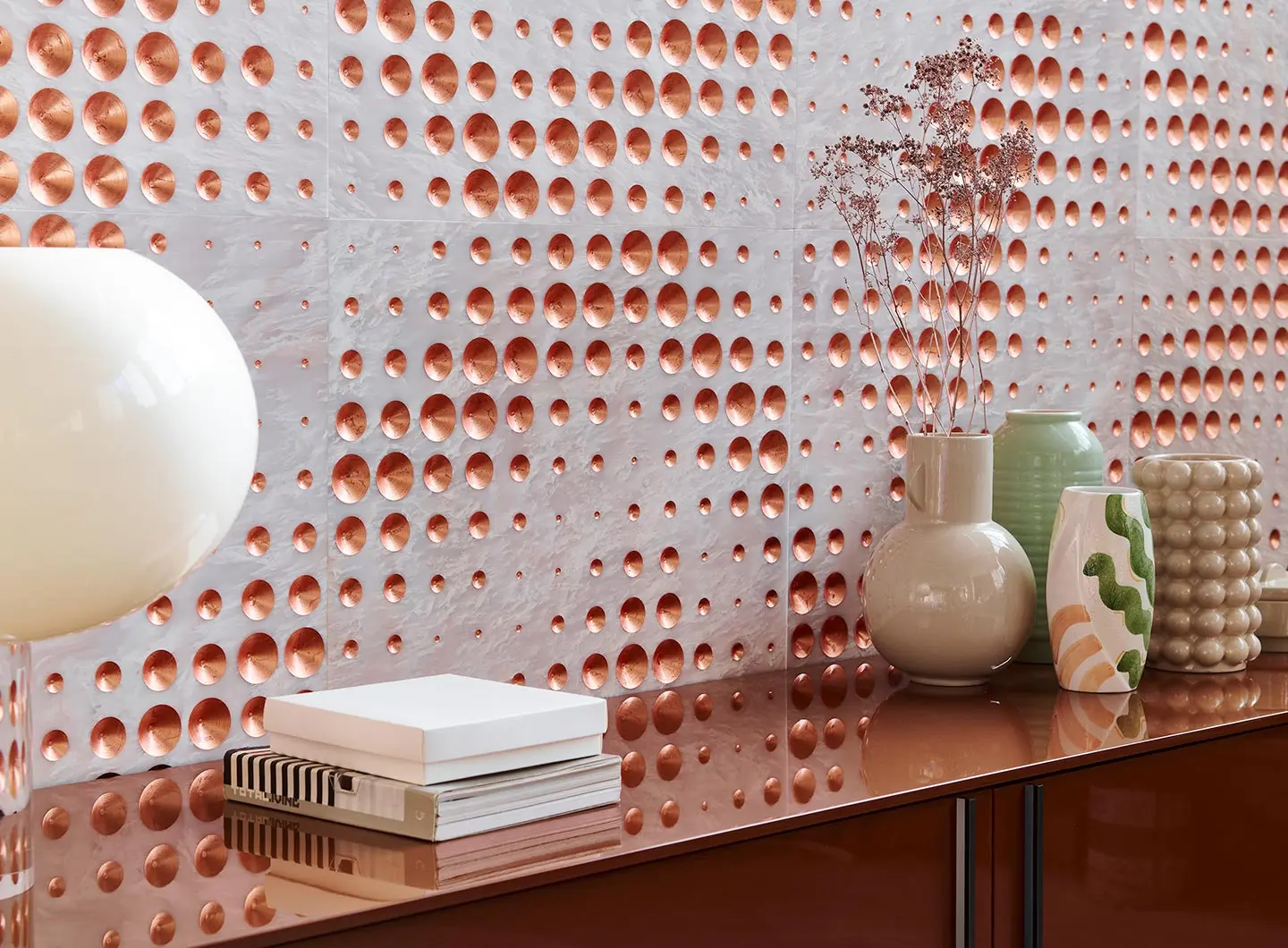 Oxidation, texture, erosion and engraving are what have allowed De Castelli's metals to take on all the colours of foliage to become an identifying motif in the domestic space. The company has moved a step forward with its DecoDe collection, harnessing metals not just as coverings, but as a wall system that interacts actively with the space. The collection is made up of sound-absorbing hexagonal modules, providing a functional, technological and striking solution. The special range of finishes seems to evoke an autumn landscape thanks to the choice of materials and their many different oxidations and finishes.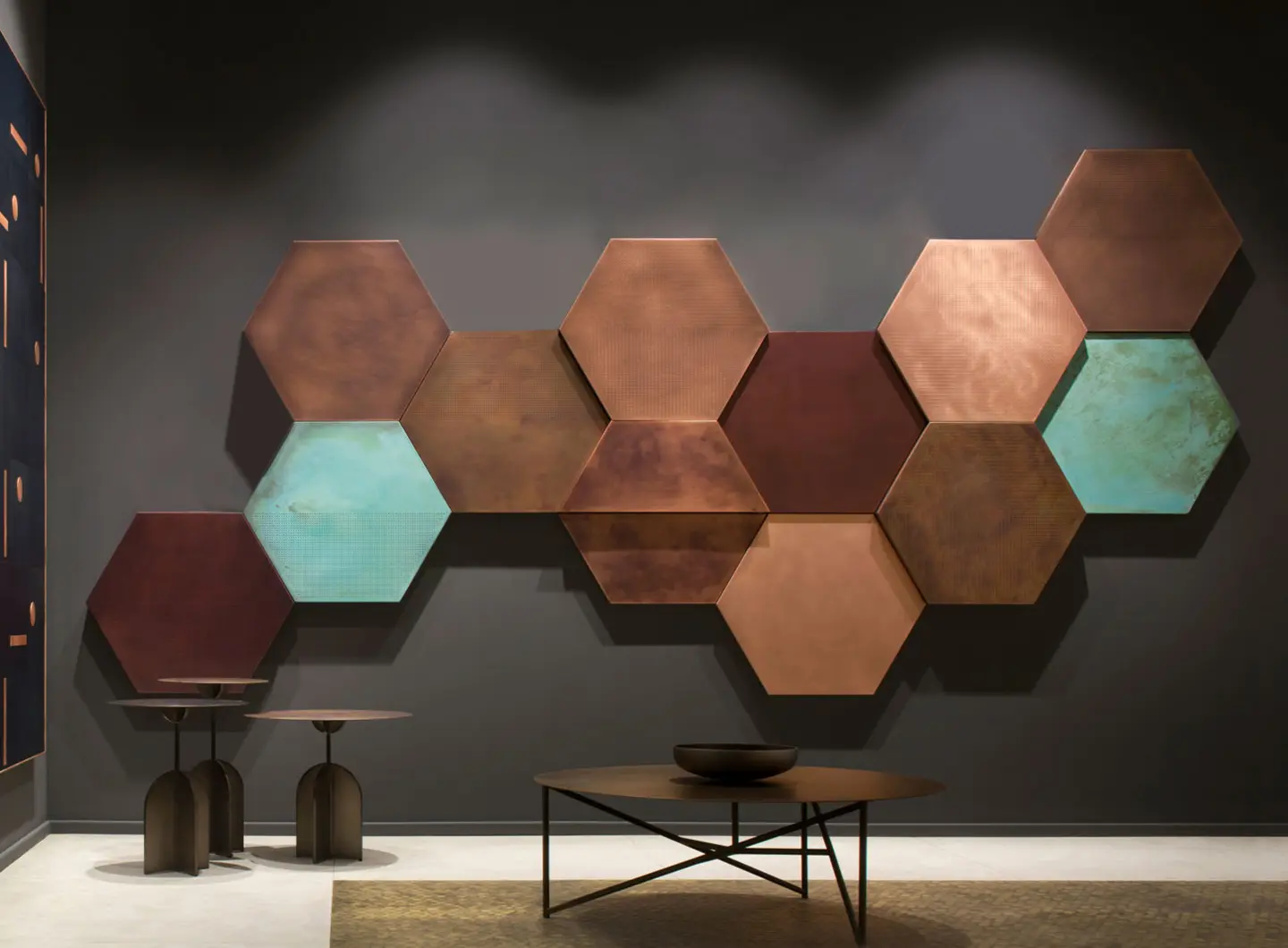 There's more. Autumn triggers a desire not just for comfort, rugs, covers and cushions, but also for soft, cosy coverings and fabrics, and we can't get enough of them! Of them all, rugs are undoubtedly the greatest contemporary living rediscovery, created with a combination of ancient processes and innovative weaving techniques, with graphics and patterns drawn from the art world or from nature. Colour is the real star here: ton sur ton in matching shades or contrasting plays of colour characterise the extended surfaces like real works of art. The Mindscape collection by Mae Engelgeer for cc-Tapis explores the space and the architecture, drawing the spectator into a journey through different spaces, unique abstract yet poetic worlds, which coexist on the same surface. It's also a riot of colour and pattern, a positive stimulus for the senses: the sand, camel, brick, sage green, mid-blue and chypre of the Mimic rug transport us to a welcoming and reassuring environment, in which the cocoon effect is guaranteed.
The September rug, part of India Mahadavi's Garden of Eden collection for Golran, is the quintessence of lyrical autumn. The designer has conjured up a pattern of regular leaves in warm shades of orange, burgundy, brick and purple, which seem to blow about with the wind and, by breaking down the barriers of shape and adding movement, has come up with two different versions: the first is more classical, with its rectangular shape, central decoration, wide borders and symbolic zigzag pattern; the second features a more abstract pattern, reminiscent of a garden springing up, making for an irregular-shaped rug that will adapt to and furnish less conventional spaces.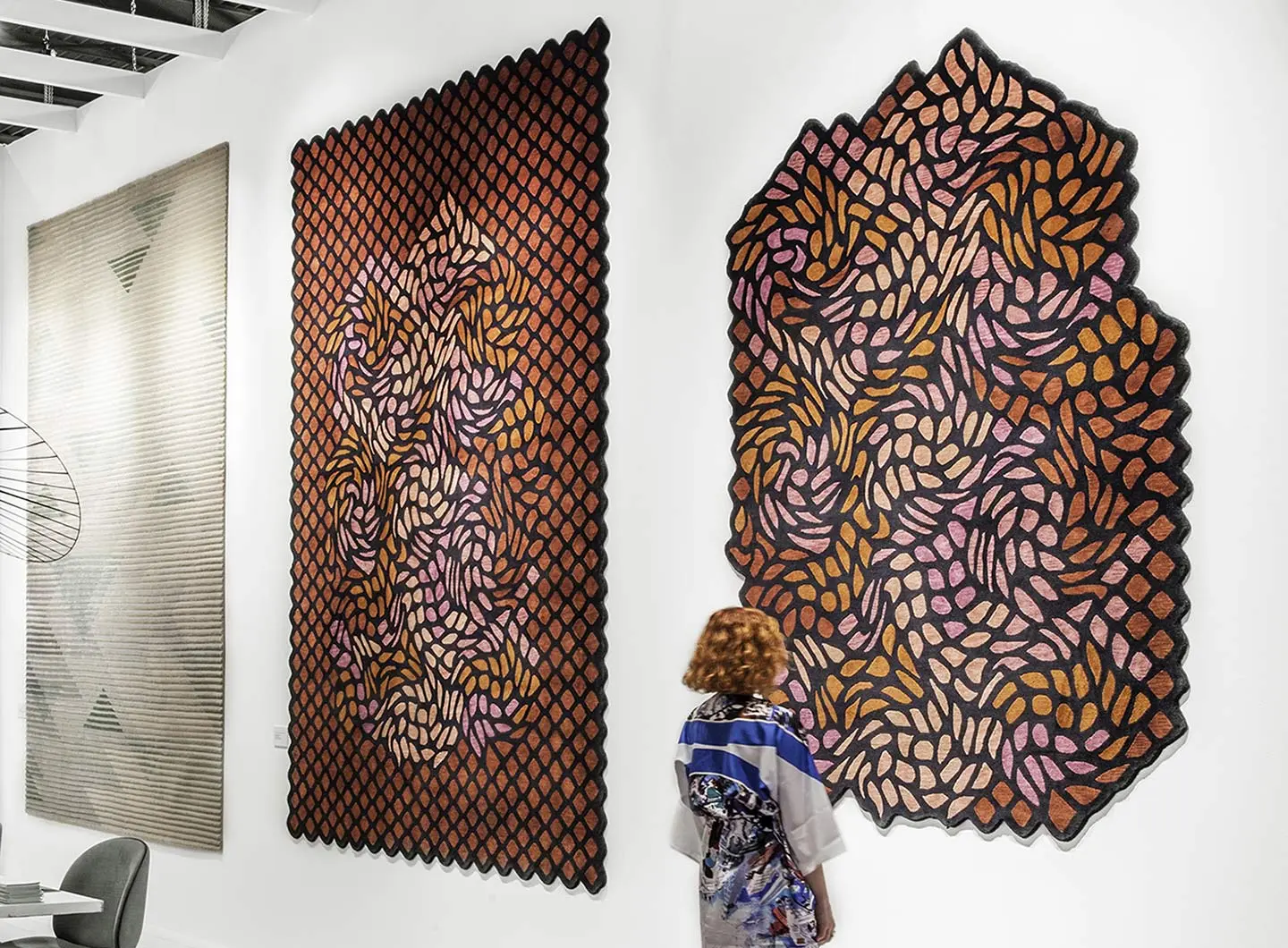 Equally charismatic and creative is the new Colourdisc collection of vases – a fruit bowl and a cylindrical flower vase –produced by Venini for Cassina and designed by Bethan Laura Wood. The British artist and designer, who loves mixing shades, materials, shapes and light creatively, has designed a series of discs and diamonds in Murano glass, cast in metal moulds and placed around a brass volume to set up a graphic dialogue between the contents and the vase itself. An optional amber or horizon blue blown glass vase can be placed inside the structure. Each decorative glass shape combines two spots of colour from the Venini Archive that, when overlapped, create a third colour. When the sun shines onto the discs, the colours are reflected onto the vases, creating a warm, autumnal-hued, kaleidoscopic effect.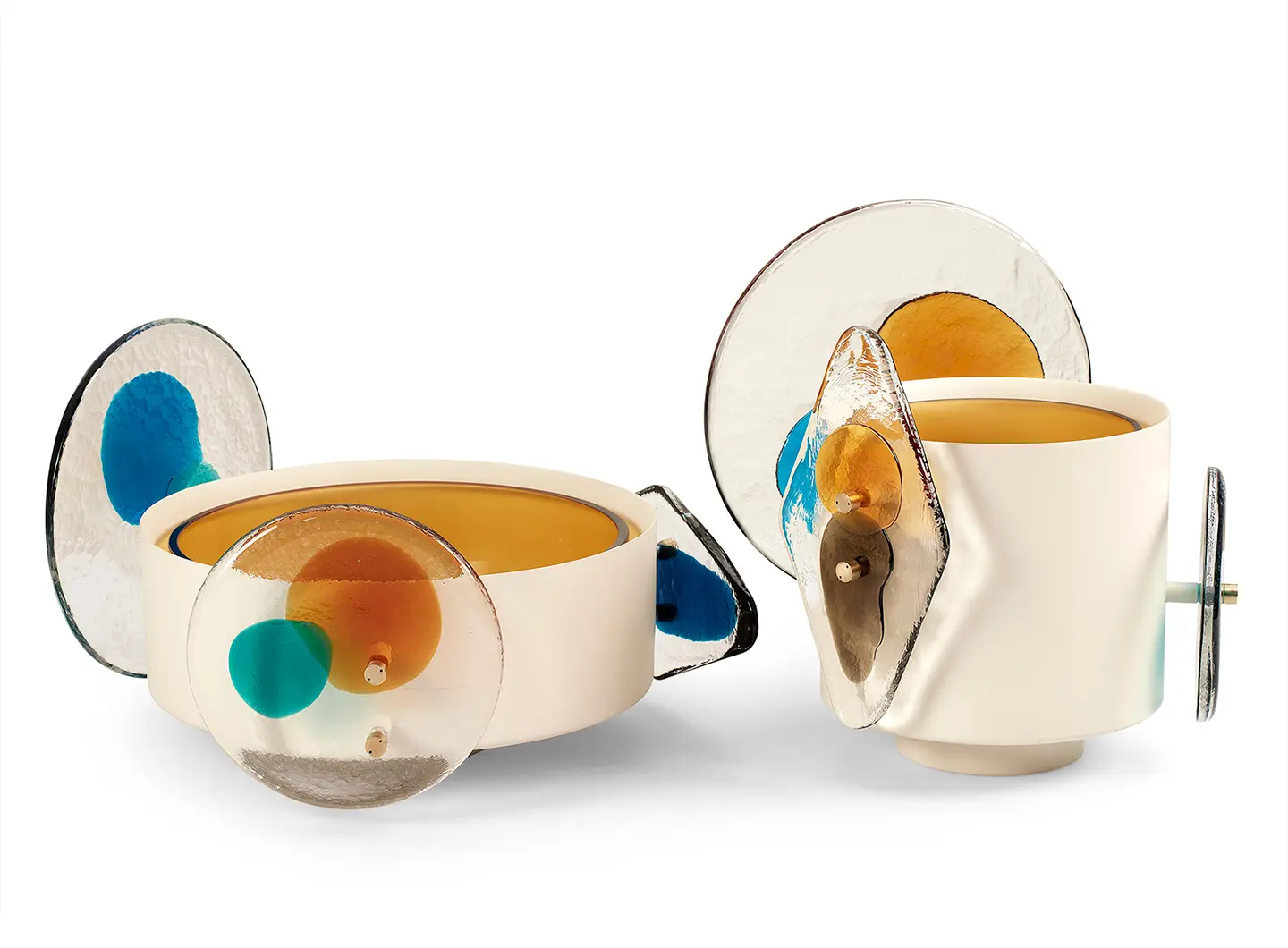 Lastly, when the temperature start to drop and the landscape takes on a russet tinge, it's really time to allow ourselves time out from the frantic pace of our daily lives, with a cup of our favourite tea, perhaps. That could be an excuse for new table settings. Ginori 1735 has come up with the Babele collection in seasonal colours – burgundy, sage green and deep blue - a palette of shades, colours and lines that set up elegant plays of autumnal contrasts. For an even more glam touch, why not turn to mother nature and adorn your table with branches, seasonal fruits and little flowers. The feeling of fulfilment and wellbeing will be complete. With all due respect to the Danish hygge.