Pencil vertical suspension lamp
Pencil è un innovativo modulo luminoso a LED a batteria, portatile e ricaricabile che, grazie agli accessori dedicati, diventa lampada a sospensione verticale.
I supporti sospensione verticale, con corpo in alluminio e tre diverse finiture colore (corten, bianco, grigio scuro), trasforma Pencil in una lampada a batteria portatile e ricaricabile a sospensione verticale.
Dotato di sorgente luminosa a LED, Pencil produce una luce intensa e ben direzionata adatta a spazi pubblici e privati, anche outdoor (IP65). La struttura, a sezione pentagonale, è in estrusione d'alluminio verniciato bianco, corten o grigio scuro; il diffusore è in policarbonato opale satinato. Un dimmer touch a 4 steps permette di calibrare con precisione l'illuminazione di un ambiente, e di scegliere la temperatura di colore della luce tra 2700-3350-4000° Kelvin (bianco dinamico).
Pencil è fornito di doppio sistema di ricarica integrato: a contatto sulla docking station, che può essere utilizzata anche solo come alloggio del modulo, per un utilizzo come lampada da terra o da tavolo, oppure tramite cavo. Grazie alla scheda LED avanzata, un sistema di controllo elettronico monitora l'autonomia residua e garantisce un flusso luminoso costante fino all'esaurimento della batteria, permettendo di ottimizzarne le ricariche ed effettuarle sempre in maniera corretta. La durata della batteria varia dalle 8h alle 58h, in base alla regolazione del flusso luminoso; i tempi di ricarica a 3,16A sono 6 ore per il modulo piccolo, 9 per il medio, 12 per il grande.
Sospesa magicamente
abbracciata o libera
sembri sostenere il peso del tronco.
Esile presenza
ti presti a giocare
in una luminosa danza.

Federico de Majo
Designed by

Federico de Majo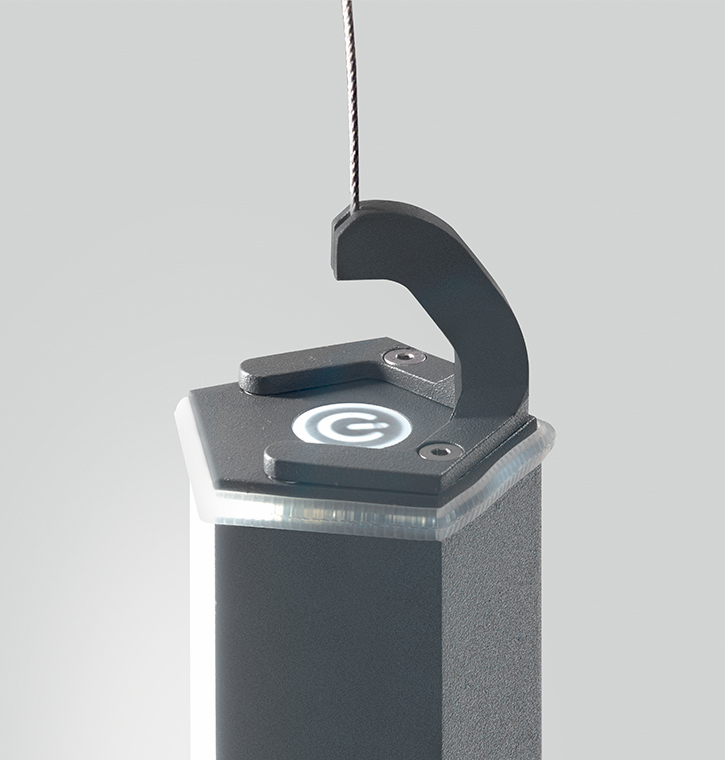 Product Overview
Pencil is a battery-operated portable and rechargeable lighting module that, thanks to the vertical suspension kit, with painted die-cast aluminium fixture in three different colors - corten, white and dark grey-, become a vertical suspension lamp.

Small module finishes: white (LD0800B3), corten (LD0800R3), dark grey (LD0800G3).
Medium module finishes: white (LD0801B3), corten (LD0801R3), dark grey (LD0801G3).
Large module finishes: white (LD0802B3), corten (LD0802R3), dark grey (LD0802G3).
Vertical suspensions kit: white (LD0811B3), corten (LD0811R3), dark grey (LD0811G3).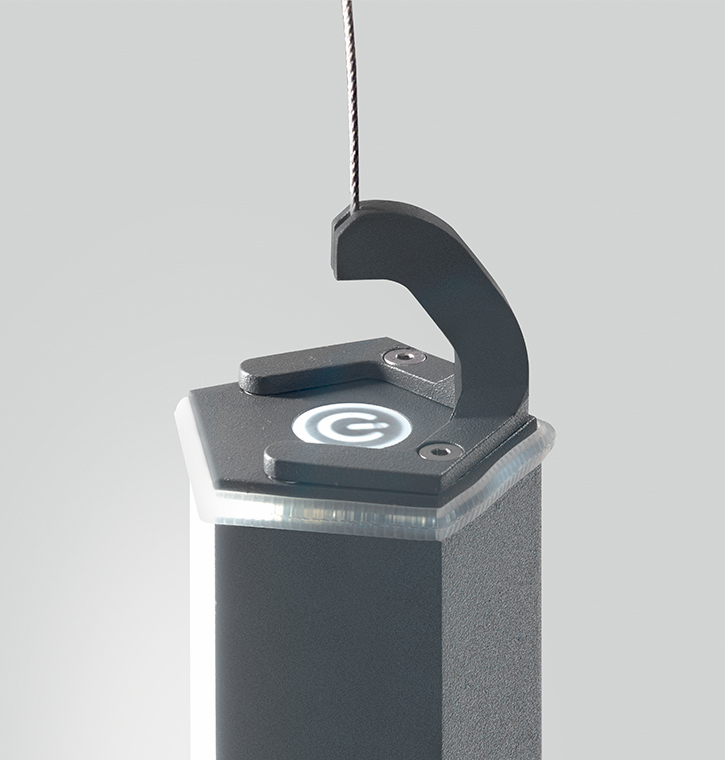 Product name
Pencil vertical suspension lamp
Designer
Federico de Majo
Materials
Aluminium, Policarbonate
Features
Ceiling lighting systems, LEDs, adjustable, wireless
Dimensions
Small module.
height: 50 cm
section: 5,6 cm

Medium module.
height: 98 cm
section: 5,6 cm

Large module.
height: 146 cm
section: 5,6 cm
Product sheet
Pencil vertical suspension lamp

Official website
zafferanoitalia.com

BRAND SELECTION
OUR PRODUCTS