Pencil floor/table lamp
Pencil is a battery-operated portable and rechargeable lighting module, available in three sizes. Thanks to its dedicated accessories, it can become a floor/table lamp.
The docking station, with painted die-cast aluminum fixture in three different colors - corten, white and dark grey-, transform Pencil in a portable and rechargeable floor/table lamp.
Fitted with a LED light source, Pencil creates an intense, well-directed light ideal for public and private spaces, also outdoors (IP65). Its fixture, with a pentagonal cross-section, is made of white, corten or dark grey painted extruded aluminium. The diffuser is in satin opal polycarbonate. Its 4-step dimmer touch control allows you to accurately adjust the lighting in a room and choose the light colour temperature, 2700-3350-4000° Kelvin (dynamic white).
Pencil can be recharged in two ways: either with the battery charger or in the docking station, that can be used also as a lighting module support, connected to a battery charger. Thanks to a state-of-the-art LED circuit board, an electronic control system monitors the remaining autonomy and ensures a constant luminous flux until the battery runs out. Recharging is therefore optimised and always properly done. The battery lasts 8h - 58h, depending on the luminous flux setting. At 3.16A, recharging times are 6h for the small module, 9h for the medium module and 12h for the large.
Magically suspended
embraced or free
you appear to be bearing the weight of a trunk.
Slender presence
you play along
in a luminous dance.

Federico de Majo

Designed by

Federico de Majo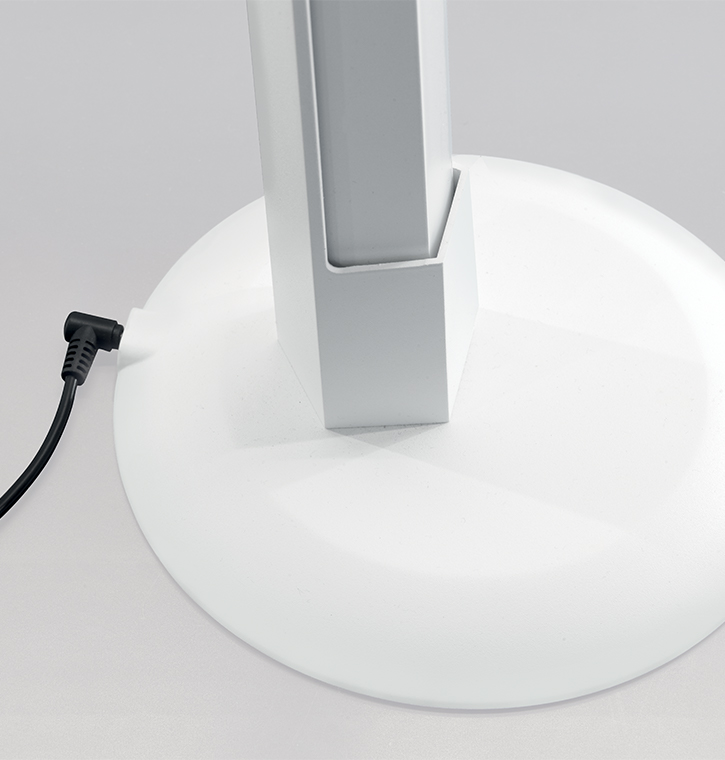 Product Overview
Pencil è un innovativo modulo luminoso a LED con batteria ricaricabile che, grazie alla base di stazionamento, con corpo in alluminio verniciato nei colori bianco, corten e grigio scuro, diventa lampada da tavolo o terra.

Small module finishes: white (LD0800B3), corten (LD0800R3), dark grey (LD0800G3).
Medium module finishes: white (LD0801B3), corten (LD0801R3), dark grey (LD0801G3).
Large module finishes: white (LD0802B3), corten (LD0802R3), dark grey (LD0802G3).
Docking station finishes: white (LD0810B3), corten (LD0810R3), dark grey (LD0810G3).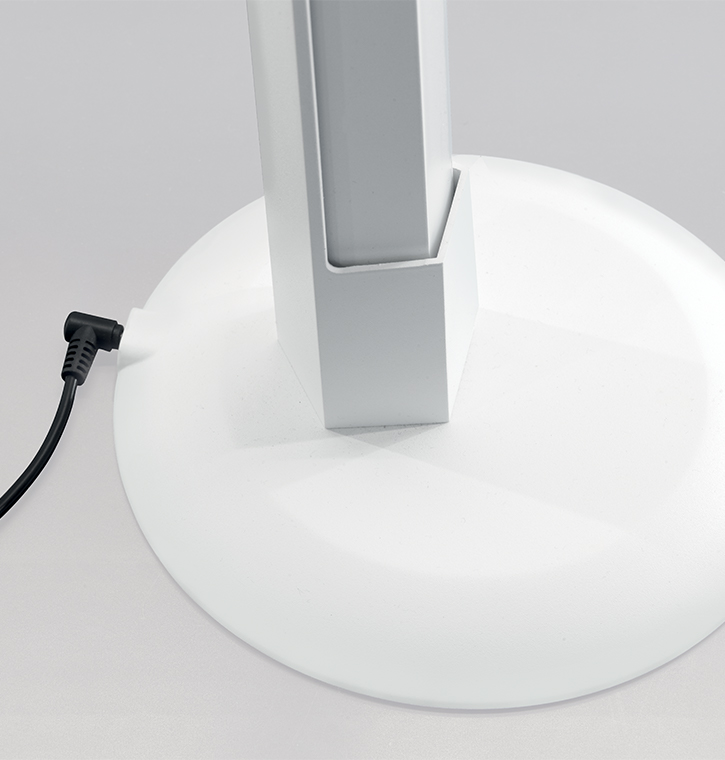 Product name
Pencil floor/table lamp
Designer
Federico de Majo
Materials
Aluminium, Policarbonate
Features
da tavolo, Floor lights, LEDs, adjustable, wireless
Dimensions
Small module.
height: 50 cm
section: 5,6 cm

Medium module.
height: 98 cm
section: 5,6 cm

Large module.
height: 146 cm
section: 5,6 cm
Product sheet
Pencil floor/table lamp

Official website
zafferanoitalia.com

BRAND SELECTION
OUR PRODUCTS