Avenue
Avenue is a modular system for contemporary living. A multifunctional design solution that can be arranged according to the type of space and current needs.
Modular by nature, elements can be placed side by side to create wall systems with minimalist appeal. The vertical grip opening system is both a technical solution and an aesthetic detail. The elements in the collection are available in various sizes, whereas the selection of materials allows furniture to be customised according to tastes, choosing the warm appeal of wood or the elegant etched mirror, the softness of lacquer or the innovative touch of ceramic tiles.
Designed by

ruga.perissinotto & Sciuto Architetti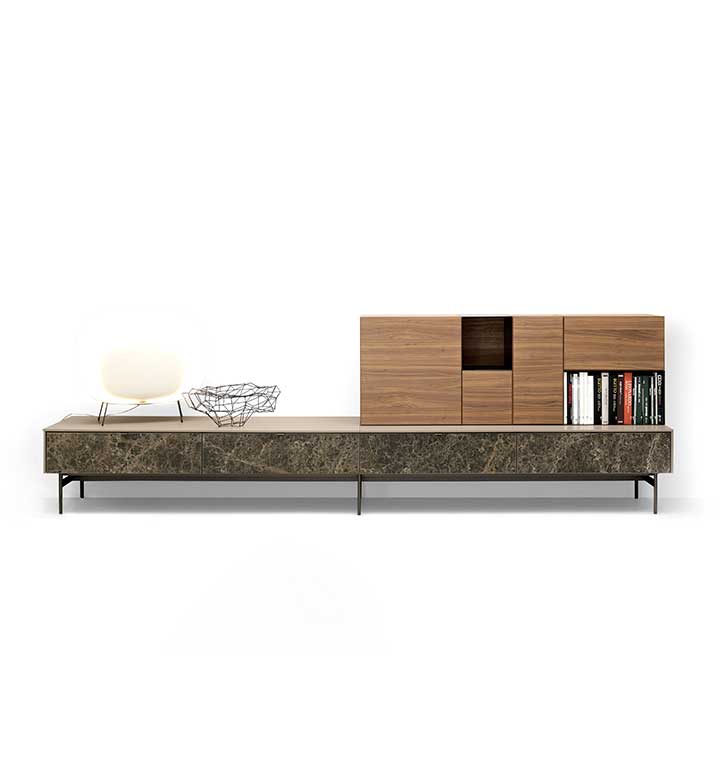 Product Overview
Materials: wood veneer and lacquered units with Laminam and mirro details; Laquered metal accessories and bases.

Bases: floor and suspended bases with drawer or flap door D. 50 cm - 19⅝", 2 heights and 4 widths. Available in 3 versions: GOLA, PROFILO and SIMPLE. GOLA feature is the oblique cut on the handle side with a metal strip to help the opening. Profilo feature is a laquered metal frame with integrated handle, making a frame to the Laminam panel and to the mirror. SIMPLE feature is 4 straight edges and push-pull opening. The wood veneer or lacquer end side is applied making a continuous design with the top. The metal base is available in 5 lacquered metal finishes. Drawers are full-extraction in two finishes, melamine anthracite finish (standard) and metal Legrabox and nero terra opaco.

Wall units: available D. 35 cm - 136/8", 5 heights and 5 width. The structure and the door have 45° edge. The wood veneer and the lacquer finish are outside and inside. The shelf is in smoked glass (standard), in wood veneer or lacquered. The metal unit is available H.32 cm - 12⅝" and in 3 widths.

Accessories and special elements: the compostions can be customised with elements such as metal trays, metal bookcases, metal units, shelves Folding to be used as desk, TV panels and electronic accessories.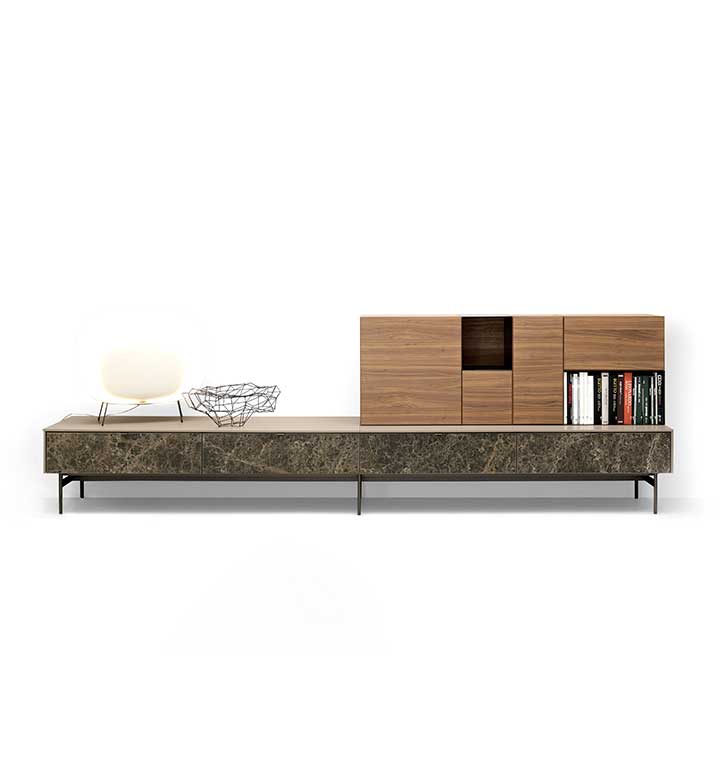 Designer
ruga.perissinotto & Sciuto Architetti
Materials
Steel, Aluminium, Laminate, Wood, Mirror
Features
equipped, fixed, modular
Product sheet
Discover Avenue

Collection
Discover Personal Spaces Day

Official website
Discover MD House

BRAND SELECTION
OUR PRODUCTS