Art in Rolls - Handpainted Wallcoverings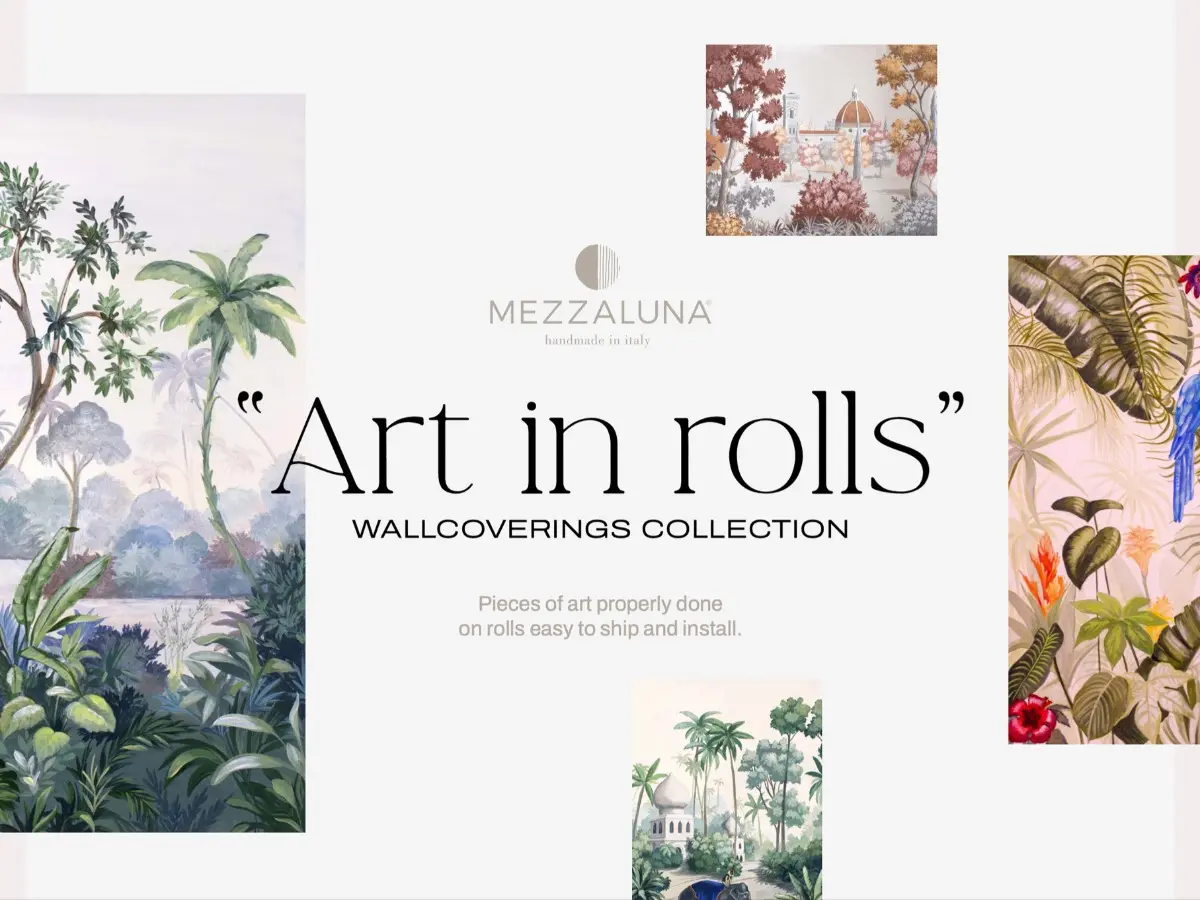 Art in Rolls wallcoverings collection. - Exclusive hand-painted pieces of art made on rolls by Mezzaluna.
Unique creations fully customizable and handmade in Italy, in Deruta, Umbria Region by brilliant decorators and skilled artists with enriched with 3D elements in porcelain, Murano glass, fine leather, lace, metal.
Art in Rolls is the new Collection of hand-painted wallcoverings by Mezzaluna Italia. Real artworks in which contemporary design is combined with high craftsmanship.
It's not properly wallpaper, it's pieces of art done on rolls. It 's a way to bring art everywhere with a low environmental impact: doing it in our studio and also shipping large surfaces in small boxes means producing piece of art in compliance with environmental sustainability.
Thanks to our experience, skills and production capacity, we are able to create even large surfaces, guaranteeing the same level of quality and harmony from the first to the last meter.
They are handmade by incredible decorators and skilled artists with materials of ethical and sustainable origin, painted with water-based colors and embellished with 3D elements in porcelain, Murano glass, leather, lace metal or other
Each support is made to last, using ethically sourced materials. It's PVC free and has the European certification of fire resistance EN13501 (C-s1,d0). Thanks to special finishes they are also suitable for wet areas.
Art in rolls wallcoverings are unique creations fully customized with elements of paint and matter: from material decorations such as pastes, fabrics and gold leaves to the 3D applications in porcelain, Murano glass, leather and metal. Each project is the result of an accurate research and creative process to be developed as a tailor-made suit, offering maximum freedom to create compositions and combinations on-trend residential and contract settings.
We explore issues chosen by customer, we follow his tastes and preferences, finishes and style. We create a series of exclusive and unrepeatable designs.
This is how Art in Rolls wallcoverings becomes an artwork. Easy to ship and install.