Aracea
Aracea is a lamp inspired by a liana with large oval and heart-shaped leaves.
Delicate and at the same time iconic presence, it is the result of a thought on the natural / artificial dichotomy as a constant /variant of the relationship between man and nature.Natural shapes simplified until they become the components of a functional object.The LED light source, like lifeblood, passes through the central rib of the leaf producing a direct lighting also directable, simulating the natural movements of a leaf. The lamp is equipped with a handy dimmer system that allows you to modulate the light intensity in order to ensure visual well-being.The floor, wall, table, suspension and sky-floor lamp are available.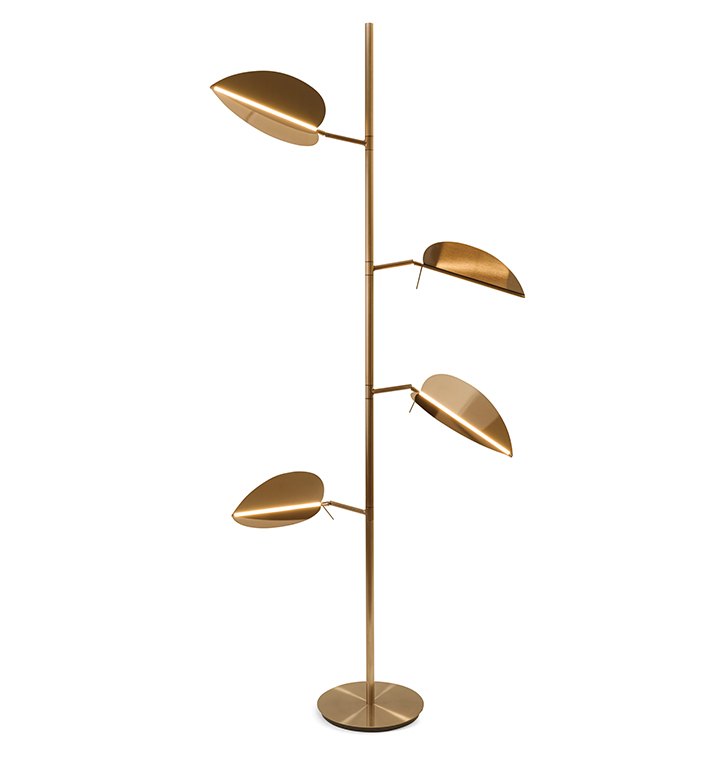 Descrizione prodotto
Suspended lamp in brass and satin aluminium with four "leaf-shaped" lights in stainless steel. Linear LED light source. The rotation and the inclination of all the leaves can be adjusted. Available in any lacquer included in the metal finish selection, the upper face of the "leaf" in polished finish and the lower face in satin finish. Absorbtion power 12W, weight 25 kg. This model is equipped with long-life LED light sources integrated into the lamp structure, which cannot be replaced by the user.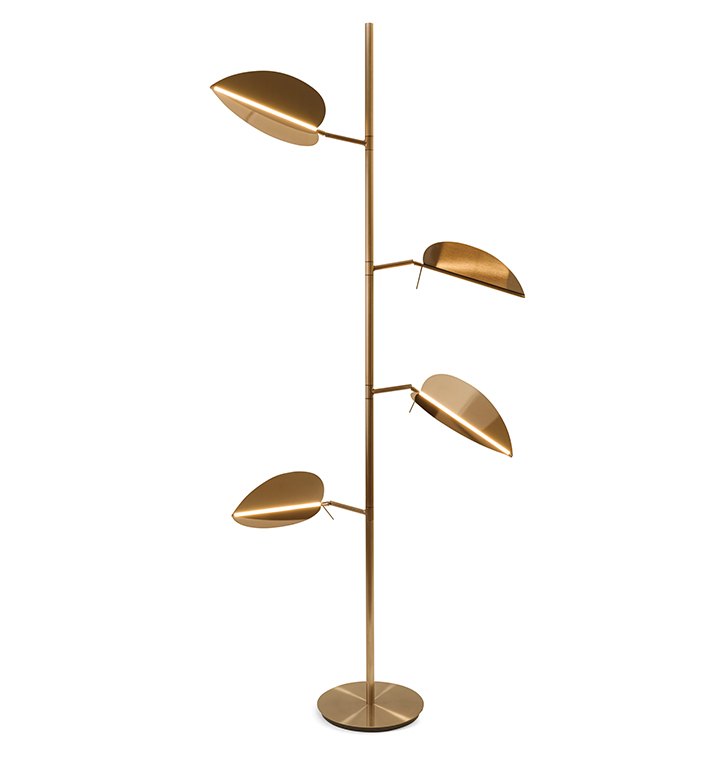 Materiali
Steel, Aluminium, Brass
Caratteristiche
Wall-mounted, da tavolo, Floor lights, adjustable
Dimensioni
floor lamp 81x61 H. 204 cm
table lamp 91x30 H.79
floor to ceiling lamp 85x76 H.264 cm
suspension lamp 81x61 H. 206 cm
wall lamp 69x48 H.70 cm

Scheda prodotto
scheda prodotto su sito ufficiale Visionnaire

Collezione
collezione Beauty 2020

Sito web ufficiale
Visionnaire official website

BRAND SELECTION
OUR PRODUCTS