T1.2 Gold limited edition
Teckell T1.2 is a pool table with no rivals.
Its side walls evoke the rippling ocean. Bathed in light, gold glimmers even more, its timeless beauty magnified.
"The biggest challenge was to combine the will to preserve the purity of the architecture lines in glass with the need to guarantee the stability of the table and to respect the game's rules. "- Marc Sadler, Teckell T1.2 designer.
Teckell innovations stand in any T1's component, made possible thanks to the great team work among Teckell's artisans and Studio Sadler.

Chameleon at heart.
The collection's models, renowned for their exceptional quality, add a dramatic presence to any room. When Teckell T1.2 entered the scene, a star was born. An instant classic, it has become the Teckell Biliardo collection's signature table.
Luxurious yet seductively simple, the table dovetails well with minimal and all white and black interiors as well as those that are provocative and bold.


One of a kind.
All Teckell Pool Tables are made by Master Craftsmen. Generations who cut crystal, carve wood and mill metal to create the one-of-a-kind pieces in our collections. Teckell T1.3 Gold limited edition also features the possibility to be customized with the name of its owner: one of a kind.
Gold lacquer.
Teckell T1.2 pool table's side walls evoke the rippling ocean. Bathed in light, gold glimmers even more, its timeless beauty magnified.
Eclectic with a click.
Side walls feature an exclusive system of interchangeable, magnetic covers to match the owner's personality.
To guarantee the ultimate pool playing experience without skipping a single detail, Teckell covers its pool tables with renowned Simonis® 860™ worsted wool playing surfaces. The same ones that the pros use. Available in 25 different colors, you will easily find the ideal complementary or contrasting shade that looks just right in the room.
With Teckell Biliardo Collection of pool tables, your game room can have a unique, customized style.
Included with each Teckell Pool table:
• Cue set (4 Teckell® cues + Stella Bridge Kamui® + 30cm extension 3lobite System® + pool cue chalks set): Teckell® cues are accurate, versatile and extremely high performing. They can be disassembled and are composed of:
Solid black lacquered hornbeam wood featuring the Teckell logo and protected by two vintage bakelite rings and an XP steel pin;
Forearm made of Canadian maple wood with leather tip and brass XP bearing for a professional-level pool game.
• Pool balls (1+15 balls): Super Aramith® Pro billiard ball set for American pool: 1 cue ball + 15 regular game balls.
• Game triangle (fits 15 American pool balls): made of black brushed aluminum with polished chrome-plated brass joints. Textured stainless steel finish featuring the Teckell® logo. Suitable for 15 standard-sized balls (American pool).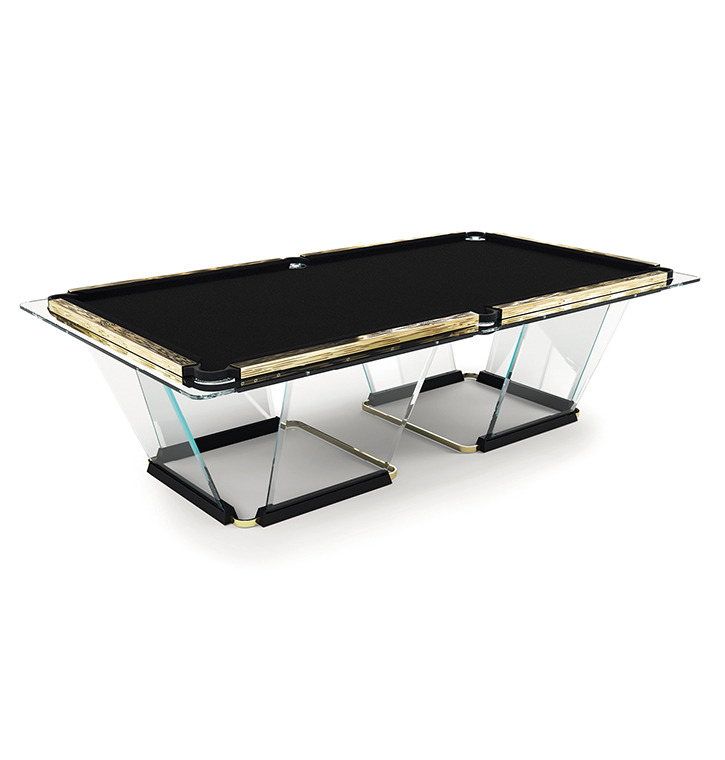 Product Overview
Teckell T1.2 Gold limited edition: timeless beauty magnified.

Details:
• Legs made of clear tempered crystal at least 15 mm thick with double-bevel edges.
• Bases in solid oak which has been ebonized (a reaction that turns black the open pore wood) with a shiny stainless steel structure. Precise leveling system utilizing 12 screws hidden inside the table's wooden base.
• Side walls feature an exclusive system of interchangeable, magnetic covers. Gold lacquer finish.
• Plug-and-play system: cloth stretching technique that is easy and flawless for a perfectly even playing surface.
• Playing field made of a single sheet of tempered crystal at least 15 mm thick.
• Playing surface cloth: Simonis® 860™ worsted wool, available in 25 colors. Installation of a soundproofing polyurethane layer below the cloth.
• Each table created using only computer numerical control (CNC) machines which ensure unrivaled precision.
• Polyurethane bumpers: classic pockets have been replaced by highly flexible polyurethane pockets that can hold three playing balls and return to their original shape when emptied.
• Designed for indoor use.

Included with each Teackell Pool table:
• Pool balls (1+15 balls)
• Game triangle (fits 15 American pool balls)
• Cue rack (fits 7 cue sticks)
• Cues set (4 Teckell® cues + Stella Bridge Kamui® + 30cm extension 3lobite System® + pool cue chalks set)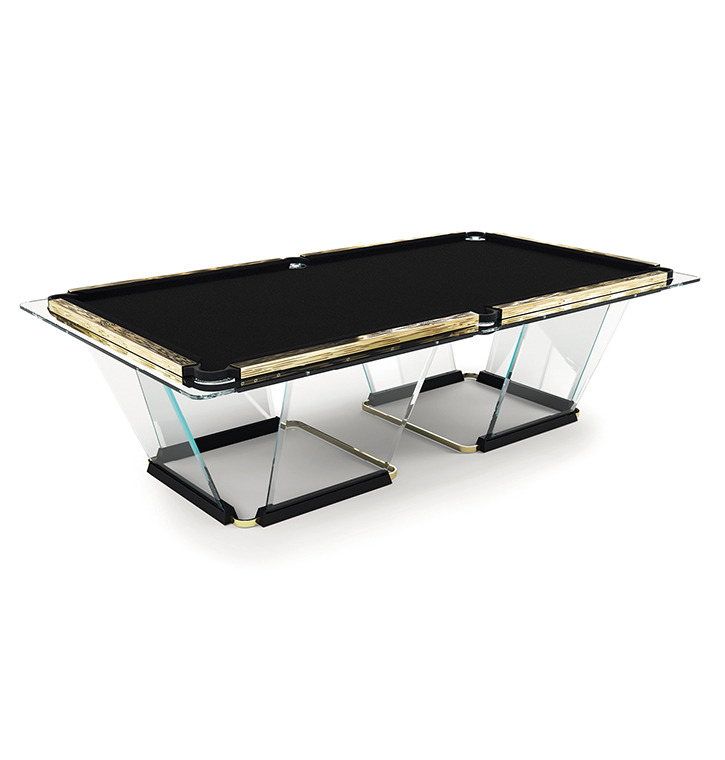 Product name
T1.2 Gold limited edition
Materials
Aluminium, Crystal, Wood
Dimensions
9-feet size:
L 290 W 163 H 82cm 400 kg
L 114 ¼ W 64 ¼ H 32 ¼ inches 882lbs

Product sheet
Download Teckell T1.2 Gold limited edition product sheet

Collection
Teckell T1.2 Gold limited edition

Official website
Discover Teckell

BRAND SELECTION
OUR PRODUCTS