Technogym Bike
Category: Gym and fitness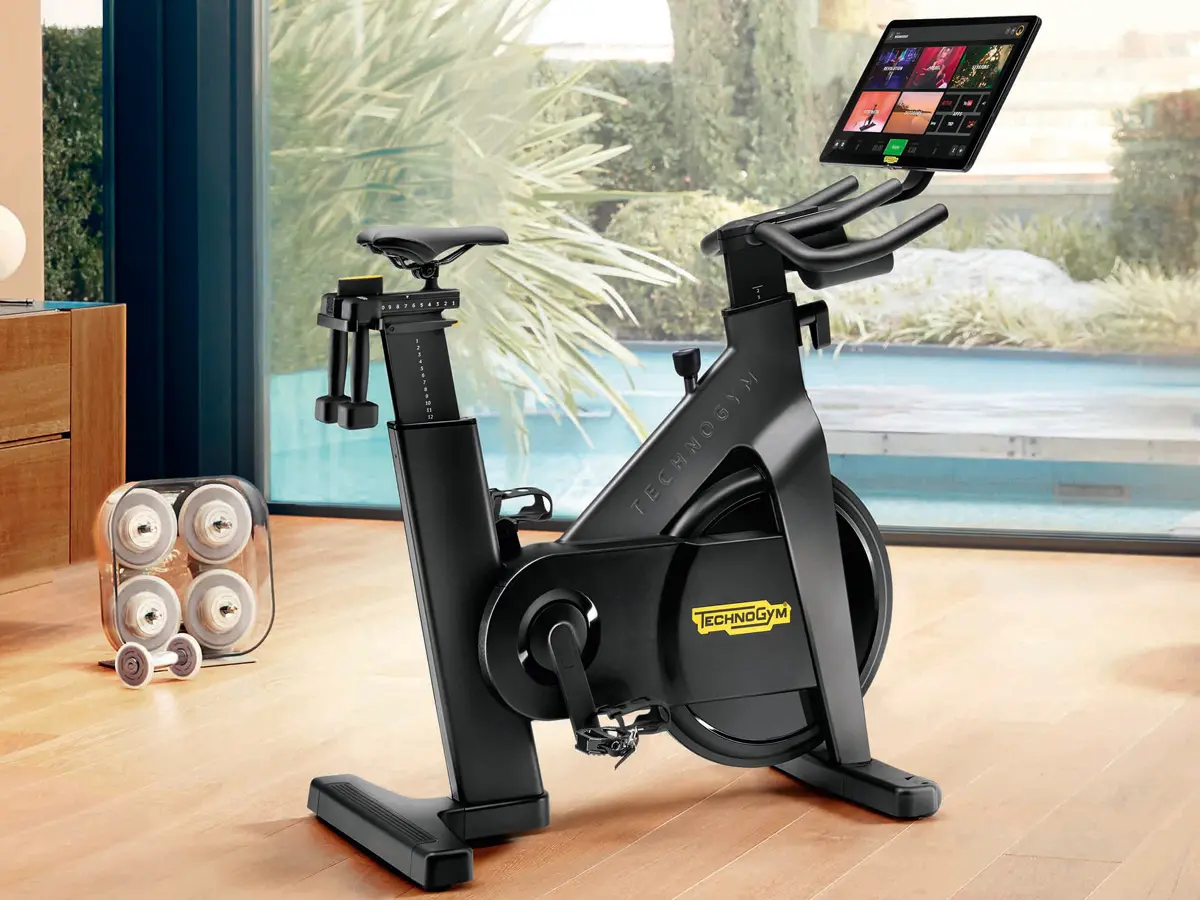 TECHNOGYM BIKE: ONLINE WORKOUTS AND UNLIMITED ENTERTAINMENT
With the new TECHNOGYM BIKE, you can choose your favorite training experience from a wide variety of live and on-demand workouts and enjoy your favorite entertainment contents
TECHNOGYM BIKE is the professional home fitness bike designed to provide you with the best training experience and entertainment. Whatever your fitness level and objectives, with TECHNOGYM BIKE you can choose your favorite workout from a wide variety of content: group cycling classes, one-one-one trainer led sessions, virtual training in amazing outdoor scenarios and even off-bike bodyweight workouts. When it comes to entertainment, the new TECHNOGYM BIKE console allows you to access your favorite options (Netflix, Youtube, TV channels, social media, news and games) or stream your personal content from your devices.
The integrated 22" tilting display allows you to perform also bodyweight exercises and follow:
WORKOUTS WITH AN EXPERT WITH TECHNOGYM SESSIONS
A variety of trainer-led workouts designed around your objectives: weight loss, start moving, strength training, etc. The trainer will guide you while you can check your performance data on the screen and adjust the intensity level anytime.
THE MOST SOUGHT AFTER FITNESS TRAINERS CLASSES
With Technogym bike you can join your favorite indoor cycling class live or on-demand led by the most famous trainers in top studios in different cities in the world, such as 1Rebel in London and Revolution in Milan. Technogym bike allows you to join a live class or choose an on-demand one – based on trainer, music and duration - from the comprehensive on-demand library.
VIRTUAL OUTDOOR TRAINING: ride in breathtaking locations that will inspire you to go that extra mile! There are over 25 different natural and urban landscapes to captivate you while working out.
OFF-BIKE BODYWEIGHT EXERCISES
Add bodyweight strength exercises to your cardio workout. Hop off the Bike and follow the trainer on the Bike console. The tiling console ensures you the best viewing quality from any workout position, both next to the bike and on the floor.
TECHNOGYM BIKE
Technogym Bike is a professional product, that allows you to train at home with the same quality you would find at the gym. The new Technogym Bike is the result of Technogym's thirty-year experience in the industry - today present in 80,000 fitness centers in over 100 countries.
Biomechanics is developed by Technogym's Research Center that has been collaborating with the best universities and sports champions around the world for many years.
TECHNOGYM BIKE offers users scientific tracking of their power output (watts) and unrivalled user-friendliness thanks to a patent-pending on-the-fly system that enables to find the perfect position of the handlebar and seat with one simple touch.
The flywheel resistance system is equipped with the strongest type of permanent magnets, the neodymium, to assure the smoothest and most consistent ride, the flywheel is locked to guarantee greater safety. Intuitive graphics and tactile clicks every 45° make adjustments, between the 20 resistance levels, incredibly easy and accurate. In addition to this, Technogym Bike offers you the best road feeling effect thanks to a Q factor of 155 mm (distance between the outside of one crank arm).   
BRAND SELECTION
OUR PRODUCTS