Times Lounge
It is called times just like the famous font and has the incisiveness and straightforward style of a typographical project.
This bed embodies Poltrona frau's new vision. An elegant lightness where nothing issuperfluous and everything natural.
And where every element seems to promote rest and relaxation.
The end product is an item designed to complement the armchair and further enhance the experience of comfort, but it is also able to stand alone and be used as a temporary seat.
Designed by Spalvieri & Del Ciotto for Poltrona Frau, the Times Lounge armchair has a sophisticated and ultra-light structure and a cover which naturally assumes its forms like a tailored suit, making it soft and welcoming. The Times Lounge pouf follows the same conceptual lines. 
The structure of the Times Lounge armchair is made from solid ash in a moka or wenge stain.
The wood has a visible circular cross section and an oval cross section for the lower connecting beams.
The armchair cushion support embraces the wooden structure and is made from Pelle Frau® leather.
A supporting technical textile located under the seat acts as a spring. The seat and backrest cushions are padded with polyurethane foam and polyester wadding while the armrests are padded with polyester wadding. The lining of the backrest and armrest cushions is stitched as a single element, the lining of the seat cushion is separate and attached to the rest of the lining.
The cushions are secured to the structure using hidden zips and snap buttons.
The cushions can also be covered with Pelle Frau® leather or fabric. In both cases the cover can be removed. An additional cover can be purchased separately.
The structure of the Times Lounge pouf is in solid ash and is distinctive for its two circular-section stands at the sides connected by two oval-section bars which echo the design choices of the armchair.
It is available with a moka- or wenge-stained finish. A band of Pelle Frau® leather forms the taut surface over which the second padded cover, in polyurethane foam and polyester wadding, is positioned.
The upholstery is available in Pelle Frau® leather or fabric. In both cases the upper padded cover can be removed.
Designed by

Spalvieri & Del Ciotto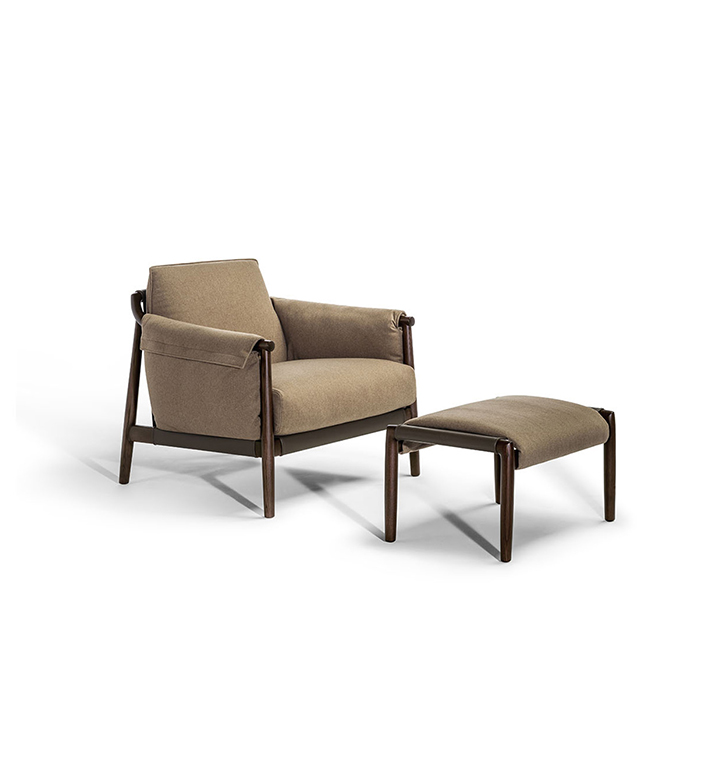 Product Overview
Designers Spalvieri & Del Ciotto took their inspiration from the design principles of the Times bed to create a timeless seat which combines an advanced construction technique with understand and mellow contemporary aesthetics.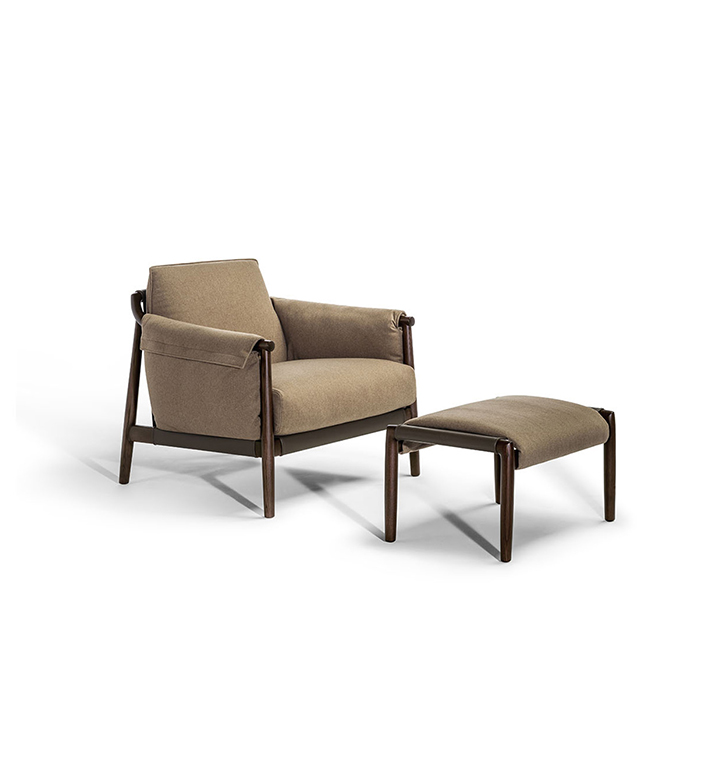 Product name
Times Lounge
Designer
Spalvieri & Del Ciotto
Materials
Wool, Wood, Leather, Poliestere
Product sheet
https://www.poltronafrau.com/times-lounge

BRAND SELECTION
OUR PRODUCTS