Ginger Ale
Comfortable, versatile, elegant, the Ginger Ale armchair is just at home in the workspace, as a workstation or meeting room chair, as it is in the domestic setting, in the study or dining room.
The Ginger Ale armchair is the simplified and more informal variant of the Ginger armchair, a very successful seat in the Poltrona Frau catalog.
To cater for all needs, Roberto Lazzeroni has produced four variants: with four-leg base, with four-spoke base, with five-spoke base and castors (fixed or adjustable height) and with column base (fixed or swivel).
The external shell is made from moulded thermoplastic composite polymer and available in the colours "anthracite" and "cement". The padding is in polyurethane foam and the inside surface of the seat is upholstered in Pelle Frau® leather. There are two variants of the Ginger Ale base: with "anthracite" or "cement" lacquered finishes that match the shell.
The 4-leg model has a metal base formed of four conical feet, available with plastic caps or adjustable plastic caps with felt pad. The 4-spoke base is in steel with black plastic adjustable caps equipped with felt pads. 
The 5-spoke base with castors is made of steel and available in both the 360° swivel version with fixed height and the version with gas spring to adjust the seat height.
The wheel support is in black plastic for the lacquered versions or chromium-plated in the chromium-plated version.
The Ginger armchair with column base has a steel base with black plastic caps.
It comes in the fixed and swivel versions. The latter has a shock absorbing device and automatic return to the starting position.
Designed by

Roberto Lazzeroni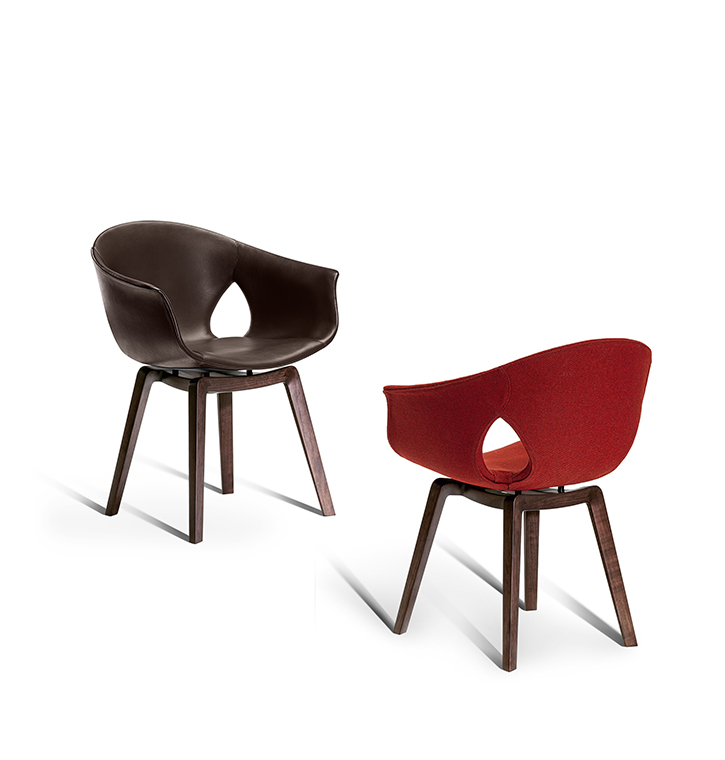 Product Overview
Fresca, ben disegnata, modernissima nelle sue varianti, si presta con versatilità sia agli spazi di lavoro, come seduta per singole postazioni o sale riunioni, che agli spazi pubblici o alla zona studio/lavoro di casa.
Ginger Ale è configurabile in numerose varianti date l'abbinamento di unno dei basamenti disponibili alla scocca verniciata o interamente rivestita in pelle o tessuto.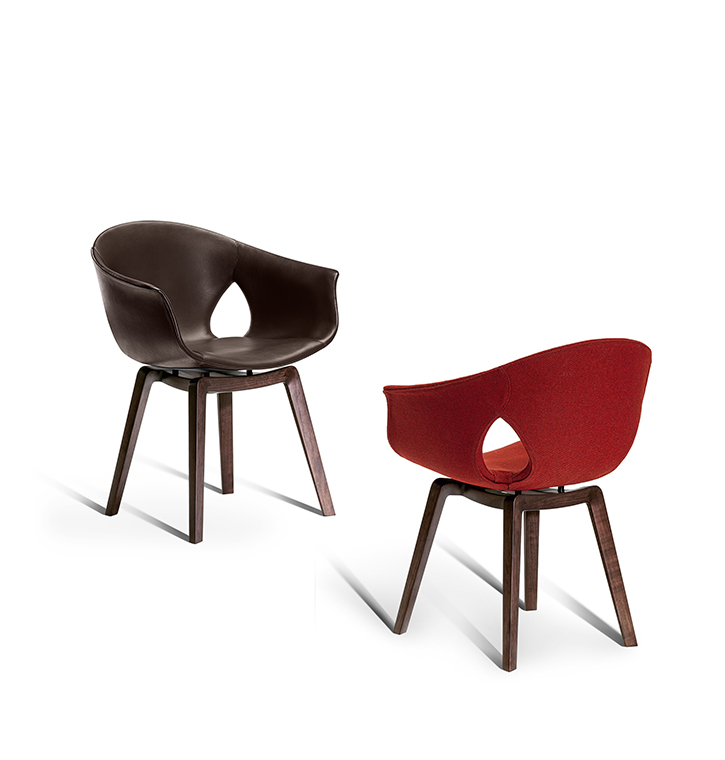 Designer
Roberto Lazzeroni
Product sheet
https://www.poltronafrau.com/ginger-ale

BRAND SELECTION
OUR PRODUCTS