Rada
Understated style, inviting contours, softly combined. Rada is a bed with a flowing, intimate and delicate profile. The headboard curves backwards gently, inviting total relaxation, yielding to its form.
The bed appears to derive from a single pen-stroke, its curves flowing seamlessly into metal feet, in a supremely delicate yet natural contrast of materials.
The upholstery is light and carefully measured, the product of Philippe Tabet's design style and the skilled hand of the master craftsman who created it.
A metal frame combines with an aluminium alloy base, with a metallic or matt finish, in black and white. The headboard, available in two different heights, is made of polyurethane foam with a fixed fabric or leather cover.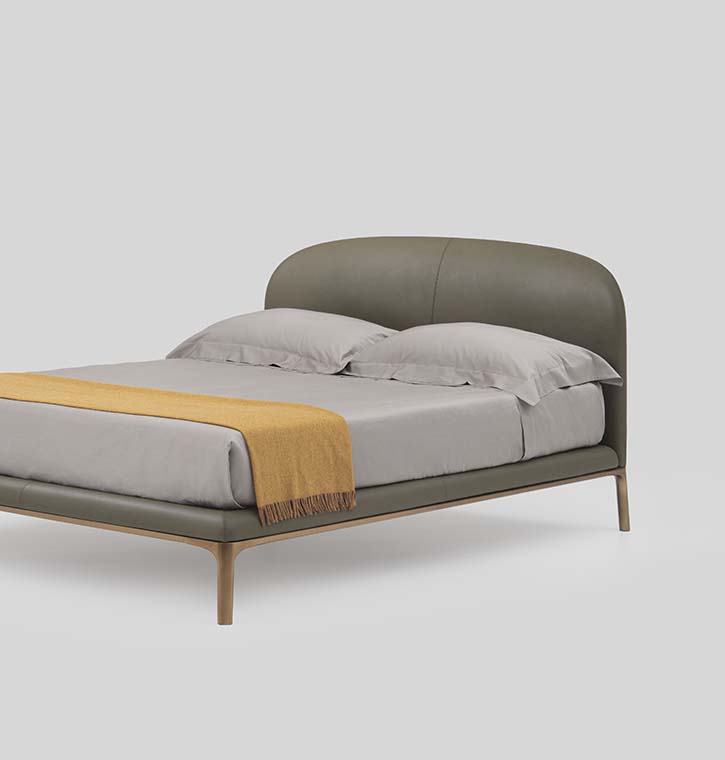 Product Overview
The Rada bed comes in a wide range of finishes that make it a versatile product, perfectly suited to satisfy different tastes and cultures. The structure finished with glossy Cromo and light Fenice fabric upholstery creates a contemporary bed, whereas the combination of Bronzo finish with the green shade of Doge sustainable leather turns Rada into a prestigious, luxurious piece of furniture.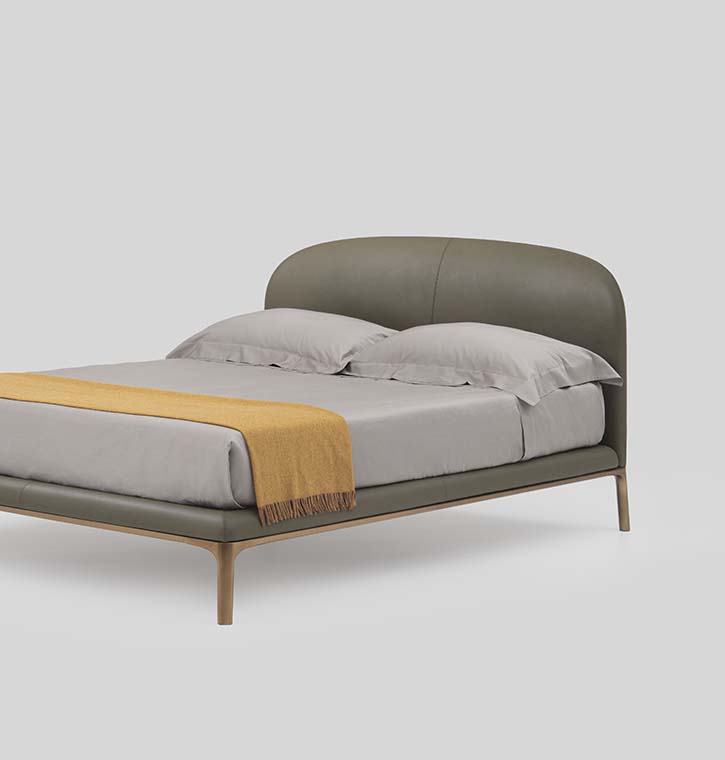 Materials
Eco-leather, Leather
Product sheet
Download Rada technical file

Collection
Rada bed

Official website
Discover Pianca

Designed by

Philippe Tabet
Philippe Tabet is a designer who loves images more than words. His style of communication is dry and essential, like his objects, which seem unable to be different from the way they are.
"When I'm designing, I like to remove everything that can be considered superfluous"
He sketches freehand and manages to makes his objects come alive on a piece of paper with a pencil. He has the ability to trace out the character of a chair, and describe, through its shape, the story that makes it unique. He was born in Versailles and studied in France, but chose to set up his own industrial design studio in Milan in 2015. Philippe Tabet's ability to imagine something that was not there, combined with a deep respect for the authenticity of the materials, guided him in the new collections he designed for Pianca.
BRAND SELECTION
OUR PRODUCTS