Domenica
As a tribute to Sunday, the day of rest, the Domenica bed invites you to relax and recline in a solid, warm and protective embrace. A bed where you can relax, read and recline at leisure, gently cocooned by the soft shapes of a structure that creates a safe, intimate corner.
One single continuous line draws a delicate, organic silhouette. The exposed zip is a key feature of the bed profile, transforming the zip from a functional element to a distinctive detail. The bed contour widens majestically and then curves downwards in a sharp diagonal as if to close the shape in order to protect, conceal or shelter.
It is more than a bed. It is a place and to some extent also a piece of interior architecture conceived as a place to set one's emotions at rest. The metal base adds further lightness to the structure, giving it the appearance of floating in space.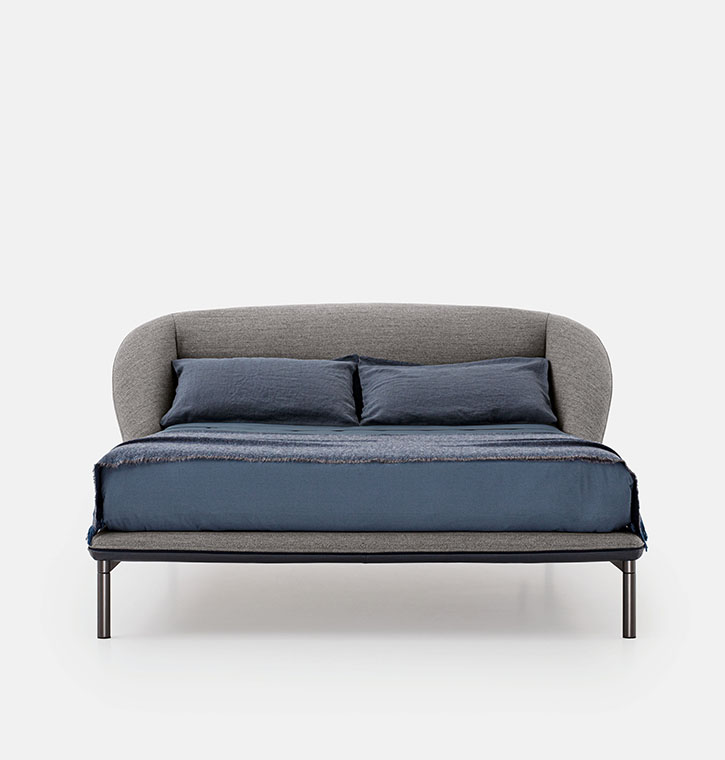 Product Overview
The Domenica bed can be produced in a range of colour and material combinations to fit any style requirements without diminishing its distinctive contemporary look. Fabric and natural or synthetic leather can be combined to create a dual tactile and visual sensation. The base is available in the Nero or Bianco lacquered version and with matt and gloss Metal Finishes.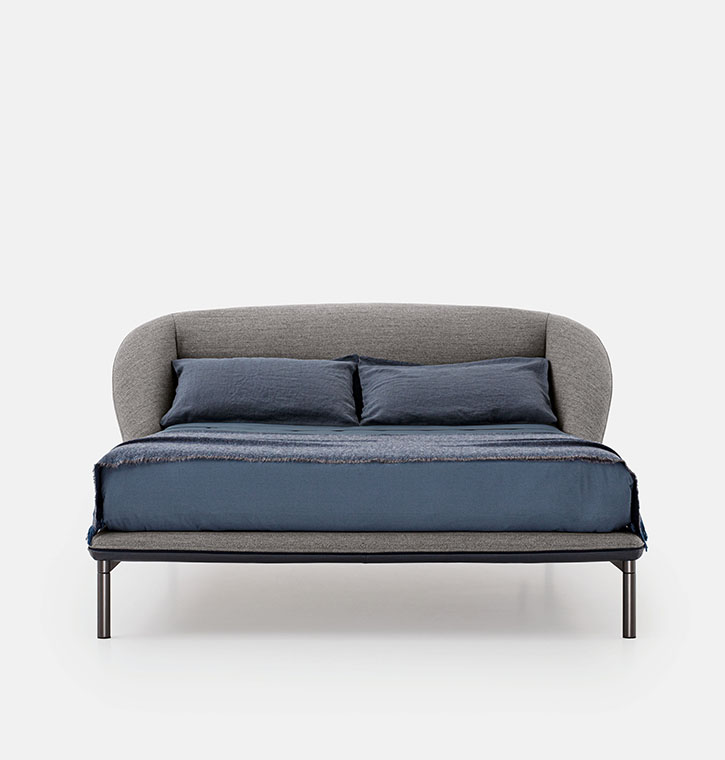 Product sheet
Download Domenica technical file

Collection
Domenica

Official website
Discover Pianca

Designed by

Simone Bonanni
Simone Bonanni is ever so slightly intolerant of the idea of standardising, conforming design, while he is re-evaluating the functional and expressive potential of handmade creations and skilled craftsmanship, enhancing the uniqueness of the design even when part of it is engineered.
"I want to protect my identity as a smallscale artisan", he says of himself. "I sketch by hand, a lot, all the time, just for the pleasure of sketching. I love to do portraits, abstract paintings and illustrations."
An inquisitive, spontaneous designer, Bonanni opened his design studio in Milan when he was a very young man with a diploma in Industrial Design from IED and three years' international experience in Amsterdam. His designs give more importance to the emotion that an object can transmit, more that to the object itself. And they do that via clear messages, simple emotions that involve all of us in our day-to-day living.
BRAND SELECTION
OUR PRODUCTS