Blevio
Ignazio Gardella's Blevio table joins Molteni&C's Heritage Collection, inaugurating a partnership with the Gardella Historical Archive
Designed by

Ignazio Gardella
Designed in 1930, Blevio is a table that Gardella (1905-1999) made as a single model for his own family home, Villa Usuelli in Blevio on Lake Como. It is an extraordinarily harmonious and timeless piece of furniture, which today becomes collective heritage; it combines the purest features and intrinsic simplicity. Gardella was already an established figure on the Italian architecture scene and in those same years he designed Alessandria's Vittorio Emanuele III Sanatorium (1928- 1938) with its rationalist chapel, the Hygiene and Prophylaxis Laboratory (1933-1938) and the Antituberculosis Dispensary (1933-1938).
In Milan Gardella planned the enlargement and embellishment of Villa Borletti (1933- 1936), his first and most significant work in loco. Alongside Gio Ponti, Franco Albini and Franca Helg and Luigi Caccia Dominioni, Ignazio Gardella is one of the preeminent figures in the history of Milanese design.
L'esemplare originario è rivestito in rame, materiale di difficile conservazione negli utilizzi contemporanei dei tavoli da pranzo. l Centro Ricerca e Sviluppo di Molteni&C ha sostituito la lamina in rame del piano in legno con una speciale verniciatura a polveri di metallo che dona il medesimo effetto di solidità e di brillantezza artigianale, conferendo maggiore resistenza. In alternativa al piano il legno verniciato (dimensioni 320x96 cm), è stato studiato il piano in lastra di marmo Breccia Capraia, che si innesta nel profilo di alluminio, per uno spessore totale di 4 cm.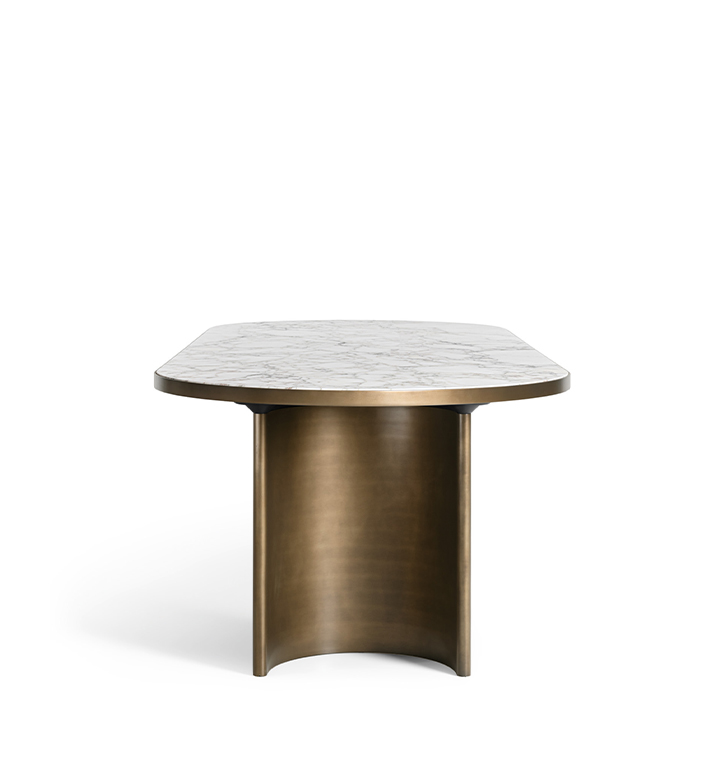 Product Overview
Elegant and geometrically linear, the Blevio table is rich in design, in details that reveal themselves to the attentive eye. It is the result of a process that removed the superfluous, of the perfect synthesis between form and function, of the careful and selective use of the material that was to become its main aesthetic feature. It is a project that focuses on the essential and on the removal of decoration for decoration's sake. Blevio is original and full of creative flair: it has an elongated, rectangular, solid wooden surface, closed at the ends by two semi-circles and supported by solid wooden elements with a hollow cylindrical section. The upper part of the vertical supports is linked to the table top by means of two wooden capital-shaped elements. The refined and unusual play of counter curves is also a structural stabilizing element: the geometric center of the semicircular extremities of the table top coincides with that of the vertical supports. The use of curved forms responds to the need to emphasize the continuity of the table top, avoiding interruptions.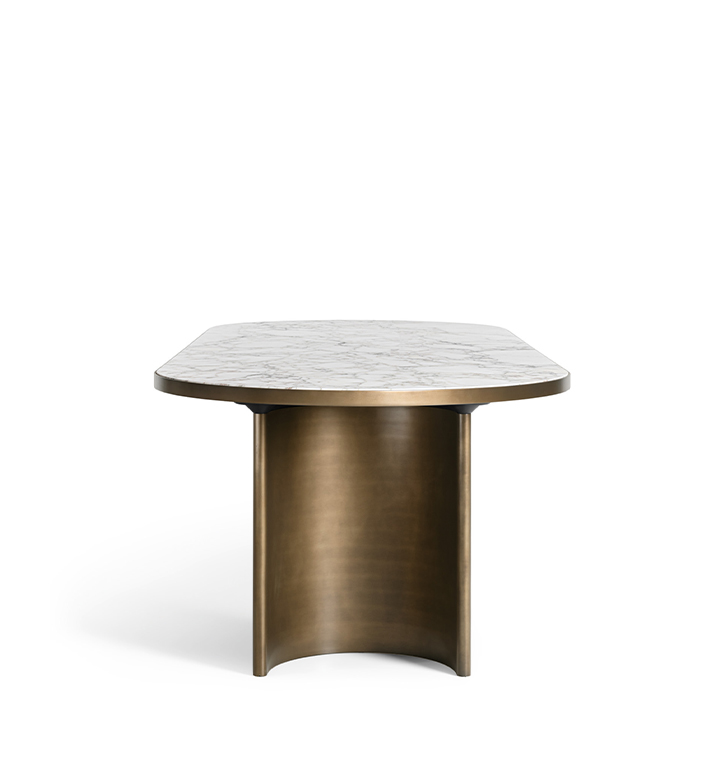 Designer
Ignazio Gardella
Collection
Molteni&C | Blevio

Official website
molteni.it

BRAND SELECTION
OUR PRODUCTS