NICEA CABINET
The geometry and colors on this cabinet echo the style of medieval tiles from the ancient city of Nicea. With its perfect craftsmanship and unique aesthetic, Nicea is a sophisticated drinks cabinet that immediately presents itself as the centerpiece of a room.   
The perfect geometry of the tiles covered in suede fabric turn this cabinet into a stunningly beautiful object. The soft texture of fabric on the outer surfaces contrast nicely with the sharp and chic titanium bronze legs that also add a luminous touch. The interior is cleverly partitioned; With a mirror back panel, shelving with hidden LED lighting and two drawers, Nicea is the perfect drinks cabinet that combines function and style. The discreet bronze handles on the doors ensure an uninterrupted pattern that flows from the front to the sides. 
Designed by

A. Rasit Karaaslan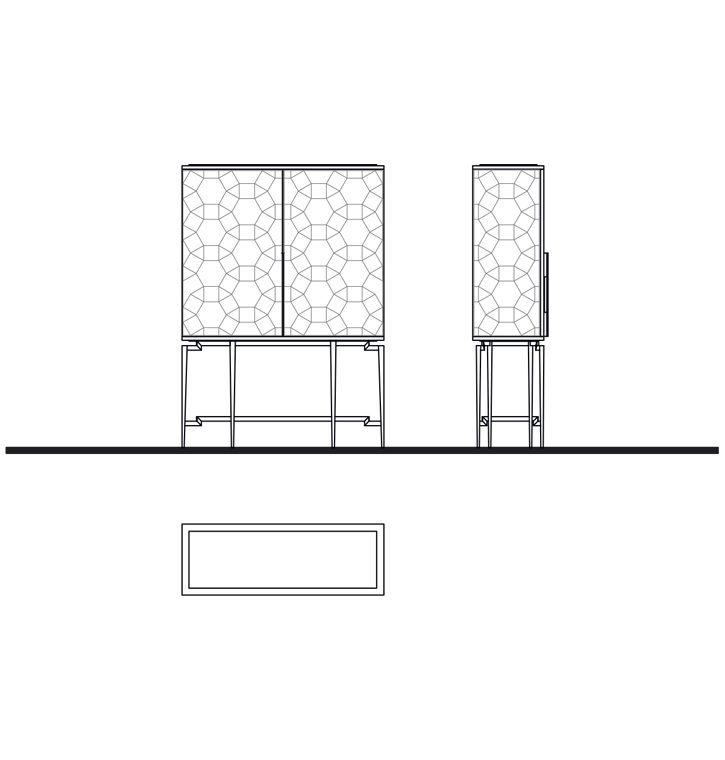 Product Overview
The body of Nicea Cabinet is in American Walnut. The pattern on the doors and side panels are constructed of pieces of MDF covered in sude-like fabric, which are brought together with a craftsmanship that combines precision technology and meticulous handwork. The legs and handles are titanium-finish bronze metal. The interior of the cabinet features a mirror back panel, shelves with hidden LED lighting and two drawers.
BRAND SELECTION
OUR PRODUCTS