Milvian sideboard
Sideboard with wood structure is framed by curved side panels and top from the large number of options in the rang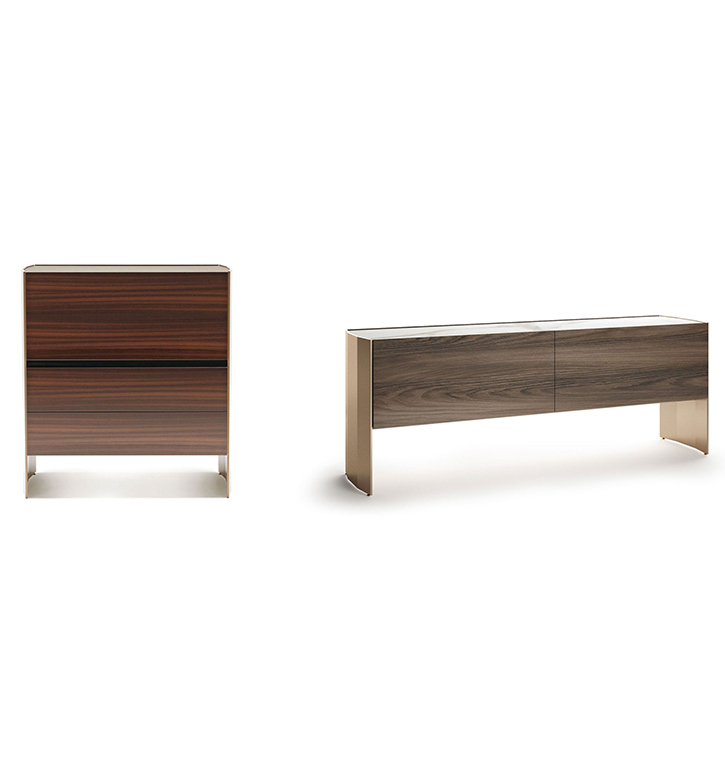 Product Overview
Milvian features some sublime and sophisticated styling, combining bold lines with the finest detailing. The flowing wood structure is framed by curved side panels, which feel pleasant to the touch and draw the gaze as they continue to the floor, where the transform gracefully into feet. There is a wonderful sense of balance to the piece, with customers able to choose the finish for the top from the large number of options in the range. Also available the version with fixed front for double-sided use.

TECHNICAL DESCRIPTION
Sideboard available in two solutions: high sideboard and low sideboard with different containment solutions.
The high sideboard has a main flap door for bar use with internal compartment in glossy lacquered finish, the opening mechanism is completely hidden; in the lower part it is equipped with two drawers with an internal primo fiore finish that can be equipped with optional accessories: cutlery tray and objects holder.
The low sideboard is provided with two flap doors with a glossy lacquered finish inside and a completely hidden opening mechanism, inside the compartment there is a transparent smoked glass shelf for the subdivision of the spaces, the inside is equipped with a container tray divided into compartments covered in leather.

BRAND SELECTION
OUR PRODUCTS