Quadrado
Inspired by the classic teak duckboard used in the yachting industry to facilitate the outflow of water, the Brazilian architect Marcio Kogan developed Quadrado, a modular system consisting of suspended square platforms that furnish outdoor spaces with exceptional lightness and flexibility.
Designed by

Marcio Kogan / studio mk27
A flexible and dynamic furnishing, of undisputed quality and comfort, which perfectly dialogues with the surrounding environment: a young and contemporary proposal that invites informal and original solutions.
The wooden bases welcome comfortable padded cushions with backrests in a special fibre woven with wicker-effect, available in Mud colour or plain Liquorice colour.
The sitting elements are interspersed with wooden surfaces that feature trays or candle holders, that can be arranged as desired with a surprising interlocking effect.
A circular armchair joins this outdoor landscape characterized by its broad compositional freedom.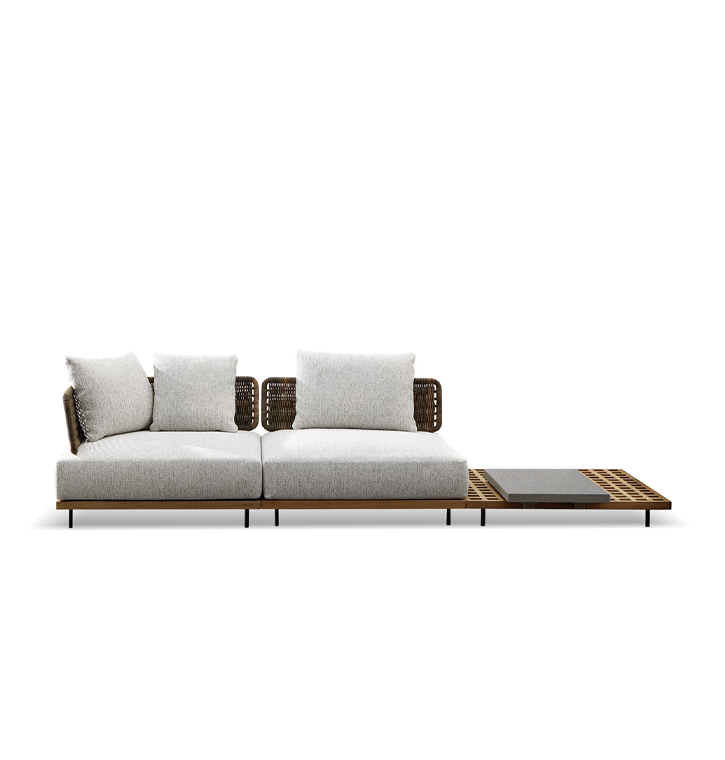 Product Overview
For the concept, Kogan was inspired by the Japanese Metabolist architecture of the Fifties and Sixties, defined by modular volumes. Originally conceived for large living areas with 102x102 cm modules, starting from January 2020 Quadrado integrates within its range a new, more compact version with 87x87 cm modules that can be combined together to adapt to more limited urban, residential and Hospitality contexts.

The Quadrado double daybed, with its substantial proportions - 242x180 cm - creates an extracomfy nest in which to sit back, relax and dream.
It is designed in the form of a niche, with alcove marked out by the teak duckboard backrest and armrests, and it is completed by a large mattress and soft, enveloping cushions.

The double daybed sits on two metal crosspieces in Bronze, the finish that links all the elements of the 2019 Outdoor Collection.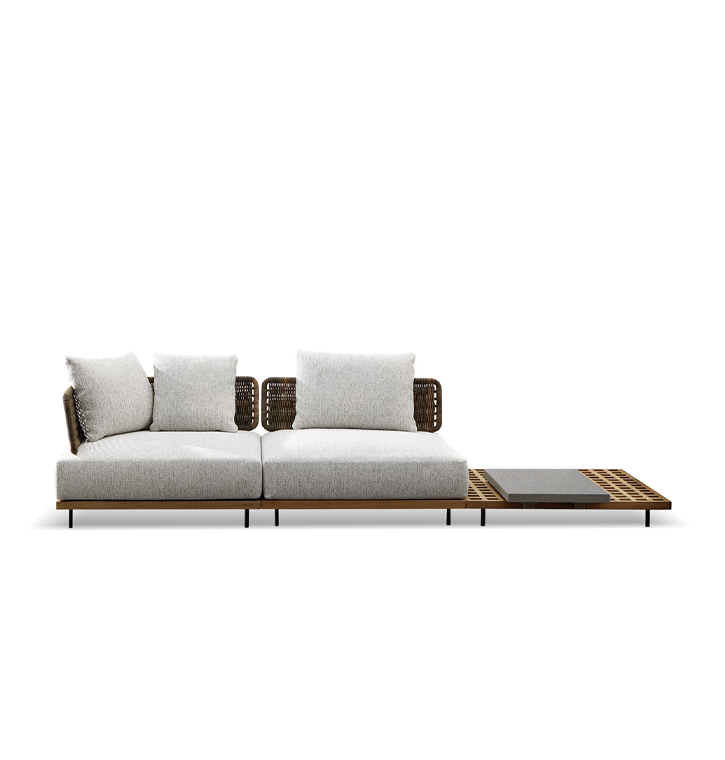 Designer
Marcio Kogan / studio mk27
Product sheet
Quadrado Technical Sheet

Collection
Consumer Catalogue Vol.3

Official website
Minotti - Quadrado

BRAND SELECTION
OUR PRODUCTS