Fynn "Outdoor"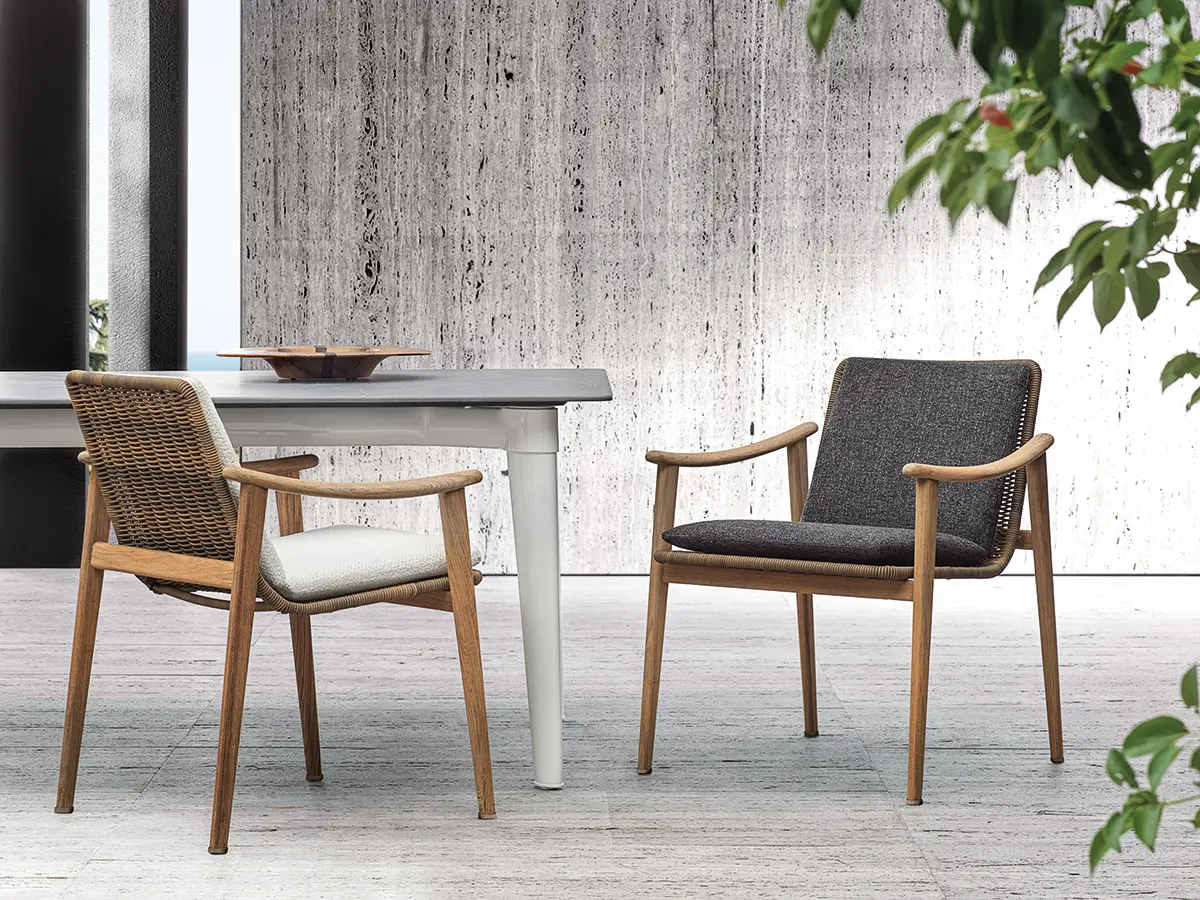 In Fynn, Scandinavian values meet Italian tradition. A contemporary design for outdoor spaces in teak wood, crafted with fine cabinet-making workmanship.
With a completely innovative approach, the fine cabinet-making process used for the manufacturing of outdoor wooden furniture is applied to a family of outdoor furnishing pieces in solid teak, combining sophisticated workmanship with an ultra-contemporary design.
"The inspiration behind this collection was to bring the essence of Scandinavian design into the project. The concept was to create and find an element in the project which was very recognisable and we worked very much with the armrest, which is a very strong element in the collection but, in the same way, it has to bring a lot of simplicity, showing the craftsmanship and becoming the centre of the project." – GamFratesi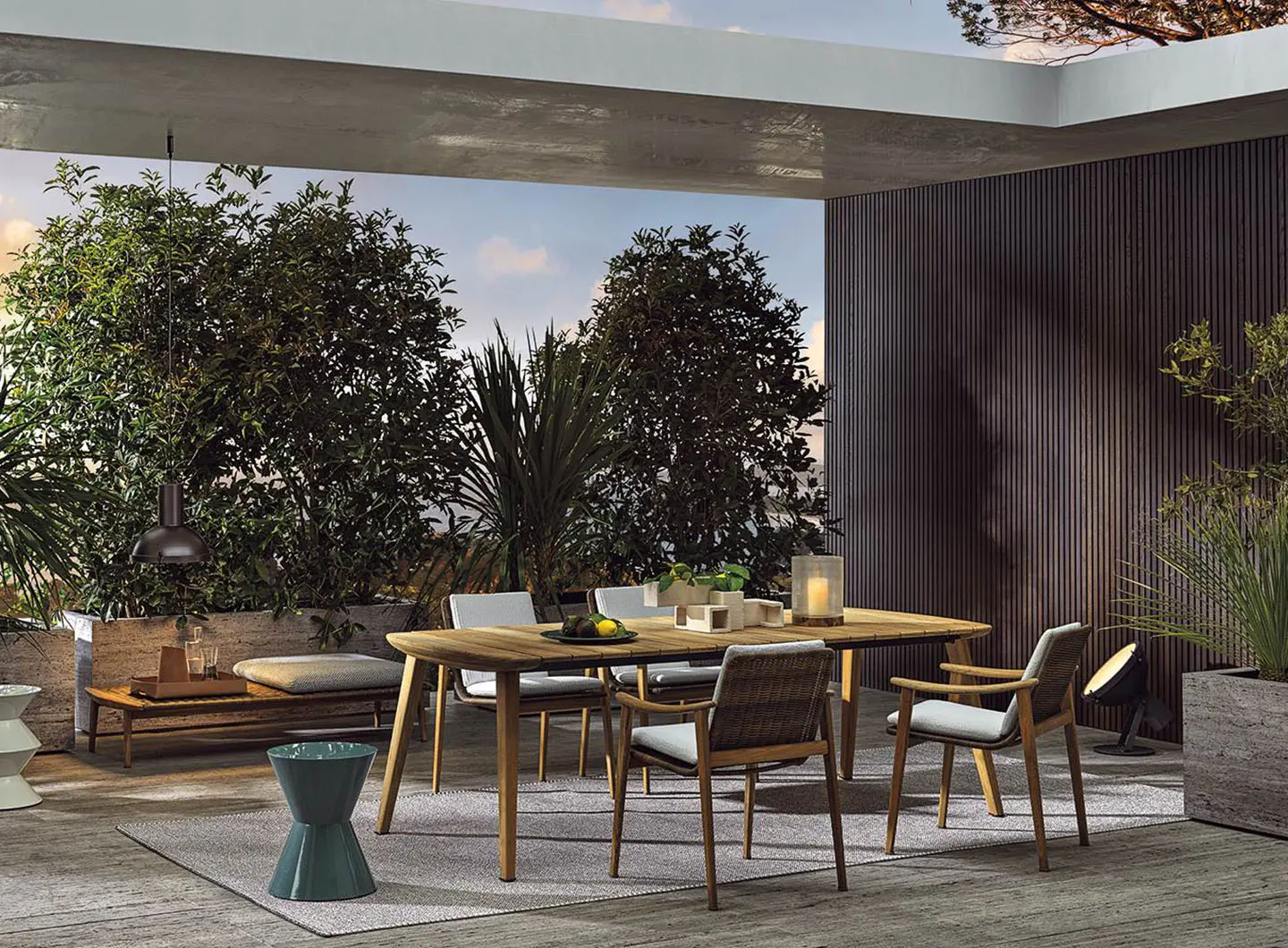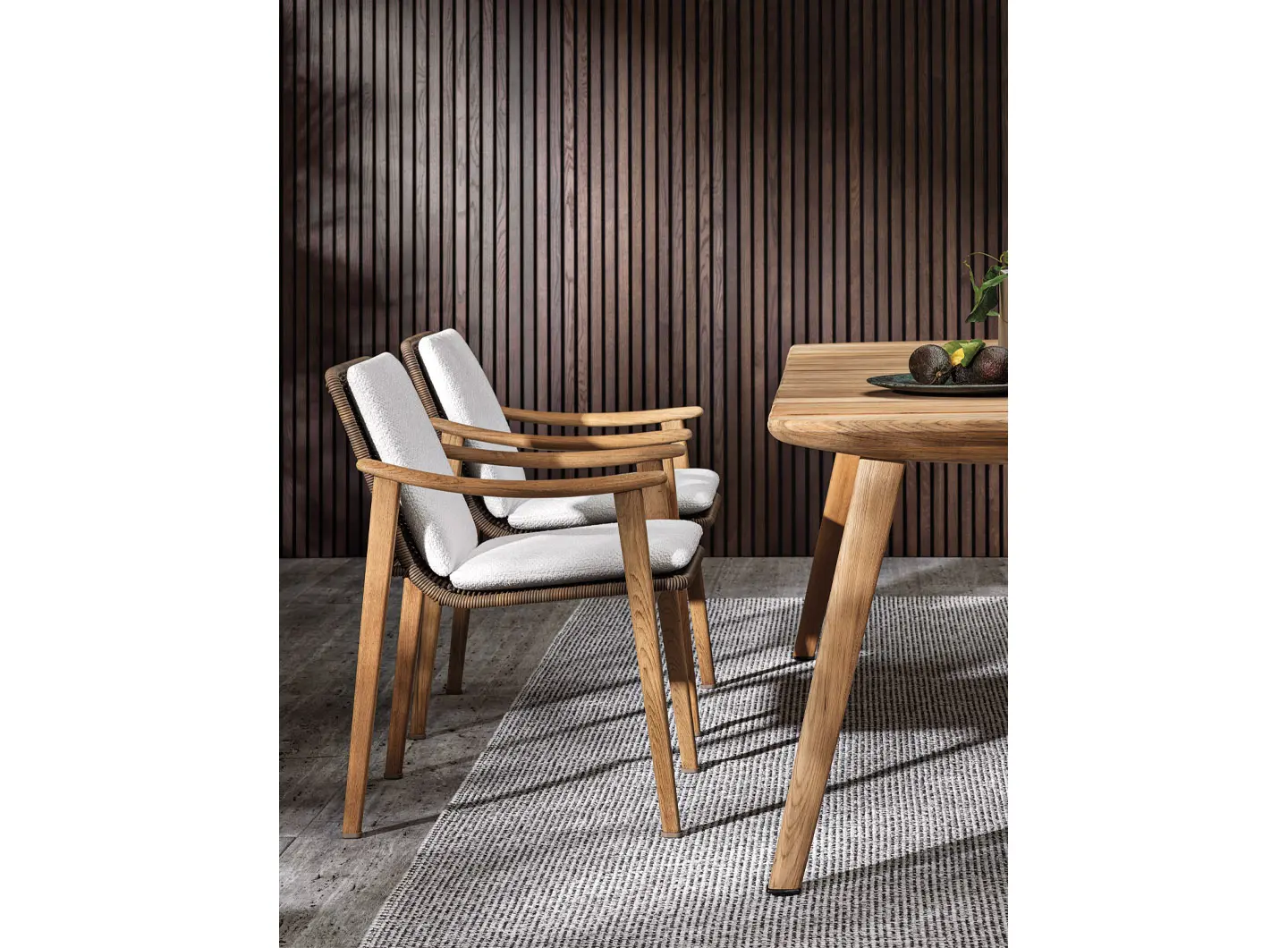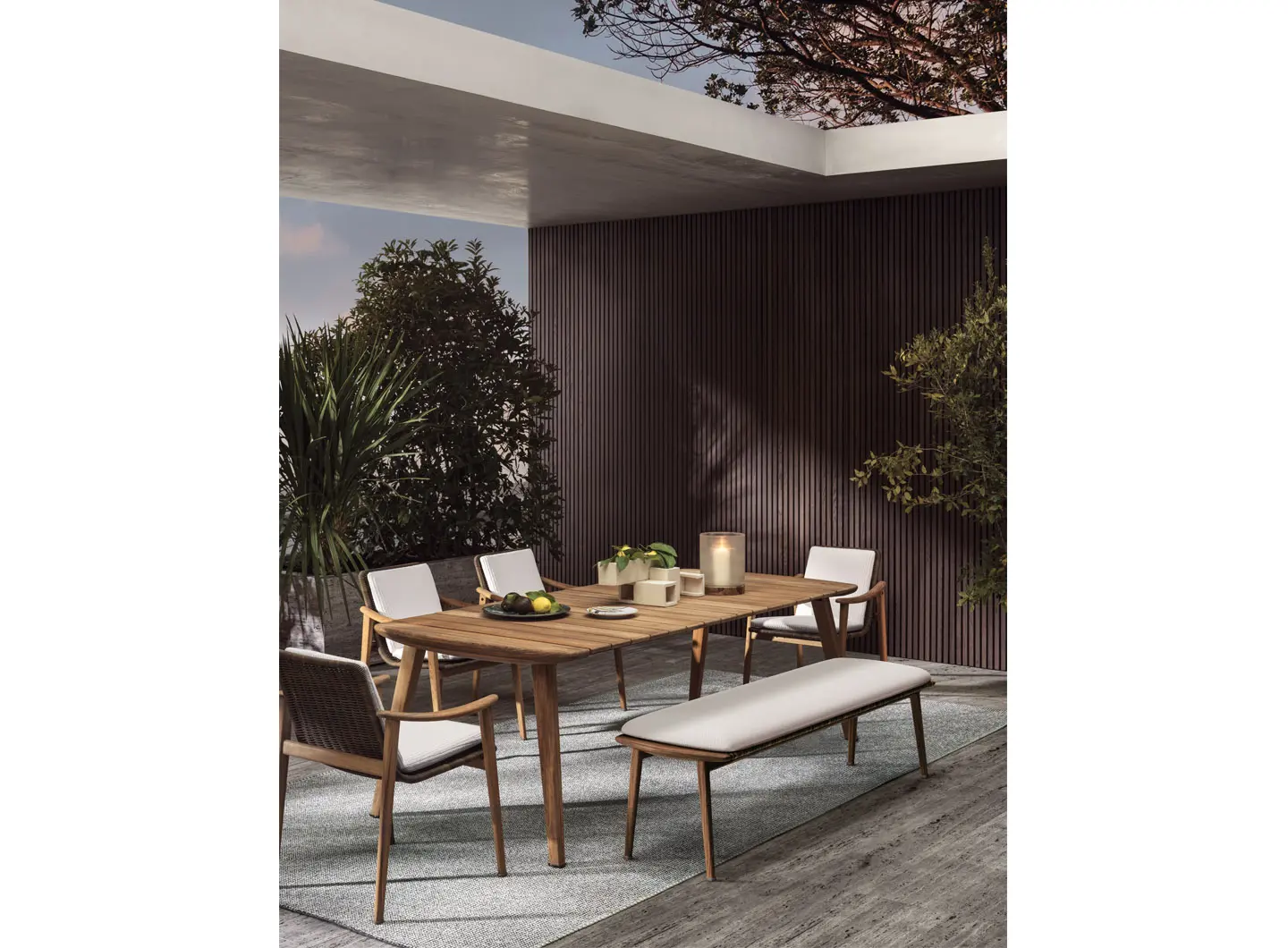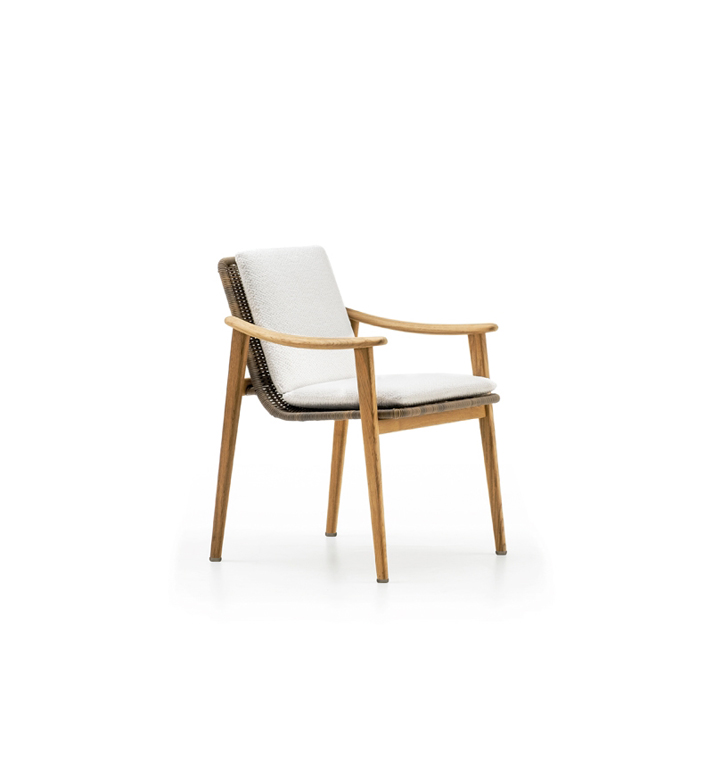 Descrizione del prodotto
Characterised by an interwoven frame that hosts soft seat and backrest cushions, Fynn has in the armrest its signature element.
Elongated and slightly curved, rounded and smooth to the touch, it is completely handmade: its precise, well-defined line identifies the entire family, composed of armchair, lounge and dining little armchairs, benches, footstools, coffee tables in different sizes and a dining table.

The Fynn Outdoor armchair and little armchairs feature a distinctive ultra-lightweight aesthetic with a simple structure in teak. The frame is interwoven with wicker-effect cords in Mud colour, hosting a padded seat and backrest cushion, designed as a single element. The informal rigour with which Fynn Outdoor hosts the padded element designs a comfortable seat.

The bench completes the family. Its cushions sit on a frame interwoven with wicker-effect cords in Mud colour.

The coffee tables also share the same line as the wooden armrest, which designs a slight curve also found in the rounded sides of the top. The central part of the coffee table is enhanced by the presence of the top in Pietra del Cardoso, creating a sophisticated combination of materials.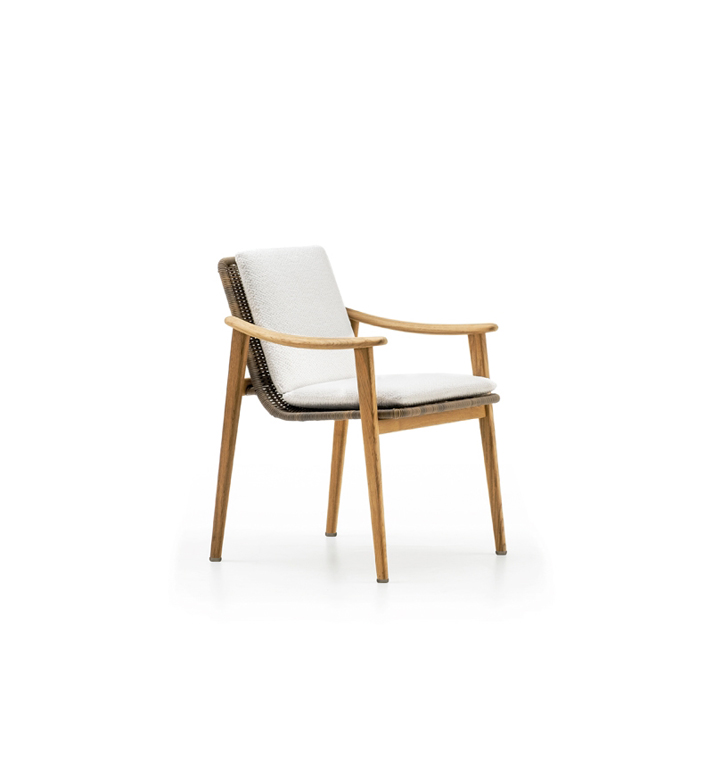 Product name
Fynn "Outdoor"
Scheda prodotto
Fynn "Outdoor" Technical Sheet

Collezione
Consumer Catalogue Vol.3

Sito web ufficiale
Minotti - Fynn "Outdoor"

BRAND SELECTION
OUR PRODUCTS