Merolla Divani srl
INTRODUCES
RUBIK
INFORMAL AND COMPONABLE
Like the famous colored cube whose name it bears, Rubik is the emblem of the interlocking game. Consisting of a few simple modules that can be easily combined, it does not limit the ability to find countless combinations.
Designed to meet the needs of the most dynamic customers who do not give up originality in the furniture, the wide versatility of the system allows you to play with the arrangement and color of the elements in absolute freedom.
Each module is equipped with retractable feet and a magnetic mechanism at the base that allows you to hook the lower part of the body and move it easily.
The soft reversible back cushions allow the use of fabric combinations on both sides. The backrest is removable or it is possible to change its position or angle. The armrest, only resting on the sofa, gives an additional touch of modernity and acts as a headrest cushion.
The seat, enriched by stitching like the backrest, is deep and modular with the use of optional cushions of your choice. Comfort is guaranteed by the soft rounded shape and the feather-effect padding system.
The choice of upholstery is another element of personalization. Rubik is in velvet-effect fabric that makes it even more gorgeous. The choice of a double covering amplifies the possibilities of varying and even combining modules of different colors.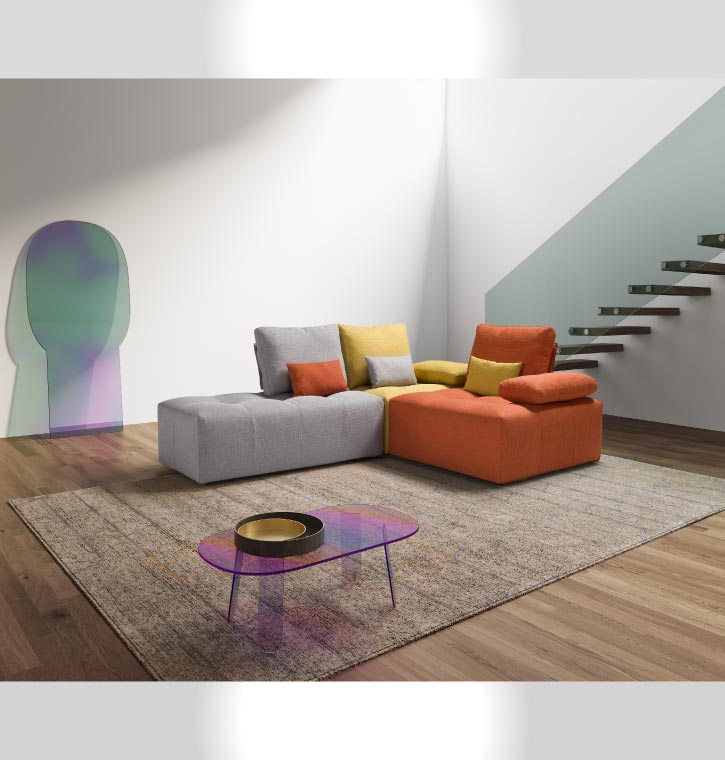 Product Overview
The shell padding is in polyurethane foam and polyester wadding. The back padding is in goose down. The foot at the base is retractable with anti-blocking system in abs. The upholstery is available only in fabric, practical and with the possibility of changing it with an additional upholstery in a different color.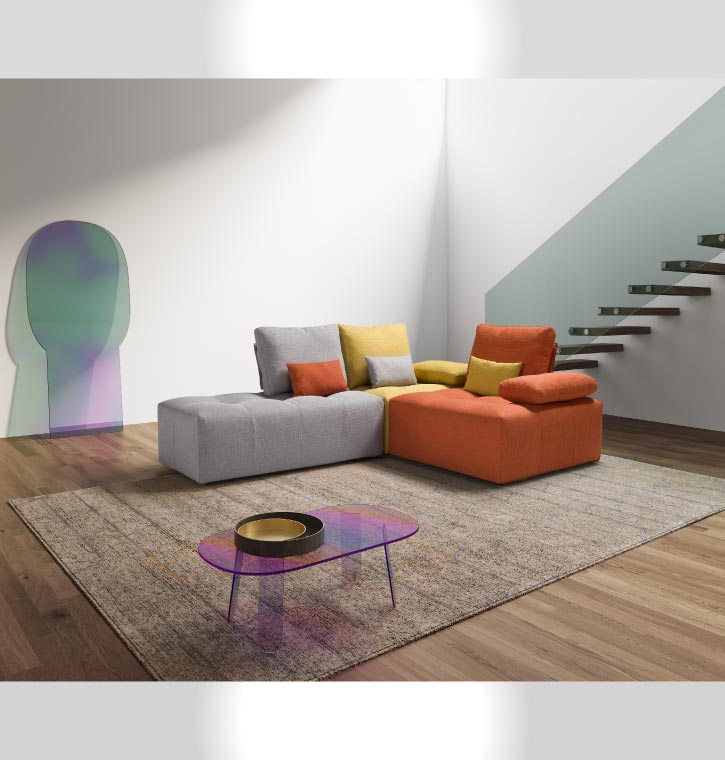 Materials
Steel, Aluminium, Cotton, Iron, Rubber, Wood, Feather, Poliestere, Sponge
Features
angular, componibile, high-back, transformable
Dimensions
R 200: 200 CM
2 160:160 CM
R 120:120 CM
Q 80: 80 CM
Q 120:120CM
Production process
The structure is in solid multilayer wood with parts of very fine MDF and agglomerate wood fiber. The back is made of metal. Elastic straps make up the suspension of the seat.
Product sheet
TECHNICAL SHEET

Collection
CATALOG

Official website
MEROLLA

BRAND SELECTION
OUR PRODUCTS