Lost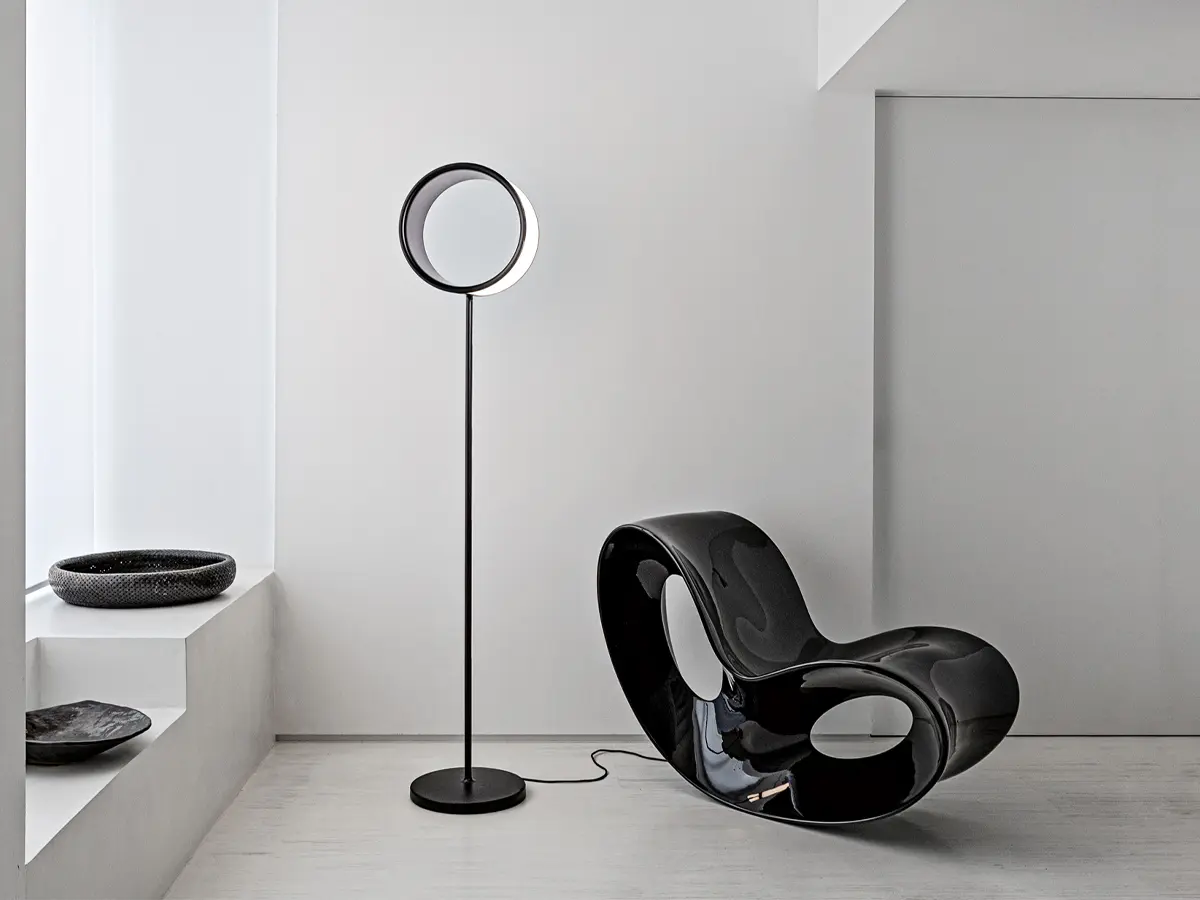 Surrounded by its refined, consistent light, which makes it suitable for any setting, Lost is a neutral lamp with a strong identity, whose distinctive feature is essentialism.
Brogliato and Traverso replace the classic lampshade with a circle just 2 cm thick, which conceals an adjustable light source with a capacity of over 4,000 lumens. The result is an even, continuous illumination around the entire circumference, topped off with a simple stem.
The circle, an archetypal elementary geometric shape, marks the boundaries of the empty space that characterizes the Lost lamp. As if sucked into a black hole, every subjective style and technical aspect disappears, leaving in their wake only the silence of the central void.
Empty spaces are the key to Lost, the new lamp that focuses on the perfection of a circle in an essential graphic divertissement.
Almost invisible, yet full of character, Lost turns empty space into magic, creating a dreamlike, contemporary atmosphere.
Designed by

BrogliatoTraverso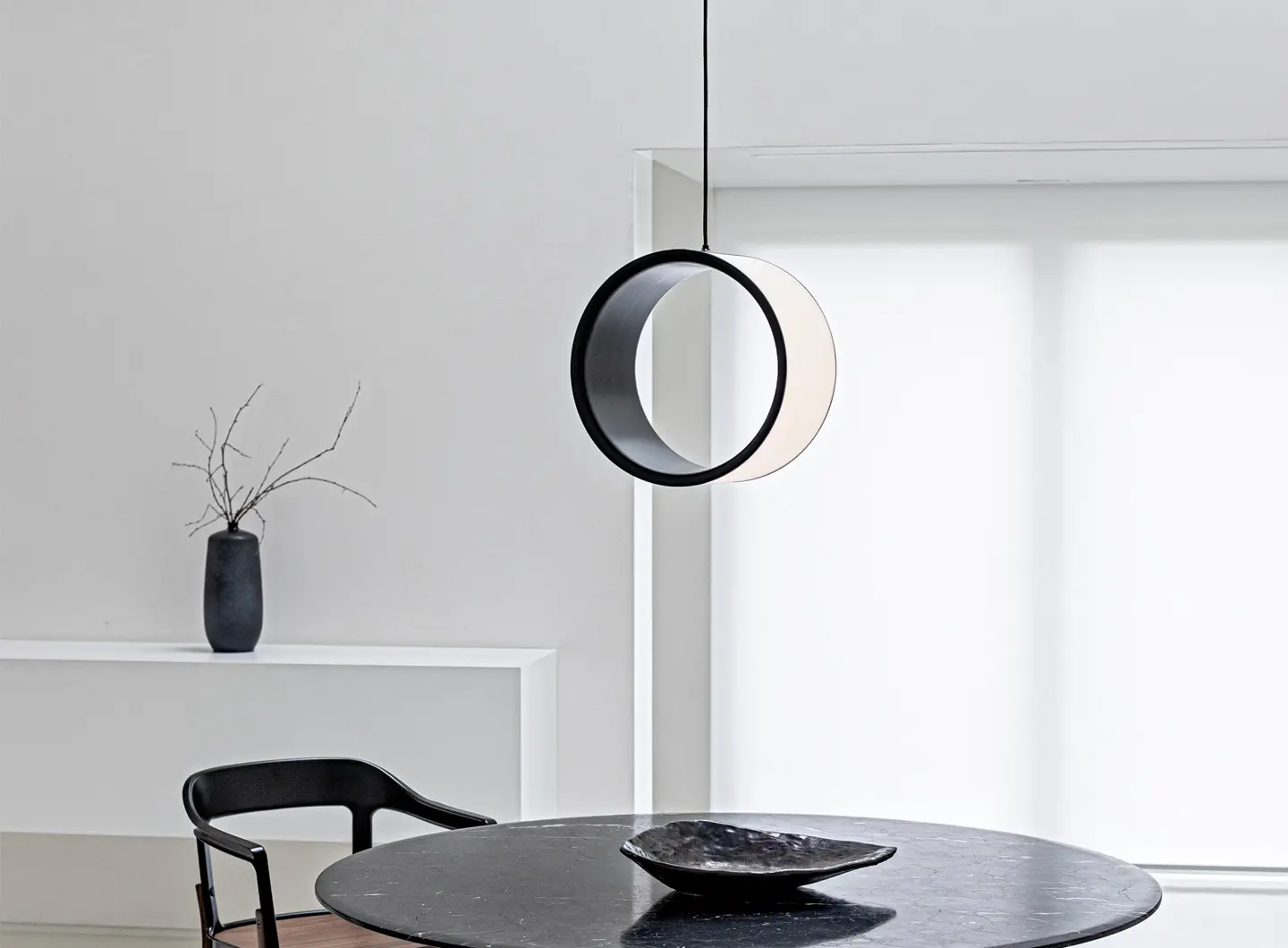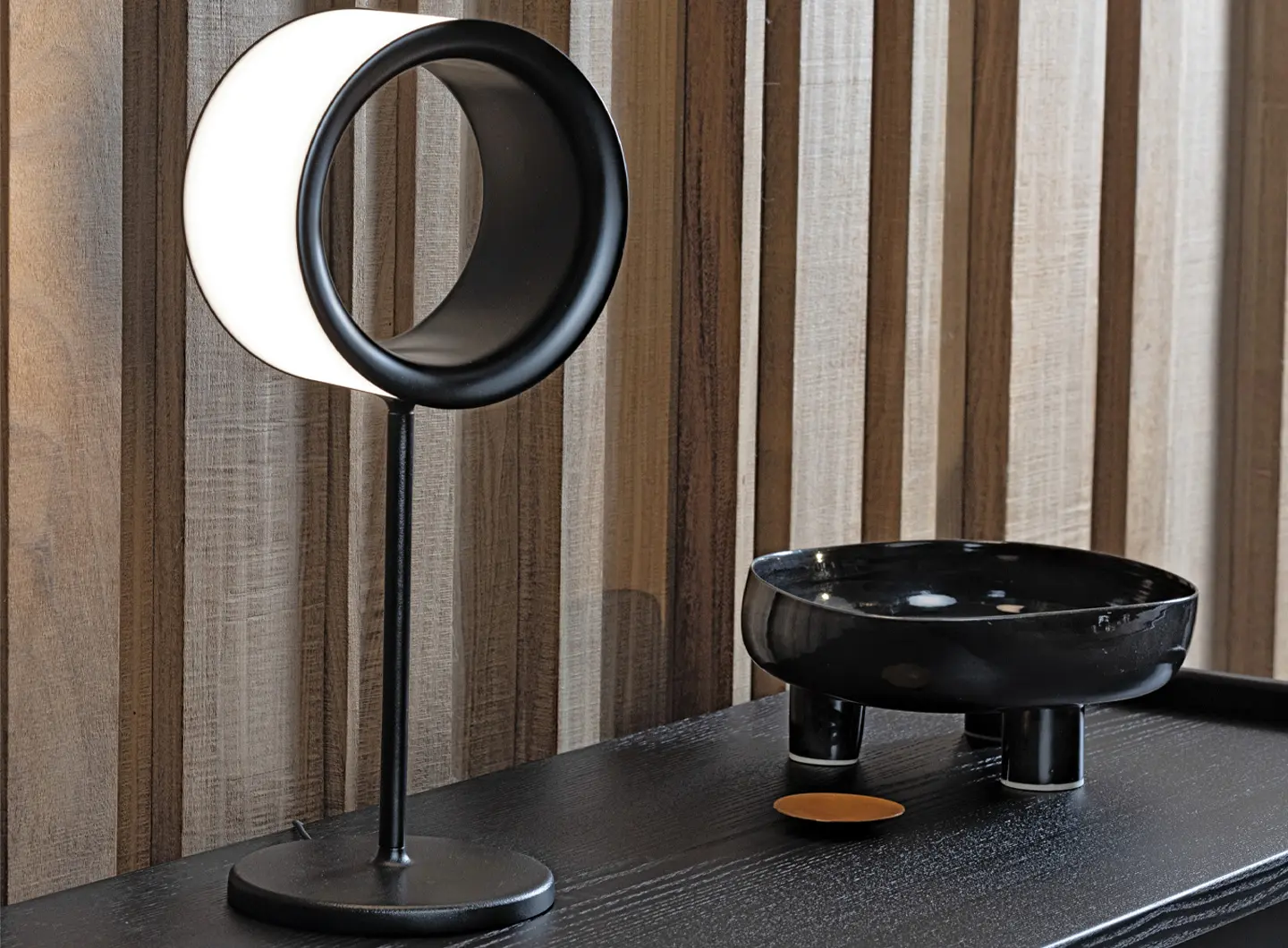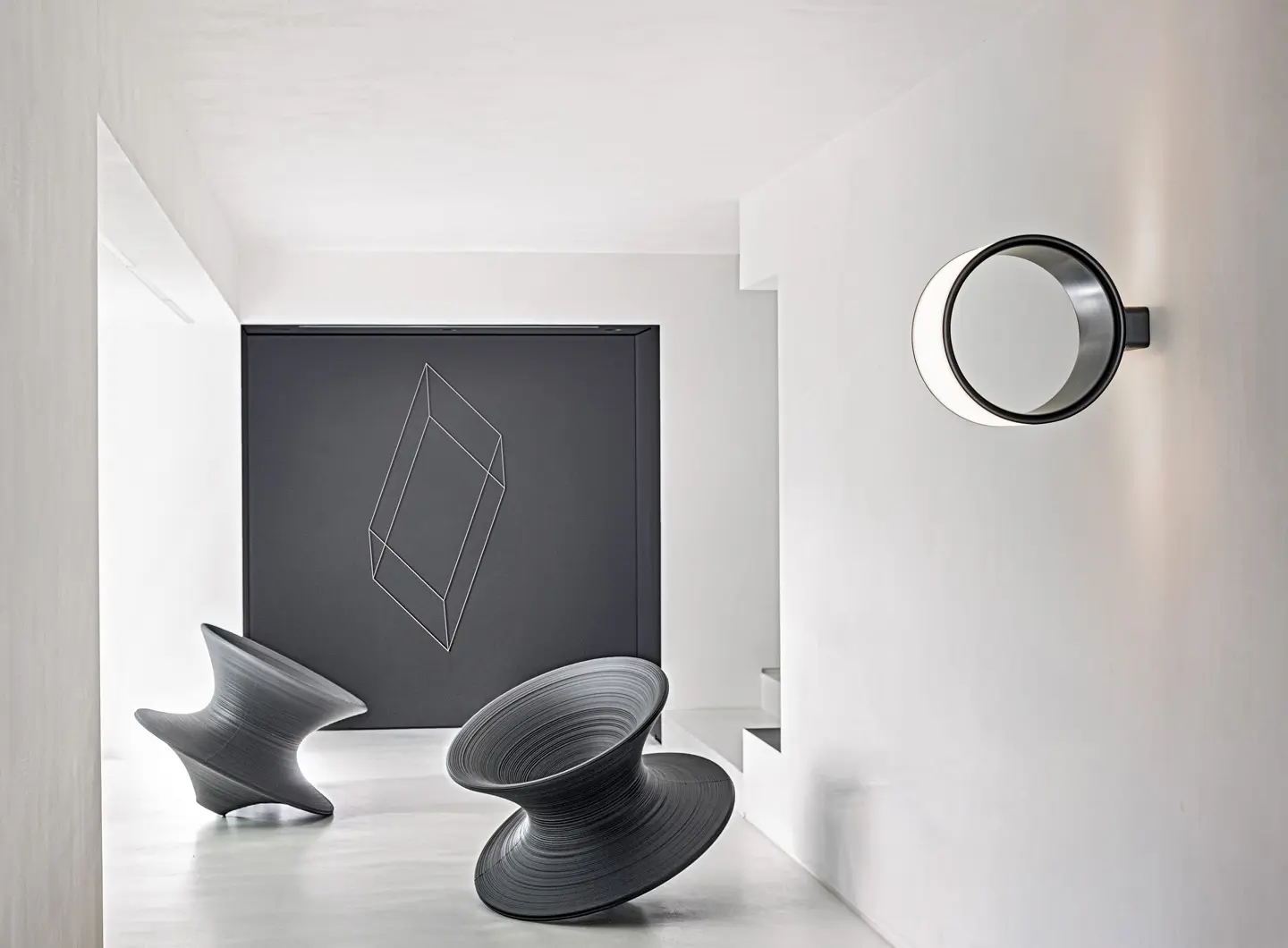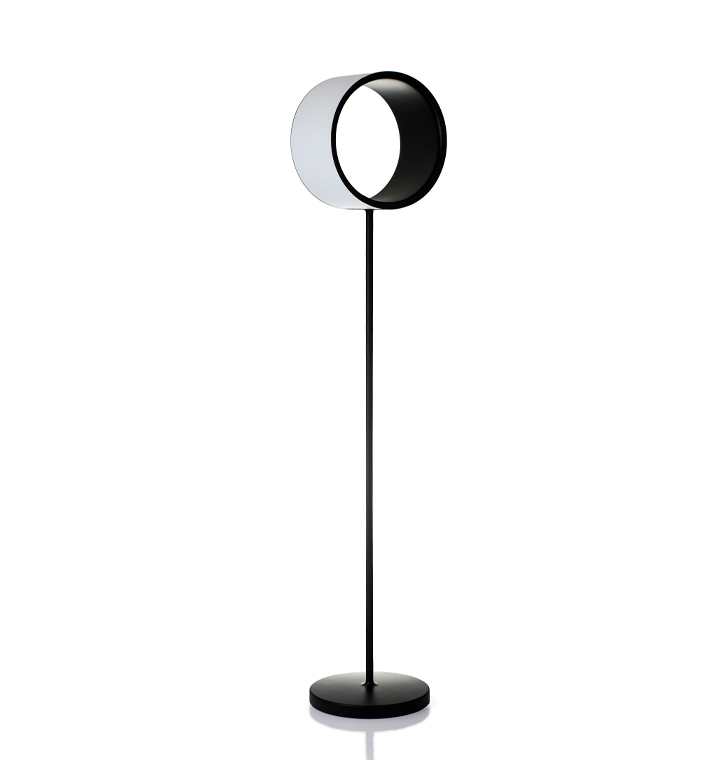 Product description
The main characteristic of LOST lamps, the void inside a circular 2 cm thick light source able to emit more than 4000 lumen, lies in the special flexible support onto which 1400 LED lights have been assembled. This technology has allowed continuous, even uniform light to be created along the lamp's entire external perimeter, which can also be dimmed.
The table version, instead, features the use of a proximity sensor, which exploits the electromagnetic capacitance of the human body, making it possible for the user to control the light by interacting with the central void. By inserting a hand inside the circle in fact the light can be switched on or off or dimmed, without there being a single sensor or button in sight.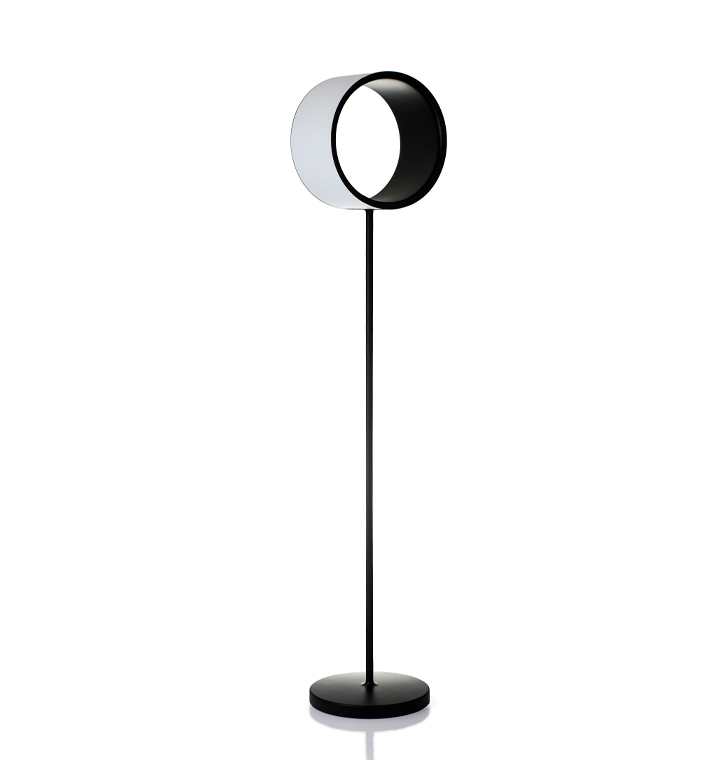 Designer
BrogliatoTraverso
Materials
Abs, Steel, Aluminium
Characteristics
Ceiling lighting systems, Wall-mounted, Spotlights, da tavolo, Floor lights
Dimensions
Table lamp: cm 17,5 x10,5 x 40,5 (H)
Floor lamp: cm 17,5 x 10,5 x 111 (H) / cm 36x21,5 x 140(H) / c, 36x21,5 x 170 (H)
suspension lamp: cm 17,5 x 10,5 / cm 36x21,5
wall/ceiling lamp: cm 17,5 x 10,5 x22 / 36x21,5 x 40,5
Production process
Base in painted die-cast aluminium, stem in painted steel tube, body lamp in painted ABS.
Product sheet
https://www.magisdesign.com

Collection
https://www.magisdesign.com

Official website
https://www.magisdesign.com

BRAND SELECTION
OUR PRODUCTS