Line Walk-in Closet
Line Walk-in Closet system is a custom-made solution for the wardrobe area, an extension to the Line wall panelling system.
Our Line Walk-in Closet system is an extension of the Line wall panelling system. It is an innovative walk-in closet system where the back panels could be in wood or liquid velvet with the Line metal channels supporting the shelving system and all the accessories.
Movable and fixed modules make up the walk-in closet for hanging and storing clothes and objects. It is equipped with drawers, shelves, hangers and various accessories which can be customized to the client's needs.
The Line Walk-in Closet system is composed of refined modular elements which can be combined to satisfy different needs.
Laurameroni Walk-in Closets collection is composed of flexible and customizable systems, allowing designers to combine modules of different sizes and functionalities to create the perfect solution for any project. We boast a wide range of exclusive solutions for independent walk-in wardrobes and a traditional wall-mounted version, classic but at the same time modern, to satisfy all your needs.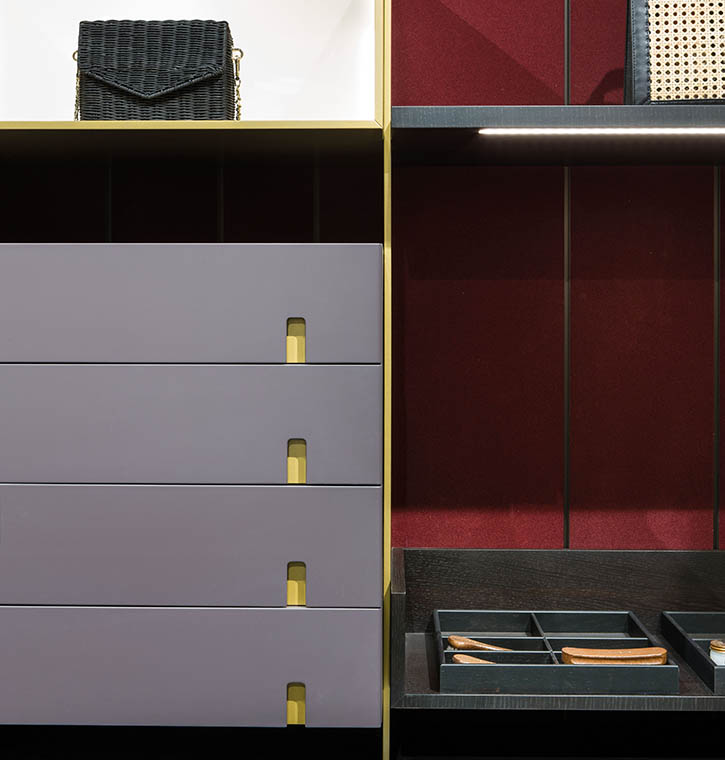 Product Overview
Custom made walk-in closet system with wooden structure and channels in gold or burnished finish of the Line collection.


The walk-in closet is customizable in terms of dimensions, equipment and finishes, to give complete compositional freedom, in Laurameroni style.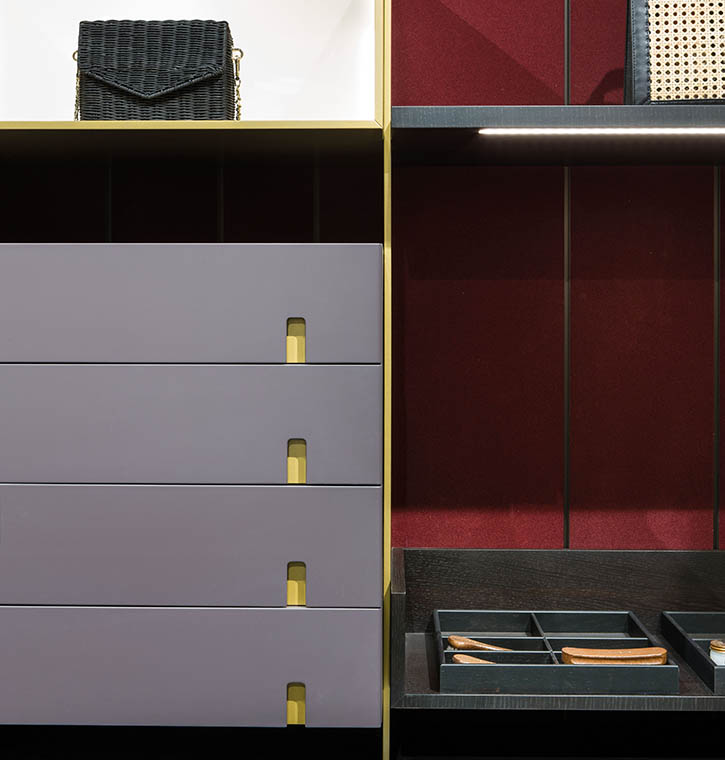 Product name
Line Walk-in Closet
Materials
Aluminium, Wood
Features
equipped, modular, custom
Dimensions
Made-to-Measure, Modular and Customizable in Dimensions and Finishes
Product sheet
Technical Sheet

Collection
Walk-in Closets

Official website
Line Walk-in Closet

BRAND SELECTION
OUR PRODUCTS