BD 95
The special treatment makes the surface precious and gives a totally new look at our wooden furniture.
Wooden tall sideboard with 2 carved hinged doors and carved sides. Equipped with 2 internal drawers and 4 shelves. This sideboard can be made in all woods of the collection and in special dimensions. Inside in walnut "Canaletto" and outside totally covered with "Liquid Metal" finish.
This Maxima collection sideboard is characterized by the tactile design, permitting to perceive the value and the real consistency just to the touch. The possibility to choose special dimensions and the presence of drawers and shelves offer a perfect solution to organize the space, both internal and external, offering the best solution for each client.
The simple shape and the choice of precious materials create a sophisticated product, perfect for elegant environments.
Maxima, introduced in the year 1999, represents one of the first collections of Laurameroni brand designed by Bartoli Design.
"Maxima" means above all: creativity in surfaces working. The ability to re-create a drawing, taking inspiration from the wooden platforms used by the marble workers, which bear the apparently casual marks of discs used to cut marble, gave birth to the top in engraved solid wood slabs, characterized by a texture that is unique and always different.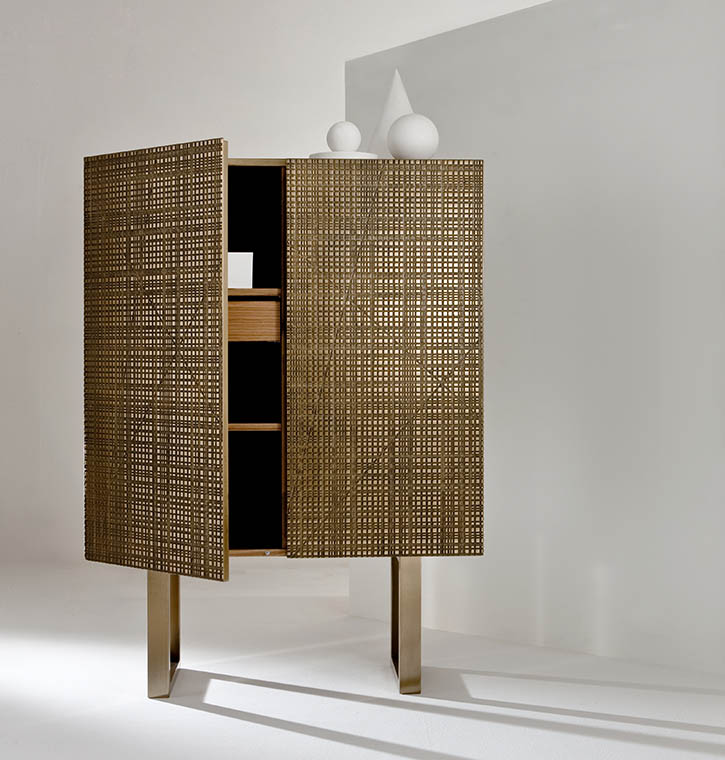 Product Overview
Tall sideboard or cabinet in wood with carved hinged doors and sides, equipped with 2 internal drawers and 4 internal shelves.

This sideboard can be made in all sample book wood essences and is available in special dimensions or with 4 hinged doors, 4 drawers and 8 shelves.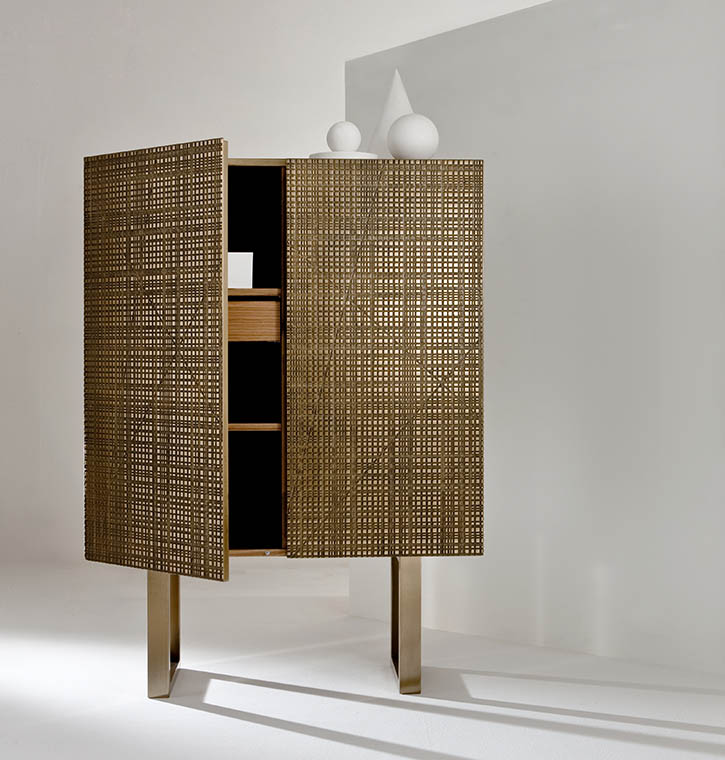 Materials
Bronze, Wood, Gold
Product sheet
Technical Sheet

Collection
Sideboards

Official website
BD 95

BRAND SELECTION
OUR PRODUCTS