FLUTTUA WILDWOOD BED
MAGICAL TEXTURES IN THE BEDROOM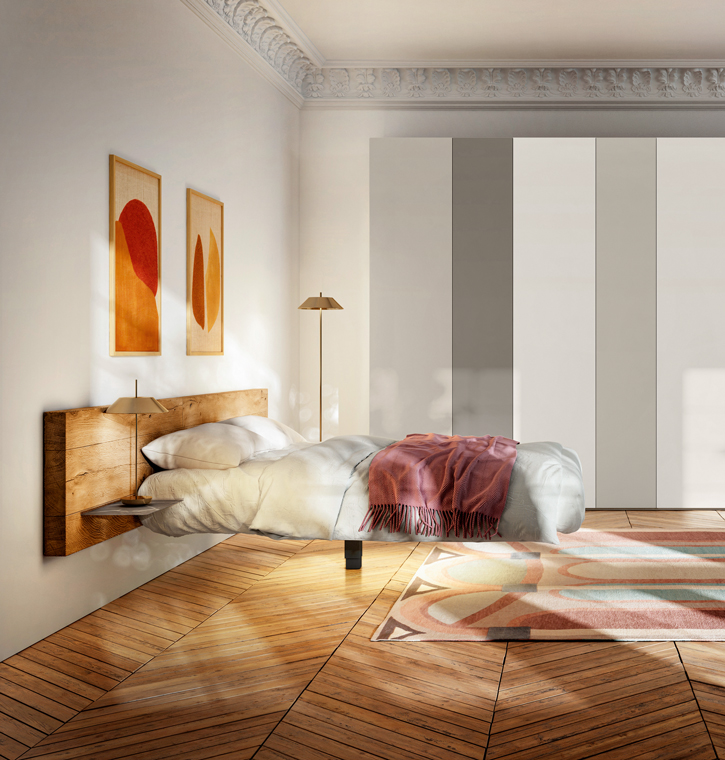 Descrizione del prodotto
Sleek and chic, the Fluttua Wildwood bed headboard adds elegant decoration to the wall, housing the bed base that is held in place by a central support. This iconic, modern design creates a bed that floats on air. Artisanally made to respect the wood's natural 3D grain, our hundred-year-old Wildwood testifies to the value of sustainable forest management, originating in Burgundy's oldest woodlands. A noble, timeless material, it preserves the beauty of this bed and creates a space that works in harmony with you and your bedroom.

Thanks to our careful study of its engineering, the Fluttua Wildwood bed can be mounted on different types of wall and plasterboard. Rigorous testing ensures the highest safety standards for you while you sleep. The headboard can be accessorised with different types of shelving and storage from the LAGO collections, for endless bedroom customisation options.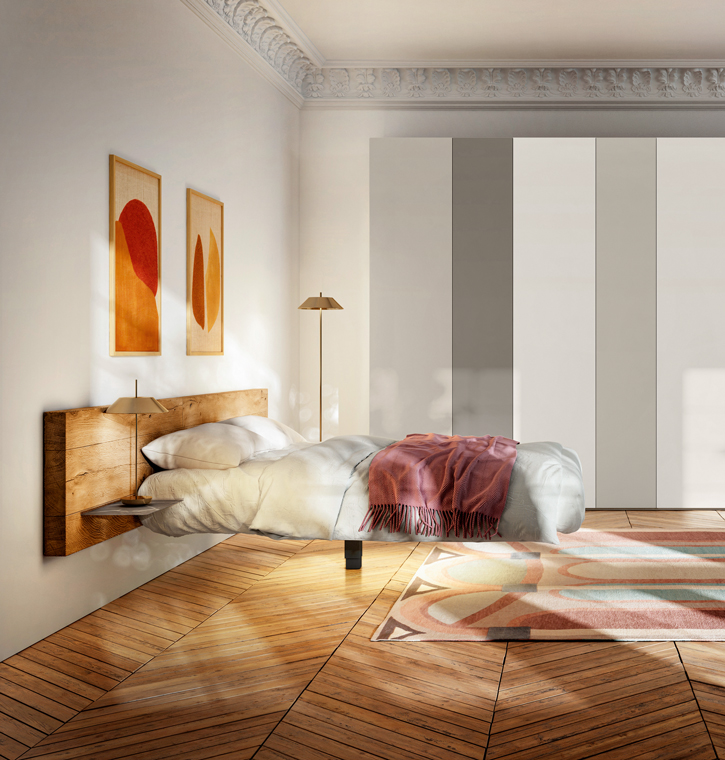 Product name
FLUTTUA WILDWOOD BED
Scheda prodotto
Configure the Fluttua Wildwood Bed

Sito web ufficiale
Discover the Fluttua Wildwood Bed

HEADBOARD IN HUNDRED-YEAR-OLD WILDWOOD OAK
Innovative, lightweight, hundred-year-old solid oak – sourced from certified, sustainable forests and featuring a 3D grain – offers an outstanding look and feel that invites both moments of intimacy and relaxation.
ACCESSORIABLE
The Wildwood headboard can be accessorised with sleek and simple bedside tables, and elegant glass or fabric shelves in different sizes. Find the ideal mix of finishes and features for your space.
BRAND SELECTION
OUR PRODUCTS