AIR STUDY SHELVING
THE IDEAL BOOKCASE IF YOU'RE WORKING OR STUDYING FROM HOME.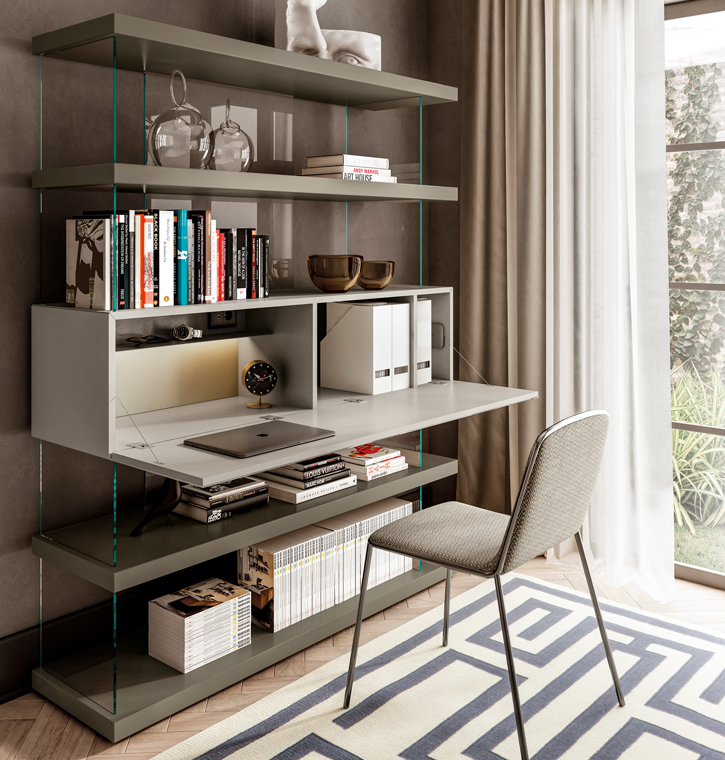 Product Overview
An elegant shelving with a built-in desk to custom-furnish your study. A sound solution if you're working or studying from home.

The self-standing Air Shelving on glass supports seems to float in mid air, allowing natural light to filter through and lightening the look of the space. There are no limits on size and the unit can even be positioned in the middle of the room. It blends into the architecture, dividing the space as it extends up to the ceiling. Peace and privacy are guaranteed.
Thanks to the built-in Air desk, you can create flexible compositions that can be moved around the space to suit your needs.
Various different storage options and the double-sided finish mean you can create a comprehensive study space in which to work and learn.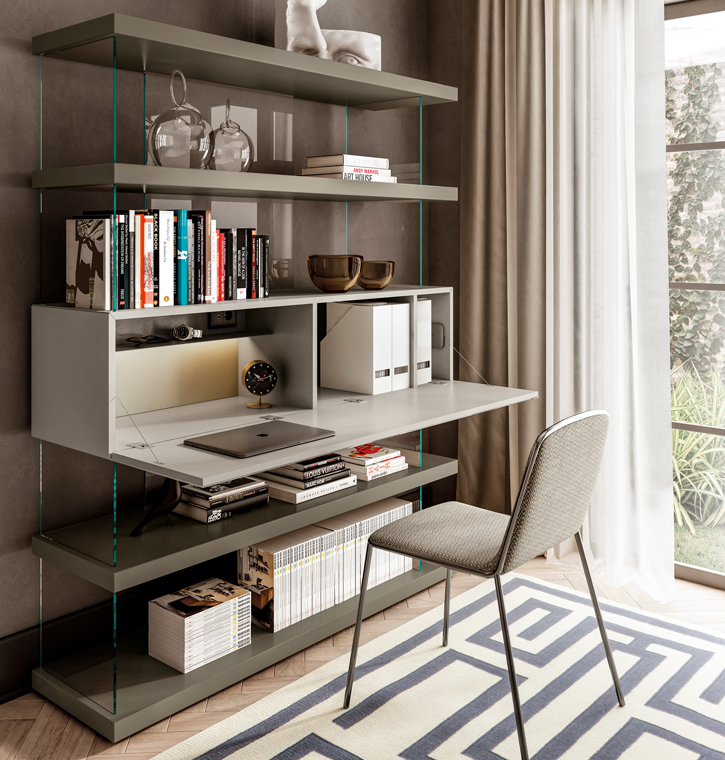 Product name
AIR STUDY SHELVING
Official website
Discover the Air Study Shelving

PRACTICAL STORAGE
Thanks to the modular build of the Air Study Shelving, you can add practical storage units and desk storage solutions to create the perfect space-saving office set-up.
FLEXIBILITY
Modular LAGO furniture you can reconfigure to create custom solutions, adapting the composition to any configuration type or need in your living space.
SELF-STANDING
Thanks to a simple interlocking structure, this self-standing shelving and desk can be positioned anywhere in the room, adapting to suit the interiors. A versatile solution flaunting the light, contemporary design of LAGO's Air range.
INTERNAL LIGHTING
The Air Study Shelving storage units feature LED lighting and electrical sockets, which allow you to make the most of the desk obtained from the unit door.
Discover all the design Study Units produced by LAGO.
BRAND SELECTION
OUR PRODUCTS