36e8 KITCHEN
A MODULAR KITCHEN THAT YOU CAN DESIGN AROUND YOUR NEEDS.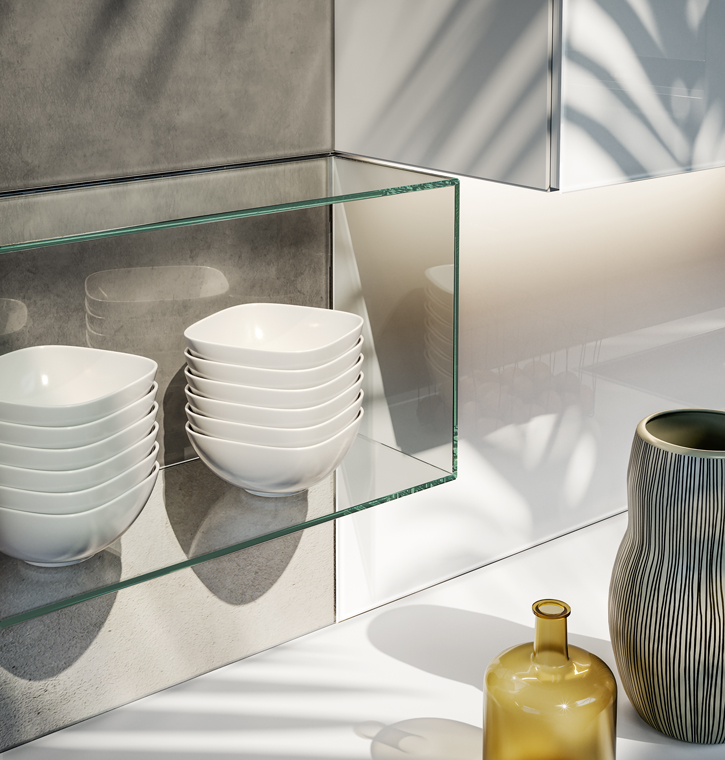 Product Overview
Coloured parallelepipeds fully clad in glass have been put together to create a kitchen with a clean, minimalist design.

Glass is one of the distinguishing features of Lago's products. Its ability to catch the light and give colours new depth makes it unique and gives it real appeal. Coloured glass, in a matt or polished finish, creates perfect chromatic reflections and characteristic visual effects to produce a multiplicity of polymorphous results. It is also extremely functional, ensuring a high degree of hygiene, easy cleaning and excellent resistance to knocks and scratches.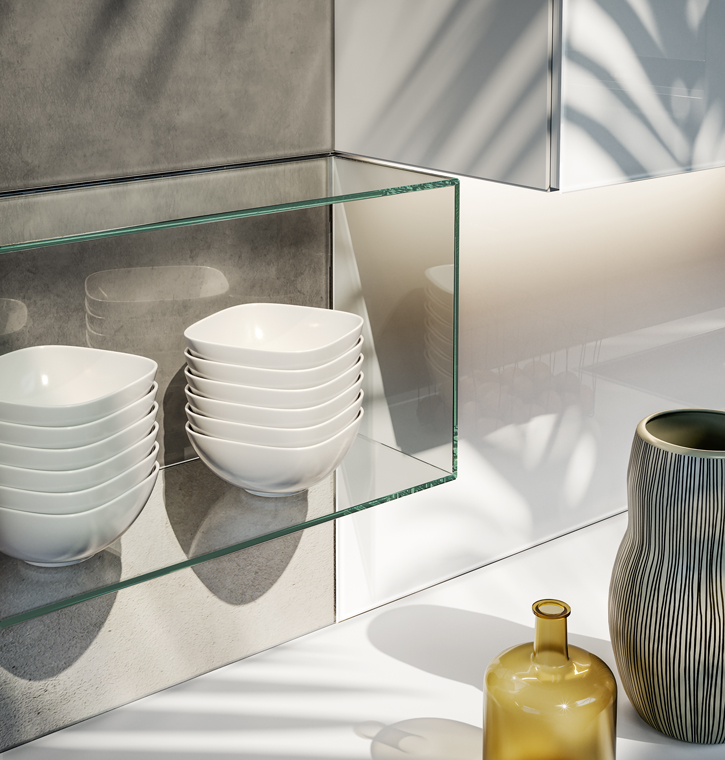 Product name
36e8 KITCHEN
Official website
Discover the 36e8 Kitchen

GENTLY GLASS
Glass enhances the feeling of being light and airy, and emphasises the crystal-clear volumes in the kitchen. The colour comes to life, resulting in an invigorating space that changes with the natural light, offering deep, fluid reflections that are mesmerising and never static.
SUSPENDED WALL UNITS
These magically suspended wall units help to organise the space, housing the hood or a dish rack. The wall fastening is 100% secure, allowing you to experiment with innovative solutions for kitchen designs with an island or peninsula. 
LAMINGLASS TOP
This patented laminate top, enhanced with a glass-effect edge, is ideal with the glass door. Both extremely robust and practical, it can be made in various colours, specially chosen to combine harmoniously with the range of Lago lacquer colours.
ERGONOMIC WALL-MOUNTED DISHWASHER
Our innovative horizontal dishwasher features an ergonomic opening that makes everyday tasks easier, while preserving the monolithic kitchen design. 
 
BRAND SELECTION
OUR PRODUCTS