IOC project partners
INTRODUCES
Solari
Solari is a height adjustable managerial desk and workstation system designed to facilitate teamwork whilst simultaneously enabling moments for privacy and concentration.
The Solari system is suitable for a variety of different environments: from the open spaces of representative offices to home studios, its particular characteristics are its trestle legs, J-shaped dividing panel, rounded desk edge and suspended pedestal. Thanks to its particular shape, the panel makes it possible to gather and hide the cables, whilst its upper section, if padded, can be used as a pin board. The desk has a hidden opening to enable the passage of cables, and the lifting mechanism is cleverly hidden inside a wooden cabinet, but is easily accessible via the small doors.
The structure of the Solari system is composed of epoxy powder-coated metal, as is the J-shaped panel which can be lined with fabric padding to enhance the acoustic comfort. The desk, cabinet and drawer fronts can be made of wood, melamine or lacquered.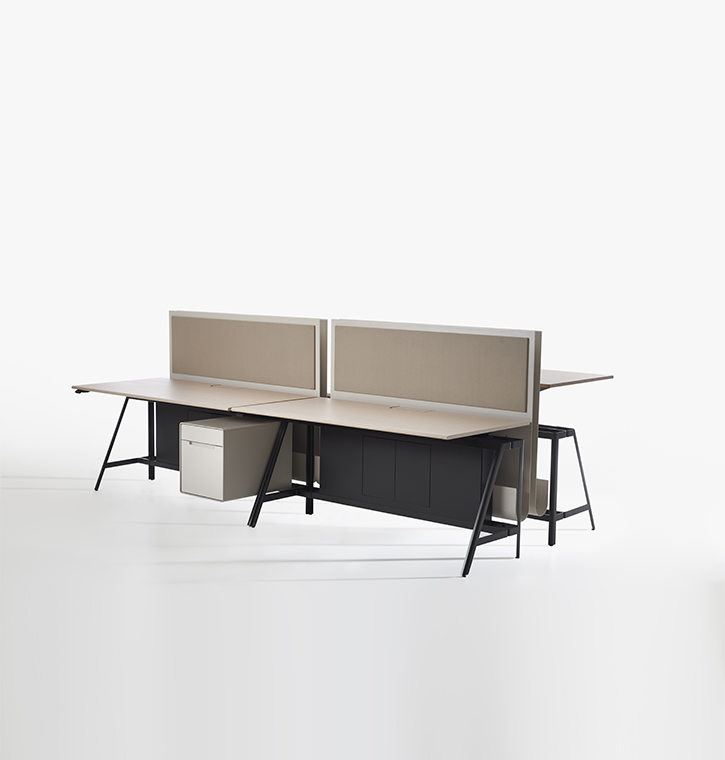 Product Overview
Solari is the benching system that combines stellar performance with out-of-this-world style. Based on an electrically controlled, height adjustable worksurface, desks can be configured across the open plan and accessorised with divider screens and storage elements that give every occupant a sense of personal space, all while enabling interaction and teamwork.
The painted metal frame and panel can be pomice or grafite, while the top and cabinet fronts of are available in wood, lacquer or melamine. The panel can be covered in fabric.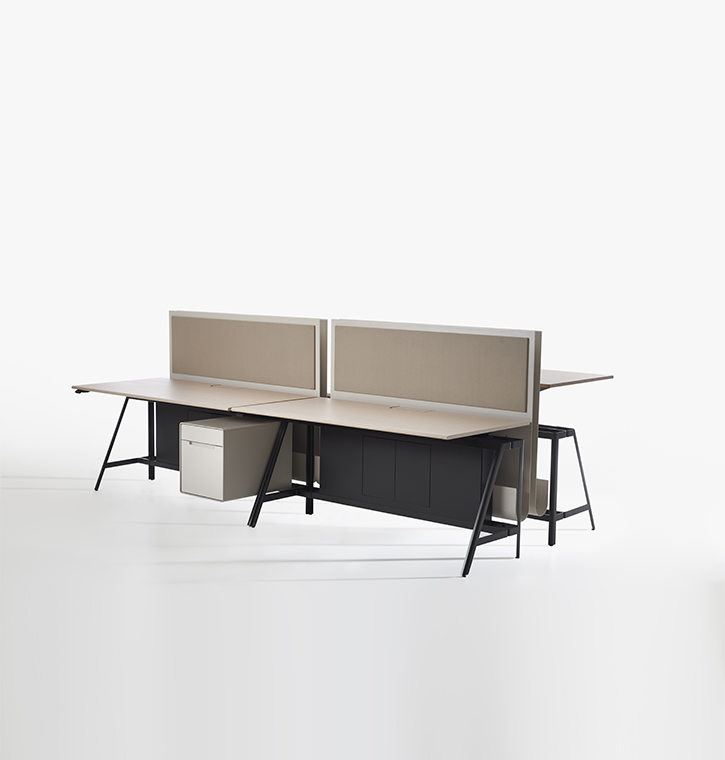 Materials
Iron, Laminate, Wool, Wood
Features
height-adjustable, with electrical movement, multiple
Dimensions
L: 1550 mm - 61"
D: 808 mm - 32"
H: 1220 mm - 48"
Production process
The metal structure is made of epoxy powder-coated press-folded sheet steel and includes adjustable feet.
The built-in pedestal underneath contains the lifting mechanism and thus hides it from view. The post-formed desk top is available with top access and wired-in electrical socket.
"Solari was conceived with a casual but distinct design language that recalls a 'Design Atelier' aesthetic." – Mark Morton, Design Director and Principal at Gensler.

"We set out to create a system that diminishes the familiar large componentry of typical systems furniture in favor of thin profiles, bent metals and minimal detailing." – Jonas Gabbai, Design Director and Senior Associate at Gensler.
BRAND SELECTION
OUR PRODUCTS