IOC project partners
INTRODUCES
Monforte
Monforte is a freestanding soundproofing screen that's flexible and reconfigurable, perfect for rearranging spaces as and when requirements change.
Work and everyday spaces need flexible, adaptable furniture: Monforte meets this need with ease thanks to its reconfiguration possibilities that require no time or effort. Ideal in the work environment for creating reception areas, chill-out zones or meeting rooms of any size, it can also be used as a desk divider to provide soundproofing and visual shielding. In public spaces it can be used to create walkways, reception areas, temporary exhibition or dining spaces, as well as to set up private areas.
Monforte comes in a freestanding version in various heights or in a fixed version that's anchored to the floor and ceiling. The possibility to play with various heights can offer the environment a sense of movement as well as providing lightness and a distinctive aesthetic.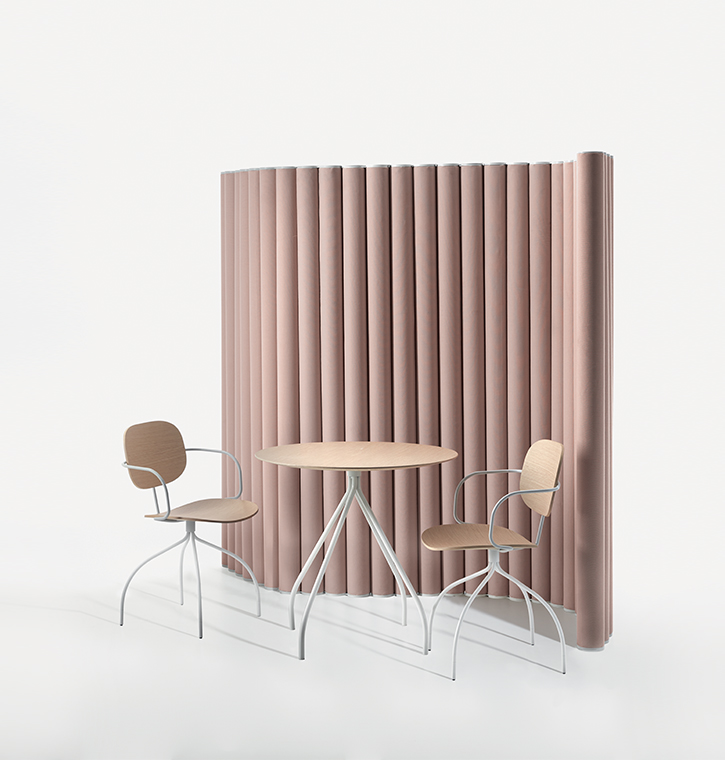 Descrizione prodotto
Monforte is a spatial partition element that produces a flexible composition of the different areas of work. This mobile and articulated wall can be freely arranged, composing different types of spaces: meeting rooms, lounges, waiting areas, training areas which can be easily reorganised according to the changing needs of the activities. This element guarantees privacy without isolation and is soundproof, a perfect quality to make open spaces more pleasant, intimate and relaxing. The structure is made up of a series of tubular elements upholstered in fabric. The individual elements are independent, connected to each other by a modular chain. Stability is guaranteed by a foot inserted at the end of the tubular elements when needed. The cover is available in Kvadrat Hero, Divina 3 or Gabriel Soul fabric. The chain is in white or anthracite thermoplastic polymer.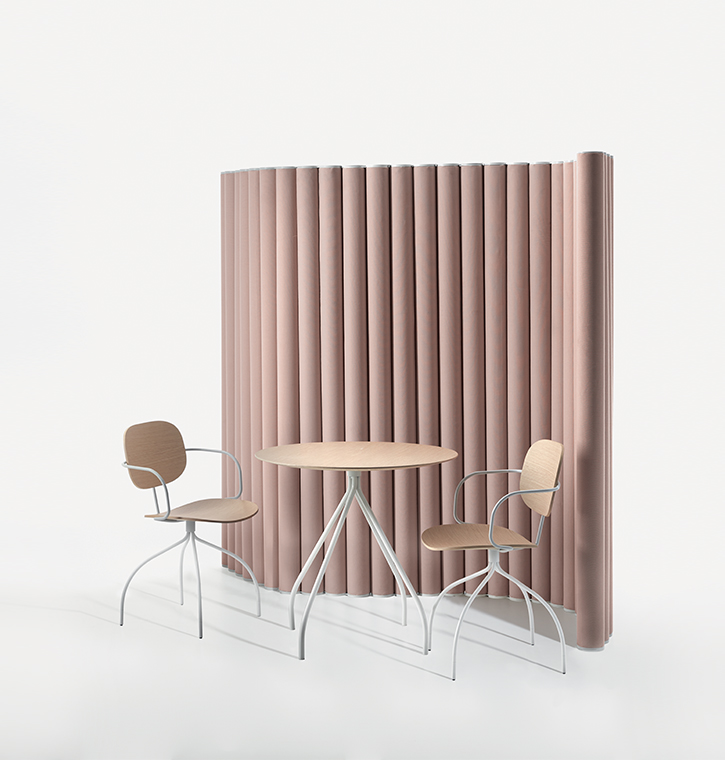 Designer
Raffaella Mangiarotti
Materiali
Aluminium, Wool, Tecnopolymer
Dimensioni
Freestanding version
H: 190 cm - 75''
H: 160 cm - 63''
H: 120 cm - 47''
Ceiling version
Custom
Processo produttivo
The structure is composed of extruded aluminium rods assembly ready to create the chain of thermoformed plastic polymer elements (UL49 – V0).
The aluminium rods are lined with fire resistant velvet on request (BS 5852 part I: schedule 5 part III, technical bulletin 117-2013: section 4) and fabric.
Designed by

Raffaella Mangiarotti
"When I was designing this product I had a dream of a flexible sound-absorbing screen that can shape the space in a smart and fluid way."

"Something that you can change easily depending on the activity you are doing but also something that has a beautiful texture and rhythm."

BRAND SELECTION
OUR PRODUCTS