IOC project partners
INTRODUCES
Magenta
Magenta is a meeting chair dedicated to informal, relaxed environments, which can be positioned around a meeting table or is perfectly happy on its own in a chill-out area.
Magenta is suitable for a variety of contexts: offices or home studios, dining or conversation areas. It's available with feet or pivoting castors, and comes in a variety of different materials and colours. The lacquering of the back and seat can either be coordinated or contrasted with the metal frame, to create a charming play on colours.
An epoxy powder-coated curved metal rod creates the Magenta's structure to appear like a three-dimensional shape in space, whilst simultaneously defining the armrests and backrest support. The castors are equipped with a self-braking mechanism.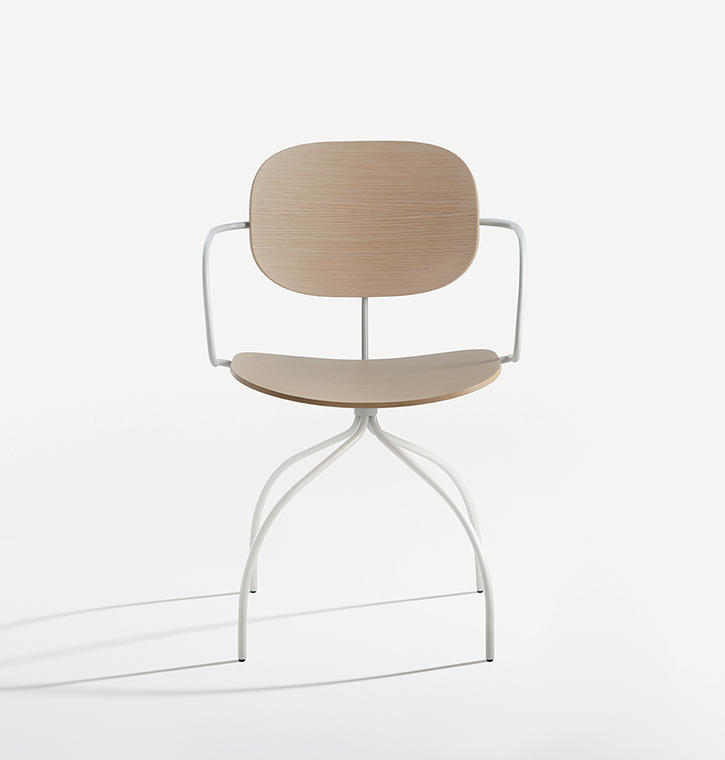 Descrizione del prodotto
Magenta is a meeting chair, dedicated to the most free and informal workplaces, on feet or pivoting castors, in wood with an optional seat pad in fabric or leather. Around service tables or independent in the spaces of the comfort zones, this chair can give a sense of elegance to professional environments. The structure is made of a thin metal rod which draws a three-dimensional form in the space. Above, equally sharp lines define the armrests and wrap around the backrest.
The frame is available white, grey or black painted, the backrest and seat can be in wood, lacquered or covered with fabric or leather.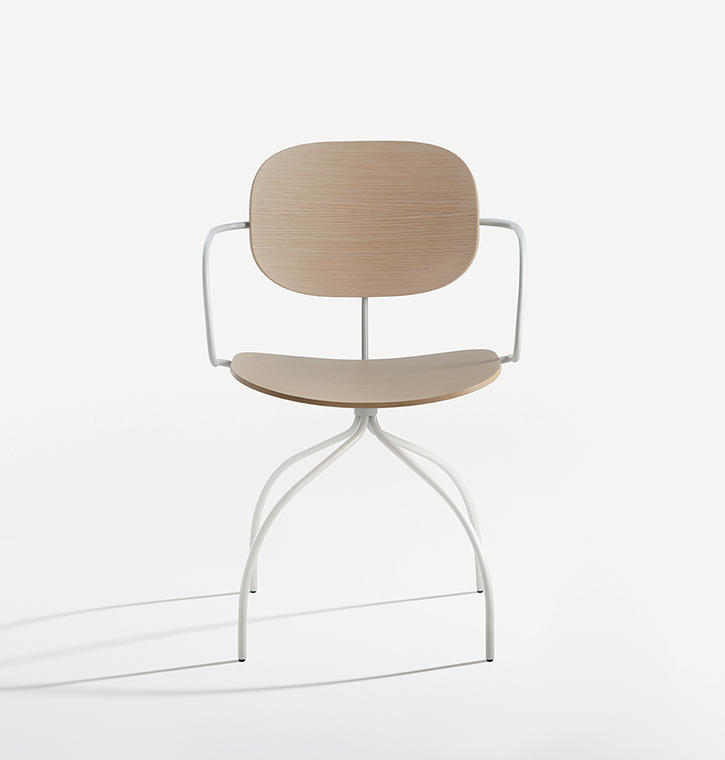 Designer
Raffaella Mangiarotti
Materiali
Steel, Eco-leather, Wool, Wood, Leather
Dimensioni
On feet
L: 525 mm - 21"
D: 510 mm - 20"
H: 810 mm - 32"
On castors
L: 590 mm - 23"
D: 610 mm - 26"
H: 810 mm - 32"
Processo produttivo
Base composed of a curved high-strength steel rod that's welded to support the upper section. This is also made from a curved high-strength steel rod. The back and wooden seat are subsequently machine assembled. Certification: EN1639:2013 – level 1 contract use.
The metal structure is epoxy powder-coated.
Designed by

Raffaella Mangiarotti
"Structure is like a single line drawn in the air, almost like a traditional Japanese ink drawing."

"The seat and backrest are gentle surfaces, perfectly duplicating the shape of the body. The contrast between these elements gives this chair its unique and peaceful character."

BRAND SELECTION
OUR PRODUCTS